MLB.com Columnist
Lindsay Berra
China's WBC goal: Get better every day
Inexperienced team aiming for improvement, not trophy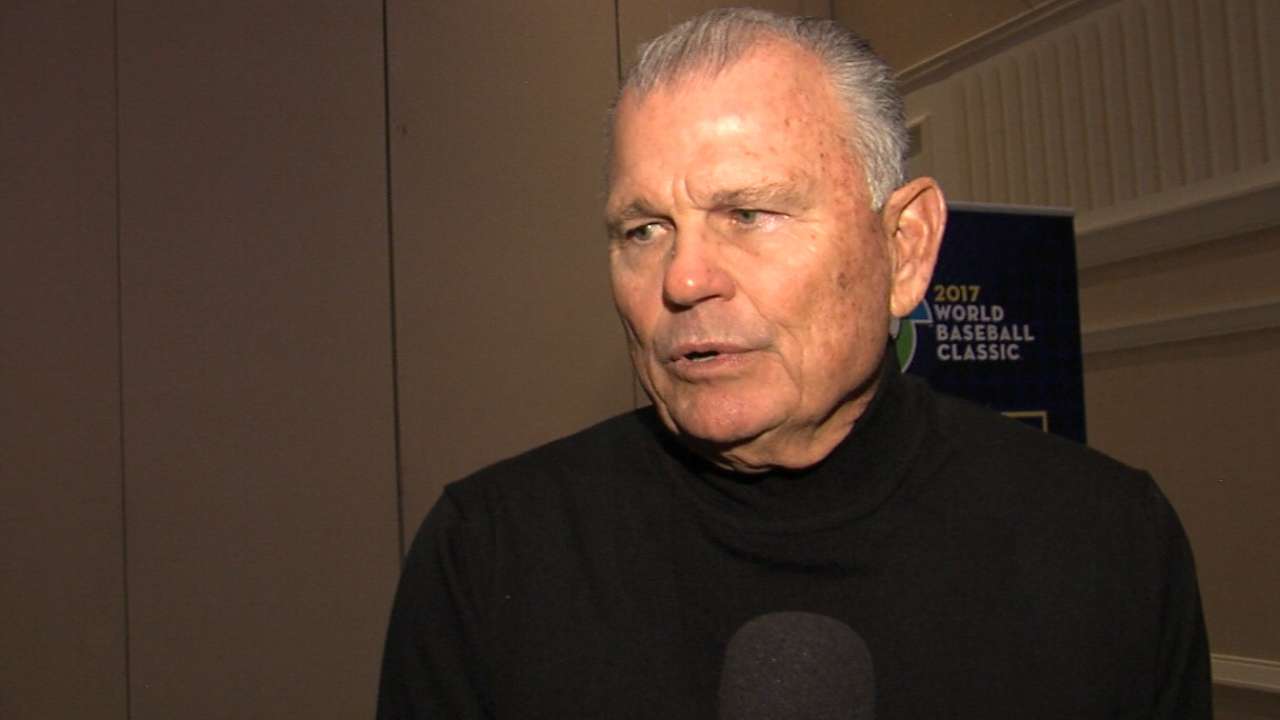 NATIONAL HARBOR, Md. -- "Our motto is 'Get Better Every Day.'"
Team China World Baseball Classic manager John McLaren is not placing lofty expectations on his club for this March's WBC, but that doesn't mean he's throwing in the towel.
"When you're the Dominican Republic, the United States, Japan or Korea, you're thinking about the big trophy at the end," McLaren said. "We're not at that stage yet. We're still in the development stages, trying to set a foundation for the next generation. We're trying to help push baseball as a sport in China. I'm not conceding, but I'm realistic. Just winning a game is monumental to us."
McLaren, who never reached the big leagues as a player but has coached for the Blue Jays, Red Sox, Reds, Mariners, Rays, Nationals and Phillies since 1986, is currently the bullpen coach for Philadelphia. The 65-year-old is coaching his second WBC for Team China and his third overall; he was the third-base coach with the American team in 2006.
"I have been involved with China since 2011, when I did some camps in Europe," McLaren said. "I like their vision, and it's my way of giving back to baseball. I'm an international baseball fanatic because I think baseball brings people together."
McLaren follows in the footsteps of MLB managers Jim Lefebvre and Terry Collins, who managed Team China in the 2006 and 2009 WBCs, respectively.
McLaren is hopeful that his roster for the 2017 tournament will include several players with professional experience. Retired big league pitcher Bruce Chen, free-agent pitcher Vance Worley, Cardinals second baseman Kolten Wong and his brother Kean, who is a prospect in the Rays' system, Rockies Minor Leaguer Joey Wong and Marlins pitcher Austin Brice are all possibilities, as is Korean professional pitcher Ju Kwon, who McLaren says could be a fifth starter in MLB.
Players from MLB's three Chinese Development Centers are also starting to feed into the national team program. Xu Guiyuan, who became the first player signed out of the Chinese DCs when he inked a deal with the Orioles in July 2015, has a chance to make Team China's roster. The left-handed outfielder/first baseman has a powerful swing which McLaren likens to that of Boston's Andrew Benintendi.
China was one of the 12 nations to qualify for the 2017 WBC with their performance in the 2013 WBC.
Team China stunned Team Brazil with five runs in the eighth inning to win 5-2 in the third game of WBC Group A pool play in 2013, securing their 2017 berth. Brazil led 2-0 in the eighth inning, but China scored on a bases-loaded walk before infielder Ray Chang hit a soft fly ball to left field that gave the Chinese a 3-2 lead. China added two more runs on bases-loaded walks.
Chang, who will again be on China's roster, helps McLaren communicate with the other Chinese players; he was born and raised in Kansas City and speaks perfect English and Chinese.
"Ray is a wonderful guy, and I'm so happy to have him," McLaren says. "My Mandarin is not good, but I have a good excuse. Until I perfect English, I will leave it at that."
The WBC consists of three rounds. Round 1 begins with four pools: A, B, C and D. Each pool contains four teams and plays in a different location. Team China is in Pool B, along with Cuba, Japan and Australia, and they will begin play in Tokyo on March 7.
Round 2 consists of two pools, which will play in San Diego and Tokyo, March 12-19. The championship round -- a three-game series -- will be played at Dodger Stadium in Los Angeles, March 20-22.
Lindsay Berra has covered a variety of sports, from baseball and hockey to tennis and the Olympics, since 1999. She joined MLB.com in 2013. This story was not subject to the approval of Major League Baseball or its clubs.