Black sees upside in young Rox pitchers, catchers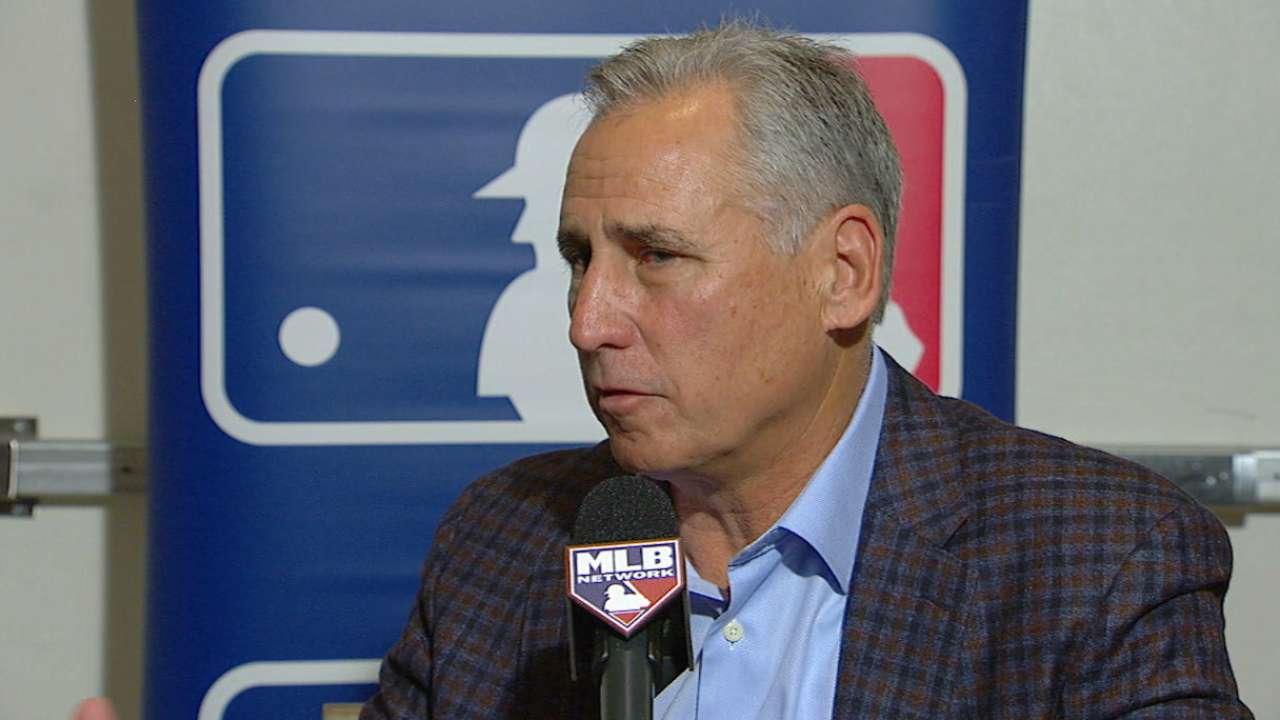 NATIONAL HARBOR, Md. -- Entering next season with aspirations of contending, the Rockies could field a starting rotation of young pitchers who have never been in the postseason and a catching tandem of a rookie and a second-year player. But they have a unique example-setter in manager Bud Black.
Tyler Chatwood, who turns 27 on Dec. 16, is the old man, with Chad Bettis, 27 on April 26, Tyler Anderson, 27 on Dec. 30, and Jon Gray, 25, in the projected group, with rookies such as Jeff Hoffman, 24 on Jan. 8, and German Marquez, 22 on Feb. 22, competing for the other spot.
A club that has had pitching issues throughout its history has, for the first time, turned to a former pitcher as manager. Black's 398 Major League starts from 1981-95 and his experience as a manager and pitching coach can certainly bridge the gap. While the Rockies' main reason for optimism is a powerful lineup that could be augmented with a run-producing first baseman, the young pitching talent is part of Black's excitement.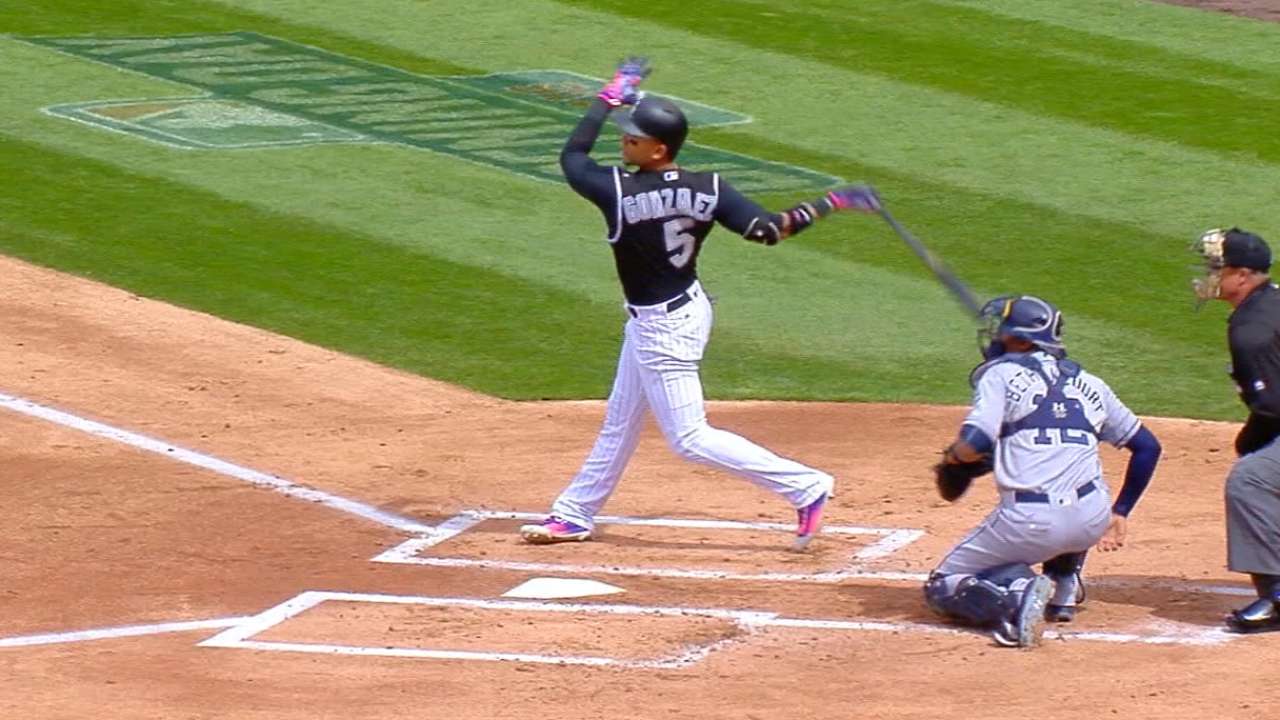 "I believe that this team is trending up," Black said.
In the past decade and a half, the Rockies have brought in seasoned veterans -- Mike Hampton, Denny Neagle, Jeremy Guthrie, Roy Oswalt -- but none of them had significant accomplishments over time.
In fact, according to Baseball Prospectus, the top seven starting pitchers in Rockies history in wins above replacement (WAR) are, in order, Ubaldo Jimenez, Aaron Cook, Jorge De La Rosa, Jhoulys Chacin, Jason Jennings, Jeff Francis and Armando Reynoso. Only De La Rosa was not developed by the Rockies, and De La Rosa had just 97 games, 41 starts, in four seasons before arriving. Of the most successful pitchers in team history, only top 10 wins and strikeouts pitcher Pedro Astacio had as many as 100 Major League games before putting on purple pinstripes.
So putting the hopes on starters who weren't proven stars isn't so bad. Of the group of potential starters, the only ones not signed or drafted by the Rockies were Chatwood (Angels) and Marquez (Rays), and Chatwood had a brief career with the Angels before being traded to Colorado.
Black can lean on the experience of many games at Coors as the Padres' manager from 2007-15 (42-45). Black knows pitches may not have the same action at altitude as they do at sea level, but it's a matter of making sure the final location is what's intended.
"The true pitching fundamentals, if you don't adhere to those, they are exposed more in Colorado," Black said. "First-pitch strikes, staying ahead in the count, avoiding walks, don't beat yourself, do what you have to do as a pitcher in all phases to be successful. Because mistakes, whether they are not fielding your position, not controlling the running game, pitching behind the count, a bad walk, all those things come up, will bite you more."
However, Black said he never asked a pitcher to change his style when he came to Coors Field, and the Rockies are not confining themselves to a certain type of pitcher.
"If you're a high ball pitcher that you've had success throwing the ball up in the zone, Chris Young, others, hey, pitch your game," Black said. "You can't pitch tentative in Coors Field."
Black can even offer personal experience. With the Giants in 1993, Black held the Rockies to two runs -- both in the first inning -- and three hits in eight innings of an 8-2 victory at Mile High Stadium.
"Gave up two runs in the first inning. Eric Young, Joe Girardi, Dale Murphy -- if we got access to that game, in this day and age, could we pull that up?" Black said. "As a visiting player, you come and you know you're going to pitch there once. I pitched there, I think, in '82 against the Denver Bears. I pitched when I was with the Omaha Royals."
According to a box score tracked down by Bruce Esser of the Nebraska Baseball History Web site, on April 24, 1983, Black gave up two first-inning runs, then shut down the Bears for a 5-2, seven-inning, complete-game victory in the first game of a doubleheader.
Additionally, new bench coach Mike Redmond, a former Marlins manager, brings 764 Major League games as a catcher to help the projected tandem of Tony Wolters, a rookie who earned high marks for his receiving last season, and Tom Murphy, who has a .946 OPS in 32 Major League games over two seasons and has a chance to add right-handed power to the lineup. Dustin Garneau, who has played in 46 games over two seasons, also is in the catching mix.
"Now, this guy is a potential Hall of Famer, right? The Giants won with Buster Posey as a young catcher," Black said. "Yes, it can be done, no doubt about it. These guys, there's a learning curve, absolutely, on both sides, for the pitchers and the catchers.
"But there's no doubt, the expectation that we're going to place on our catchers is high. And that's just sort of what I expect anyone -- I'm big on the pitcher/catcher thing, big on that relationship. I felt it as a player. When I got to Anaheim, one of the things that early on in my relationship with Mike [Scioscia, the manger], was he felt the same way, from his perspective as a catcher."
Thomas Harding has covered the Rockies since 2000, and for MLB.com since 2002. Follow him on Twitter @harding_at_mlb, listen to podcasts and like his Facebook page.
This story was not subject to the approval of Major League Baseball or its clubs.