Phils doing their part in auction to honor Forde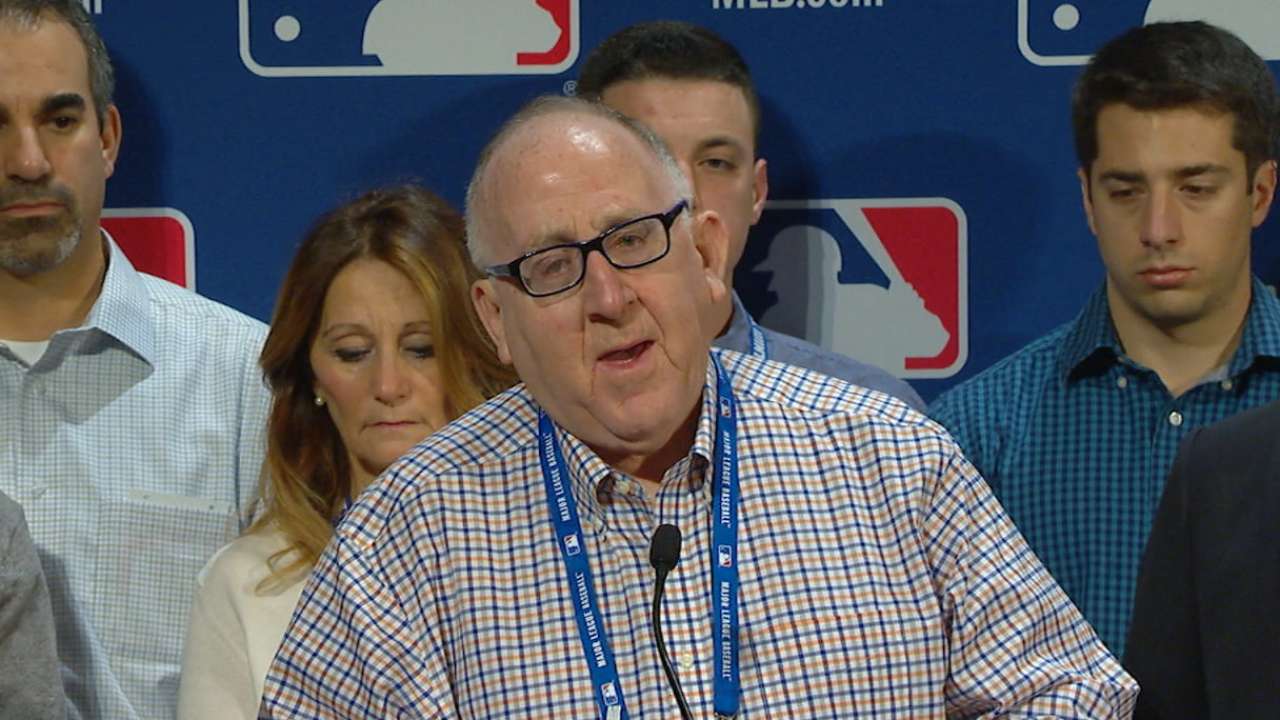 NATIONAL HARBOR, Md. -- Major League Baseball's Play Ball charity auction hits a little closer to home for the Phillies this year.
Proceeds will benefit a youth baseball and softball field in Little Ferry, N.J., in honor of late Mets senior director of media relations Shannon Forde. She died earlier this year from breast cancer.
"She was my friend," Phillies director of baseball communications Greg Casterioto said. "And anything that concerns Shannon carries extra weight for our department. Being in the same division, we knew her well. We saw her all the time in Philly, and obviously when we went to New York. She was one of the most caring people that I knew in the game."
• Bid now in Play Ball charity auction
All 30 teams are participating in the auction, and more than 100 baseball experiences are available. The Phillies' experiences are:
• Have dinner with Charlie Manuel and Chris Wheeler before a mutually agreed upon game in the Executive Dining Room at Citizens Bank Park. The winner will then watch a game with Manuel and Wheeler in a private executive box. Everybody knows that Manuel is the winningest manager in Phillies history, while Wheeler was a longtime broadcaster. Both are fantastic storytellers, so the winner should be entertained throughout the night.
• The Phillie Phanatic attends a child's birthday party. The 30-minute appearance includes 20 children's party bags. The party location must be within a 50-mile radius of Citizens Bank Park and held on a mutually agreed upon date and time. The Phillies strongly encourage the party to be for children 3 or older.
"Shannon Forde Field will be exactly across where she grew up," Mets vice president of media relations Jay Horwitz said. "It was her parents' house. It's the same field she played on with her sister Alicia and her niece when she was a kid. It's the same field that her father Mike coached softball for years and years. It's the same field which her young kids, Nicki and Kendall, will play for years and years. Nicki is 9 and Kendall is 6, and they probably don't know what kind of a person her mother was. Hopefully, in years to come, when they look up and see Shannon Forde Field, they get an idea of what kind of mom they had."
More info can be found at MLB.com/Shannon.
Todd Zolecki has covered the Phillies since 2003, and for MLB.com since 2009. Read his Phillies blog The Zo Zone, follow him on Twitter and listen to his podcast. This story was not subject to the approval of Major League Baseball or its clubs.