'Two peas in a pod,' Schuerholz credits Cox
Latest Hall of Fame electee formed one of best duos with manager in Atlanta
NATIONAL HARBOR, Md. -- Recognizing there was a good possibility the Royals would serve as his team's opposition in the 1976 American League Championship Series, Yankees owner George Steinbrenner sent his Triple-A Syracuse manager, Bobby Cox, on a late September scouting mission to Kansas City.
Cox arranged his ticket and parking requests through a young executive named John Schuerholz, who at the time was running the Royals' Minor League system. These two men had never previously met, but the time they shared together during that week in Kansas City enabled them to form a bond that significantly influenced their respective Hall of Fame careers and the construction of the greatest era in Braves history.
"I had never met [Cox], but while socializing, shall I say, one night after a game, we got to know each other pretty well and got to know it was an easy friendship and easy relationship," Schuerholz said. "Mutual respect was already there."
Since learning he was unanimously elected to Baseball's Hall of Fame via the Today's Game Era Committee ballot on Sunday night, Schuerholz has beamed with pride and repeatedly credited Cox, the fellow Hall of Famer with whom he formed arguably the greatest general manager/manager combo baseball has seen.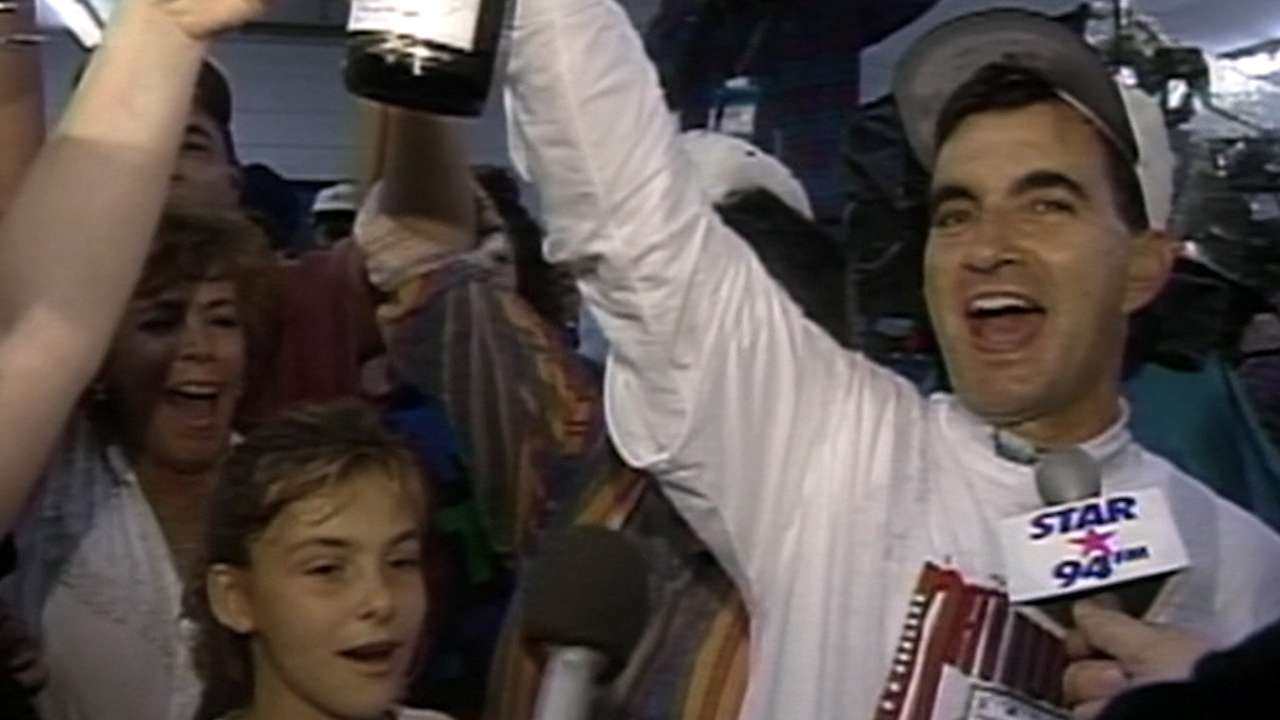 "There's such a close relationship between the two of them," Braves chairman and CEO Terry McGuirk said. "When others proxied or surrogated for them at one time or another, it just didn't work. It just showed how unique that chemistry was. Both of them were a man's man. They related on that kind of a basis."
Schuerholz helped mold the Royals through their era as an expansion franchise and became their general manager in 1981, four years before the organization celebrated its first World Series title. He had a great relationship with his manager, Dick Howser, who was one of Cox's closest friends, and Kansas City had become a place Schuerholz admits he only envisioned "leaving in a pine box."
But everything changed after the 1990 season, when Schuerholz first declined the Braves' offer to become their general manager and then called Atlanta's team president, Stan Kasten, back a couple of days later to say he felt he had made a mistake. Fortunately, Kasten had not yet filled the vacancy that had been created a few months earlier when Cox transitioned from GM to manager.
"It just seemed right to me and to know that Bobby was going to stay as the field manager, it was very, very attractive," Schuerholz said. "In fact, I told Stan Kasten when he asked me how I felt about Bobby being the field manager, I said, 'Stan, I'm not sure I'd be interested in the job if Bobby's not the manager.'"
Cox's personality and managerial approach mirrored those Howser possessed before passing away in 1987 after developing a brain tumor. The similarities aided the transition experienced by Schuerholz, who spent the offseason after the 1990 season filling the Braves' roster with the acquisitions of Terry Pendleton, Sid Bream and Rafael Belliard, three veterans who helped Atlanta celebrate a worst-to-first season in '91.
While spending 18 seasons together as a general manager/manager duo in Atlanta, Schuerholz and Cox guided the Braves to 14 consecutive division titles, five National League pennants and a World Series title. Their communication and leadership skills meshed as they maintained a high level of respect for each other and avoided the seemingly inevitable conflicts experienced by general managers and managers.
"We never butted heads," Cox said. "We were on the same page all of the time. He could see what we needed and I could see what we needed. Some of the decisions were tough, but I don't remember ever where there was an argument about something. ... John always listened. Everybody was important in the room."
While Schuerholz is a man who appreciates the country-club lifestyle, Cox feels more comfortable in a country-music bar. But while their personalities and backgrounds might be different, they shared a passion to succeed and more importantly proved willing to achieve their goals while showing utmost respect in communicating with each other, their players and the other members of the Braves' organization.
"We thought so much alike about the kind of team we wanted and the kind of players we wanted to have to make up that team, and the kind of environment we wanted to create and maintain and sustain," Schuerholz said. "We were like two peas in a pod. We were like Siamese twins in terms of our intellectual property and our thinking of how this organization ought to be built and run and sustained."
Mark Bowman has covered the Braves for MLB.com since 2001. This story was not subject to the approval of Major League Baseball or its clubs.