Padres offering unique experiences for charity
Play Ball Auction runs until 6 p.m. PT Thursday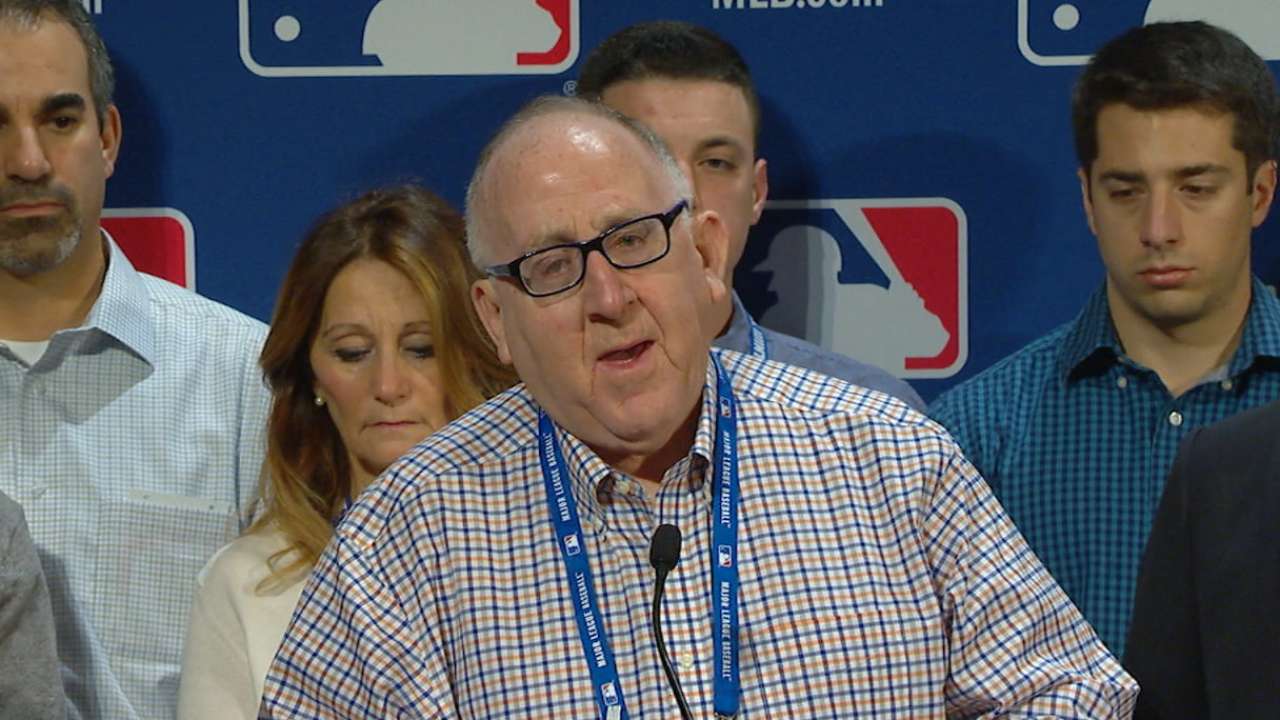 NATIONAL HARBOR, Md. -- Looking to fine-tune those pitching mechanics? Mark Prior can help.
Want to play general manager for a day? Fred Uhlman Jr. can offer that opportunity.
Maybe you'd like a veteran broadcaster to record your voicemail message? Don Orsillo is on hand to do just that.
Those once-in-a-lifetime baseball opportunities -- and more -- are currently up for bid at MLB.com/shannon. The Play Ball Charity Auction runs until 6 p.m. PT on Thursday, and it benefits a fantastic cause.
In honor of Shannon Forde -- the beloved senior director of media relations for the Mets who lost her battle with breast cancer this year -- all 30 clubs have put forth items for auction. Proceeds will benefit youth baseball and softball in Little Ferry, N.J., where a field will be renovated in her name. Forde was 44 when she passed away in March, after a four-year battle with the disease.
In Forde's memory, the Padres are offering a trio of unique baseball experiences.
Prior, the Padres' Minor League pitching coordinator, will host a 30-minute pitching lesson in the Petco Park bullpen before a home game. Following the lesson, the auction winner will watch batting practice from the field, before heading to field-level seats to enjoy the game.
The Padres are also offering a "GM for a day experience," in which Uhlman, the Padres' assistant general manager, will escort the guests on the field before the game. They will then watch the game from the GM's suite for the first three innings before heading to field level for the remainder of the contest.
Lastly, Orsillo, the acclaimed Padres broadcaster, will record a personal voicemail message for the auction winner -- who also has the option to receive a phone call from Orsillo instead.
The three Padres auction options are among more than 100 experiences put forth by Major League Baseball and its 30 clubs.
"All I can say is this is the group that loves and misses Shannon every single day," Mets chief operating officer Jeff Wilpon said on Monday at the Winter Meetings. "Not much more you can say. It's bittersweet to be talking about this kind of tribute to such a young mother and friend and person that we lost way too soon."
AJ Cassavell covers the Padres for MLB.com. Follow him on Twitter @ajcassavell. This story was not subject to the approval of Major League Baseball or its clubs.