Conflicting reports on Harper, Nats talking extension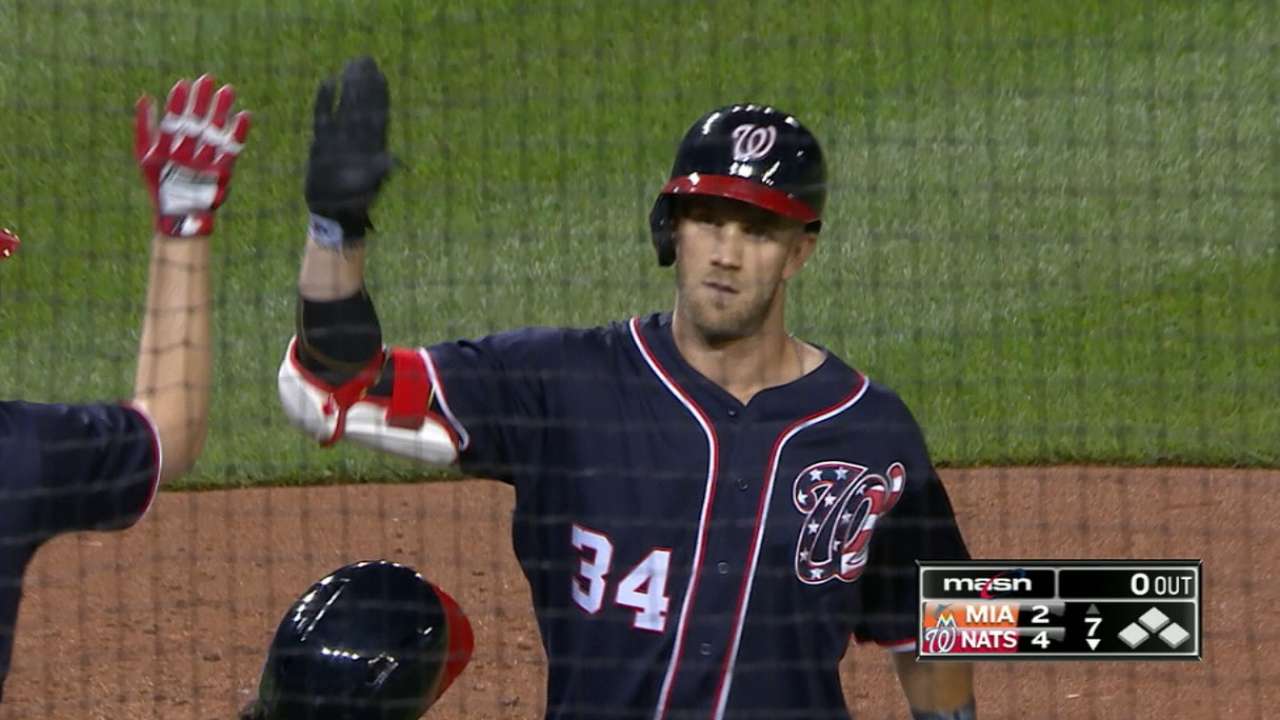 NATIONAL HARBOR, Md. -- It has long been speculated that Bryce Harper could command the largest contract in baseball history when he reaches free agency after the 2018 season, but according to his agent, the two sides have not discussed such a deal at this time.
Harper's agent, Scott Boras, told MLB.com's Jon Morosi the only contractual discussions between the two sides have pertained to Harper's 2017 season, when the slugger is eligible for arbitration.
"I have had no long-term discussions with the Nationals on Bryce," Boras said. "No terms, no offers discussed."
Nationals general manager Mike Rizzo declined to comment on any negotiations, saying discussions were private between a team and player, but did note that he is in constant conversation with Boras, who has numerous clients on the Nationals.
But USA Today reported Monday afternoon that Harper was asking for a deal that "will exceed 10 years in length and likely pay him in excess of $400 million," terms of which the Nationals were reportedly not willing to meet.
Perhaps Washington is making contingency plans for if Harper leaves, as it has targeted outfielders this offseason and last, but that certainly does not mean the Nationals have moved past trying to retain him. And Harper has two full seasons left before his contract expires. A lot can change in two years even if the two sides do not reach a long-term agreement this offseason.
Harper is coming off a disappointing 2016 season in which he hit .243/.373/.441 with 24 homers. Those numbers are still strong, but down from his 2015 campaign when he won the National League Most Valuable Player Award after hitting .330/.460/.649 with 42 homers.
Harper will be entering his age-26 season when he becomes a free agent with a pedigree that includes being a former No.1 overall pick, NL Rookie of the Year at 19, and the NL MVP. So if he reaches the open market, Harper certainly could surpass Giancarlo Stanton's record 13-year, $325 million contract with the Marlins that is currently the largest in Major League history. Stanton signed that extension, which includes opt outs, at age 25 after a 2014 season in which he hit .288 with 37 home runs and 105 RBIs.
Harper and the O's Manny Machado are the current headliners of what will be a star-studded free-agent class that could also include Josh Donaldson, Andrew McCutchen, Clayton Kershaw, Matt Harvey and Andrew Miller along with several other All-Stars.
Jamal Collier covers the Nationals for MLB.com. Follow him on Twitter at @jamalcollier. This story was not subject to the approval of Major League Baseball or its clubs.