Martin, Osuna to join Stroman in WBC
Veteran catcher to play infield for Team Canada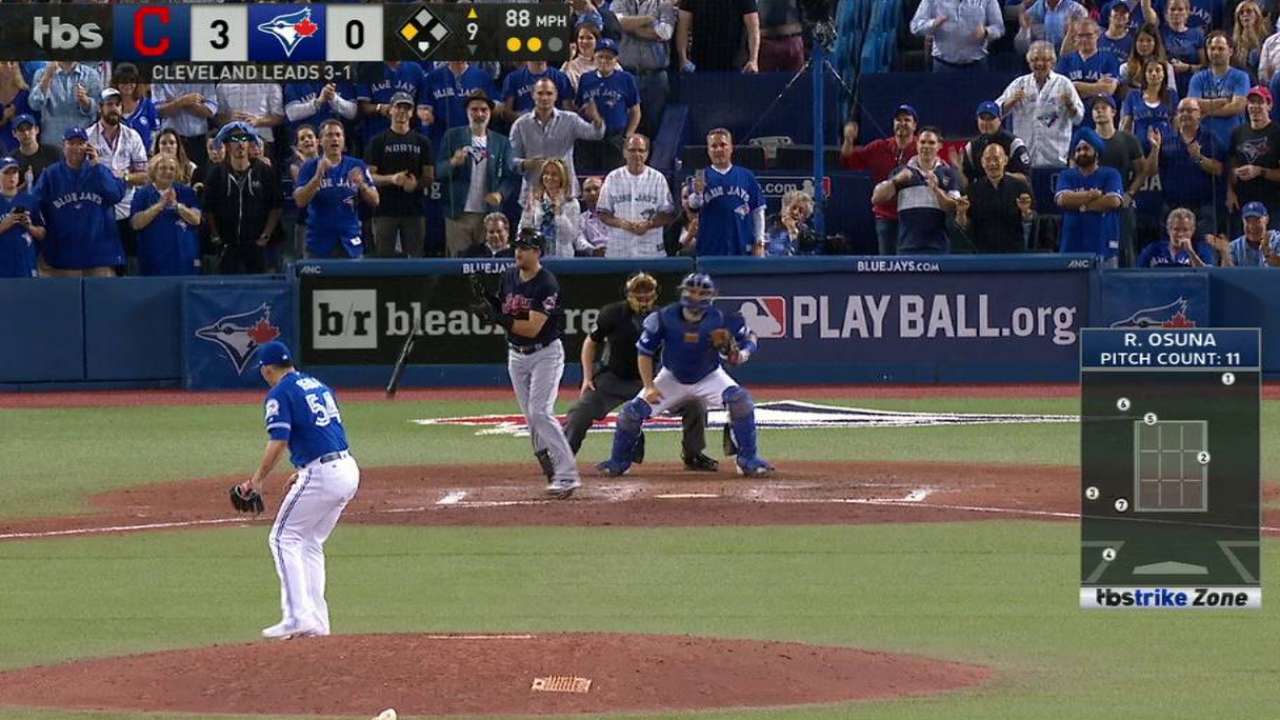 NATIONAL HARBOR, Md. -- Russell Martin is going to suit up for Team Canada at the upcoming World Baseball Classic, but it will be as an infielder instead of as a catcher.
Martin expressed a desire to play shortstop during the 2013 WBC, but his request was not granted. At the time, he wanted to avoid learning a new pitching staff while trying to do the same thing in the big leagues prior to his first season in Pittsburgh.
• Get World Baseball Classic tickets
The veteran catcher ultimately was left off that 2013 roster with "soreness" as the official explanation. Playing the infield does not appear to be an issue this time around, and Toronto on Monday officially approved the request for Martin to play in the WBC.
"The discussion has been that he'll most likely play the infield," Blue Jays general manager Ross Atkins said. "It's such an incredible opportunity. The WBC is a great initiative, it's a great program, so we wanted to do everything we could to support it."
Martin is regarded as one of the top defensive catchers in the game, but the infield isn't exactly a foreign concept to him. He has made 19 career appearances at third, four at second and even one in the outfield. There was a time, earlier in his career, when he briefly considered changing positions after a rough year with the Dodgers.
That talk has long since dissipated, but there have been times over the last two years when Martin became an emergency backup at second. He could play there for Canada, or possibly third base, as his home country competes in Pool C, which includes the United States, Dominican Republic and Colombia, with games to be played at Marlins Park in Miami.
Right-hander Marcus Stroman previously announced that he will be pitching for Team USA. Major League Baseball then confirmed in an official release that Martin will suit up for Canada and closer Roberto Osuna will pitch for Mexico. Outfielder Dalton Pompey is another consideration for the Canadians and right-hander Joe Biagini is an option to pitch for Italy.
Team Mexico also has a publicly expressed desire to add starters Marco Estrada and Aaron Sanchez to its roster. That could be more problematic than Martin because Estrada is coming off a season in which he dealt with recurring back issues and Sanchez tossed a career-high 203 2/3 innings in the regular season and postseason.
"How we feel about all of those guys is first and foremost, we want to put them in the best position to have success doing it," Atkins said. "Meaning, pitching in the WBC. Secondarily, what that means for the rest of their season and ultimately what that means for the long term of their career. We want to do that with them. We're in the early stages of that communication."
Of course it's possible that Martin will get hurt when playing out of position, but it's a risk the Blue Jays appear willing to take and that's mostly because of Martin's strong desire to represent his country.
"Will I worry as I watch? Sure," Atkins said. "But we're supportive of the program. We're supportive of Russ. That's where it starts. If it's something that Russ really wants to do then we'll figure out a way to put him in the best position to have success."
Gregor Chisholm has covered the Blue Jays for MLB.com since 2011. Follow him on Twitter @gregorMLB and Facebook, and listen to his podcast. This story was not subject to the approval of Major League Baseball or its clubs.