Reds offering once-in-a-lifetime experiences for charity
Auction, which runs through 9 p.m. ET Thursday, helps Play Ball initiative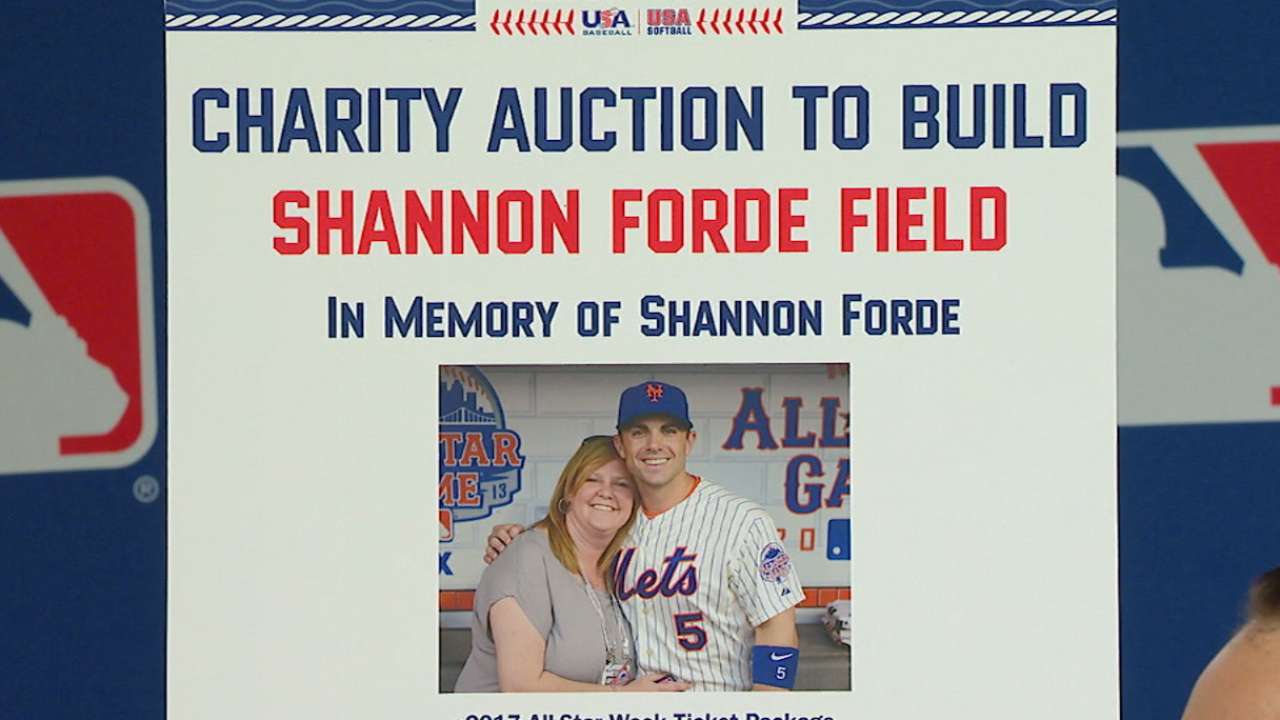 NATIONAL HARBOR, Md. -- Much is made about players inside Major League Baseball clubhouses being family. But the same holds true for the people that work in the game that are not players, and it often extends beyond the boundaries of team affiliation.
That's why all of MLB mourned when Mets senior media relations director Shannon Forde died from breast cancer in March at the all-too-young age of 44.
"It is rare to know someone so genuinely well-liked by everyone in an organization -- from front-office colleagues to media to players. She was such an important part of the fabric of the Mets' organization," said Reds media relations director Rob Butcher, who was a friend of Forde.
On Monday at the start of the Winter Meetings, MLB announced that its fifth annual Play Ball Charity Auction will support the renovation of a baseball and softball field in Forde's memory. The field, in her hometown of Little Ferry, N.J., will be renamed Shannon Forde Field. Renovations to the field will include dugouts with protective fencing and benches, perimeter fencing, bleachers, a backstop, a scoreboard and field signs.
"The Shannon Forde Field will be exactly across where she grew up in Little Ferry, New Jersey," Mets vice president of media relations Jay Horwitz said. "It was her parents' house. It's the same field she played on with her sister Alicia and her niece when she was a kid. It's the same field that her father Mike coached softball for years and years. It's the same field which her young kids, Nicky and Kendall, will play for years and years. Nicky is 9 and Kendall is 6, and they probably don't know what kind of a person their mother was. Hopefully, in years to come, when they look up and see Shannon Forde Field, they get an idea of what kind of mom they had."
The auction is LIVE at MLB.com/shannon until 9 p.m. ET on Thursday. All proceeds from the auction will fund the renovations through MLB Charities. Auctions from the previous four years have raised almost $700,000.
All 30 clubs and MLB.com are participating in the auction. The Reds are offering three different once-in-a-lifetime fan experiences. The highest bidder can play catch with a Reds player or serve as the honorary captain and take the lineup card to home plate before a game at Great American Ball Park. A third prize is seats in the Reds' broadcast booth during a game. Other items include a pitching lesson from Giants pitcher and former Reds ace Johnny Cueto, a chance to be an intern for the day for the Mets, Rays and A's and having the Phillie Phanatic or Milwaukee racing sausages attend a birthday or summer barbeque.
"We all miss her, and we are very glad we're able to help keep her memory alive in the form of a ballfield," Butcher said.
Mark Sheldon has covered the Reds for MLB.com since 2006, and previously covered the Twins from 2001-05. Follow him on Twitter @m_sheldon and Facebook and listen to his podcast. This story was not subject to the approval of Major League Baseball or its clubs.