Atkins: Pearce deal part of non-Edwin strategy
Blue Jays sign versatile vet, likely signaling end of slugger's Toronto tenure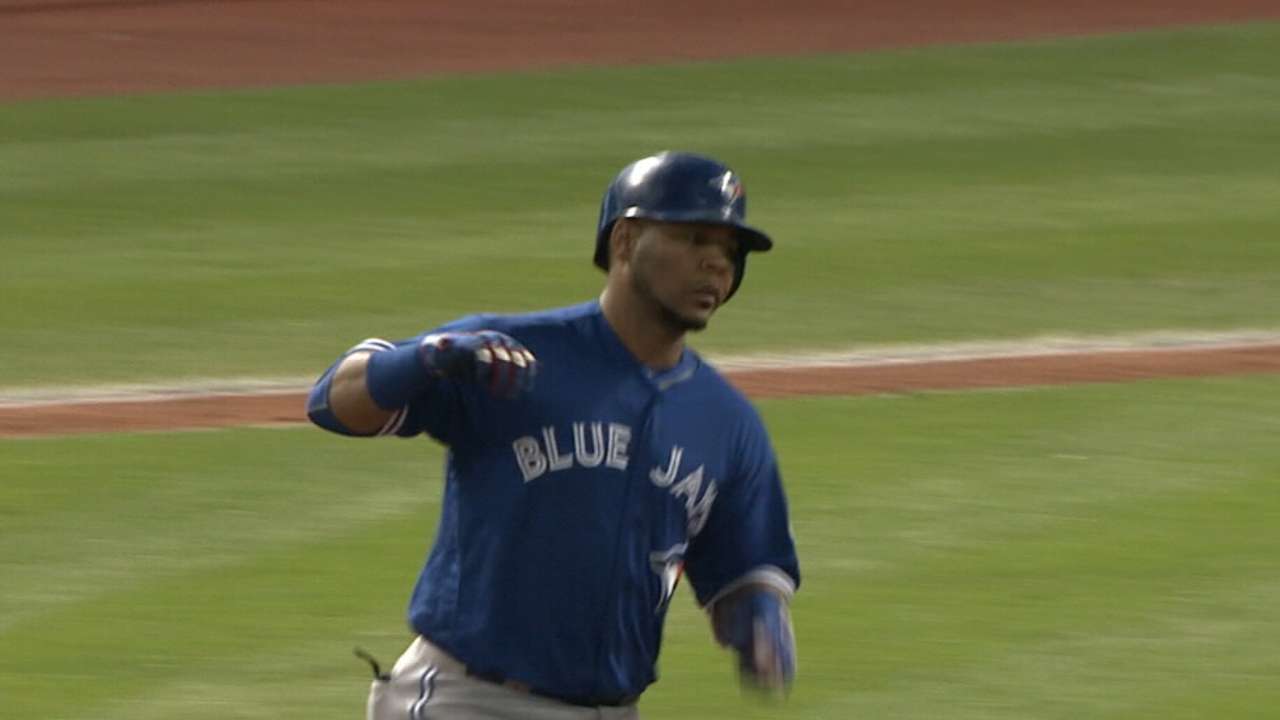 NATIONAL HARBOR, Md. -- If the writing wasn't on the wall before, it certainly is now. The Blue Jays appear to have moved on from star slugger Edwin Encarnacion.
Toronto general manager Ross Atkins has been saying for weeks that Encarnacion's return was less likely following the team's decision to sign free-agent slugger Kendrys Morales. It became even more improbable Monday morning, when the Blue Jays added Steve Pearce with a two-year deal worth $12.5 million.
• Blue Jays land versatile Pearce on 2-year deal
As of now, Pearce is expected to platoon at first base with Justin Smoak, and with the designated hitter spot filled by Morales, the Blue Jays have run out of roster space.
"Our [offseason] initiative was to make an offer to Edwin," Atkins told a group of reporters on Monday evening at the Winter Meetings outside Washington. "The alternative to that, in our offseason, was the one that we're now on, which leaves us with other opportunities. One opportunity was a superstar player that we were excited about being here. We felt as though that strategy was not going to come to fruition.
"We considered one that is a similar cost and multiple players. The potential being three players at a similar cost. We would have felt great about adding Edwin, and like I said, that door is not completely closed, but as it stands right now, alternatively, we feel like we're building a team with just as good of a chance to win with several pieces instead of one."
Toronto tried to re-sign Encarnacion at the start of the offseason, but the brief talks never led to a deal. The Blue Jays offered a contract in the range of four years and $80 million, but when that was turned down by Encarnacion, the club moved quickly to sign Morales instead.
Encarnacion's bat is among the best available on the open market, and there are a number of teams with money to spend who could jump into the race. The Orioles, Astros and Rangers have been linked to him in recent days, while the Yankees appeared to close the door by agreeing with veteran slugger Matt Holliday on a one-year deal on Sunday.
• Rangers, Indians connected to Encarnacion
Encarnacion's agent Paul Kinzer told MLB.com's Jon Paul Morosi that Toronto's initial offer came before Encarnacion had an opportunity to speak with other teams. He also admitted that the Blue Jays' decision to move on so quickly after the initial offer was rejected came as a surprise. Encarnacion will have to shift his attention to getting something done with another team after spending the past eight seasons in Toronto.
"He's disappointed," Kinzer said. "Edwin loved Toronto. He hoped to go back. But he waited his whole career for free agency and wanted to see what's out there."
The Blue Jays clearly felt they couldn't afford to wait and the end result is the two sides parting ways. If this really is the end of Encarnacion's time with the Blue Jays, he will leave behind a lasting legacy. He'll be remembered most for his walk-off home run during this year's American League Wild Card Game victory over the Orioles, but Toronto was also the city where he developed into one of the most consistent sluggers in the game.
Encarnacion hit at least 34 home runs with 98 RBIs over each of the past five seasons. In 2016, he appeared in all but two of Toronto's 162 games while hitting .263 with 42 home runs and 127 RBIs. Encarnacion likely would have signed at a relatively affordable rate before the start of the season, but the Blue Jays declined to offer more than two guaranteed years.
Once Encarnacion rejected $80M offer, #BlueJays moved on (Morales, Pearce) more quickly than Edwin's camp anticipated. @MLB

— Jon Morosi (@jonmorosi) December 5, 2016
Toronto remains in the market for a pair of corner outfielders, a backup catcher and at least a couple of relievers. The Blue Jays are expected to have a payroll of approximately $160 million next season, which would leave the club in the range of $25 million to spend once arbitration and pre-arbitration players are factored in.
Atkins was asked about the potential backlash from the fanbase about not re-signing one of the club's most popular players in franchise history. He understood the sentiment but could not let that affect his line of thinking.
"I do think a lot about the fans' perspective, a great deal as a matter of fact, and I lose sleep over it when decisions like these have to be made," Atkins said. "It's something that's extremely important to me. But ultimately what I feel is the best thing when it comes to building a team is to think about winning.
"We felt like we could have done that with Edwin at the forefront of our offseason. We are just as confident now with our second strategy. It really is nothing more than about how do we build the best winning team? I think the world of Edwin Encarnacion and I always will. The guy is a remarkable talent. He's a superstar and will go on to do great things, will continue to."
Gregor Chisholm has covered the Blue Jays for MLB.com since 2011. Follow him on Twitter @gregorMLB and Facebook, and listen to his podcast. This story was not subject to the approval of Major League Baseball or its clubs.