Angels honored to join MLB charity auction
LA offering once-in-a-lifetime experiences as part of annual 'Play Ball' initiative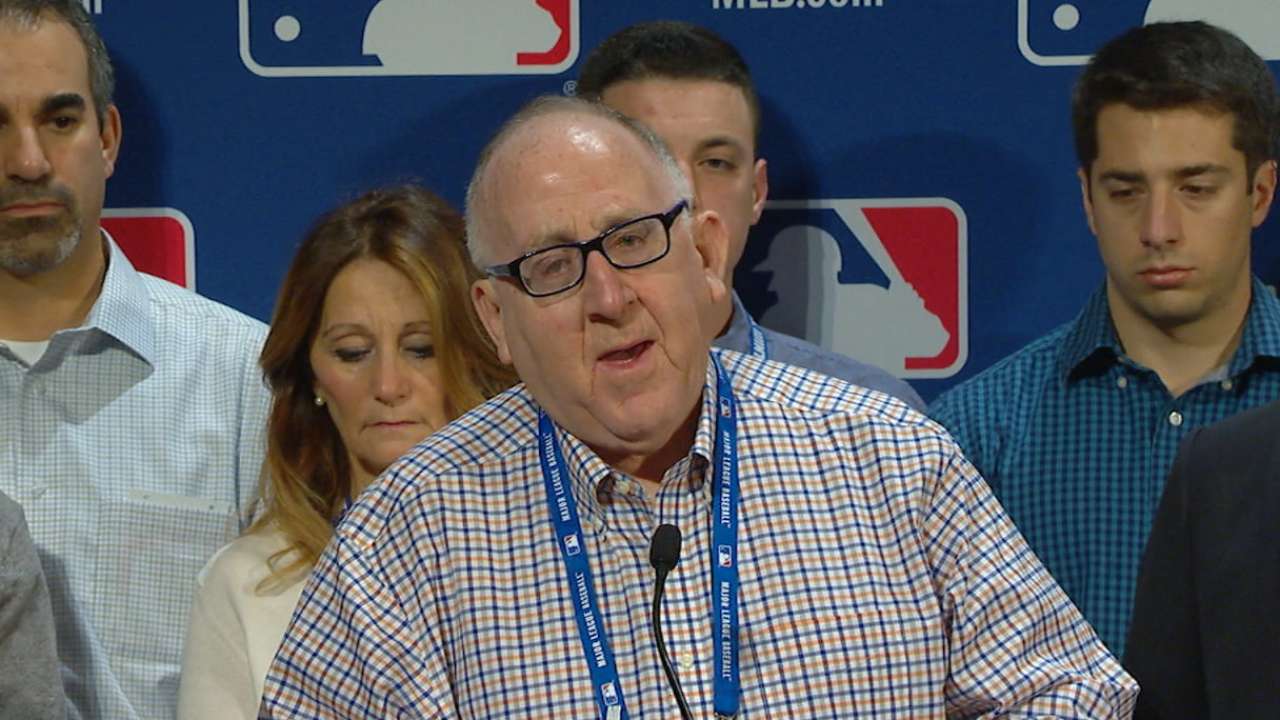 NATIONAL HARBOR, Md. -- Major League Baseball lost a dear member of its family not too long ago, and all 30 teams, including the Angels, have come together to honor her and build something beautiful and lasting to keep her memory permanent.
On Monday at the Winter Meetings outside Washington, D.C., MLB announced that the proceeds from this year's "Play Ball" initiative auction will go toward the renovation of a youth baseball field that will be renamed in honor of Shannon Forde, the beloved longtime Mets media relations staffer who passed away from breast cancer in March at the age of 44.
"Shannon Forde Field will be exactly across where she grew up in Little Ferry, New Jersey," said Mets vice president of media relations Jay Horwitz.
"It was her parents' house. It's the same field she played on with her sister Alicia and her niece when she was a kid. It's the same field [where] her father Mike coached softball for years and years. It's the same field which her young kids, Nicki and Kendall, will play for years and years. Nicki is 9 and Kendall is 6, and they probably don't know what kind of a person her mother was. Hopefully, in years to come, when they look up and see Shannon Forde Field, they get an idea of what kind of mom they had."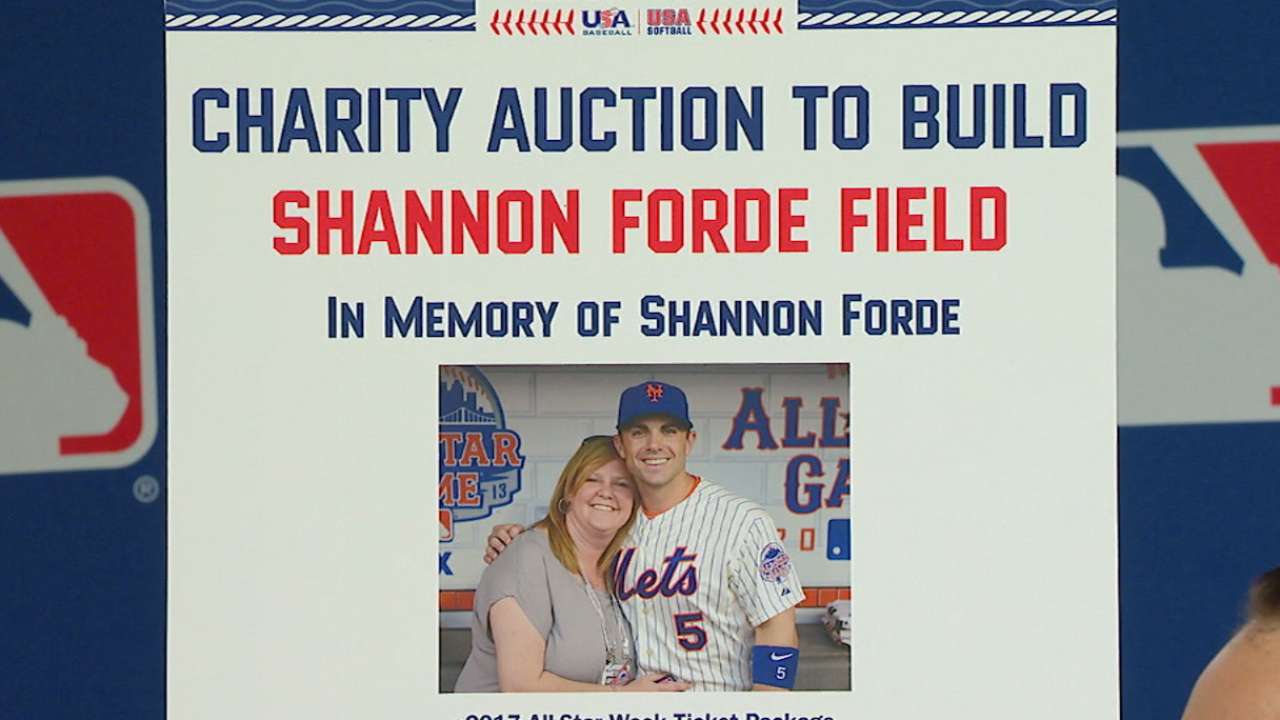 MLB's Play Ball initiative has raised more than $685,000 since it was introduced five years ago, and the auction at MLB.com/Shannon runs through the Winter Meetings, ending Thursday at 9 p.m. ET. Money raised in the auction will be used at the field to add new features including dugouts with protective fencing and benches, bleachers and a scoreboard, plus the organization of more youth-oriented programs.
The Angels were happy to contribute the following experiences to the auction:
• A meet-and-greet with American League MVP center fielder Mike Trout and Angels manager Mike Scioscia.
• The rare opportunity to serve as Angels photographer for a day.
• The chance to throw a ceremonial first pitch before a game at Angel Stadium.
"It is our honor to be part of something so important, and helping continue the memory and legacy of a young lady who not only cared deeply and passionately about her organization, but about this game," Angels vice president of communications Tim Mead said.
"Her courage shown throughout her situation is something that I think will be remembered by each of us and hopefully others who follow in our footsteps in our profession."
League-wide, there are more exciting prizes on which to bid, including a 2017 All-Star Game package for the Midsummer Classic in Miami, autographed gear from Mookie Betts, Starling Marte and other big-name big leaguers, a chance to play catch at Wrigley Field, have have dinner with Hall of Famer Randy Johnson and more.
"To have this kind of recognition for her hometown, for her family ... we're tremendously proud to be the recipients of this, and accept this on behalf of Major League Baseball," Mets chief operating officer Jeff Wilpon said.
"All I can say is this is the group that loves and misses Shannon every single day. There's not much more you can say. It's bittersweet to be talking about this kind of tribute to such a young mother and friend and person that we lost way too soon."
Doug Miller is a reporter for MLB.com. Follow him on Twitter @DougMillerMLB. This story was not subject to the approval of Major League Baseball or its clubs.