Yanks taking part in auction to honor Forde
Club helping fund renovation of field, which will be tribute to late Mets staffer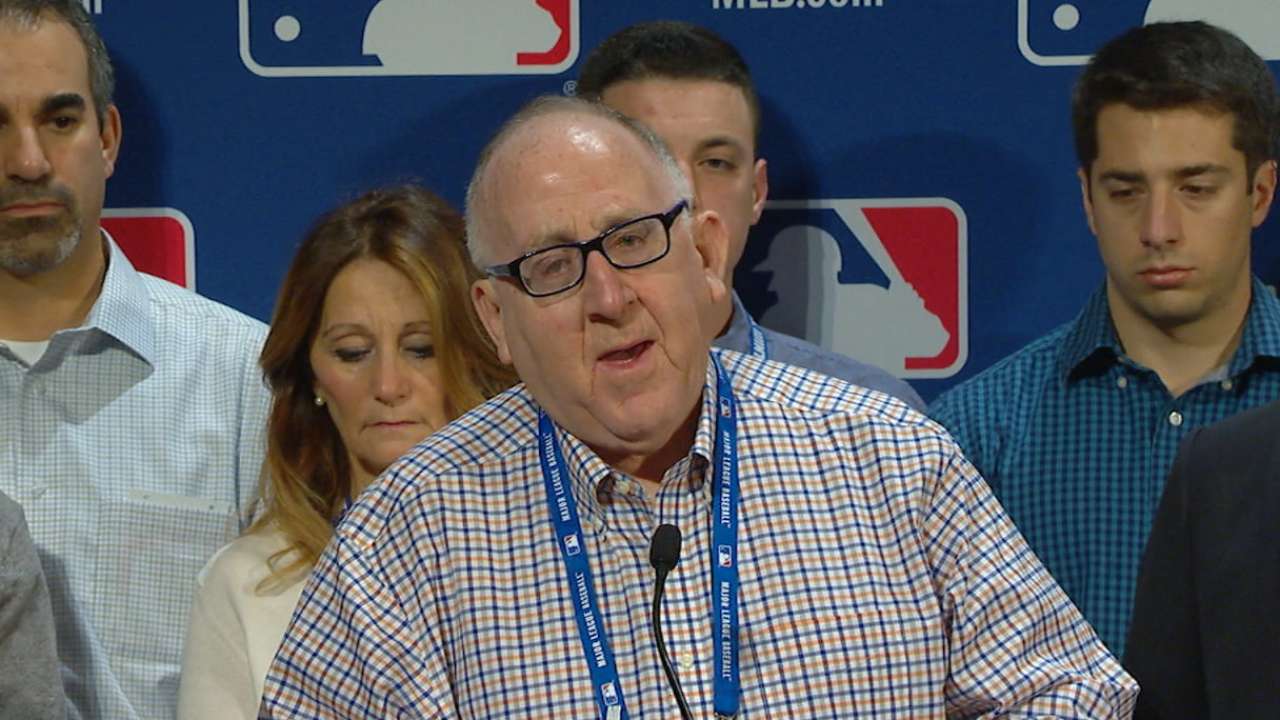 NATIONAL HARBOR, Md. -- The Yankees are participating in a charity auction to help fund the renovation of a youth baseball and softball field in Little Ferry, N.J., which will be a loving tribute to the memory of longtime Mets senior director of media relations Shannon Forde.
All 30 Major League clubs are offering one-of-a-kind auction items that will support MLB Play Ball's effort to honor the beloved staffer, who lost her battle with Stage IV breast cancer in March at the age of 44.
The auction runs through Thursday at 9 p.m. ET and can be accessed at MLB.com/Shannon.
"On behalf of Shannon's family, her mom and dad, Mike and Debbie, her husband, John, we just want to thank Major League Baseball for bestowing such a great honor to Shannon," said Mets director of media relations Jay Horwitz.
"The Shannon Forde Field will be exactly across where she grew up in Little Ferry, New Jersey. It was her parents' house. It's the same field she played on with her sister Alicia and her niece when she was a kid. It's the same field that her father Mike coached softball for years and years.
"It's the same field which her young kids, Nicki and Kendall, will play for years and years. Nicki is 9 and Kendall is 6, and they probably don't know what kind of a person her mother was. Hopefully, in years to come, when they look up and see Shannon Forde Field, they get an idea of what kind of mom they had."
The Yankees are offering a winning bidder the opportunity to be a "media member for a day" during a 2017 Yankees home game, open to high school students or older. The winning bidder will have the opportunity to spend a day in the Yankees' front office at Yankee Stadium and receive a tour of the team clubhouse.
He or she will be in attendance at manager Joe Girardi's pregame and postgame news conferences and receive on-field access to watch batting practice from the field or dugout. Before the game, the winning bidder will have the opportunity to have lunch or dinner in the press dining room with members of the Yankees' local and national print media.
At game time, the winner will sit in the press box with the Yankees' media relations department, as well as get an inside look at how a game is broadcast by visiting the WFAN radio booth with John Sterling and Suzyn Waldman, and the TV broadcast booth with the likes of Michael Kay, Ken Singleton, Al Leiter, John Flaherty, David Cone and Paul O'Neill. Finally, the Yankees will provide a personalized in-game message on the scoreboard.
A separate auction includes a meet and greet with Girardi and four tickets to a mutually agreed upon Yankee Stadium game during the 2017 regular season. The experience will also include four passes to watch batting practice on the field before that day's game and one copy of that game's lineup card, autographed by Girardi.
Bryan Hoch has covered the Yankees for MLB.com since 2007. Follow him on Twitter @bryanhoch and on Facebook. This story was not subject to the approval of Major League Baseball or its clubs.