Blue Jays head to Meetings with work to do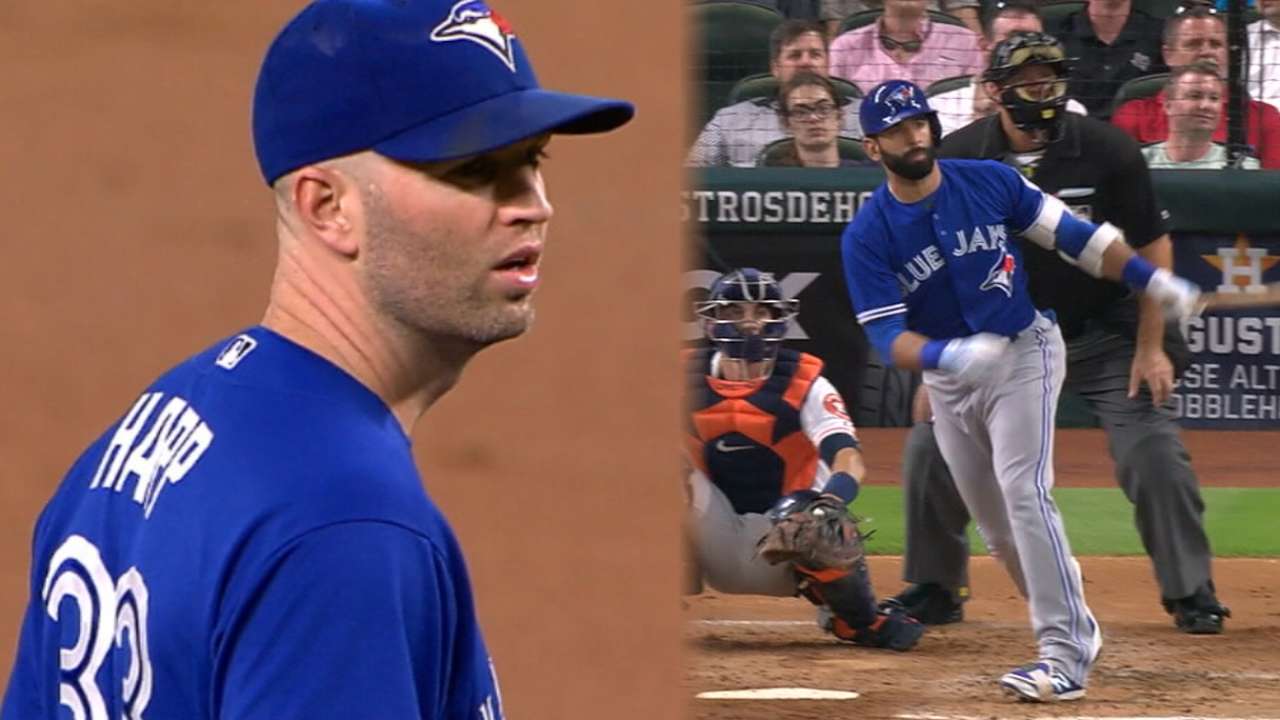 NATIONAL HARBOR, Md. -- The Blue Jays have arrived at Major League Baseball's annual Winter Meetings, and now it's time to start checking off some items on what has turned out to be a very lengthy to-do list.
Toronto's offseason has been relatively quiet so far, with the only major move coming last month when the club signed Kendrys Morales to a three-year contract. That was the first of what should become a flurry of moves, and the expectation is that a lot of the work will get done here at the Gaylord National Resort & Convention Center.
Top free agents Edwin Encarnacion and Jose Bautista are still on the board while Toronto has to fill holes at both corner-outfield spots, first base and at least a couple of arms in the bullpen. There's still plenty of time to get things done this offseason, but at the very least the Washington area will be the site where the groundwork gets laid for 2017.
"You're always close, but nothing is done until it's done," general manager Ross Atkins said this week when asked if he expects to make some moves at the Winter Meetings. "It's really hard to say how I see them going, but I feel like with Morales here that we're in a good position to stay aggressive on the players that we feel are closer to ideal fits."
MLB.com and MLB Network will have wall-to-wall coverage of the 2016 Winter Meetings from the Gaylord National Resort & Convention Center outside Washington, D.C. Fans can watch live streaming of all news conferences and manager availability on MLB.com, including the Rule 5 Draft on Thursday at 9 a.m. ET.
Atkins will host daily media availability sessions this week to discuss the latest news around the team, and manager John Gibbons will be made available on Tuesday at 4 p.m. ET. Gibbons should be able to provide some initial thoughts on where Morales will hit in the batting order and also how the club can potentially replace the offensive production left behind by Encarnacion and Bautista if they depart via free agency.
One aspect of the week that often gets overlooked is the Rule 5 Draft. Under previous GM Alex Anthopoulos, Toronto typically declined to make a selection in the Rule 5, but that changed under Atkins and the trend will likely continue again in 2016. Last year, the club scored big by adding reliever Joe Biagini, and with multiple holes in the bullpen, expect a similar move this time around.
Outside of adding Biagini, Toronto did not do much of anything at last year's Winter Meetings. The Blue Jays signed lefty J.A. Happ before the Meetings began and did not add reliever Drew Storen until January. Some late moves should be expected again this offseason, but with so many holes to fill, the club also has no choice but to be aggressive before the options through free agency and trade begins to dwindle.
Whether it's the future of Encarnacion, the corner outfield or the bullpen, the Blue Jays should have a lot more clarity on their future by the time they return north. It's an unpredictable time of the year, but with all 30 MLB GMs and a countless number of agents in town, the time for action is now.
"It's not just internal," Atkins said of his options this offseason. "It's every single player that is an alternative we wanted to have a better understanding of all those pieces before we made moves that eliminated players or took us out of certain opportunities. That's still ongoing and it's difficult to do. There are different motivations on either side, but that's what our work has been to do early."
Gregor Chisholm has covered the Blue Jays for MLB.com since 2011. Follow him on Twitter @gregorMLB and Facebook, and listen to his podcast. This story was not subject to the approval of Major League Baseball or its clubs.