From Hack to Herrera: A history of the Rule 5 Draft
Complete overview of event that's been giving players a shot since before the World Series
Though it has changed considerably over the years, the Rule 5 Draft dates back a century and a quarter, making it older than the World Series. Along the way, it has produced many big league contributors and a handful of stars but remains a relatively minor source of talent.
Because the Rule 5 is a somewhat complicated affair, here is a look at how it works, as well as how it has evolved.
Rule 5 rules
Any club with an open spot on its 40-man roster is eligible to make a selection. Teams pick in reverse order of record. Last year, 16 players were picked in the Major League phase. (There also are Triple-A and Double-A phases).
Players on an organization's 40-man roster are protected from the Rule 5 Draft. To be eligible for selection, a player must either have spent four seasons in professional baseball after signing at age 19 or older, or spent five seasons in pro ball after signing at 18 or younger (as of June 5 of that year). In other words, this year's Rule 5 Draft mostly will affect unprotected players who were international signings or Draft picks out of high school in 2012, as well as college players who were drafted in 2013.
A team that makes a selection pays a player's previous team $100,000 and places the player on its 40-man roster, then must keep the player on the 25-man roster or disabled list for the whole season. (He must be active for at least 90 days, so teams can't hide him on the DL the whole time.) If the acquiring team removes the player from the big league roster, it must offer him back to the former team for $50,000. (The costs increased from $50,000 and $25,000 to $100,000 and $50,000, respectively, in the new Collective Bargaining Agreement.)
The early years
The event now known as the Rule 5 Draft dates all the way back to 1892, 11 years before the American League and National League held the inaugural World Series. Most commonly referred to as the "Selection of Players" at first, it allowed big league teams to draft players between Oct. 1 and Feb. 1 each offseason, in no predetermined order.
Before the rules recognized affiliated farm systems in 1931, big league teams made their picks solely from Minor League teams, all of which operated in independent leagues. Initially, a pick cost either $500 or $1,000, depending on the level of the player's league. Both the acquisition costs and the Draft period changed numerous times over the next century, with the term "Rule 5" first appearing no later than in the 1941 edition of the Major League rules.
Notable example:
Center fielder Hack Wilson debuted briefly for the New York Giants in 1923, had a strong follow-up in '24, then struggled the next year and was dealt to Toledo of the American Association that August. After Wilson performed well for Toledo, the Cubs acquired him via the Rule 5 coming off a last-place finish in the National League. Over the next five seasons, Wilson hit .331/.419/.612 with averages of 35 home runs and 142 RBIs, including a still-standing record of 191 in 1930. The Veterans Committee selected him for the Hall of Fame in '79.
• 10 intriguing names & Top 30 prospects available for the Rule 5 Draft
The bonus rule era
At various times between 1947 and the start of the annual amateur Draft in '65, baseball had different versions of a bonus rule that was intended to limit signing bonuses and prevent wealthy teams from hoarding talent. Players who received bonuses over a certain amount had to be kept on the big league roster for a certain length of time in order to be protected.
The version of the rule in effect from 1953-57 set the bonus threshold at $6,000 and required an initial two-year stay in the Majors. If unprotected, these players were unrestricted in the Rule 5 Draft, meaning they didn't count against the limits placed on the number of picks a single team could lose in a year.
Notable example:
In February 1954, the Dodgers signed a 19-year-old outfielder named Roberto Clemente out of Puerto Rico, giving him a $10,000 bonus. But instead of bringing him to Brooklyn, the organization sent him to its Triple-A affiliate in Montreal. Clemente got only 155 plate appearances that season and posted just a .657 OPS with two home runs, but that didn't stop Branch Rickey and the Pirates from grabbing him in the Rule 5 Draft that November. It took some seasoning in the Majors for Clemente to hit his stride, but eventually he became one of the greatest outfielders of all time.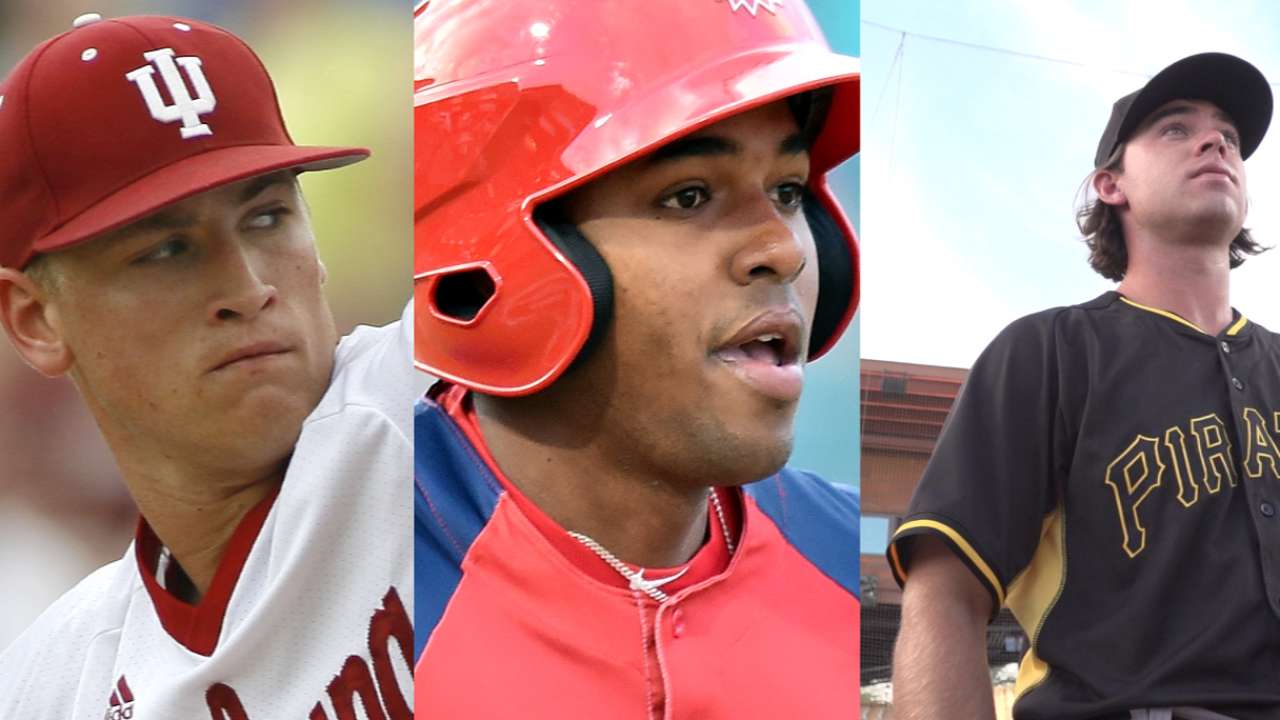 Modern times
Between 1965 and 2005, baseball introduced the amateur Draft and free agency, and gradually expanded to 30 teams. The Rule 5 Draft also was tweaked during that time, with the selection price increasing to $50,000, and the time before a player could become eligible rising to three or four years, depending on age.
Some of the best picks from this era didn't actually help the teams that drafted them. For example, the Cardinals took Cecil Cooper from the Red Sox in 1970 but then offered him back, the White Sox took Bobby Bonilla from the Pirates in 1985 but traded him back to Pittsburgh the following July, the Marlins took Johan Santana from the Astros in 1999 but immediately traded him to the Twins, and the Orioles took Jose Bautista from the Pirates in 2003 but put him on waivers six months later.
Notable example:
Outfielder Shane Victorino had the distinction of being a Rule 5 pick twice. First, the Padres grabbed him from the Dodgers in 2002, but a 22-year-old Victorino hit .151 in 36 games in '03 and was returned near the end of May. L.A. never brought Victorino to the Majors and left him unprotected again after the '04 season. This time the Phillies jumped, though they too offered him back to the Dodgers before the '05 season. Fortunately for Philadelphia, L.A. declined, and Philly was able to send Victorino to Triple-A. He returned in September and established himself as a key part of the team's lineup from '06-'12.
The current system
In 2006, the pool of players eligible for the Rule 5 Draft shrunk, per the terms of a new CBA. Unprotected players now must be four or five seasons removed from signing, depending on whether they did so before turning 19.
Since then, relatively few players have stuck with a drafting team and made an impact, though Josh Hamilton, R.A. Dickey, Darren O'Day and Ender Inciarte are among others who have been selected during that time. Success stories include relievers Joakim Soria (Padres to Royals, 2006), Hector Rondon (Indians to Cubs, 2012), Matt Bowman (Mets to Cardinals, 2015) and Joe Biagini (Giants to Blue Jays, 2015).
Notable example:
Odubel Herrera was a middle infielder who had yet to move past Double-A in a stacked Rangers system when the Phillies picked him in 2014 and stuck him in center field the following season. In two years since, the 24-year-old has started 268 games there and accrued 8.0 wins above replacement, showing off speed, power and patience while making the NL All-Star team in '16.
Baseball researcher Cliff Blau contributed to this story.
Andrew Simon is a research analyst for MLB.com. Follow him on Twitter @AndrewSimonMLB. This story was not subject to the approval of Major League Baseball or its clubs.