Braves sign reliever Lindgren to 1-year deal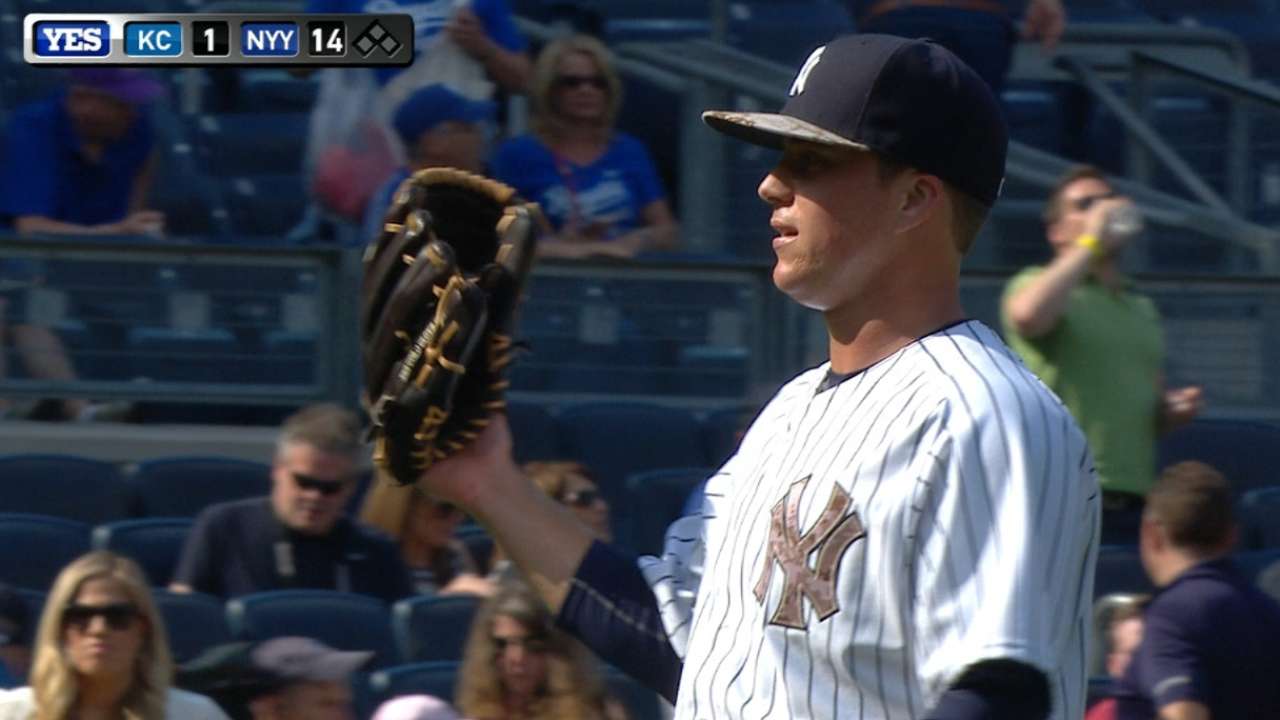 NATIONAL HARBOR, MD -- Provided yet another opportunity to take a chance a on low-risk, high-upside prospect whose career has recently been adversely affected by an injury, the Braves announced Sunday morning they signed left-handed reliever Jacob Lindgren, who had been non-tendered by the Yankees on Friday.
The Braves did not wait long once they surprisingly learned the Yankees had not protected Lindgren, a strikeout-producing southpaw who made a quick ascent to the Majors in 2015 and then endured an injury-plagued '16 season that officially ended with him undergoing Tommy John surgery in August.
Though Lindgren will not pitch during the 2017 season, the Braves thought enough of his potential to commit approximately $1 million (includes a signing bonus) to him for the upcoming season and provide him a 40-man roster spot until he is placed on the 60-day disabled list during Spring Training.
If Lindgren makes a successful recovery from surgery and throws strikes more consistently than he did the past two years, the Braves could gain long-term benefits from this gamble. They will have the option to control the lefty through the 2021 season.
Lindgren has produced an average of 14.3 strikeouts per nine innings within the 53 2/3 Minor League innings he has compiled since the Yankees took him out of Mississippi State with the 55th overall pick in the 2014 Draft. The 23-year-old reliever made a quick ascent to the Majors in '15, but the Yankees sent him back to the Minors after just seven appearances.
During his short stint with New York, Lindgren allowed four earned runs and five hits over seven innings. He recorded eight strikeouts and issued four walks, two of which were tallied as he completed two scoreless innings during his May 25, 2015, debut against the Royals.
Lindgren missed the final three months of the 2015 season while recovering from surgery to remove a bone spur from his elbow. He returned to Spring Training this year with a realistic shot to be on the Opening Day roster, but command issues led the Yankees to cut him early in camp and then have him begin the season at the Class A Advanced level.
Lindgren has been blessed with a plus fastball and impressive slider, but like many other power pitchers, inconsistent control has been an issue during the early part of his career. He was shut down again in April after he issued nine walks and recorded eight strikeouts through what proved to be the only seven innings he'd pitch before ultimately undergoing Tommy John surgery.
Mark Bowman has covered the Braves for MLB.com since 2001. This story was not subject to the approval of Major League Baseball or its clubs.