Halos hope to continue retooling at Winter Meetings
Second base, catcher and starting pitching top club's wish list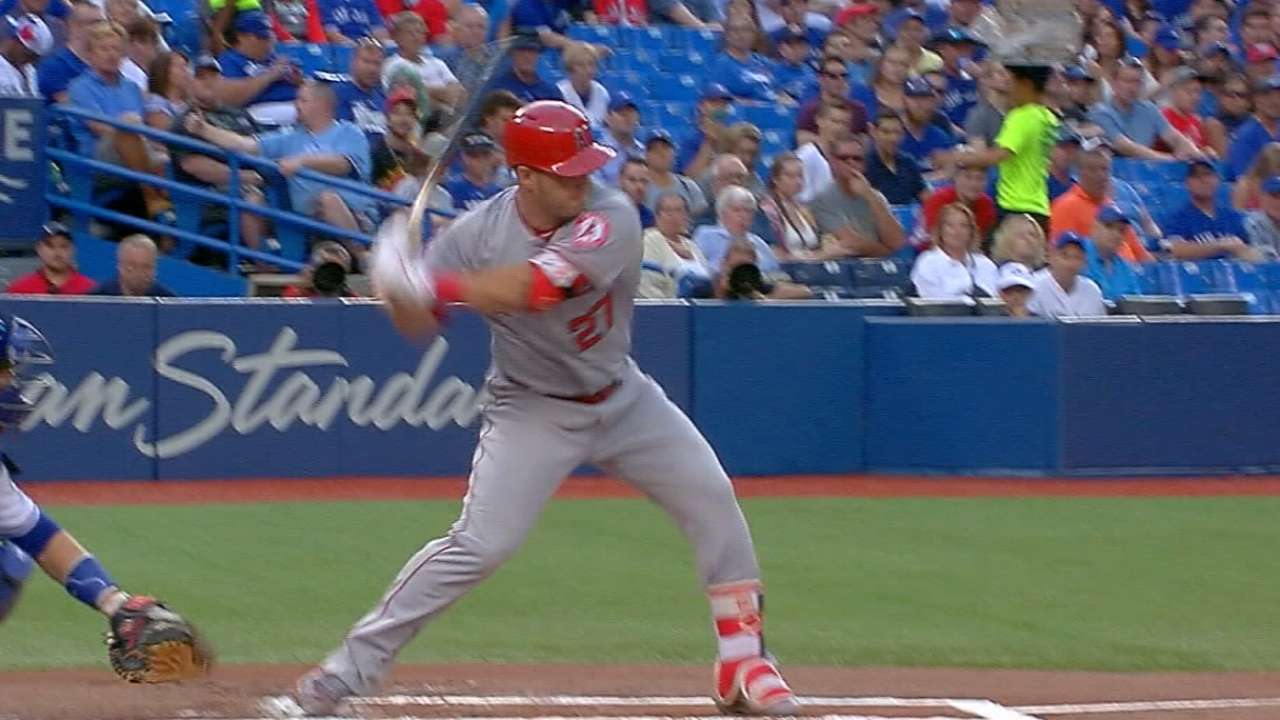 NATIONAL HARBOR, Md. -- The Angels have already begun reworking their roster in an attempt to get better while they get healthy. If both things happen, they plan on contending in the American League West in 2017.
There's still more work to do. Now that their brain trust is on the ground at the site of this week's Winter Meetings, they can do their best to make more headway toward filling their remaining needs.
The annual meetings bring together representatives from all 30 clubs, their Minor League affiliates, and insiders from every imaginable wing of the industry. With such easy access to the wheelers and dealers of the game in one central location, it's not surprising that transactions large and small go down -- seemingly around the clock. And the Angels could be quite busy here.
General manager Billy Eppler has already been active this winter, landing left fielder Cameron Maybin in a trade with Detroit, signing versatile free-agent right-hander Jesse Chavez, re-signing reliever Andrew Bailey, adding outfield depth by signing Ryan LaMarre and acquiring right-hander Brooks Pounders from Kansas City in another trade.
• Angels can make moves count at Meetings
Heading into the Winter Meetings, which run Monday through Thursday, the Angels could be looking to address their other areas of need, which, as of now, appear to be second base, catcher and a starting pitcher or two.
MLB.com and MLB Network will have wall-to-wall coverage of the 2016 Winter Meetings from the Gaylord National Resort & Convention Center outside Washington, D.C. Fans can watch live streaming of all news conferences and manager availability on MLB.com, including the Rule 5 Draft on Thursday at 6 a.m. PT.
• Angels continue regroup for '17 at Meetings
No matter what goes down this week, there will be intrigue and much chatter about how the Angels are planning on improving quickly from the 74-88 season they experienced in an injury-riddled 2016. On Wednesday at 11 a.m. PT, manager Mike Scioscia will meet with the media and discuss any acquisitions the Angels might have made by then and how he plans on fitting all the pieces together on the field in 2017.
As the longest-tenured manager in the Major Leagues and a former All-Star player, Scioscia is no stranger to the Winter Meetings. Neither is MLB.com, which will be all over the Meetings throughout the week, so make sure to keep checking in.
Doug Miller is a reporter for MLB.com. Follow him on Twitter @DougMillerMLB. This story was not subject to the approval of Major League Baseball or its clubs.