Trade talks likely to heat up at Meetings
Silverman calls Rays' starting-pitching depth 'a double-edged sword'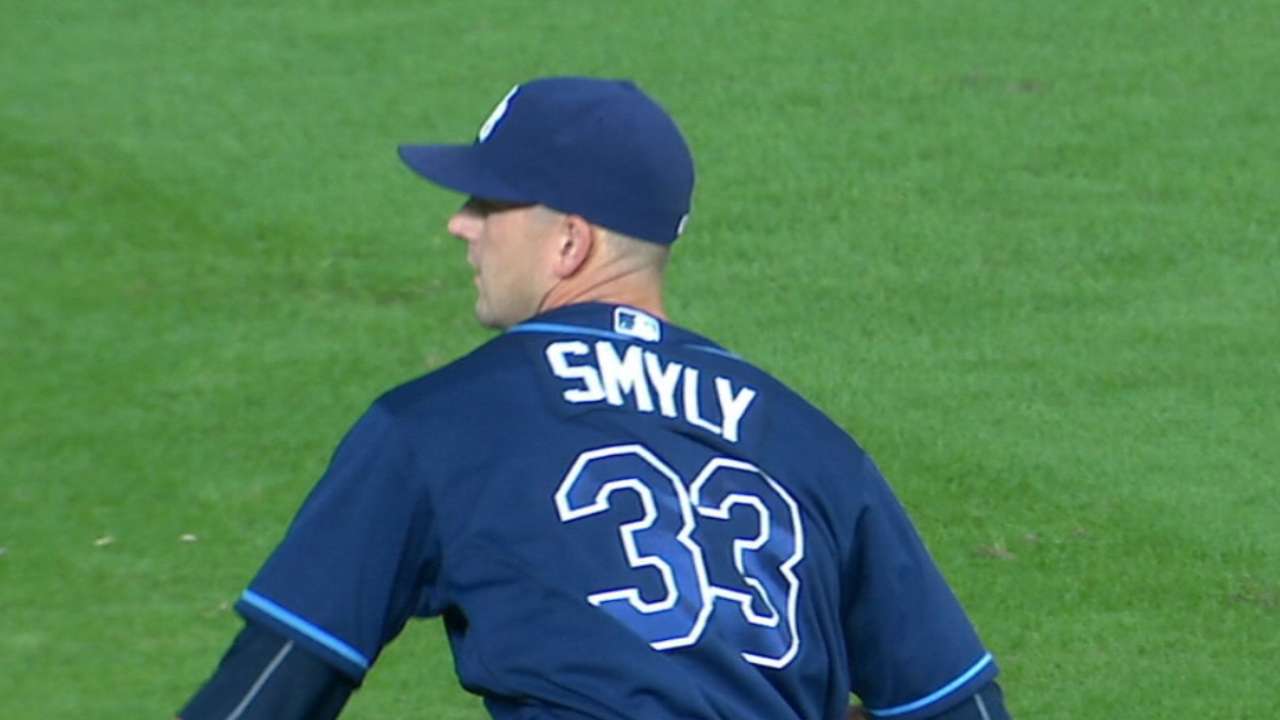 NATIONAL HARBOR, Md. -- Last season didn't turn out the way the Rays had intended. Now that the front office has had a chance to evaluate what went right and what went wrong, the Rays head to the Winter Meetings ready to shape a winning team for 2017.
MLB.com and MLB Network will have wall-to-wall coverage of the 2016 Winter Meetings from the Gaylord National Resort & Convention Center outside Washington, D.C. Fans can watch live streaming of all news conferences and manager availability on MLB.com, including the Rule 5 Draft on Thursday at 9 a.m. ET.
Historically, the Rays have not finalized a lot of deals at the Winter Meetings. What they have done is establish the foundation for possible deals.
"We're always open for conversations," said Matt Silverman, Rays president of baseball operations. "We don't turn away conversations. Many of those conversations start with big players or bigger names, and they evolve and they meander. We need to be in the flow. We need to be in the dialogue. To make sure that we're investigating opportunities to help our club."
• Rays head to Meetings with open minds
Silverman noted that the Rays operate under trying financial circumstances, which can restrict how they construct their team.
"Our goal is to work within our constraints to put a playoff club on the field," Silverman said. "And to do that, we have to be creative. We have to be willing to make big deals and willing to take calculated risks in terms of the trades we make.
"And so we're having conversations. The fact that the CBA got done, and we all know that there's going to be labor peace, I think it's going to be a big sparkplug for the industry in terms of conversation. We've already seen the phone ringing more than it has over the past week. So the thaw's over. There's going to be a lot of conversations, a lot of rumors over the next couple of weeks. And we'll see what we can do to turn that into a more functional club for us."
When asked to expand on "calculated risk," Silverman noted that the Rays are aggressive.
"We're aggressive in conversations," he said. "We're aggressive in terms of trades, because that is the primary avenue for us to improve our club. We're not going to go out and sign the big free agents.
"If we want to make a change to our club, it's likely going to be through trades. So, we're active in those conversations and we've been active as a trading club the past several years, and we expect that to continue."
• Rays could go in several directions at Meetings
What the Rays do have is starting-pitching depth during a time when the pool of free-agent starters is not deep. So if the Rays do make a deal for an impact piece, starting pitching will be the likely tender.
Silverman calls the situation "a double-edged sword." He noted that while pitching in the free-agent market is very expensive, and that makes potential returns on trades higher, it also means that having to use the free-agent market to add pitching would be tough for the Rays to do.
Rarely do the Rays tip their hand about how they intend to build their team, so don't expect that philosophy to change. Stay tuned to see how it turns out.
Bill Chastain has covered the Rays for MLB.com since 2005. This story was not subject to the approval of Major League Baseball or its clubs.