MLB.com Columnist
Jonathan Mayo
Clubs dig for diamonds: Rule 5 Draft preview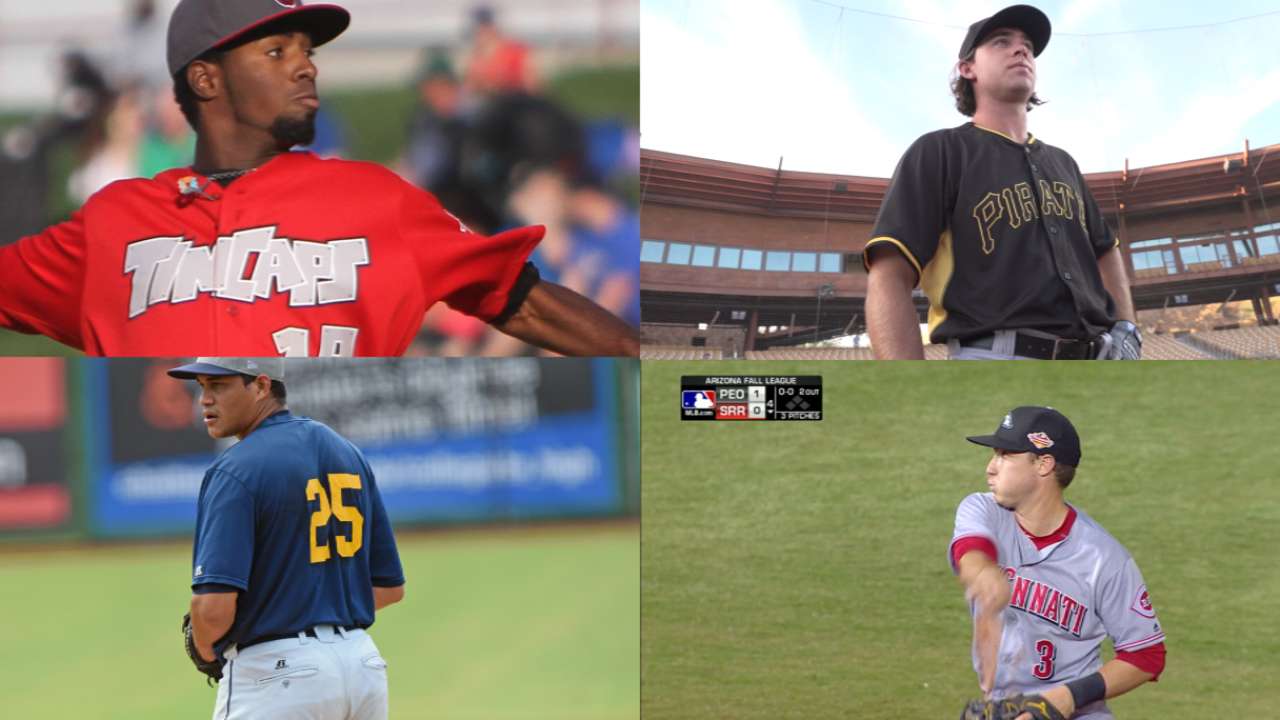 NATIONAL HARBOR, Md. -- The 2016 Winter Meetings conclude with the annual Rule 5 Draft this morning in National Harbor, Md. Fans can follow a live stream of the Draft here.
Names were slowly trickling in from team suites as the Draft approached, with the Twins having the first overall pick by virtue of having the worst record (59-103) in the big leagues last season. After the Twins, the next four selections go to the Reds, Padres, Rays and Braves. All teams are scouring the list of hundreds of eligible players, getting past reports and evaluations as well as heading out to watch those participating in winter league play.
• Tune in to MLB.com's live stream of the Rule 5 Draft
"Our mentality is we plan to participate," Twins vice president of player personnel Mike Radcliff said. "Our situation, Major League wise, we're diving in for sure. We're continuing to look at the names and we've narrowed it down. Our objective is to go get somebody."
• Complete prospect coverage on MLBPipeline.com
A handful of names has come up in conversations more than others at this point, with Yimmi Brasoban of the Padres and the Rays' Yonny Chirinos generating the most buzz. Brasoban, 22, has been mentioned the most, a right-hander who made the move to the bullpen in 2015 and made it to Double-A this past season. He can miss bats, but has had command issues. Chirinos, also 22, made it to Double-A as well, pitching both in starting and relief roles along three stops. He's an extreme strike-thrower (1.4 BB/9 ratio in his career).
Two bats who performed well in the Arizona Fall League have also been discussed by teams. Reds infielder Zach Vincej finished second in the AFL with his 1.101 OPS. The 25-year-old spent the 2016 regular season in Double-A and could fit the utiltyman profile teams often look for in the Rule 5.
Pirates infielder Eric Wood also can play multiple positions, but at the corners. Primarily a third baseman, Wood showed he can play first and even left field this past fall, all while hitting .330/.388/.489 and leading the AFL with 20 RBIs.
Other names being heard in the lobby are pitchers Jamie Callahan and Justin Haley, both of the Red Sox, White Sox lefty Jordan Guerrero and Mets infielder Phillip Evans.
Players who first signed at age 18 had to be added to 40-man rosters within five seasons or they became eligible to be drafted by other organizations through the Rule 5 process. Players signed at 19 years or older have to be protected within four seasons. Clubs pay $100,000 to select a player in the Major League phase of the Rule 5 Draft. If that player doesn't stay on the 25-man roster for the full season, he must be offered back to his former team for $50,000. The costs increased from $50,000 and $25,000 to $100,000 and $50,000, respectively, in the new Collective Bargaining Agreement.
For this year, that means an international or high school Draft pick signed in 2012 -- assuming he was 18 or younger as of June 5 of that year -- has to be protected. A college player taken in the 2013 Draft is in the same position.
Over the last couple of years, the Major League portion of the Rule 5 Draft hasn't been overly active. Last year, there were 16 selections. In 2014, 14 picks were made. Much of that is because of the rule change with the previous CBA to give teams an extra year before having to protect players, meaning fewer diamonds in the rough are left unprotected after that extra year of development and evaluation.
Despite the Major League phases being brief of late, they have been successful. Of the 14 players from two years ago, 10 weren't returned to their original organization. Last year, 10 of the 16 saw at least a little big league time for the team that acquired them and seven weren't returned. Biagini pitched in the postseason for the Blue Jays and Bowman pitched very meaningful innings for the Cardinals all year. Considering that the Rule 5 Draft is considered to be a bit of a needle-in-a-haystack exercise, it's a very high success rate.
"Like every other phase of baseball, there's more stuff to evaluate," Radcliff said. "It's way more precise because of the analytics and how every team goes about its business. Not just guys like us picking first, every team has holes or cracks. There will always be those holes you can address with outside talent."
There is also a Minor League phase of the Rule 5 draft, with the costs rising from $12,000 to $24,000 for a Triple-A pick (anyone not protected on a big league or Triple-A roster is eligible). The Double-A phase of the draft has been eliminated. Players selected in this portion of the Draft aren't subject to any roster restrictions with their new organizations.
Below is the Rule 5 Draft order, based on the reverse order of standings from the end of the 2016 regular season, with how many players were on each team's 40-man roster as of Thursday in parentheses. A team can't participate in the Major League phase if there isn't room on its roster.
1. Twins (39)
2. Reds (38)
3. Padres (33)
4. Rays (39)
5. Braves (40)
6. A's (40)
7. D-backs (38)
8. Phillies (40)
9. Brewers (39)
10. Angels (39)
11. Rockies (37)
12. White Sox (39)
13. Pirates (38)
14. Marlins (37)
15. Royals (39)
16. Astros (40)
17. Yankees (39)
18. Mariners (40)
19. Cardinals (39)
20. Tigers (39)
21. Giants (39)
22. Mets (40)
23. Orioles (36)
24. Blue Jays (38)
25. Dodgers (40)
26. Red Sox (39)
27. Indians (38)
28. Nationals (37)
29. Rangers (39)
30. Cubs (35)
Jonathan Mayo is a reporter for MLBPipeline.com. Follow him on Twitter @JonathanMayo and Facebook, and listen to him on the weekly Pipeline Podcast. This story was not subject to the approval of Major League Baseball or its clubs.