deGrom past elbow woes, sees 'window' for title
Right-hander to begin throwing in December as Mets hope rotation returns to full capacity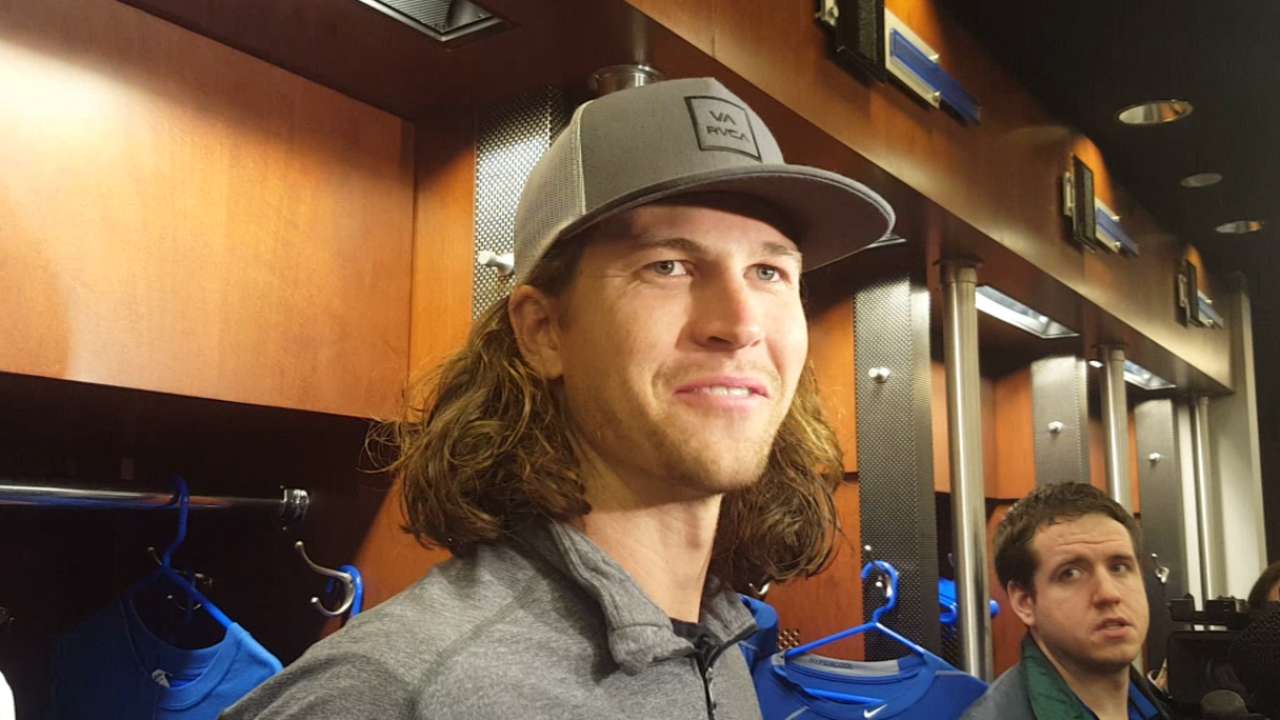 NEW YORK -- Initially, it hurt Jacob deGrom to snap his fingers. So after surgery to displace a nerve in his right elbow, deGrom did what any curious pitcher would do. He continued snapping the fingers on his right hand until one day, finally, the pain disappeared.
"Honestly, it feels good," deGrom said Friday at Citi Field, where he capped a week of promotional appearances in New York City. "It feels like nothing happened. So I'm ready to start throwing."
Though deGrom will begin throwing before the end of December, his true test will not come until April. At that point, he, Noah Syndergaard, Matt Harvey, Steven Matz and possibly Zack Wheeler will form the type of five-man rotation the Mets have dreamed of for years. Four of those five will be trying to appear in a big league game for the first time since surgery.
• deGrom champions Syndergaard's hitting
"Definitely scary," deGrom said of his issue, which created numbness in his fingers. "I think anything that happens with your arm, that's not anything you look forward to. Until you know what it is, it's definitely something that you're like, 'OK, this could be bad.' So I think finding that out, that it's the nerve and it has no future effects on you once it gets moved, then you're OK. That was a little bit of peace of mind."
Much of the Mets' optimism heading into 2017 revolves around deGrom and the rest of the club's young starters, who believe there is a strong chance they will be significantly healthier than they were in 2016. But that is no guarantee. There is no better predictor of future injuries than the past, meaning the Mets will have to be wary of their starting five until they can prove their health.
To protect them, the Mets could take advantage of their depth -- Robert Gsellman and Seth Lugo will be back, as well -- by using a six-man rotation at times, or simply skipping various starters periodically as they did last season. deGrom was not overly keen on that idea, though, noting he and others build their entire routines around a five-day schedule.
For Mets pitchers, such logistics will unfold in time. The entire organization received a shot of optimism earlier this week, when outfielder Yoenis Cespedes signed a new four-year contract. When asked what that does for the Mets heading into next season, deGrom admitted "we see the window" for a title.
"Like we've said every year, the goal is to win the World Series," deGrom said. "We made a playoff push this year and it was definitely exciting. Last year we made it to the World Series. So the same goal is to win it, and I think everybody on this team has that same goal. That's what we're shooting for, starting in Spring Training."
Anthony DiComo has covered the Mets for MLB.com since 2008. Follow him on Twitter @AnthonyDiComo and Facebook, and listen to his podcast. This story was not subject to the approval of Major League Baseball or its clubs.