Winter leagues roundup: Crew's Lopez back on track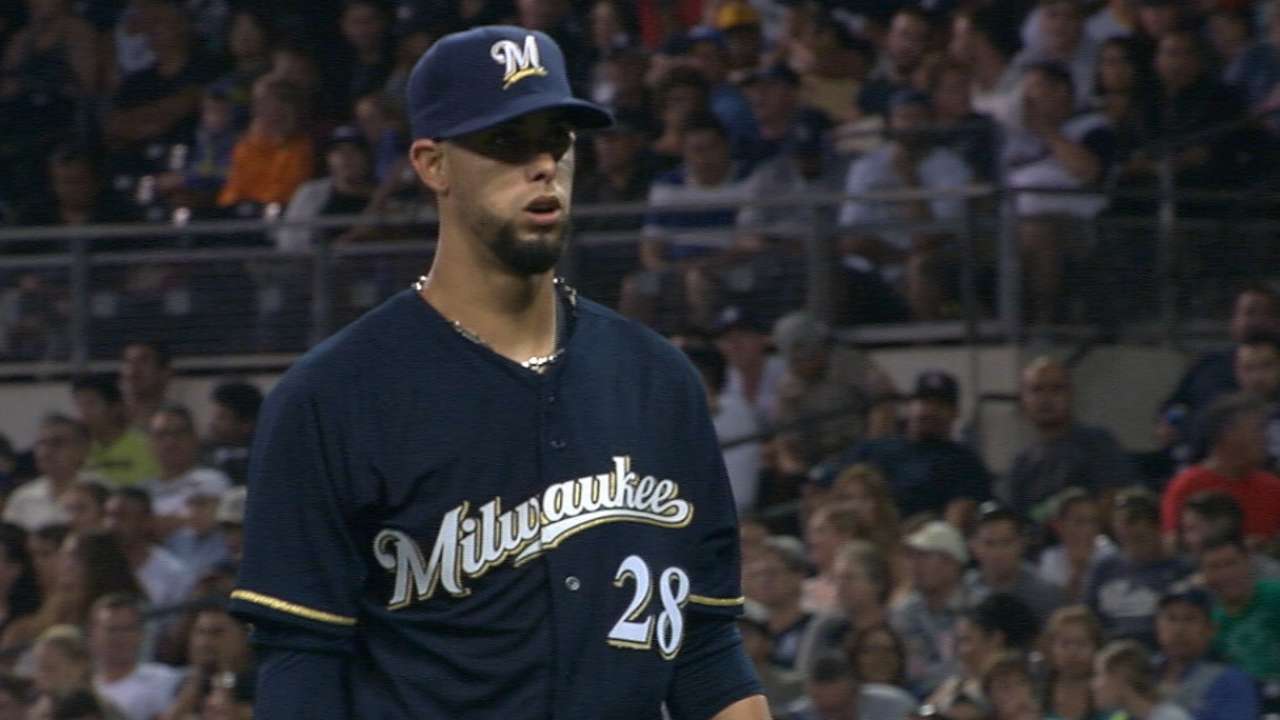 Jorge Lopez reached the big leagues as a 22-year-old in 2015 but struggled mightily last season, receiving a midseason demotion to Double-A Biloxi after going 1-7 with a 6.81 ERA and a 66-to-55 strikeout-to-walk ratio in 16 starts for Triple-A Colorado Springs.
However, the Brewers' No. 13 prospect managed to end his campaign on a high note, posting a 2.49 ERA with 24 strikeouts and five walks over his final four starts in the Southern League. That success has followed Lopez into winter-ball action in Puerto Rico, where he's allowed just three earned runs on nine hits, with 20 strikeouts and eight walks, in five starts (23 2/3 innings) for Indios de Mayaguez. His latest turn was his best of the offseason, as he yielded just two hits with five strikeouts in five scoreless innings on Monday.
• Winter league stats, standings, schedules and news
Overall, Lopez, Milwaukee's second-round Draft pick in 2011, ranks second in the circuit in both ERA (1.14) and WHIP (0.72).
Here's a look at some of the top prospects currently making waves in the offseason leagues:
Australia
• Kevin Padlo, 3B, Rays -- The Rays' No. 20 prospect posted a .771 OPS thanks to a Midwest League-leading 79 walks and finished tied for third with 16 home runs last season at Class A Bowling Green. Now playing in the ABL for a second straight offseason, Padlo, 20, owns a .273/.368/.515 battling line, with five extra-base hits and seven RBIs, in his first nine games for the Brisbane Bandits.
• Stone Garrett, OF, Marlins -- Garrett, Miami's No. 7 prospect, appeared in only 35 games for Class A Greensboro before a practical joke by then-teammate Josh Naylor resulted in right thumb laceration and subsequent surgery that kept the 21-year-old outfielder out of action until mid-August. Hoping to make up for the lost time in the ABL, Garrett has hit .324/.368/.500 with one home run in nine contests for the Sydney Blue Sox.
Dominican Republic
• Rafael Bautista, OF, Nationals -- The Nationals' No. 17 prospect has produced at a solid .287/.327/.330 clip in 27 games for Leones del Esocgido after hitting .282 with 77 runs scored and 56 stolen bases in 136 Double-A contests during the regular season. On top of that, Bautista, 23, is tied for second in the circuit in runs scored (16) and ranks third in steals (eight).
• Matt Koch, RHP, D-backs -- Acquired from the Mets in the August 2015 trade that sent Addison Reed to New York, Koch went 1-1 with one save across seven appearances (two starts) for Arizona as a September callup. More significantly, the D-backs' No. 16 prospect allowed nine hits in 18 innings in that span (.145 BAA) en route to a 2.00 ERA. Koch has been even tougher on opposing hitters this offseason with Tigres del Licey, for whom he's yielded just five hits in 16 2/3 innings (.091 BAA) to go along with a stellar 0.54 ERA in four outings (three starts).
Puerto Rico
• Corey Black, RHP, Cubs -- Control problems plagued Black, the Cubs' No. 27 prospect, once again in 2016 as the hard-throwing righty issued 36 free passes against 62 strikeouts in 53 innings (48 appearances) between Double-A Tennessee and Triple-A Iowa. The Cubs are hopeful that Black can get back on track this offseason in Puerto Rico, and, so far, the 25 year old has responded to the challenge by posting a 0.60 ERA with nine saves and a 13-to-6 strikeout-to-walk ratio in 15 innings (14 appearances) for Cangrejeros de Santurce.
Venezuela
• Carlos Tocci, OF, Phillies -- The Venezuela native received his first taste of winter ball last offseason, when he hit .333 in 11 games for Tigres de Aragua. After a full season in the Class A Advanced Florida State League (.284/.331/.362) in 2016, the Phillies' No. 22 prospect has hit .455/.561/.455 over his last 10 games to lift his overall average to .338 through 38 games.
• Yandy Diaz, 3B/OF, Indians -- The Indians' No. 10 prospect turned in another strong campaign in the high Minors in 2016, hitting .318/.408/.446 with 35 extra-base hits and a 71-to-86 walk-to-strikeout rate in 121 games between Double-A Akron and Triple-A Columbus. The 25-year-old third baseman/outfielder has continued to produce this offseason in Venezuela, where he owns a .348/.420/.506 batting line with nine extra-base hits in 23 games for Leones del Caracas.
• Renato Nunez, 3B/1B, Athletics -- After getting his first taste of the big leagues in September, the A's No. 5 prospect is currently tied for the league lead with nine home runs -- a total he amassed in just 23 games for Tigres de Aragua. Six of the 22-year-old's homers have come in his past 10 games, during which he owns a robust .300/.391/.775 slash line with 12 RBIs and 9 runs scored. Overall, Nunez is hitting .326/.406/.652 with 17 runs scored, 22 RBIs and a 11-20 walk-to-strikeout ratio.
Mike Rosenbaum is a reporter for MLB.com. Follow him on Twitter at @GoldenSombrero. This story was not subject to the approval of Major League Baseball or its clubs.