Angels can make moves count at Meetings
With $40M having come off the books, club can focus on clear needs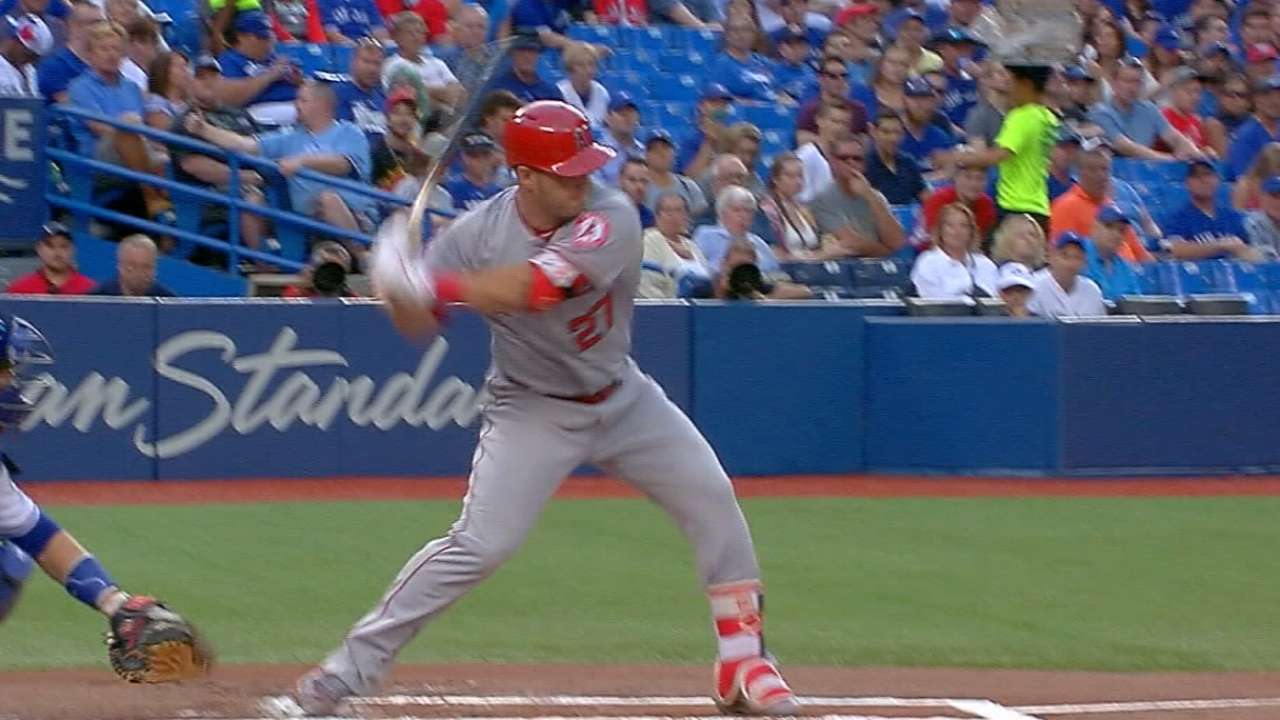 There's no argument that 2016 was a disappointment for the Angels, who lost a number of players to injury and then lost 88 games. But there are concrete reasons for optimism heading into 2017. With smart moves, a solid core of returning position players and the hope that they'll get a run of good fortune in the health department, they see no reason to think they can't contend in the American League West once again.
The Halos have already tried to pull off a few of the former, trading for outfielder Cameron Maybin, bringing back reliever Andrew Bailey and signing free-agent pitcher Jesse Chavez and outfielder Ryan LaMarre.
The Angels have more to do, however, and they'll get a chance to check off a few more boxes at the upcoming Winter Meetings, which run Monday through Thursday.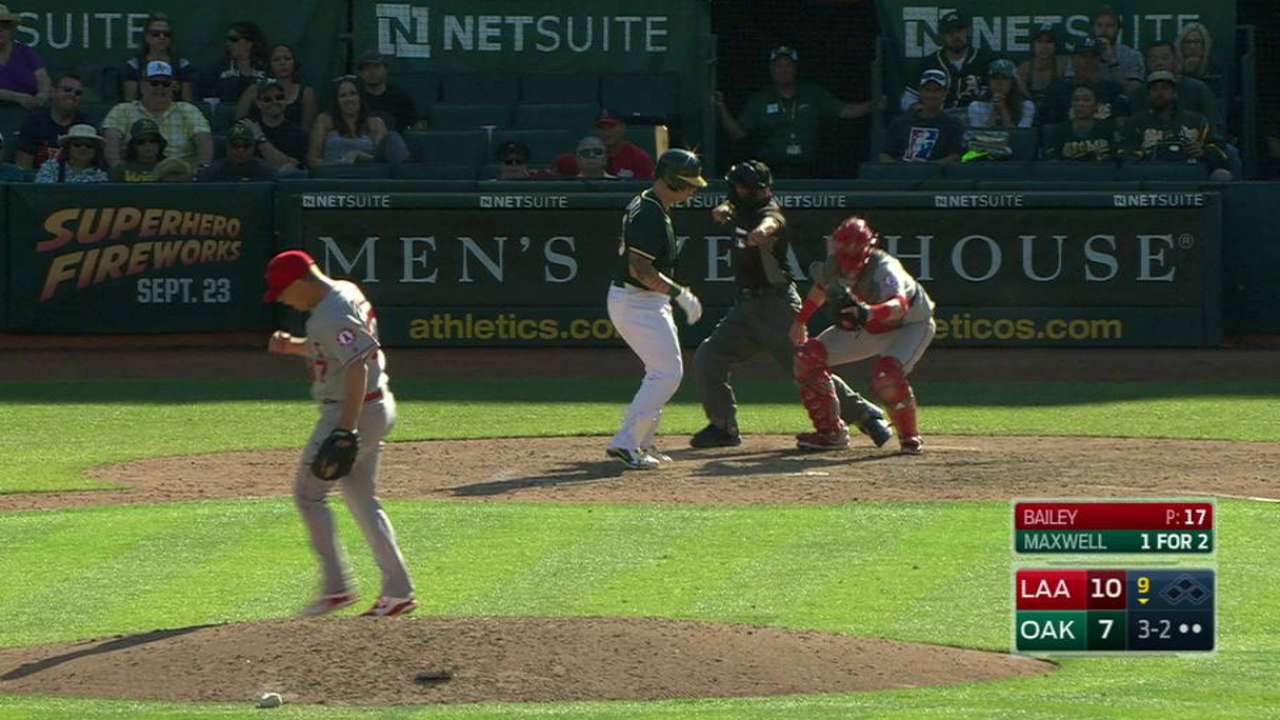 MLB.com and MLB Network will have wall-to-wall coverage of the 2016 Winter Meetings from the Gaylord National Resort & Convention Center outside Washington, D.C. Fans can watch live streaming of all news conferences and manager availability on MLB.com, including the Rule 5 Draft on Dec. 8 at 6 a.m. PT.
• Angels continue regroup for '17 at Meetings
Angels fans eager to see more of the roster reshaping by general manager Billy Eppler could get their wish during these meetings. And even if there aren't any signings or trades right away, there should be plenty of seeds planted for later in the offseason.
Club needs
Second base: The Angels signed Cliff Pennington last offseason, and he played 58 games at second in 2016. But he profiles as a backup infielder. The Angels should be looking to fill this vacancy with candidates such as Chase Utley and Neil Walker available. Utley would figure to be more of a short-contract stopgap measure while the younger Walker would presumably command more years and dollars. Other free-agent possibilities include Chris Coghlan and Steve Pearce.
Catcher: The Angels saw some power potential in Jett Bandy and Carlos Perez, but neither player showed prowess in getting on base, necessitating an upgrade. Two solid veterans, Matt Wieters and Wilson Ramos (who will miss the beginning of the season with a knee injury), headline the free-agent backstop class, but both will be expensive. It will be interesting to see if this team, managed by former All-Star catcher Mike Scioscia, makes its biggest offseason investment behind the plate.
Starting pitcher (or two): If everything goes well with the return from injury of Garrett Richards (partially torn elbow ligament) and Matt Shoemaker (skull fracture in September) and the Angels get full, healthy seasons from the other candidates to round out the rotation -- including Ricky Nolasco, Tyler Skaggs, Alex Meyer and Nate Smith -- the Halos could have a dependable five-man unit. But those are sizable ifs. The Angels need depth, security and some consistency in this department. The free-agent names out there might not be flashy, but pitchers such as Doug Fister, Jorge De La Rosa and Colby Lewis might fit the profile.
Who they can trade if necessary
This is where it gets tough. The Angels are rebuilding their farm system and don't have the prospects to package in a major deal for big-time talent. That also means they don't have the depth to withstand trades of their starting position players while remaining competitive, which any team would want to do when it has the best player in the game, Mike Trout, manning center field, plus defensive wizard Andrelton Simmons at shortstop and good pieces at the corners in Albert Pujols (first base) and Yunel Escobar (third).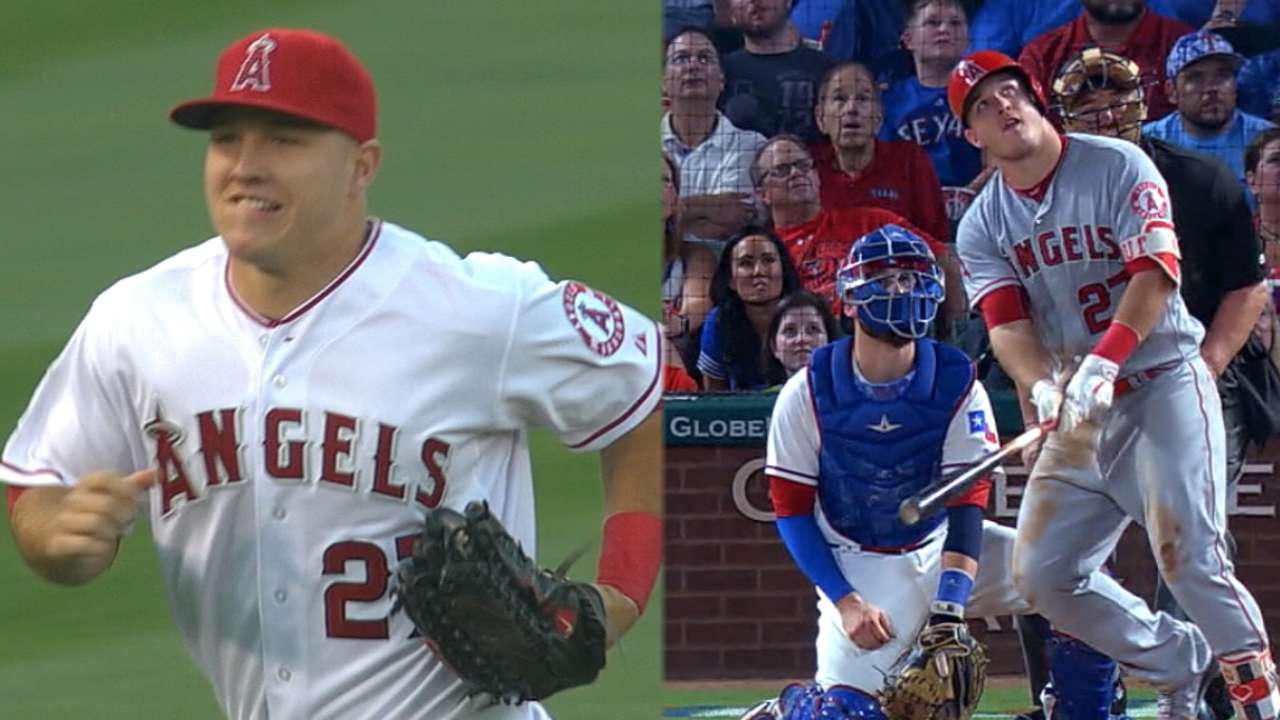 One thing the Halos could trade? Cash. They have a favorable payroll situation that could allow them to take on a big contract that another team would want to unload.
Top prospects
According to MLBPipeline.com, the Angels' top 10 prospects are first baseman Matt Thaiss, outfielder Jahmai Jones, catcher Taylor Ward, outfielder Brandon Marsh, left-hander Smith, shortstop Nonie Williams, right-hander Jaime Barria, infielder David Fletcher, and right-handers Vicente Campos and Grayson Long. None of these players ranks in MLBPipeline.com's overall Top 100, however.
Rule 5 Draft
The Angels currently have a full 40-man roster, but that doesn't mean they won't make a move to free up a spot to make a Rule 5 Draft pick. They made two such moves last year, taking reliever Deolis Guerra from the Pirates and first baseman Ji-Man Choi from the Orioles. Both stuck around for the rest of the season and figure to compete for spots in Spring Training.
Big contracts they might unload
The heavy lifting has already been done in this area, with roughly $40 million having come off the books with the expiring contracts of pitchers Jered Weaver and C.J. Wilson. The Angels also are entering the last season of their contract with Josh Hamilton, who's now with the Rangers.
Payroll summary
For a team that has been reluctant to spend big in the offseason in order to stay beneath the luxury-tax threshold, this situation represents a refreshing change. Including arbitration-eligible players, the departure of Weaver and Wilson puts the Angels' estimated payroll somewhere around $125 million, down from last year's $165 million. That gives the club a lot more room to maneuver while still staying under the threshold.
Doug Miller is a reporter for MLB.com. Follow him on Twitter @DougMillerMLB. This story was not subject to the approval of Major League Baseball or its clubs.