MLB.com Columnist
Jim Callis
Pipeline Inbox: What would it take to land Sale?
Callis answers fans' questions about baseball's future stars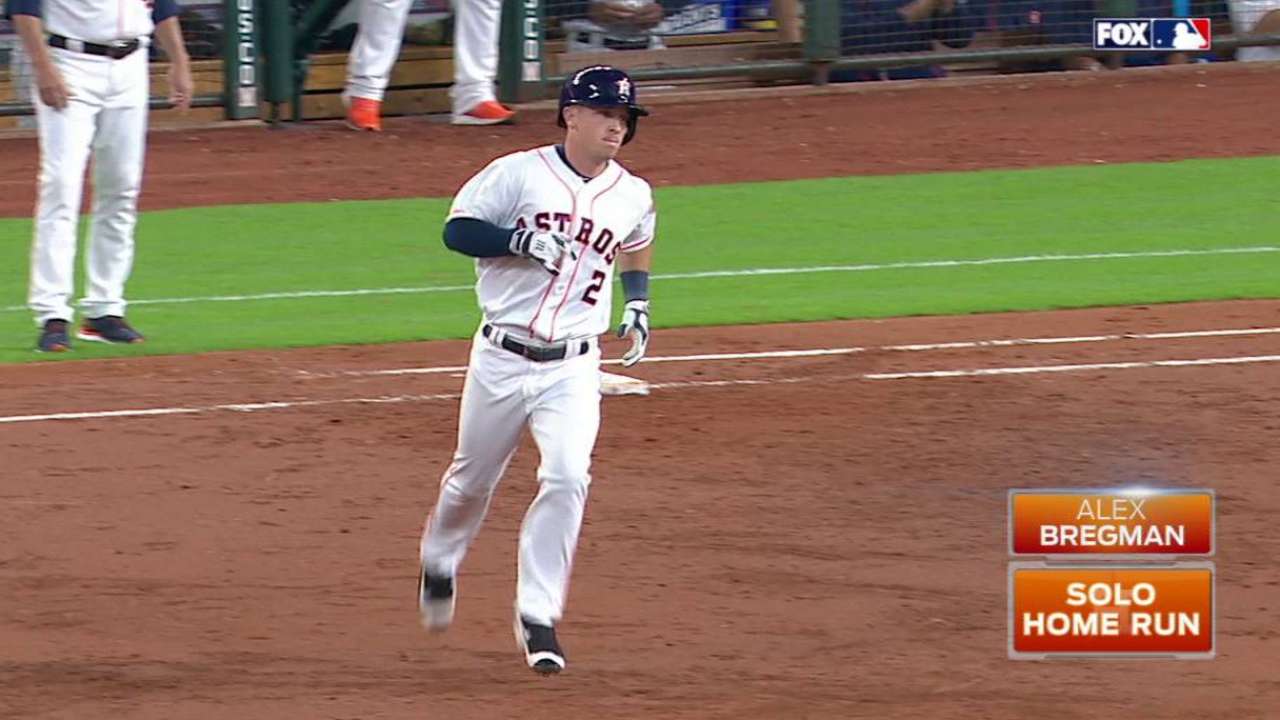 The 2015 Winter Meetings saw one No. 1 overall pick traded (Dansby Swanson from the D-backs to the Braves) and the groundwork laid for another to change addresses shortly thereafter (Mark Appel from the Astros to the Phillies). We likely won't see another No. 1 overall choice on the move in Washington, D.C., next week, but is there a scenario where a No. 2 could be used to obtain one of the best pitchers in baseball? Let's take a look in the latest installment of the MLBPipeline Inbox ...
If the Astros were to give up Alex Bregman in a package for Chris Sale, who else would they have to add to make it fair compensation?
-- Peter C., Chicago
The problem with the White Sox trading Sale is that he's almost too valuable. Finding a team willing and able to give up what Sale is truly worth, factoring in how good he is on the mound, along with the fact that he'll cost a total of just $38 million for the next three seasons, is going to be difficult. But I'll play along with this scenario.
As hard as it would be to trade Bregman, whose offensive upside is considerable, and whose makeup is off the charts, the Astros could justify it because they need an ace and they have Jose Altuve, Carlos Correa and Yulieski Gurriel to play Bregman's three best positions. However, Bregman alone won't bring back Sale.
If I were running the White Sox, I'd want one of Houston's best pitching prospects, best outfield prospects and a fourth player in the deal. I'd have to have either right-hander Francis Martes or outfielder Kyle Tucker; so it would be Martes and outfielder Derek Fisher, or Tucker and righty Joe Musgrove. The final piece would be someone along the lines of middle infielder Miguelangel Sierra, outfielder Gilbert Celestino or catcher Garrett Stubbs.
That price likely would be too rich for the Astros. But even if it embarks on a full-scale rebuilding process, Chicago doesn't have to trade Sale -- and shouldn't unless it can extract an exorbitant return.
@jimcallisMLB @MLBPipeline How do you think the 2017 draft compares to the previous few? Any better? In what areas is it strong? Weak?

- Vander (@vander1017) November 30, 2016
It feels like with almost every Draft, I'm underwhelmed by the talent available -- as are the scouts I talk to. The fact of the matter is that teams are so aggressive about signing players out of high schools that it thins out the corresponding college crop three years down the road. At the time, 2011 was recognized as a once-in-a-decade type of Draft, and the ones that have followed have all been considered very ordinary.
The strength of the 2017 Draft is college pitchers. Led by right-handers Alex Faedo (Florida), Kyle Wright (Vanderbilt) and J.B. Bukauskas (North Carolina), as many as six are possible top-10 overall choices. The weakest group is college position players, who drop off sharply after outfielder Jeren Kendall (Vanderbilt) -- especially if a club drafts left-hander/first baseman Brandon McKay (Louisville) as a pitcher.
The high school class is pretty solid, with right-hander Hunter Greene (Notre Dame HS, Sherman Oaks, Calif.), outfielder/shortstop Royce Lewis (JSerra HS, San Juan Capistrano, Calif.) and lefty D.L. Hall (Valdosta, Ga., HS) as the clear top three prospects at this point. MLBPipeline.com will provide detailed scouting reports for all of these players and more when we release our Top 50 Draft Prospects list later this month.
@jimcallisMLB @MLBPipeline How do top 2017 prep OF'ers Royce Lewis/ Jordon Adell compare to Mickey Moniak?

- Bravesfan1010 (@Bravesfan1010a) November 29, 2016
Moniak was the No. 1 overall pick in the 2016 Draft by the Phillies, while Lewis and Adell (Ballard HS, Louisville, Ky.) are the top two prep position prospects for 2017. While it's easy to describe them all as athletic center-field types, there are differences between them.
Moniak has plus speed and center-field skills, close to average power and an average arm. But what makes him special -- and earned him a $6.1 million bonus -- is his hitting ability, which is extremely advanced for a high schooler. Moniak barrels balls so easily that some evaluators projected him as a future 70 hitter on the 20-80 scouting scale and predicted he'd win batting titles in the big leagues.
Adell, on the other hand, stands out much more for his athleticism (well-above-average speed and raw power, plus defense and arm strength), but he comes with concerns about his bat after a rough summer on the showcase circuit. Lewis also has well above-average speed. He has no red flags attached to his bat and a power ceiling that fits somewhere in between that of Adell and Moniak
@jimcallisMLB @MLBPipeline thoughts on the Alex Jackson trade?

- FrPriest (@KiNG_Priests) November 29, 2016
Mariners GM Jerry Dipoto has been busy, swapping seven players in exchange for eight in four trades in the last two weeks of November. In the last of those deals, he sent Jackson to the Braves for right-handers Max Povse and Rob Whalen.
Jackson was the No. 6 overall pick in the 2014 Draft, but he hasn't come close to living up to his billing as one of the top high school hitting prospects of the decade. He began 2016 in extended spring camp, with Seattle saying he needed to improve his preparation and attitude as well as his performance, before batting .243/.332/.408 with 11 homers, but also 103 strikeouts in 92 games while repeating low Class A.
Buying low on someone once highly regarded as Jackson is a worthwhile strategy for Atlanta, though I'm skeptical he's ever going to make enough contact to cash in on his prodigious power potential. The Braves may move him from the outfield back to his high school position of catcher, though that would make it even harder to get the most out of his bat.
Povse and Whalen stand out more for their polish than their stuff, but both could help the Mariners before Jackson would have. The 6-foot-8 Povse uses his height to create difficult angle on his pitches, the best of which is a 91- to 94-mph fastball, and has the upside of a No. 4 starter. Whalen, who made his big league debut in August, is a back-of-the-rotation/middle-relief type who relies heavily on a low-90s fastball and a solid curveball.
Jim Callis is a reporter for MLB.com. Follow @jimcallisMLB on Twitter. This story was not subject to the approval of Major League Baseball or its clubs.