Crew could bolster rebuild at Winter Meetings
Club looks to deal valuable chips in exchange for prospects
MILWAUKEE -- The Brewers' rebuild rolls on at the Winter Meetings, where GM David Stearns will continue fielding calls about players as he seeks to further bolster a Minor League system rated No. 1 by MLBPipeline.com.
Stearns could field an Opening Day lineup, starting rotation and bullpen with players already on the 40-man roster, but he is likely to make some moves to alter the field before then. At the top of the list of trade chips is Ryan Braun, who is as curious as anyone about whether he will still be a Brewer come Spring Training.
MLB.com and MLB Network will have wall-to-wall coverage of the 2016 Winter Meetings from the Gaylord National Resort & Convention Center outside Washington, D.C. Fans can watch live streaming of all news conferences and manager availability on MLB.com, including the Rule 5 Draft on Dec. 8 at 8 a.m. CT.
Club needs
Prospects: The biggest need of all for a club undergoing a rebuild is prospects. Stearns has proven he will take the best player he can get, regardless of position, though he has an affinity for up-the-middle players like shortstops and center fielders.
Left-handed bats: The Brewers already acquired one left-handed hitter in free-agent first baseman Eric Thames, but are on the lookout for more in an effort to achieve better balance. Third base is one spot where they could add. Switch-hitting Jonathan Villar could play there, but some Brewers decision-makers prefer him at second base. Hernan Perez could play third, but he is probably better as a utility man, starting regularly, but at a variety of positions. Free agency doesn't offer much help. The list of available third baseman is short, led by Justin Turner, a right-handed hitter who would not exactly fit a club in the middle of a rebuild.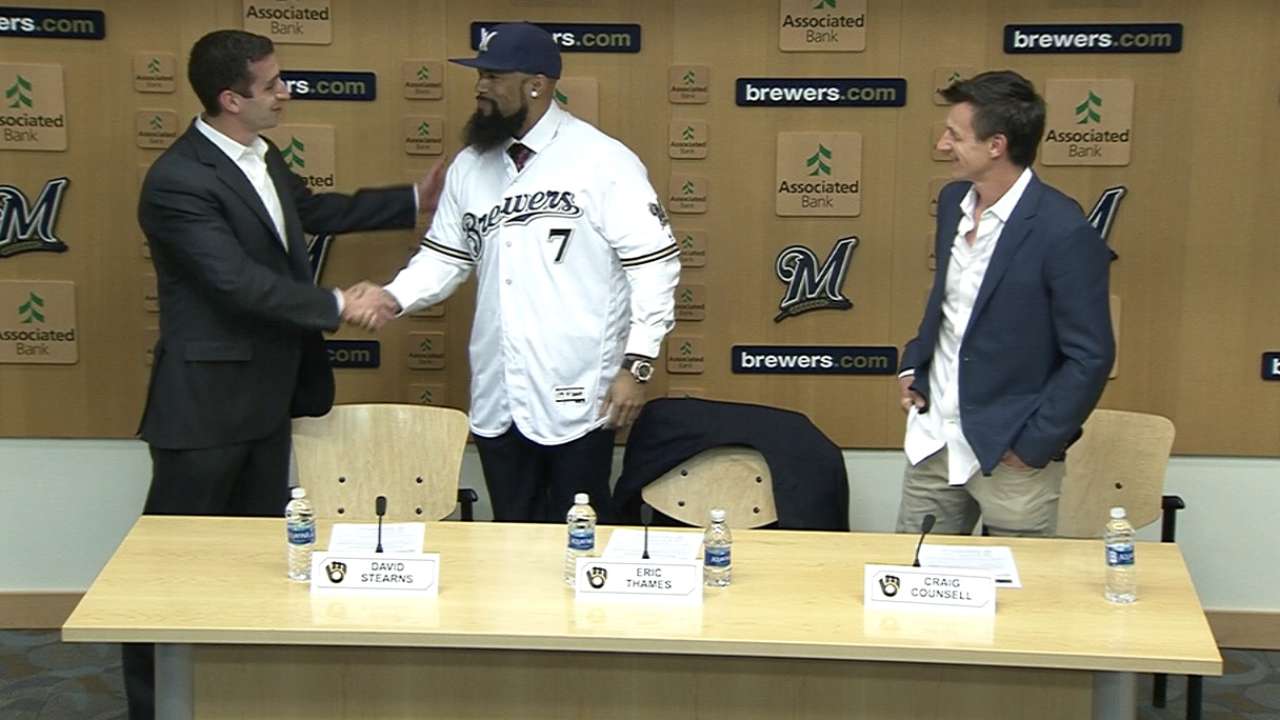 Catcher: Like third base, the Brewers have players in-house who could handle this position. Martin Maldonado is arbitration-eligible, and split time with Manny Pina down the stretch after the Brewers traded away Jonathan Lucroy. But Stearns & Co. will at least eye more long-term options behind the plate, while prospect Jacob Nottingham continues to develop. Stearns has been adamant in his belief that Nottingham will make it to the Majors as a catcher.
Bullpen: Stearns already made a pair of waiver claims (Blake Parker and Steve Geltz) to provide depth, but said he planned to make more additions this offseason after trading away Jeremy Jeffress and Will Smith.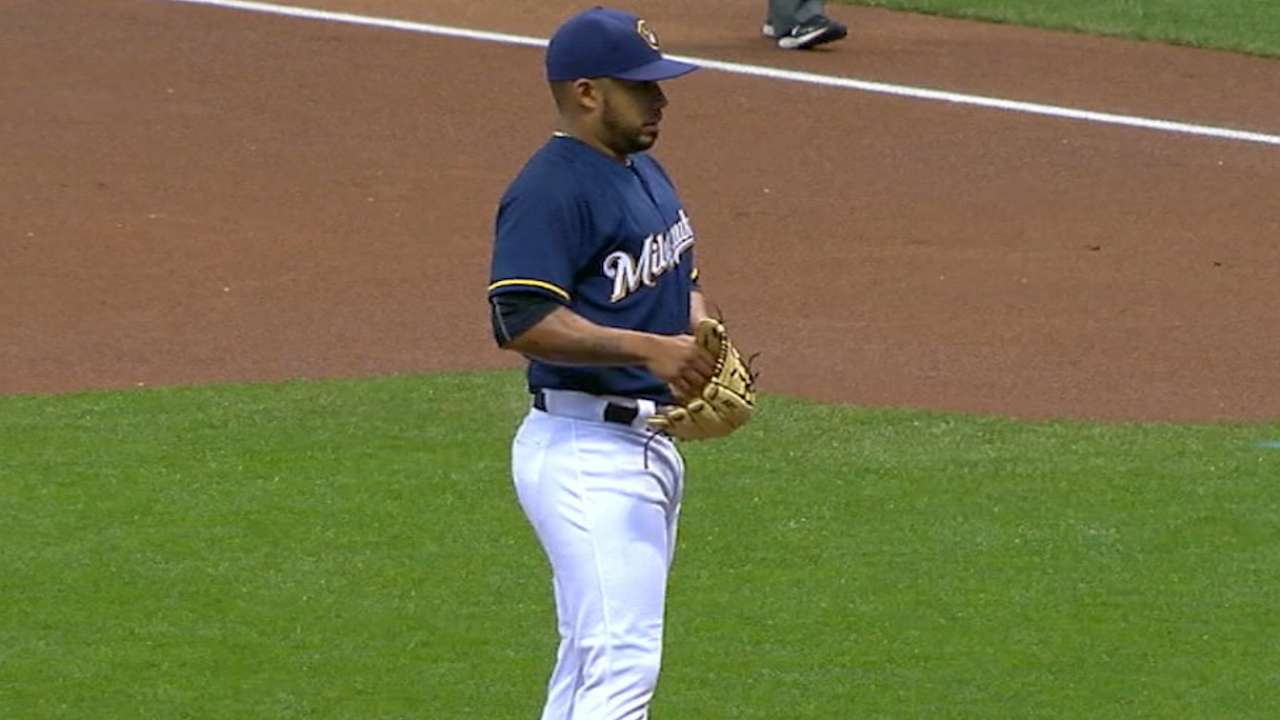 Who they can trade if necessary
Braun: With Lucroy, Carlos Gomez and others already traded away, Braun is the Brewers' last really big chip in the rebuild. He's 33, coming off a healthy season and is signed through at least 2020 at a reasonable average of $19 million per year. The Dodgers and Braves were among the clubs interested before the non-waiver Trade Deadline.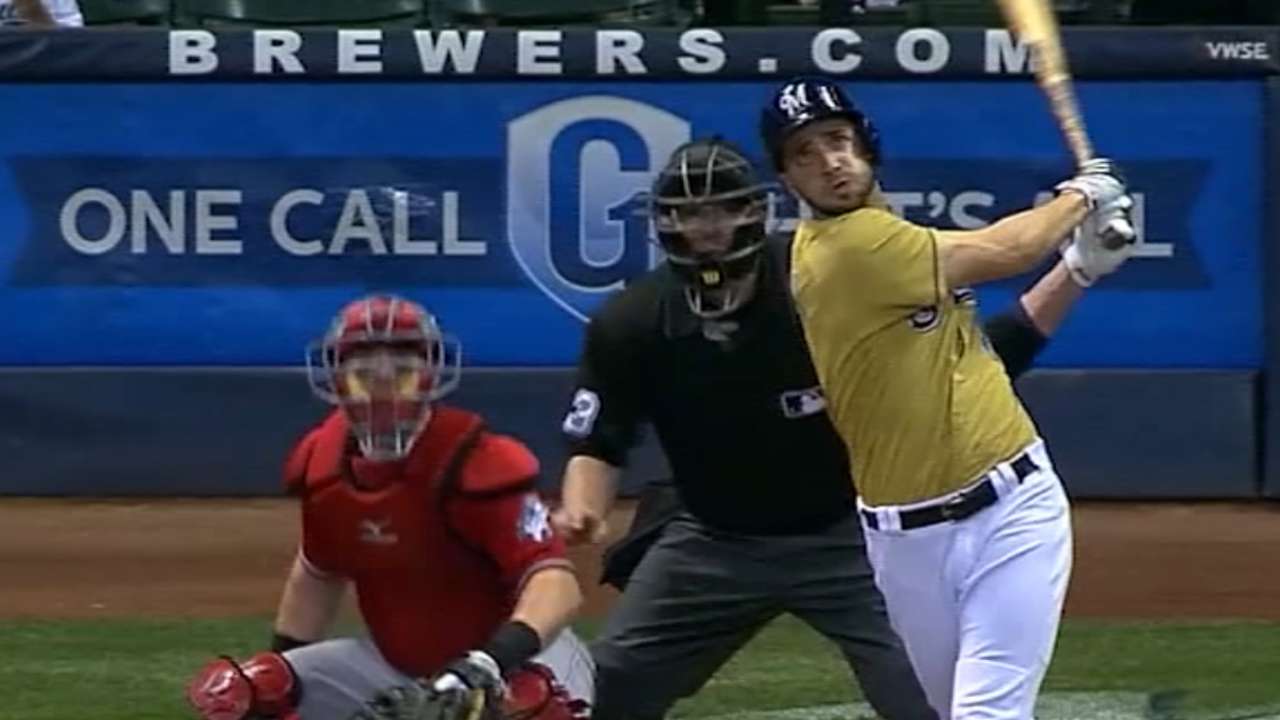 Scooter Gennett: Manager Craig Counsell loves players who can man multiple positions, and Gennett is limited to second base. He is also arbitration-eligible for the first time and due a significant raise from his near-minimum salary.
A starting pitcher: The Brewers finished the season with six starters, all of whom are under club control for next season. Then there's top prospect Josh Hader, who made it to Triple-A by the end of the year and could see the Majors at some point in 2017. The Brewers have fielded interest in several of their other starters, including Junior Guerra, who had a breakthrough season in 2016 as a 31-year-old rookie. The Brewers could trade him while his stock is high.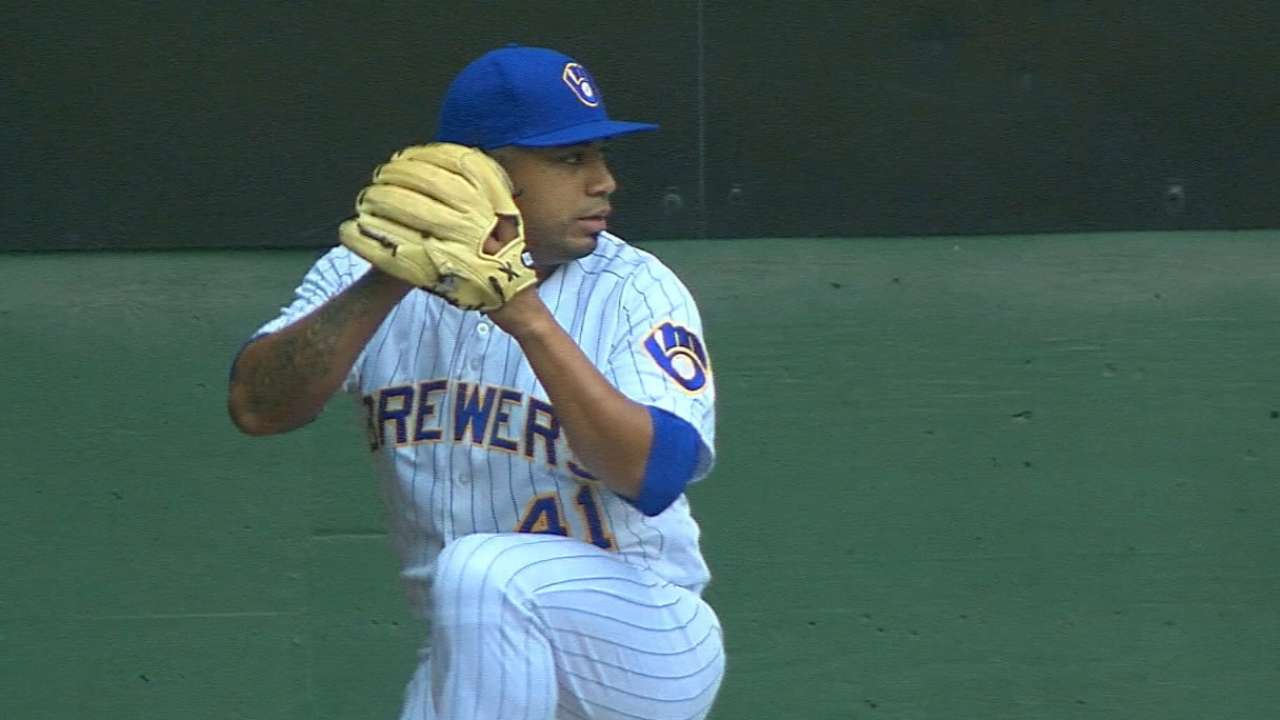 Tyler Thornburg: The Brewers also had some bites on Thornburg before the Trade Deadline, and he boosted his stock even further by finishing the season as Milwaukee's closer. Like Gennett, Thornburg is arbitration-eligible for the first time.
Top prospects
With shortstop Orlando Arcia in the Majors, the Brewers' top prospect, according to MLBPipeline.com, is Lewis Brinson, an outfielder acquired in the Lucroy trade who finished the year at Triple-A Colorado Springs and was added to the 40-man roster in November. It's unlikely that the Brewers would consider trading Brinson or any of their other top prospects this offseason.
Big contracts they might unload
Braun is due $76 million over the remainder of his contract, but trading him would be less about unloading the contract and more about continuing to stockpile prospects. Veteran starter Matt Garza is the Brewers' highest-paid pitcher at $12.5 million in the final guaranteed season of his contract.
Payroll summary
The Brewers' payroll has plummeted as a result of rebuilding, dropping to the mid-$60 million range for 2016 Opening Day. So there is plenty of room to spend if Stearns finds a free agent or a trade to his liking.
Adam McCalvy has covered the Brewers for MLB.com since 2001. Follow him on Twitter @AdamMcCalvy, like him on Facebook and listen to his podcast. This story was not subject to the approval of Major League Baseball or its clubs.