Tigers aim to go 'leaner, younger' at Meetings
'This year is going to be different,' Avila says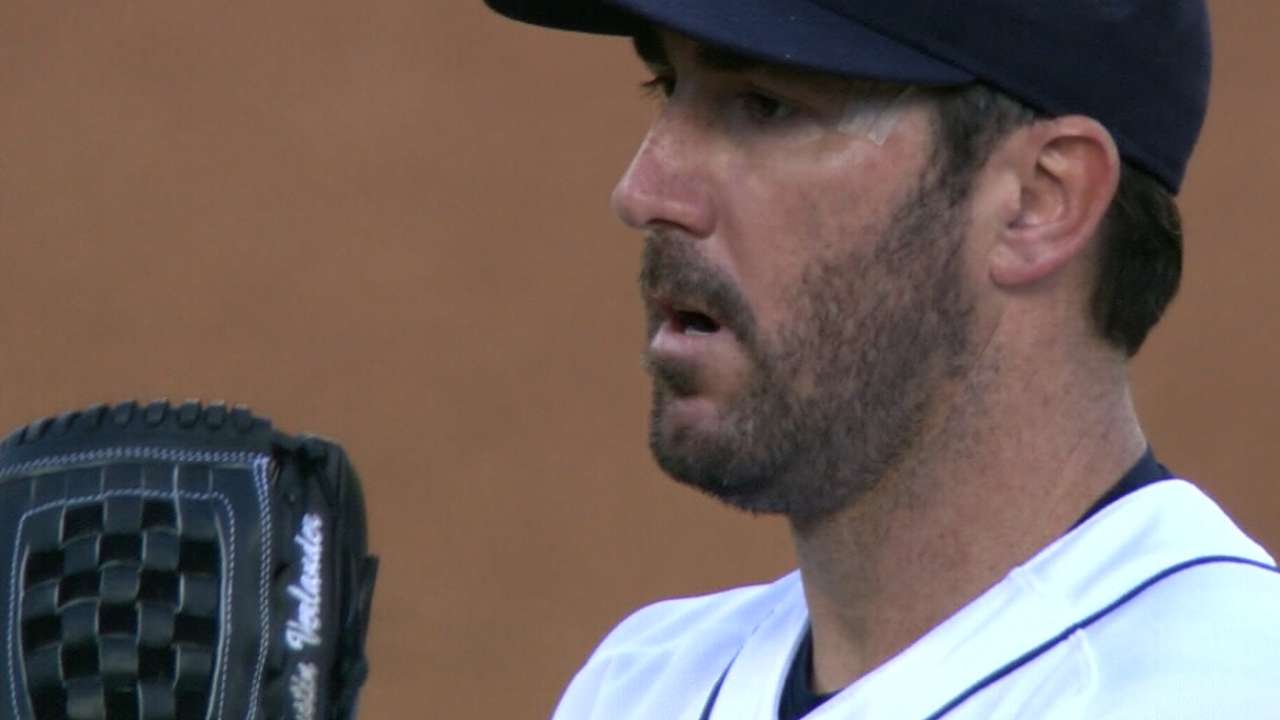 DETROIT -- The Tigers have typically gone to baseball's Winter Meetings with a specific shopping list of positions and areas to add. As general manager Al Avila and his assistants prepare to venture to the nation's capital for next week's gathering, the Tigers instead have a list of players that teams can pursue.
With a mission to pare down payroll and make their roster younger, the list of potential pieces is long.
"Last year, I said we would like to get two starting pitchers, we want to beef up our bullpen, we need to blah blah blah, the plan of action where these are our needs and we're going to go after them," Avila said at the start of the offseason. "Well, this year is going to be different.
"This year we're going to go out and talk to 29 other clubs and see how we can start, little by little, making this team leaner, younger, more efficient, and at the same time, staying competitive, trying to get to the playoffs. That's where the tightrope is that we're walking on."
MLB.com and MLB Network will have wall-to-wall coverage of the 2016 Winter Meetings from the Gaylord National Resort & Convention Center outside Washington, D.C. Fans can watch live streaming of all news conferences and manager availability on MLB.com, including the Rule 5 Draft on Dec. 8 at 9 a.m. ET.
Club needs
Prospects: The Tigers' farm system is better than it was a couple years ago, and there's far more talent age 25 or younger on the big league roster. Still, Detroit needs more -- not just at specific spots, but more young talent in general -- to weather the coming years as its veteran stars age and payroll pressures intensify.
Center field: Last month's Cameron Maybin trade created a void in center that club officials aren't quite sure how to fill. JaCoby Jones is their center fielder of the future, but the Tigers would like to give him more time at Triple-A Toledo taking over at Comerica Park. Anthony Gose is still in the organization, but has fences to mend between his performance and behavior last year. The Tigers would like at least a placeholder for center, though Jones' versatility allows them to put him at another position if they find a longer-term option.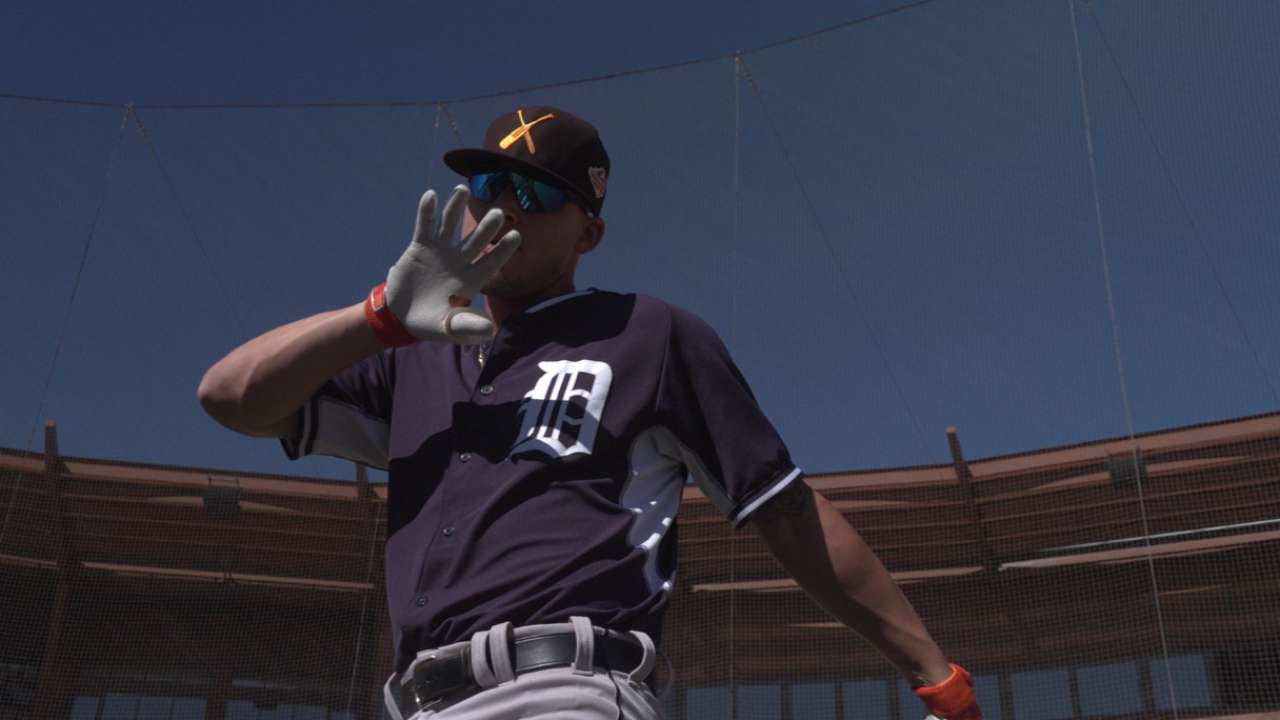 Pitching: American League Rookie of the Year Michael Fulmer, Daniel Norris and Matt Boyd give the Tigers a trio of young starters to serve as the foundation for a rotation, but there's next to nothing between that and the mid-Minors, which could become a particular problem if Justin Verlander is traded. Add in a determination to build a bullpen from within, and Detroit needs arms. Expect any major trade to focus on that.
Backup catcher: Jarrod Saltalamacchia is gone, and the Tigers would like a veteran to support James McCann, especially in tough matchups against right-handed pitchers. Alex Avila is an option to return, while fellow ex-Tiger Brayan Pena just hit the market. Detroit can cast a wide net.
Who they could trade
RF J.D. Martinez: Of all the Tigers veterans, Martinez is the most likely to be dealt next week. He's a year away from free agency, with an $11.75 million salary and offensive numbers to rival this winter's top free agents. A crowded market doesn't help, but with little chance of an extension to stick around, the Tigers have incentive to deal Martinez. They'll explore offers for him before venturing to other veterans on their roster.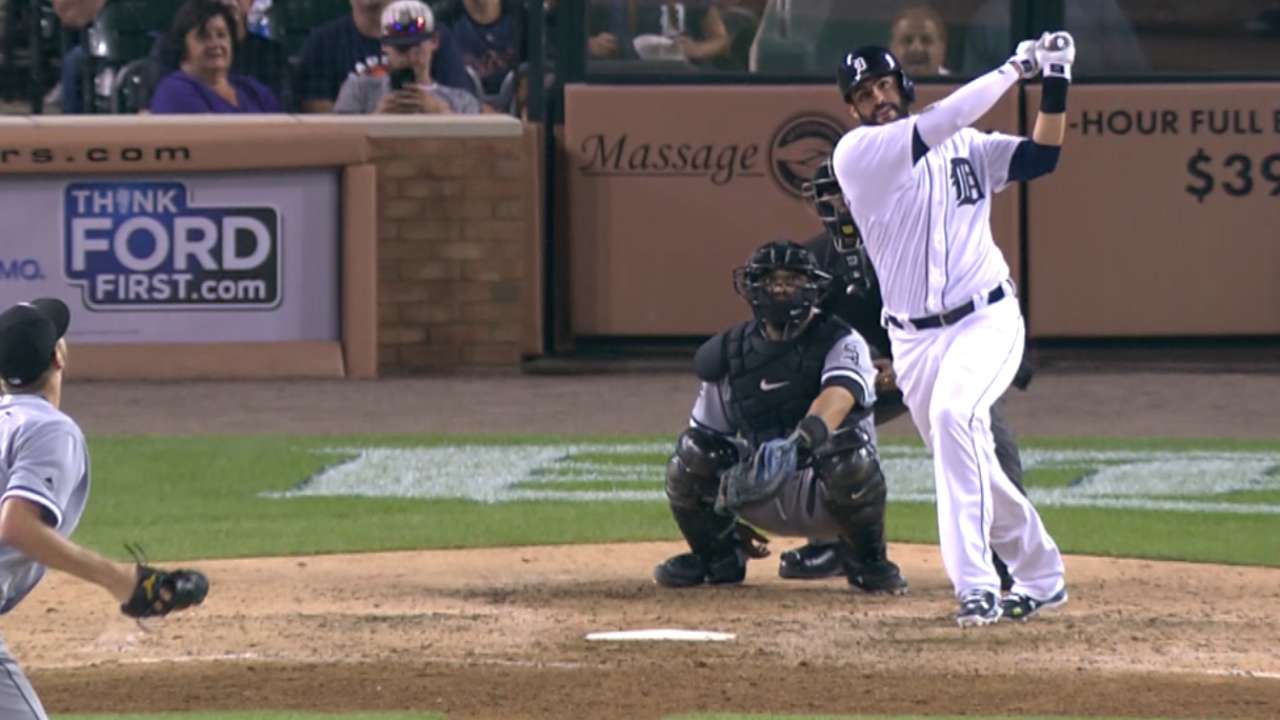 2B Ian Kinsler: He defied age and recent history in '16 by posting his first Gold Glove and the second-best season of his career at age 34. He's also one of the keystones of the club. So why deal him? With one guaranteed season left on his contract and the Tigers watching finances, he's essentially in his contract year. He has a partial no-trade clause that allows him to block deals to 10 teams, and he'll ask for not only his option picked up but an extension beyond that. Still, that leaves 20 teams with which to seek a deal, and leaves Kinsler as the second-likeliest Tiger to be dealt.
RHP Francisco Rodriguez: The Tigers picked up his $6 million option for next year but could still deal him once teams that miss out on free-agent closers Aroldis Chapman and Kenley Jansen start looking for alternatives. He racked up 44 saves at age 34 and mentored a younger bullpen, which could entice Detroit to keep him at that salary.
LF Justin Upton: He looked uncomfortable in the AL until a late surge powered him to a 31-homer season, tying a career high. The bigger issue is the contract he signed just last February. He's due $22,125,000 in '17, then he can either opt out of his deal or take four more years at the same salary. The uncertainty of the opt-out clause makes Upton tougher to trade, and the Tigers might be better served working him up for a better season and a bigger enticement to go back on the market.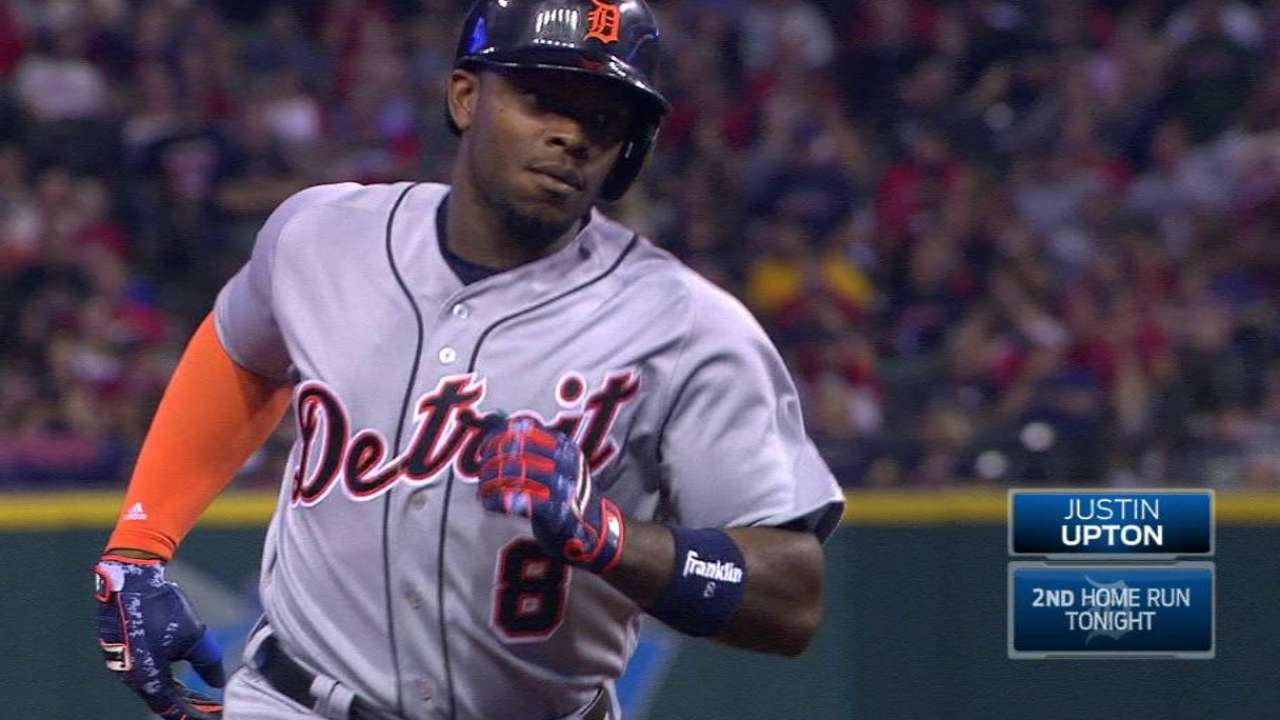 DH Victor Martinez: Martinez bounced back from an injury-plagued '15 season to bat .289 with 27 homers, 86 RBIs and an .826 OPS, but the 37-year-old has two years left on his deal at $18 million each. Detroit might have to eat some of that money to facilitate a deal, even for big-market teams wary of the luxury tax threshold. He also has full no-trade rights.
RHP Verlander: This is where the potential mega-deals begin, and where the Tigers won't deal unless they get serious talent in return. The former AL MVP fell a few votes shy of a second AL Cy Young Award and regained his status as one of the nastiest pitchers in the game at age 33, but his contract looms large. He has three more years on his deal at $28 million a season, but his full no-trade rights allow him to demand his $22 million option be picked up for '20.
1B Miguel Cabrera: Would the Tigers really trade the best pure hitter in the game, one of the best right-handed hitters to step into the box, and the face of Mike Ilitch's tenure as Tigers owner? They're at least willing to listen. He has seven more years and $212 million left on his contract, plus $30 million options for '24 and '25. That type of money would require some creativity to move, but the Winter Meetings are historically a good setting for unconventional thinking.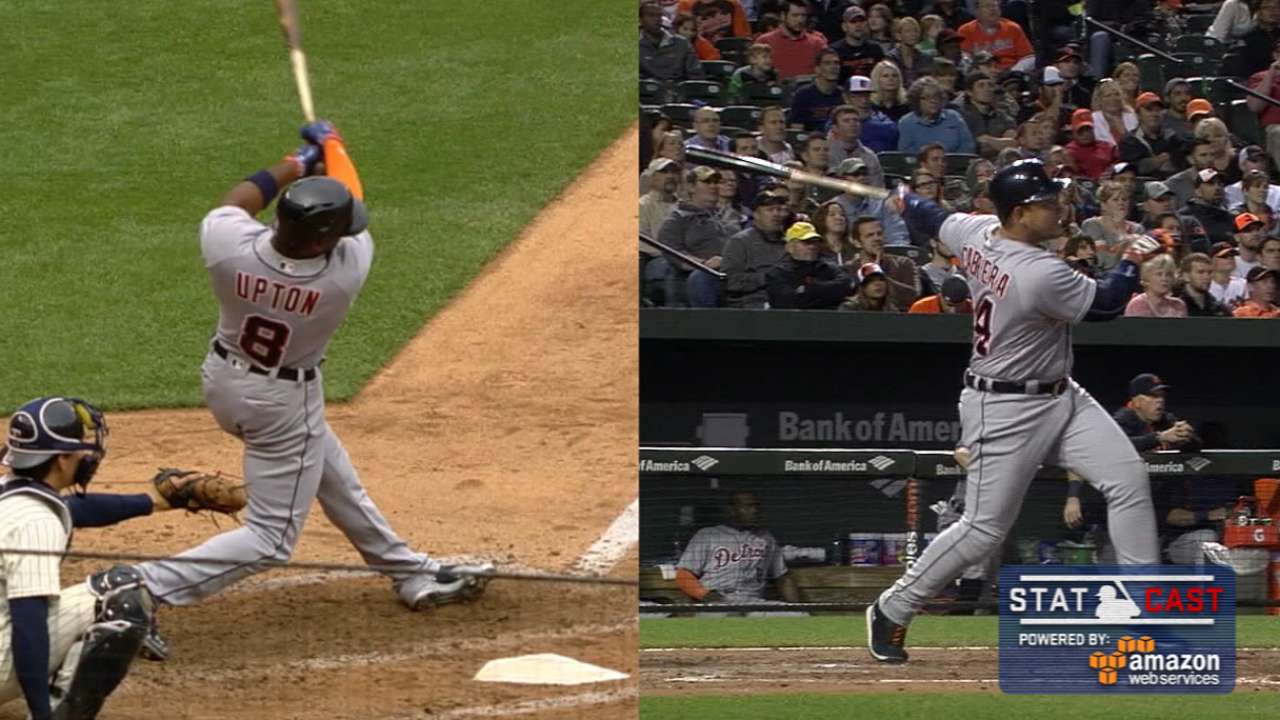 Top prospects
MLBPipeline.com ranks teenage right-hander Matt Manning as the Tigers' top prospect, followed by fellow right-handed starter Beau Burrows, outfielders Christin Stewart and Derek Hill, reliever Joe Jimenez, righty Kyle Funkhouser, left-hander Tyler Alexander, then outfielders Mike Gerber, Jones and Jose Azocar.
The Tigers are looking to add young talent, not subtract. So unless Detroit can get young talent in return, none of the aforementioned prospects are likely going anywhere.
Rule 5 Draft
The Tigers haven't been active in the Rule 5 Draft since Kyle Lobstein in '12, but with an open roster spot, a need for affordable depth and an expressed goal to get younger, they might be in play this year.
Big contracts they might unload
In addition to those mentioned above, the Tigers have a fair number of long-term contracts to try to deal, including those of right-handers Anibal Sanchez ($16.8 million for '17), Mike Pelfrey ($8 million) and Mark Lowe ($5.5 million). While J.D. Martinez, Kinsler, Upton, Victor Martinez and Verlander are more likely to attract interest, the Tigers could try to attach one of the others to a deal in lieu of top prospects in return.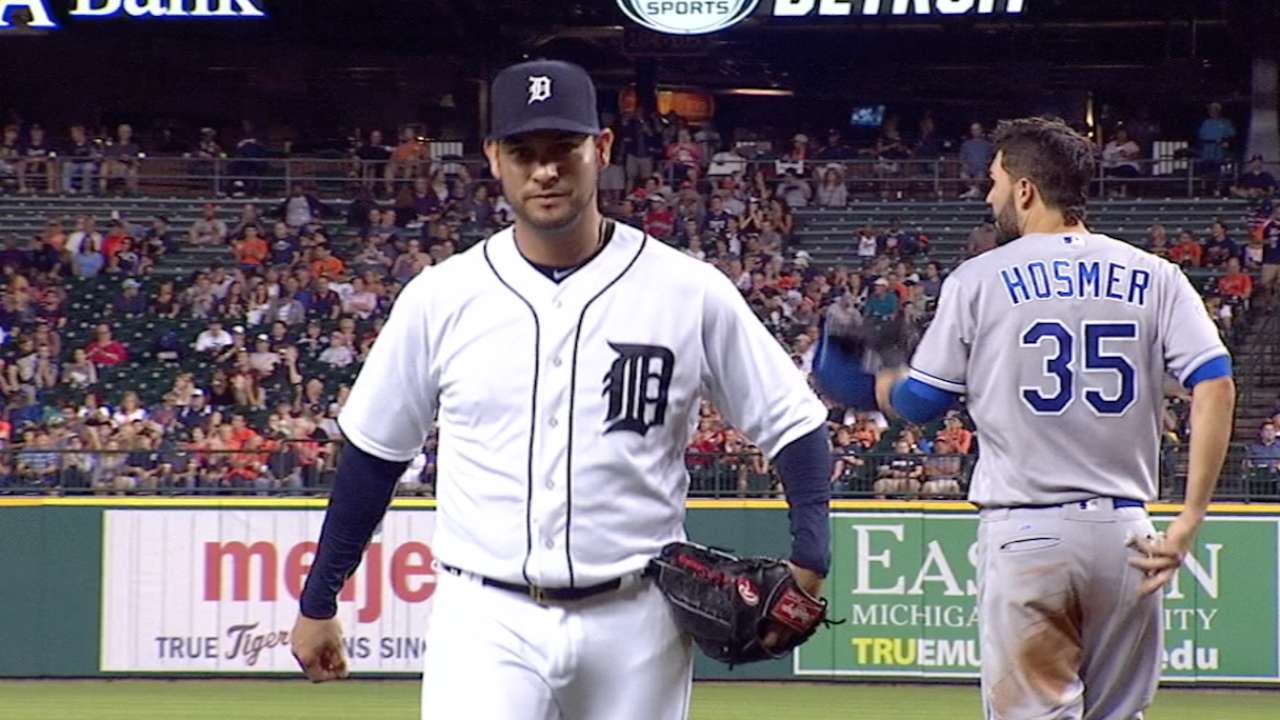 Payroll summary
The Tigers are expected to pay more than $3 million in luxury tax on a payroll that topped out at $216 million this past season. What was once seen as the cost of contending is now a major concern. Detroit would like to at least get under the luxury-tax threshold, currently at $189 million, for next year, and eventually find a comfort level below that.
Jason Beck has covered the Tigers for MLB.com since 2002. Read Beck's Blog, follow him on Twitter @beckjason and listen to his podcast. This story was not subject to the approval of Major League Baseball or its clubs.