In-market deals? Chicago clubs address report
GMs Hoyer, Hahn won't rule out trades between North and South Siders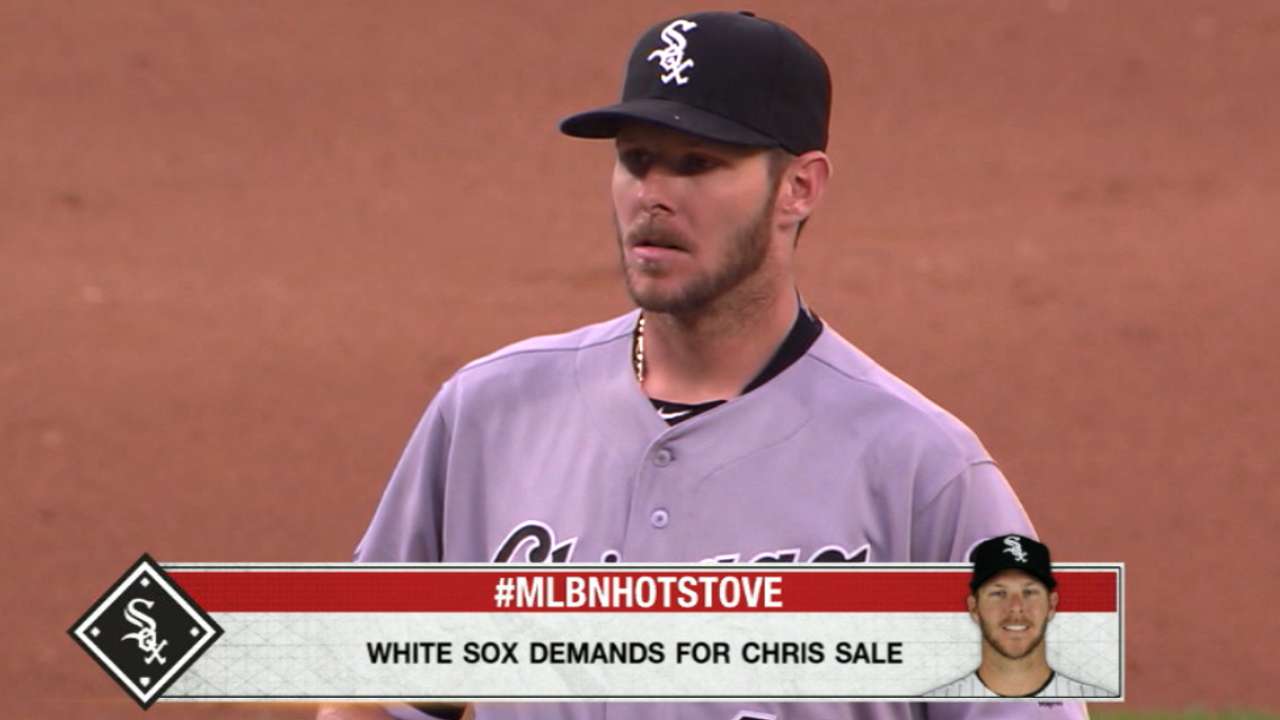 The Cubs have made no secret that they are open to adding another premier starting pitcher, so is a trade for crosstown ace Chris Sale on the table?
No, according to ESPN.com's Buster Olney, who wrote Tuesday that "the White Sox have told the Cubs they won't deal with them." Presented with that assertion on Wednesday, Cubs general manager Jed Hoyer and White Sox GM Rick Hahn each painted a more nuanced picture.
"I guess I would just say [that while] I wouldn't expect a deal to get done between the two teams, I think that they would always listen to a deal and think through the merits of it," Hoyer said. "I don't think I'm saying anything that's unexpected. I think people talk all the time about deals done in-division, and they're very difficult to do, and people talk about deals done within [markets]. You don't see a lot of deals between the Mets and Yankees, or Oakland and San Francisco. Deals within your own city are difficult to make because you've got a lot of writers covering the same things and there's a lot of scrutiny."
Hoyer contended that he and Cubs president Theo Epstein each have positive and longstanding working relationships with White Sox executive vice president Kenny Williams and Hahn, "and we actually talk to them on a fairly regular basis."
"Listen, I think they would always listen to the merits of a deal," Hoyer said. They're in the business of getting better, and they're in the business of doing the best deal. I don't think anything that's been written is the least bit surprising. I don't expect a lot of deals done between the White Sox and Cubs, and I don't think I'm really saying anything surprising when I say that."
After the ESPN story gained traction, the White Sox issued a statement from Hahn.
"To clarify any confusion regarding our stance on possible trading partners, we want to once again make it clear that our primary goal is to make our club better," Hahn said. "We will consider any trade, with any team, that improves the Chicago White Sox.
"As I have said many times over the years, we are always open to discussing trades with all 29 other clubs. We even have completed trades within our division, despite facing these teams 19 times a year, and while trades between the Cubs and White Sox will always draw heightened scrutiny and attention, it makes no sense for us to ever eliminate any potential trading partners."
It's been more than a decade since the last trade between the teams. The Cubs sent David Aardsma and Minor Leaguer Carlos Vasquez to the White Sox for reliever Neal Cotts on Nov. 16, 2006.
There has been no confirmation from the White Sox, but they are expected to rebuild after being "mired in mediocrity," per Hahn.
With that longer-term target in mind, Sale and his affordable team control through 2019 has become one of the prime offseason topics in terms of realistic trade partners. The Cubs and White Sox simply refusing to make a deal makes far less sense than the Cubs probably not wanting to give up what the White Sox would want in return, such as infielder Javier Baez and his Gold Glove-caliber defense and/or Kyle Schwarber, who would slide in nicely on the South Side as a designated hitter.
Adam McCalvy has been a reporter for MLB.com since 2001. This story was not subject to the approval of Major League Baseball or its clubs.