Twins look to lay groundwork at Winter Meetings
Club's needs include starting pitching, bullpen help; Dozier drawing interest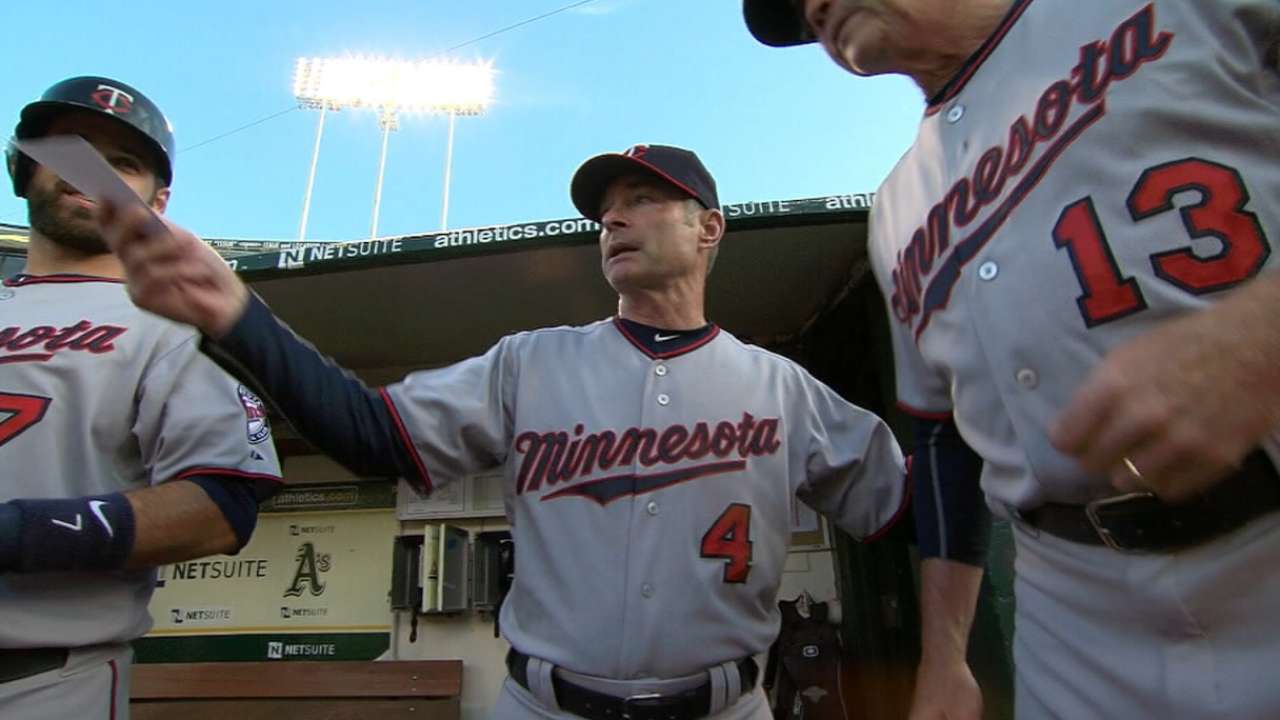 MINNEAPOLIS -- The Winter Meetings begin on Monday, but don't expect the Twins to make any major splashes at the annual event, which runs through Thursday.
The Twins solved their catching situation on Wednesday, signing catcher Jason Castro to a three-year deal worth $24.5 million, and they will mostly be looking for pitching help this offseason. But new chief baseball officer Derek Falvey said he doesn't expect any significant moves to come during the Winter Meetings, as it's more about setting the groundwork with agents and other clubs, while also getting a chance to learn more about the organization internally.
"Candidly, I don't think the Winter Meetings is where we have to execute everything," Falvey said. "We're not in the business of winning the Winter Meetings with a firestorm."
MLB.com and MLB Network will have wall-to-wall coverage of the 2016 Winter Meetings from the Gaylord National Resort & Convention Center outside Washington, D.C. Fans can watch live streaming of all news conferences and manager availability on MLB.com, including the Rule 5 Draft on Dec. 8 at 8 a.m. CT.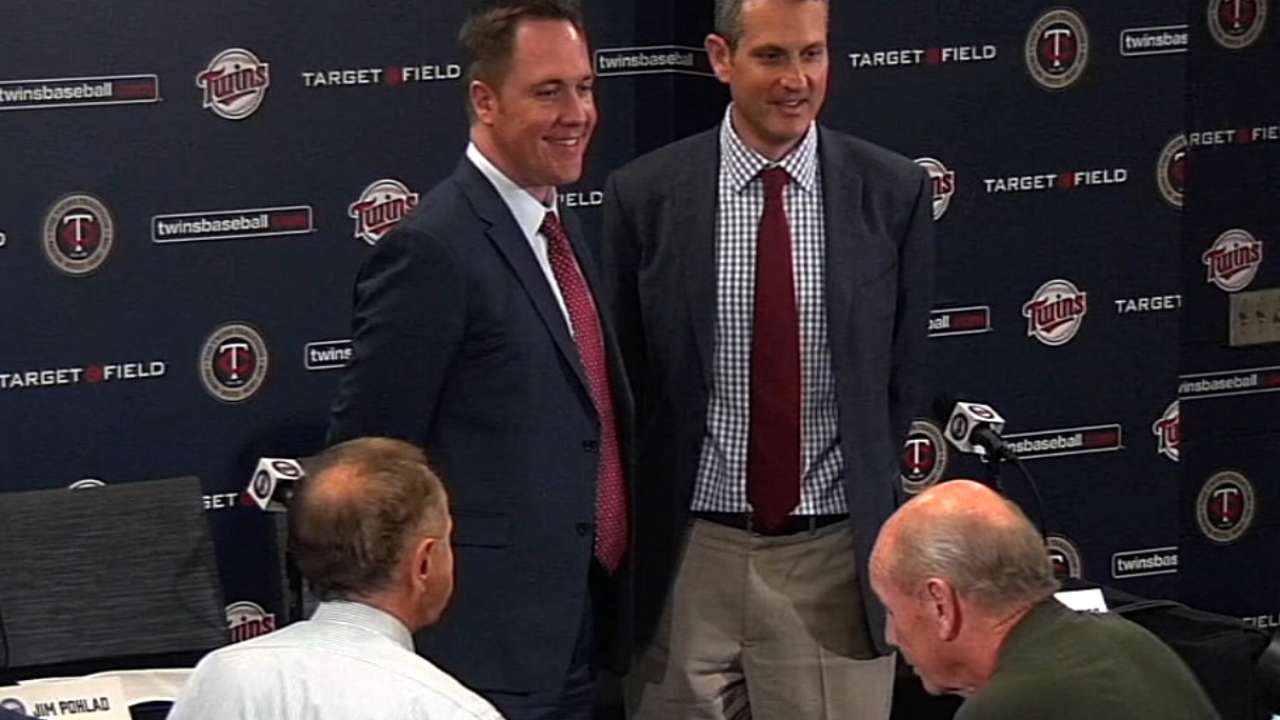 One big name that's sure to come up as a trade candidate during the Winter Meetings is second baseman Brian Dozier, who is coming off a 42-homer season and has two years and $15 million left on his deal. The Twins will continue to listen on Dozier, but they will need a strong return to make a deal.
"He's a guy that other teams have checked in on," Falvey said. "There's no question. But I think that's fair to say about a number of guys on our team. We're not going to shut any door until we hear what's on the other side. So we'll have conversations, but we don't have any urgency to make that move."
Club needs
Starting pitching: Twins starters combined to post the worst ERA in the Majors in 2016, so improving the rotation is the top priority going forward. But the issue is that it's a weak free-agent class for starting pitching, so the Twins might need to get creative and make a trade for a starter.
Bullpen: The Twins have some intriguing young arms, but with closer Glen Perkins coming off labrum surgery, there is some uncertainty in the back end of the bullpen. The Twins aren't likely to make a major move for bullpen help and aren't in the market for a closer, but they are still looking to reinforce the bullpen with lower-cost, high-upside options.
Shortstop: Jorge Polanco had a strong rookie season, finishing the year as the club's starting shortstop. But some in the organization feel he profiles better at second base and could move there if Dozier is traded. Eduardo Escobar remains in the organization, so he could take over at short in that scenario, but if the Twins move Dozier, shortstop could be an area of need.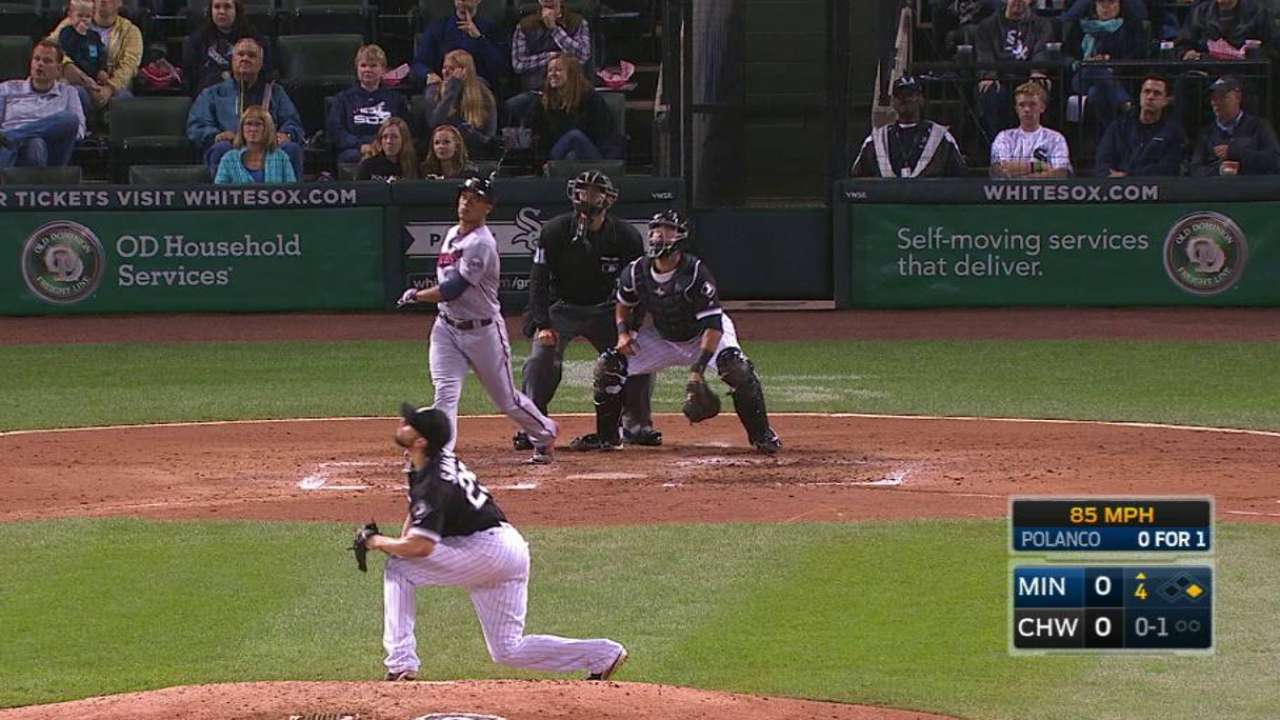 Who they can trade if necessary
Dozier remains the club's biggest trade chip, but right-hander Ervin Santana is also expected to draw interest. The issue, however, is that Santana was Minnesota's lone solid starter in 2016, so trading him would indicate the Twins are rebuilding and looking for younger cost-controlled pitchers. First baseman/designated hitter Kennys Vargas could also be traded with Joe Mauer and Byungho Park ahead of him on the depth chart.
Top prospects
Despite the graduation of players such as Byron Buxton, Miguel Sano, Max Kepler and Jose Berrios to the Majors, the Twins still have a strong farm system, with shortstop Nick Gordon leading the way among position players. They also have several highly regarded pitchers such as Tyler Jay, Stephen Gonsalves, Kohl Stewart and Fernando Romero. Given that the Twins lost 103 games this past year, it doesn't make too much sense for the club to deal away top prospects, but it might be the only way to acquire a frontline starter.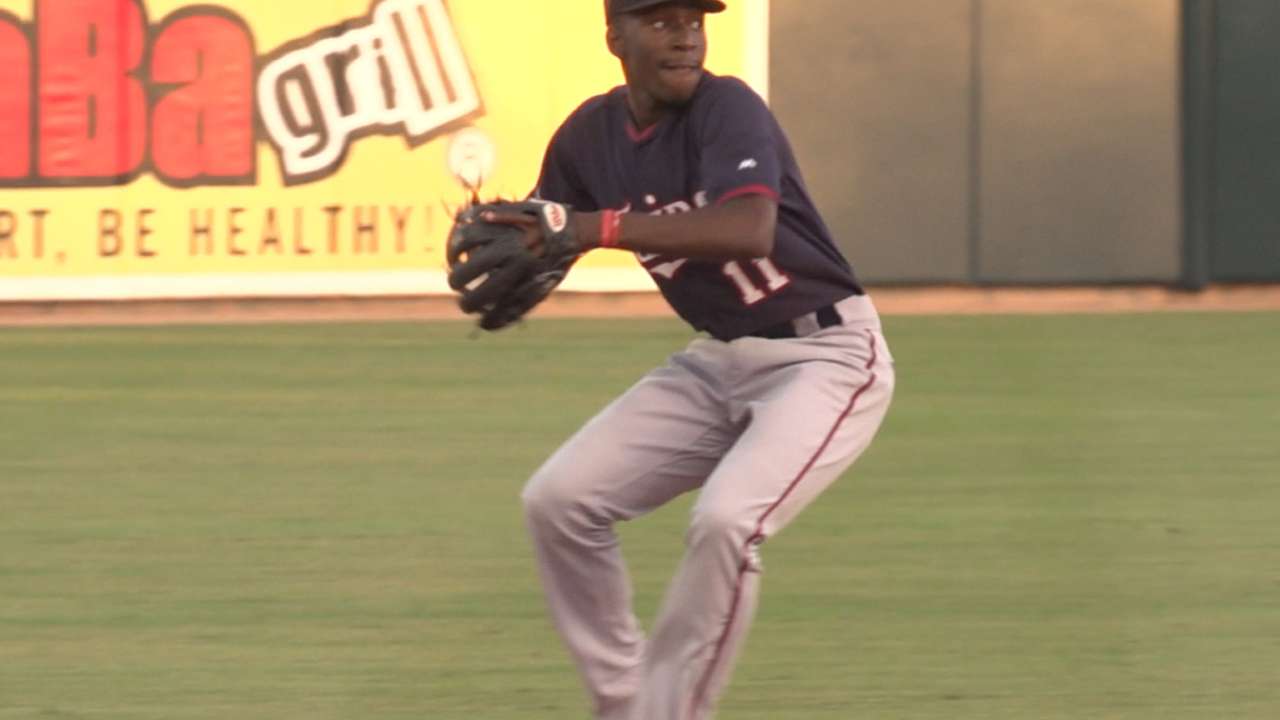 Rule 5 Draft
The Twins have the No. 1 overall pick in the Rule 5 Draft, but they will have to make room for one more spot on their 40-man roster. Minnesota is expected to clear space for a selection, which is likely to be a pitcher.
Big contracts they might unload
Dozier and Santana each have two years left on their deals, so they don't exactly qualify as big contracts. Mauer also has two years and $46 million left on his deal, but with his no-trade clause, he's not going anywhere. Phil Hughes is owed $39.6 million over the next three seasons, but he is coming off thoracic outlet syndrome surgery and is not a trade option.
Payroll summary
Falvey has stated payroll isn't an issue and it's expected to be roughly in line with where it's been the last few years, but it could be slightly lower after the decisions to outright Trevor Plouffe and Tommy Milone. The Twins had an Opening Day payroll of $105 million in 2016 and $108 million in '15.
Rhett Bollinger has covered the Twins for MLB.com since 2011. Read his blog, Bollinger Beat, follow him on Twitter @RhettBollinger and listen to his podcast. This story was not subject to the approval of Major League Baseball or its clubs.