Amazing facts about Today's Game HOF candidates
Five players have second chance at Cooperstown on Sunday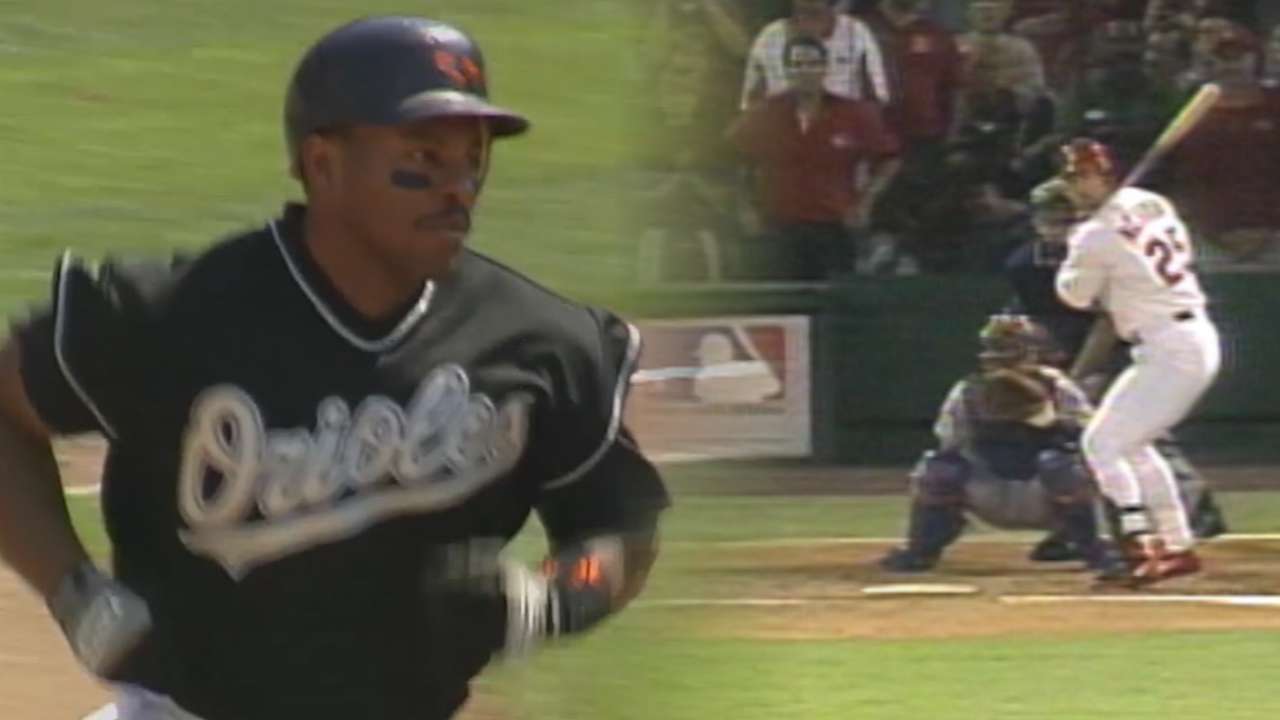 Second chances are never guaranteed in life, but they're more prevalent in the membership of the National Baseball Hall of Fame and Museum than one may think.
Of the 217 Major League players whose plaques reside in the Cooperstown shrine, 96 (or roughly 44 percent) have been elected through one of the several iterations of the Veterans Committee. For those players who are fortunate enough to see their names considered again, years after they fell off the ballot administered by the Baseball Writers' Association of America, the Veterans Committee can reignite Hall of Fame hopes that were long thought to be dormant.
"I was shocked that I was on the ballot for the Veterans Committee, really," Harold Baines, one of five former players on the 2017 Today's Game Era Committee ballot, said recently. "When you get less than 5 percent [from the writers], you figure your chance is over with."
• Complete Hall of Fame coverage
The Hall of Fame overhauled its system for evaluating historical figures outside the current BBWAA ballot this past July, creating four new Era Committees to split up generations of potential candidates. The committees include Today's Game (consisting of players, managers and executives whose contributions primarily came between 1988 and the present), Modern Baseball (1970-87), Golden Days (1950-69) and Early Baseball (1871-1949). As early-era candidates were most recently considered before the overhaul, the Today's Game candidates will be evaluated both this year and in the winter of 2018, with the other three era committees convening on a rotating basis in the coming years.
The Today's Game Era Committee, comprised of 16 former players, executives and baseball historians, is scheduled to meet this Sunday morning at the Winter Meetings near Washington and will announce its results that evening at 6 p.m. ET on MLB Network with a simulcast on MLB.com. Candidates must receive at least 12 votes among the committee members (or 75 percent) to gain election to the Hall of Fame.
With the next Today's Game Era Committee not scheduled to meet again for another two years, these five players hope their career resumes will be compelling enough to end their long waits and finally punch their tickets to Cooperstown. Here is a brief rundown of each candidate's case for election, and one fact you may not have known about their storied careers.
Harold Baines
Why he was great: Baines' Hall of Fame case shines brightest through his longevity (22 seasons, including a 106 OPS+ from his age-40 season and beyond) and through traditional counting stats. The left-handed slugger finished a distinguished career with 2,866 hits, 384 home runs, 488 doubles and 1,628 RBIs. Only 14 other players in history have finished with at least 2,800 hits, 350 homers, 450 doubles and 1,600 RBIs. In that group, only Baines, Barry Bonds and Rafael Palmeiro have been retired from the game for the requisite five seasons and have not been elected to Cooperstown.
Perhaps you didn't know: Baines is already represented in the Hall of Fame for contributing to baseball history: The bat he used to hit a walk-off home run for the White Sox off the Brewers' Chuck Porter in the bottom of the 25th inning -- the second-longest game in Major League history by innings and longest by time duration -- is currently housed in the Hall's physical collection. The game was suspended on May 8, 1984, after 18 innings, and resumed for another seven frames the next day, until Baines ended it with a one-out solo blast. Hall of Fame pitcher Tom Seaver picked up the win after pitching the top of the 25th in relief.
Albert Belle
Why he was great: Belle is one of only 10 players in history to produce at least eight consecutive seasons with 30 home runs and 100 RBIs. He also remains the lone member of one statistical club -- he became the first player to hit at least 50 doubles and 50 homers in the same season, while leading the Indians to the 1995 American League pennant. It happened in a strike-shortened, 144-game season, no less.
Perhaps you didn't know: On Oct. 1, 2000, Belle clubbed a solo home run off the Yankees' Denny Neagle in the final at-bat of his career. By doing so, Belle joined a list of 58 players in baseball history who homered in their final Major League at-bats, which includes Hall of Famers Mickey Cochrane and Ted Williams.
Will Clark
Why he was great: Though longevity is key to a successful Hall of Fame candidacy, Clark was undoubtedly one of baseball's best hitters during his prime years. From 1988 (Clark's age-24 season) through 1995 (his age-31 campaign), "Will the Thrill" boasted a 143 adjusted OPS+ (or 43 percent above league average) -- a figure that ranked behind only Bonds and Fred McGriff during that span.
Perhaps you didn't know: On Opening Day in 1986, Clark became the 32nd player in National League history to homer in his first career at-bat. That's impressive, but what takes it to another level is that Clark hit his blast off future Hall of Famer Nolan Ryan at the Astrodome -- a stadium with spacious dimensions featuring a distance of 406 feet to straightaway center field and 388 feet to the walls in each of the power alleys.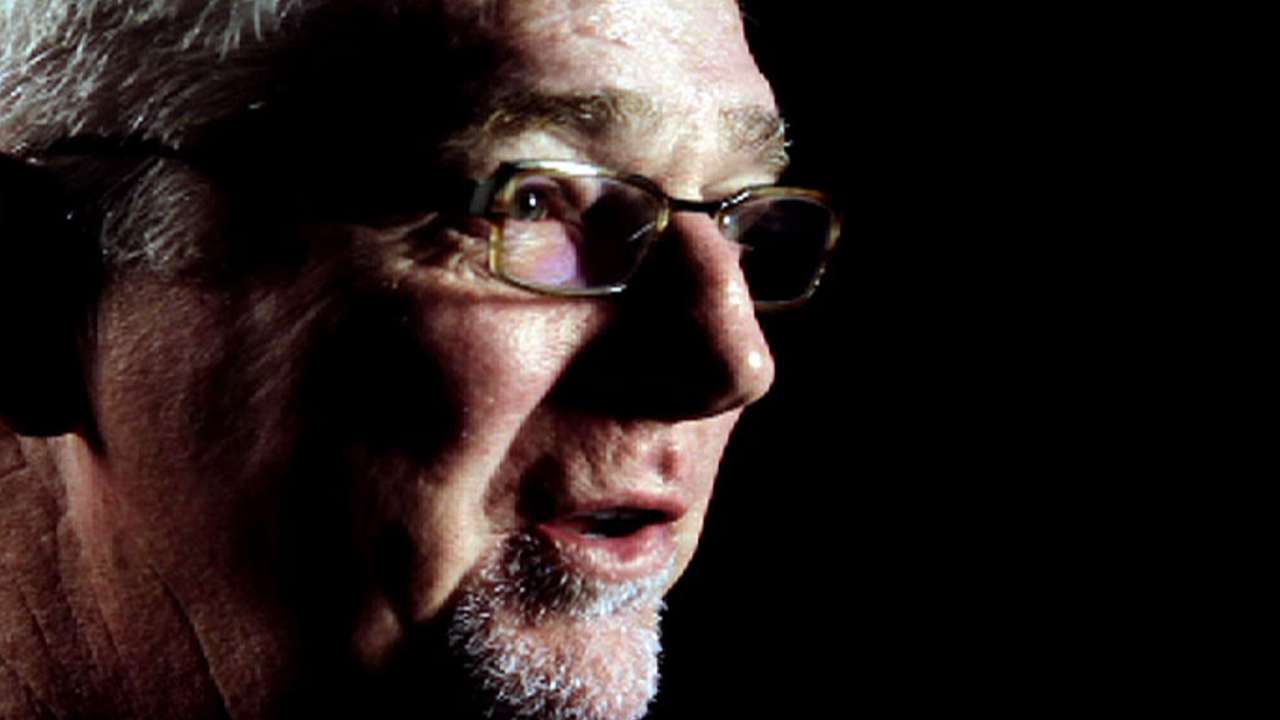 Orel Hershiser
Why he was great: Similar to Clark, Hershiser was near the top of his position during his prime seasons. Hershiser's 28.7 wins above replacement from 1985-89, per Baseball-Reference, topped all National League pitchers. Of course, that run for Hershiser included a 1988 season that ranks as one of the best campaigns by any pitcher in history -- a record 59 consecutive scoreless innings, a league-leading 23 wins and a late-season push that saw him become the only pitcher to win the Cy Young Award, League Championship Series MVP and World Series MVP in the same season.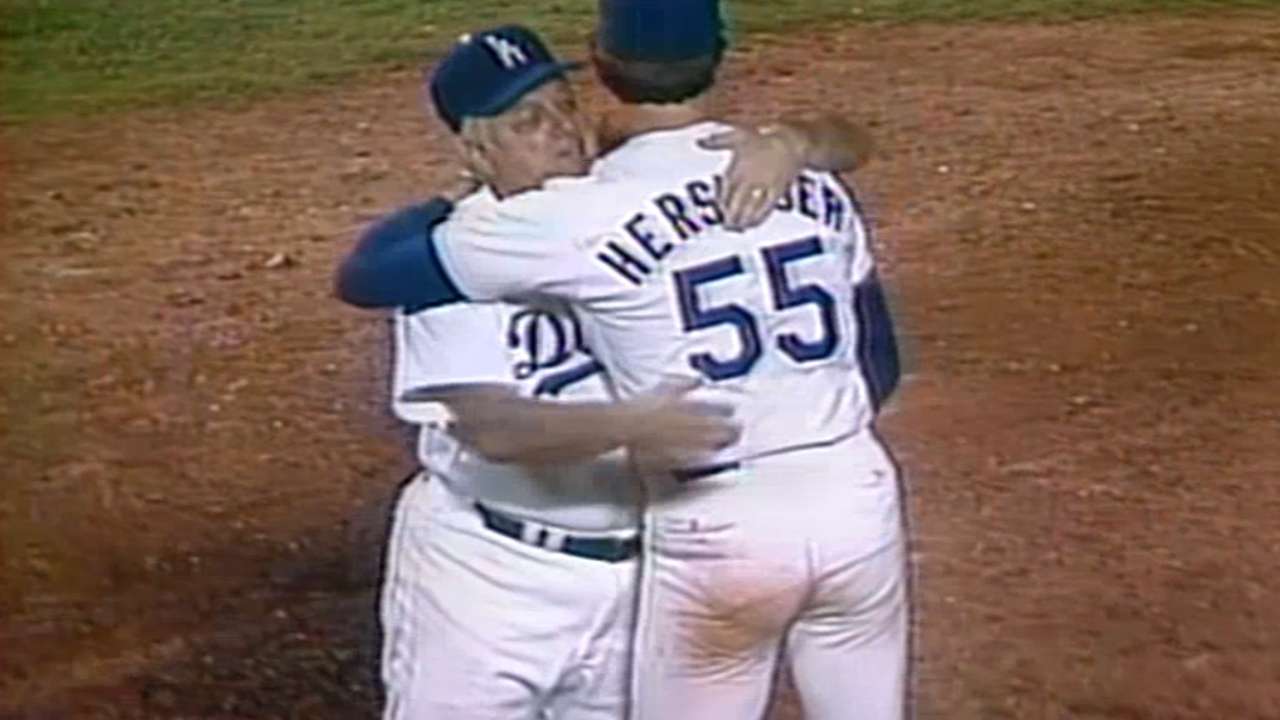 Perhaps you didn't know: When Hershiser led the Indians to a Game 5 victory over Seattle in the 1995 ALCS, he became the first starting pitcher in history to win his first seven career postseason decisions (a feat since matched by Orlando Hernandez and Cliff Lee). Hershiser's 1.05 ERA during the '88 postseason is still the fourth-lowest mark for any pitcher who started at least five games in a single postseason.
Mark McGwire
Why he was great: Along with Sammy Sosa, McGwire is one of only two players to hit more than 60 home runs in back-to-back years. He also is one of only two players to homer at least 70 times in a season, along with Bonds. His rate of one homer per every 10.61 at-bats is the best of any big league hitter in history with at least 3,000 career plate appearances.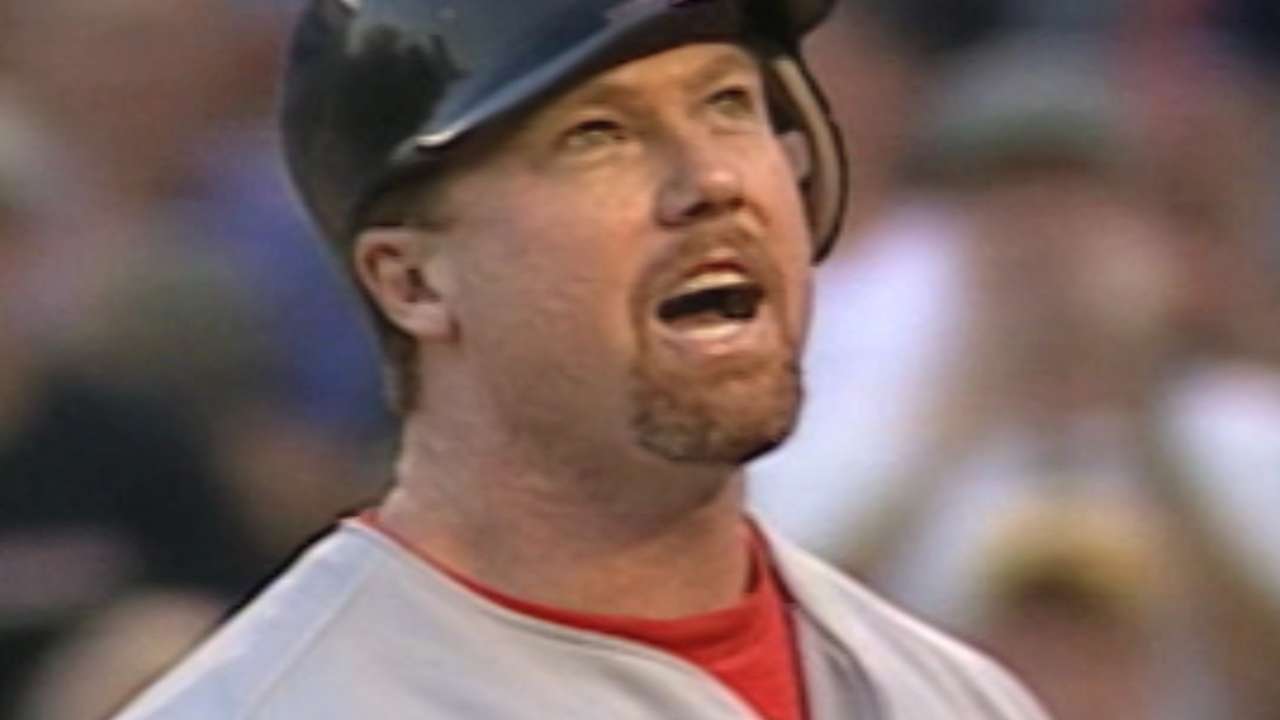 Perhaps you didn't know: McGwire hit 405 home runs during the 1990s -- more than any other player in that decade. That helped him reach his 500th career homer in his 5,487th at-bat on Aug. 5, 1999, making him the fastest player in history to reach the benchmark.
Matt Kelly is a reporter for MLB.com based in New York. Follow him on Twitter at @mattkellyMLB. This story was not subject to the approval of Major League Baseball or its clubs.