Indians aim to supplement talented nucleus
Moves to add depth expected at Winter Meetings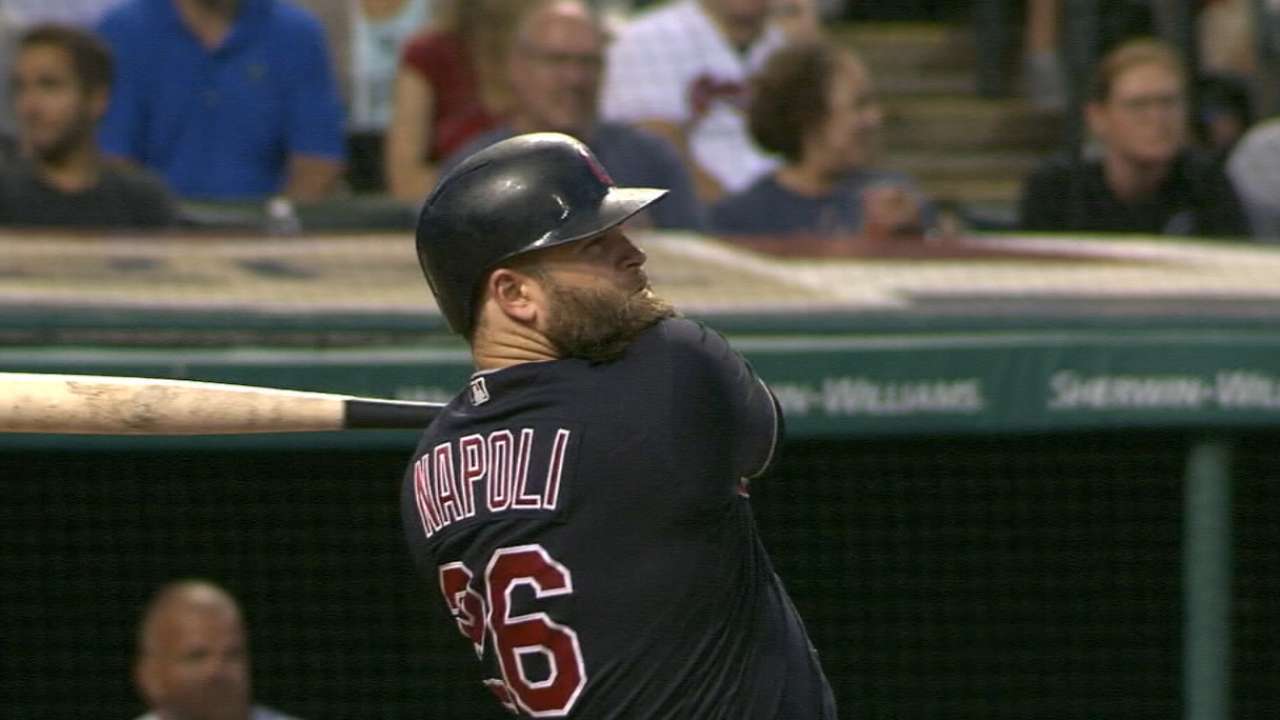 CLEVELAND -- There is precedent for the daunting task at hand for the Indians. In 2014, the Royals went the distance in the World Series and came up short against the Giants. One year later, Kansas City defeated the Mets to claim baseball's crown.
The Indians just experienced a classic World Series against the Cubs, but lost in Game 7 for a disappointing conclusion to an unforgettable and historic season in Cleveland. With the Winter Meetings set to begin Monday, the Indians are now evaluating how to upgrade a roster that will return mostly intact, with the goal of winning one more postseason game than last season.
"Our pitching and our core players are locked up, which I think bodes well for us," Indians manager Terry Francona said during the World Series. "But, so much happens that you just don't know."
That is why improving an already-talented roster is imperative for the Tribe.
MLB.com and MLB Network will have wall-to-wall coverage of the 2016 Winter Meetings from the Gaylord National Resort & Convention Center outside Washington, D.C. Fans can watch live streaming of all news conferences and manager availability on MLB.com, including the Rule 5 Draft on Dec. 8 at 9 a.m. ET.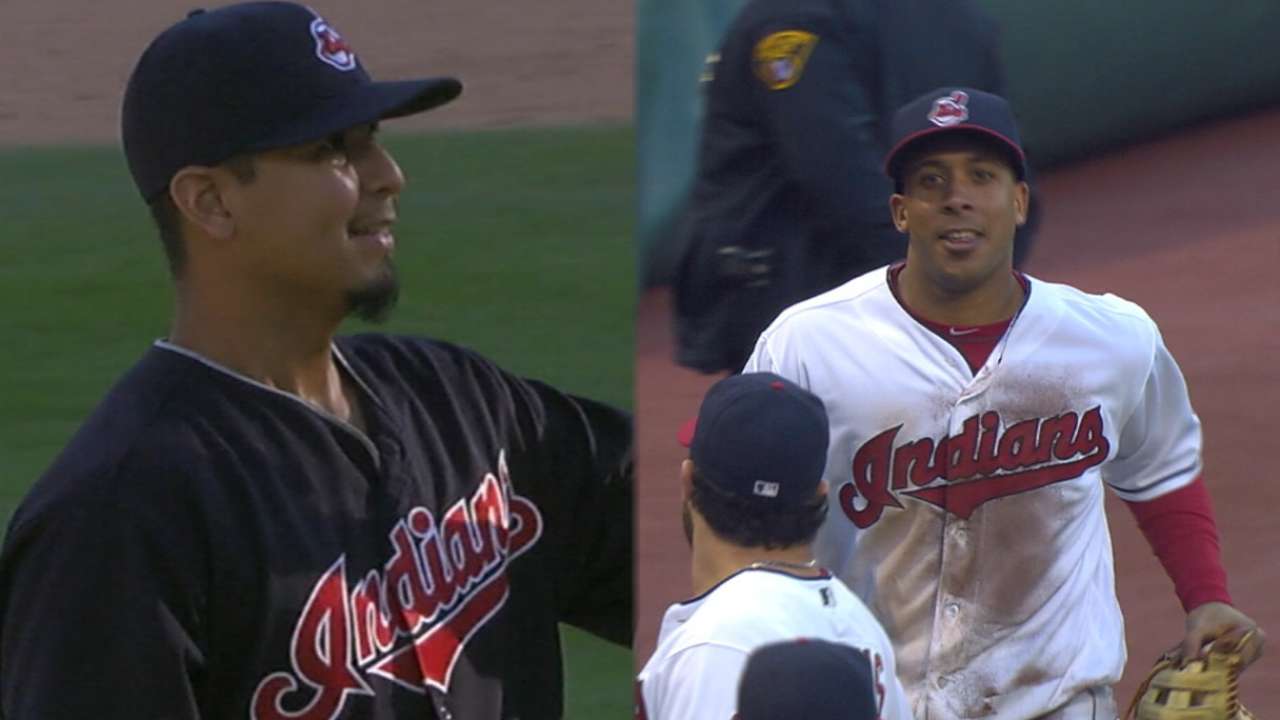 Here is a breakdown of Cleveland's situation as the annual event approaches:
Club needs
Right-handed power: The Indians found a lot of that last offseason with the one-year signing of veteran Mike Napoli, who belted 34 homers and led the team with 101 RBIs. Napoli, however, is back on the free-agent market and looking for a multi-year deal. Cleveland has interest in bringing him back, but the preference would be to do so on a short-term contract. If re-signing Napoli isn't in the cards, Chris Carter or Matt Holliday could be fits on a short-term contract. The Indians showed interest in free-agent Carlos Beltran last season at the Trade Deadline, but he is 39 and essentially limited as a designated hitter.
Outfield help: Insurance is the key here. The Indians believe that left fielder Michael Brantley will be ready for Spring Training after an injury-marred 2016, but the team needs to have some contingency plans. Right now, Cleveland has center fielder Tyler Naquin and right fielder Lonnie Chisenhall to primarily face righty pitching, and corner outfielder Brandon Guyer as a weapon against lefties. Switch-hitting outfielder Abraham Almonte will also be in the mix for an Opening Day job. Last year, Rajai Davis (now a free agent) provided depth between left and center field, not to mention a great speed element. Davis remains of interest to the Tribe, too.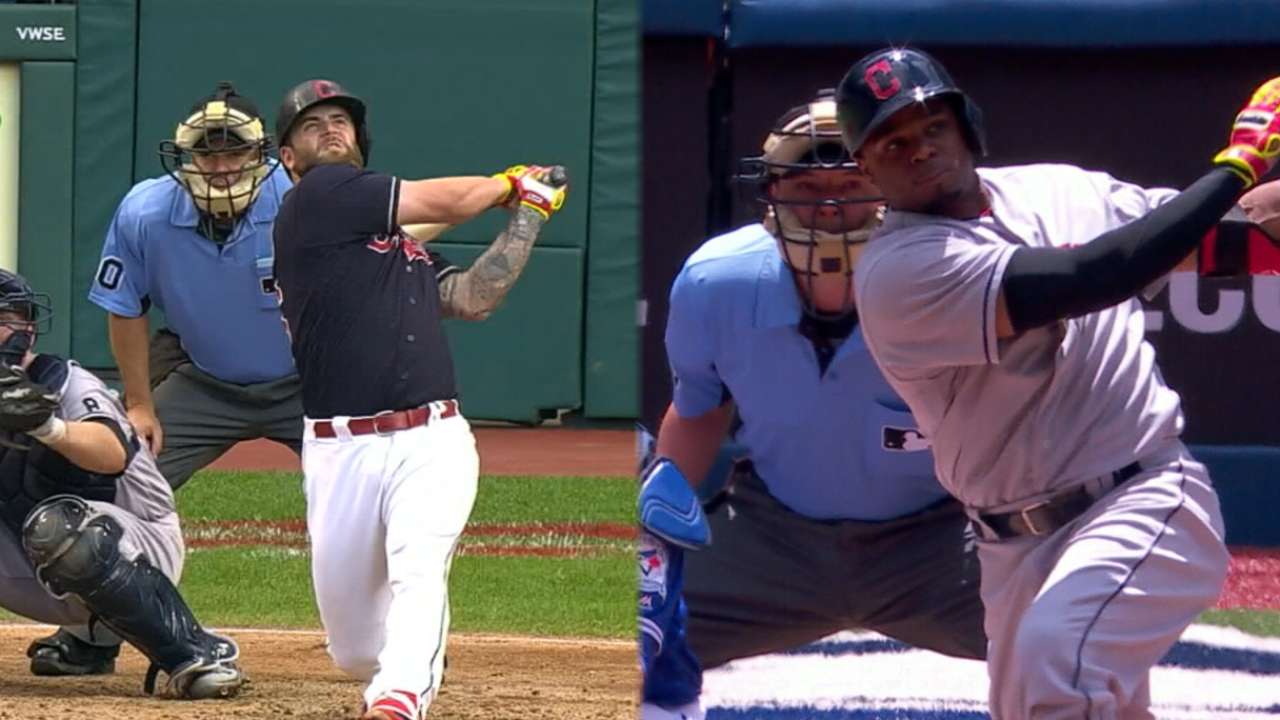 Left-handed relief: Cleveland reeled in a relief ace in lefty Andrew Miller last season, but the Tribe is thin on left-handed options behind him. The Indians have Kyle Crockett on the roster, along with lefty starters Ryan Merritt and Shawn Morimando. Cleveland already claimed lefties Tim Cooney and Edwin Escobar off waivers this winter to add depth. Look for the Indians to continue to search for left-handed relief options. Boone Logan represents an intriguing option among the lefty relievers on the free-agent market.
Rotation depth: The Indians have one of the top rotations with Corey Kluber, Carlos Carrasco, Danny Salazar, Trevor Bauer and Josh Tomlin. What Cleveland could use is some more depth behind those five. The Indians have internal options in Mike Clevinger and Cody Anderson, but some experienced arms would help a staff that was exposed amid a wave of injuries down the stretch and in the postseason. Look for the Tribe to solve this either through trades, claims or Minor League contracts.
Who they can trade if necessary
Chisenhall: Eligible for arbitration this winter, Chisenhall projects to earn around $4 million next season. That is hardly an overly expensive contract, but the right fielder has become mostly a platoon outfielder. Plus, the Indians have a very similar player in Naquin, who can play center, but also projects well as a right fielder. If Cleveland wants to shed some cash and perhaps address another need, the team could see what offers might be out there for Chisenhall.
RHP Zach McAllister: After acquiring Miller, Cleveland suddenly had solid depth in the bullpen. McAllister is slated for arbitration and could make around $1.5 million. The big righty has a power fastball and decent two-pitch mix, and thrived after Miller's arrival allowed Francona to better utilize his relievers based on situations. So, there is value in keeping McAllister, but another team might also see some worth in the right-hander as well. The same could go for right-hander Jeff Manship (also eligible for arbitration).
Miller: Would the Indians actually consider flipping Miller after shipping four prospects to acquire the leverage weapon from the Yankees before the Aug. 1 non-waiver Trade Deadline? Probably not. Cleveland certainly is not shopping him. Miller, who is under contract for $9 million in each of the next two years, is a big part of the team's plans for the 2017 campaign. That said, the talented lefty also is extremely valuable and the Indians would not be doing their job if they did not at least listen if teams came calling with offers.
RHP Bryan Shaw: Shaw is eligible for arbitration this winter and projects to earn around $4.5 million. The veteran reliever is one of the most durable late-inning arms in the game (he leads baseball with 299 appearances over the past four years), but is becoming pricey. It might serve Cleveland well to see how other teams value Shaw, whose velocity improved last season. That said, Shaw is one of Francona's favorites and -- like most of the relievers -- the right-hander's showing improved after Miller's presence strengthened the look of the 'pen.
A starting pitcher: The Indians' rotation is the backbone of the roster, but the group is also affordable and under control for multiple seasons. That makes the starters some of the most sought-after trade targets in the game. It seems unlikely that Cleveland would trade away from its main strength, but a case could be made to at least entertain offers for the arms (Bauer and Salazar, specifically). It could be the best way for the Tribe to reel in an impact offensive player. Of course, it would also create a hole in the rotation, which is already thin behind the front five.
Top Prospects
Per MLBPipeline.com, the Indians' top prospects are outfielder Brad Zimmer, left-hander Brady Aiken, first baseman Bobby Bradley, catcher Francisco Mejia, right-hander Triston McKenzie, third baseman Nolan Jones, outfielder Will Benson, shortstop Erik Gonzalez, shortstop Yu-Cheng Chang and outfielder Yandy Diaz. From that group, Zimmer, Gonzalez and Diaz are the most likely to impact the Major League team during the '17 season. Mejia and Chang were included in the four-player package that would have gone to the Brewers had All-Star catcher Jonathan Lucroy approved a trade to the Indians prior to the non-waiver Trade Deadline last season. Mejia, who had a 50-game hitting streak in the Minors last year, was the centerpiece of those talks with Milwaukee.
Rule 5 Draft
The Indians have 39 players on their 40-man roster, so the team could take part in the Rule 5 Draft. Cleveland picks 27th in the annual event. Middle infielder Osvaldo Abreu (Nationals' No. 19 prospect) could be of interest, though the Rule 5 is often a good place to seek relief help. Some lefties eligible for selection include Daniel Gibson (D-backs' No. 27 prospect), Jordan Guerrero (White Sox No. 10 prospect) and Corey Littrell (Cards' No. 29 prospect). Dating back to 2000, Cleveland's only Rule 5 selections have been Chris McGuiness (2012), Hector Ambriz (2009) and Travis Chapman (2002).
Big contracts they might unload
No one really falls into this category for the Indians this winter. Teams could ask on Miller, who is owed $18 million over the next two years, but he is unlikely to be dealt. Carlos Santana will earn $12 million next season, but that was a team option that was picked up by the team. He will continue to serve as a first baseman and DH. Players like Chisenhall, Shaw or McAllister could be dangled, but none figure to be moved, strictly due to financial motivations.
Payroll summary
Cleveland projects to have a payroll north of $100 million, and that is before even making any external additions. There is nearly $60 million tied up in eight guaranteed contracts, plus another $25 million to $30 million likely to come via arbitration signings. Combined with the pre-arbitration players, and the $9 million still on the books for Chris Johnson (a part of the trade that allowed Cleveland to deal Michael Bourn and Nick Swisher to the Braves in August 2015), the Indians could be looking at their largest payroll in franchise history. With little monetary wiggle room, Cleveland may need to explore the trade market to free up salary space.
Jordan Bastian has covered the Indians for MLB.com since 2011, and previously covered the Blue Jays from 2006-10. Read his blog, Major League Bastian, follow him on Twitter @MLBastian and listen to his podcast. This story was not subject to the approval of Major League Baseball or its clubs.