At Meetings, Blue Jays plan to be movers, shakers
GM Atkins and front office have voids to fill at number of positions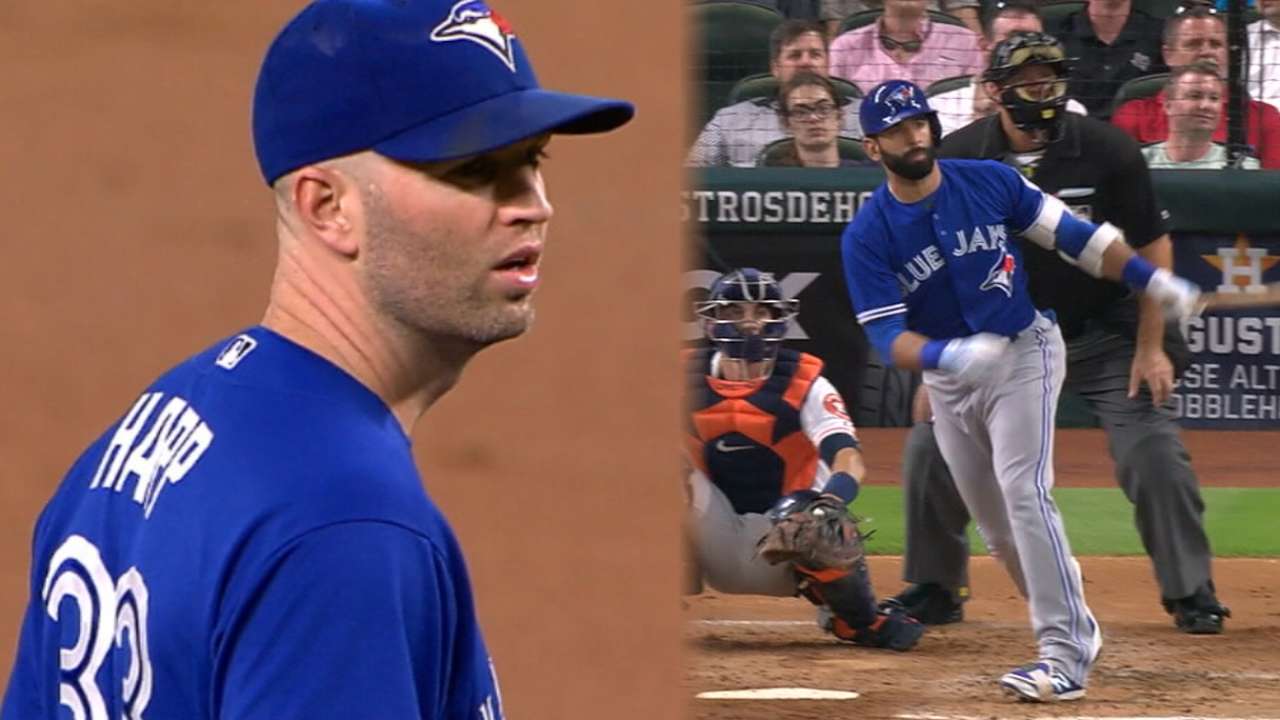 TORONTO -- The offseason Hot Stove will be taken to another level at next week's Winter Meetings, and the Blue Jays should be front and center for most of the action.
The Meetings officially begin Monday, and with so many openings on the 25-man roster Toronto is expected to be one of the most aggressive teams. There are holes in the outfield, first base, bullpen and backup catcher, but clarity on the club's future may come soon.
At the very least, general manager Ross Atkins will need to use these Meetings to lay the groundwork for future moves. Even better would be finalizing a couple of roster spots before the market dwindles while also easing the burden for the rest of the offseason.
Whether it's trades, signings or the free-agent cases of Edwin Encarnacion and Jose Bautista, the Blue Jays will be mentioned a lot over the next week. There were a lot of rumors before and there will be even more now for an organization that intends to contend but faces the possibility of high turnover.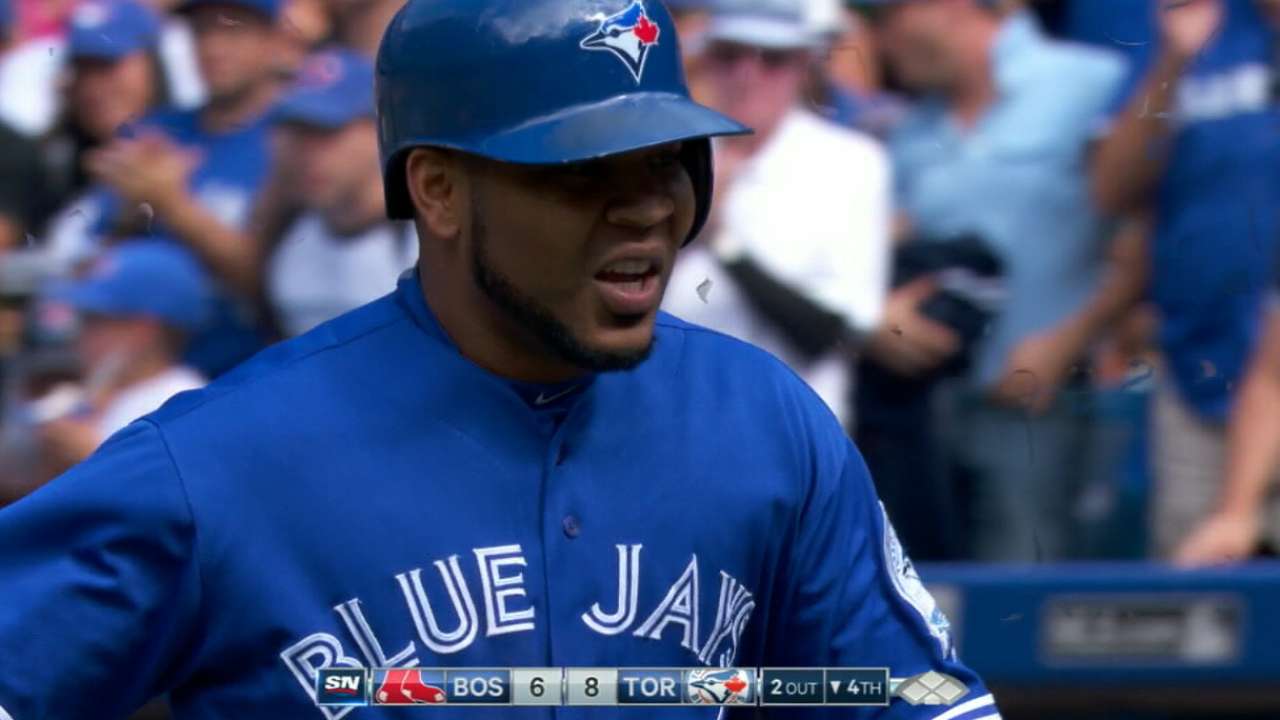 MLB.com and MLB Network will have wall-to-wall coverage of the 2016 Winter Meetings from the Gaylord National Resort & Convention Center outside Washington, D.C., starting Monday. Fans can watch live streaming of all news conferences and manager availability on MLB.com, including the Rule 5 Draft on Dec. 8 at 9 a.m. ET.
Club needs
Corner outfield spots: Now that Bautista and Michael Saunders are free agents, there are a pair of glaring holes in the outfield. Ezequiel Carrera, Melvin Upton Jr. and Dalton Pompey are internal replacements, but each seems better suited for a bench role. Toronto has been linked to free agent Dexter Fowler and Jay Bruce through trade, and while it's not impossible that Saunders or Bautista, returns it does seem like the club is looking to move in another direction.
Bullpen: Brett Cecil is gone and the Blue Jays are without an obvious candidate to fill his role as the primary left-hander out of the bullpen. Free agents such as Marc Rzepczynski, Jerry Blevins, Boone Logan or J.P. Howell are potential fits, but asking prices for relievers are through the roof and Toronto may be hesitant to spend a lot of money here. The internal possibilities are Aaron Loup, Matt Dermody and Chad Girodo.
First base: It still seems unlikely that Toronto would be willing to pay top dollar for Encarnacion after recently signing Kendrys Morales to a three-year contract, but both sides have remained in contact. The best guess here is that Encarnacion signs elsewhere and Toronto will look to add someone like Mike Napoli or Chris Carter to compete for playing time with Justin Smoak. If Encarnacion is willing to take less than top dollar, the situation changes, but the club would have to gamble that he can remain healthy as an everyday first baseman.
Backup catcher: Josh Thole was released and Dioner Navarro is a free agent, so that means Toronto's current backup is A.J. Jimenez. The 26-year-old was once a top prospect, but his progress stalled after a series of injury-plagued seasons. He's out of options and cannot be sent to the Minors without clearing waivers, so the only way to guarantee his spot is by putting him on the 25-man roster. Even so, the Blue Jays would be well served to adding a competent backup who can realistically ease Russell Martin's workload.
Who they can trade if necessary
OF Pompey: Pompey's value isn't what it was a couple of years ago but it's easy to forget he is still just 23. Initial expectations were too high after he broke in at 21, but after a lengthy stint in Triple-A, he should be ready for the next level. Toronto hopes to contend in 2017, so it doesn't make sense to gamble on Pompey as a starting option quite yet. That could turn the former top prospect into an interesting trade chip this winter.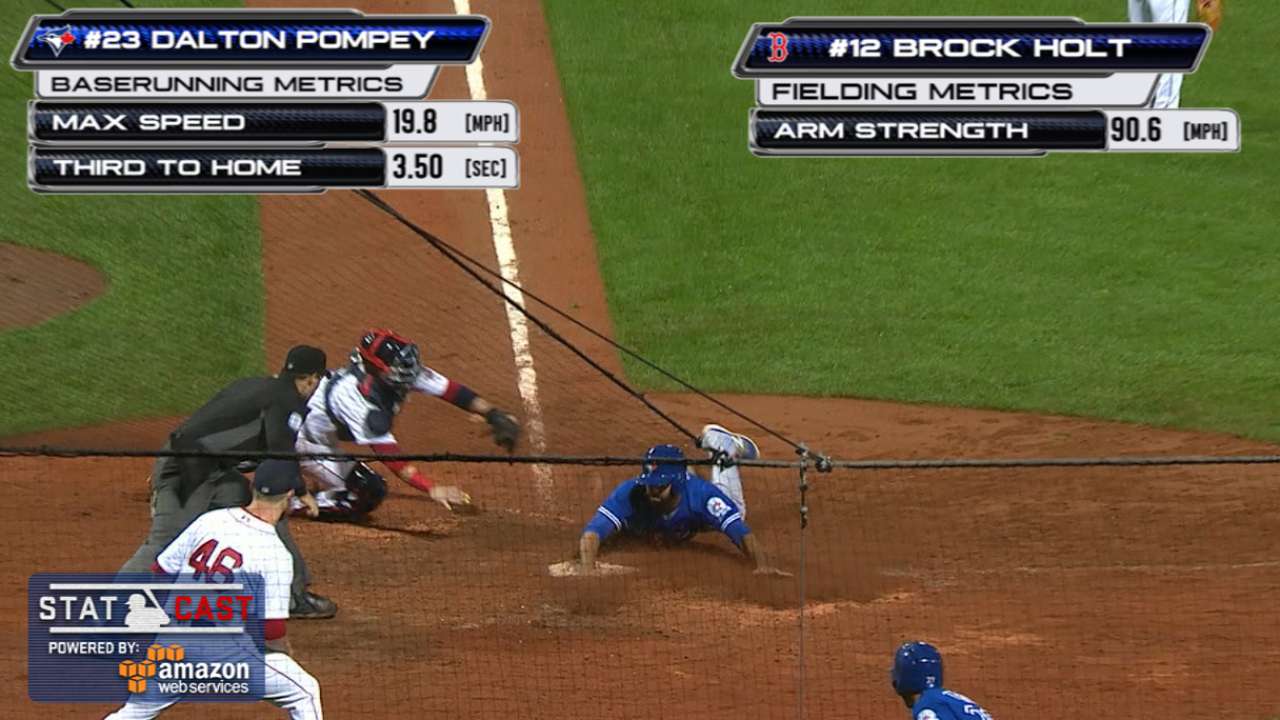 1B Smoak: Smoak's not going to net much of a return, but it's possible he could be added as a throw-in to any deal involving a first baseman. Smoak has some long-term job security thanks to a two-year extension $8.5 million, and he might start at first base against right-handed pitching, but he's not going to get in the way of Toronto making a move at that position, either.
OF Kevin Pillar: If the Blue Jays found a way to finalize a deal with Fowler, it's possible they could explore the trade market for Pillar. The more realistic scenario is that Fowler would move to a corner outfield spot and Pillar would remain in center, but depth at that position is a possible asset that could be used to fill holes elsewhere.
RHP Marcus Stroman: Stroman's name is listed here because of Toronto's depth in the rotation and really nothing more. With Marco Estrada and Francisco Liriano set to hit free agency at the end of the 2017 season, it makes sense to keep a long-term piece like Stroman. Don't expect anything to happen here, but that doesn't mean a rumor or two won't pop up along the way.
Top prospects
Per MLBPipeline.com, Toronto's top 10 prospects are: SS Richard Urena, RHP Sean Reid-Foley, OF Anthony Alford, C Reese McGuire, OF Harold Ramirez, RHP Jon Harris, 3B Vladimir Guerrero Jr., RHP T.J. Zeuch, 1B Rowdy Tellez and RHP Conner Greene.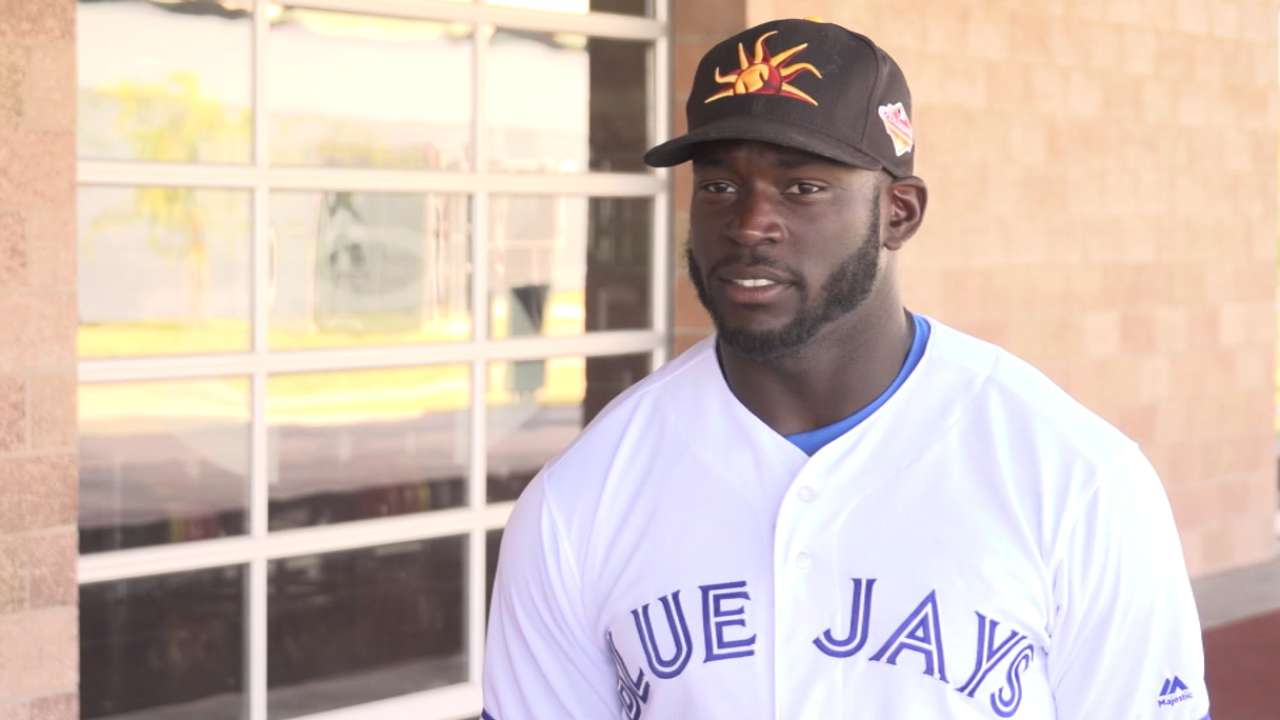 Urena, Alford and Tellez are all getting closer to being big league ready, but could use another year of development. Toronto's trying to build up its Minor League system, so it's doubtful the club will deal from its top group, but a second-tier group could be considered. Greene, Angel Perdomo and Adonys Cardona are among those to watch.
Non-tender candidates
Toronto has four players eligible for arbitration, but Darwin Barney seems to be the only one at risk of being non-tendered. Teams have until Friday at 11:59 p.m. ET to tender contracts. Stroman, Loup and Carrera should be safe, but since Barney made $2.525 million in 2015 before taking a paycut in '16, his arbitration number could be higher than expected. One way around the confusion is to sign a deal that avoids arbitration entirely.
Rule 5 Draft
The Blue Jays have 39 players on their 40-man rosters, so there's room to make a pick in the Rule 5 Draft and some additional spots could be created rather easily for free agents. Under Alex Anthopoulos, Toronto typically passed on making a Rule 5 selection, but that changed under Atkins and the trend should continue again this year.
Toronto scored big in 2015 when it selected Joe Biagini. The rookie right-hander made the team out of camp and eventually became a high-leverage reliever. If the Blue Jays add someone in Rule 5, it'll likely be another arm for a bullpen that has multiple jobs up for grabs.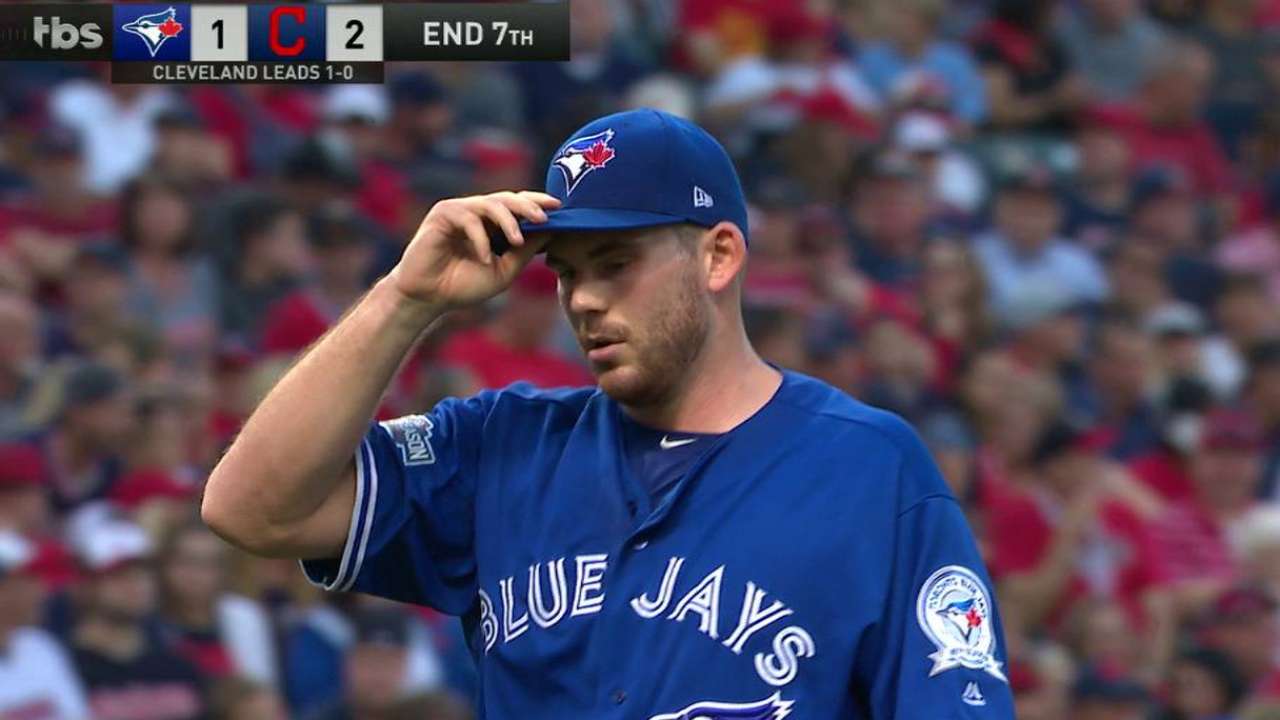 Big contracts they might unload
There are plenty of big contracts on this roster, but this isn't the time to sell off potential assets. Down the road, the club may look to move big-money players such as Josh Donaldson, Troy Tulowitzki and Martin, but that's certainly not going to happen while the club is trying to contend. If anything, the Blue Jays will look to use their financial flexibility to take on a big contract from another team in a deal that won't cost top prospects.
Payroll summary
Toronto has approximately $120 million guaranteed to 10 players next season, and that number will go up by at least another $5 million through arbitration. Exactly how much the Blue Jays have to spend next is unclear, but last year's payroll was approximately $140 million and president Mark Shapiro has said that number is going up. It's just not known by exactly how much.
Gregor Chisholm has covered the Blue Jays for MLB.com since 2011. Follow him on Twitter @gregorMLB and Facebook, and listen to his podcast. This story was not subject to the approval of Major League Baseball or its clubs.