Will Cards pull any surprises at Winter Meetings?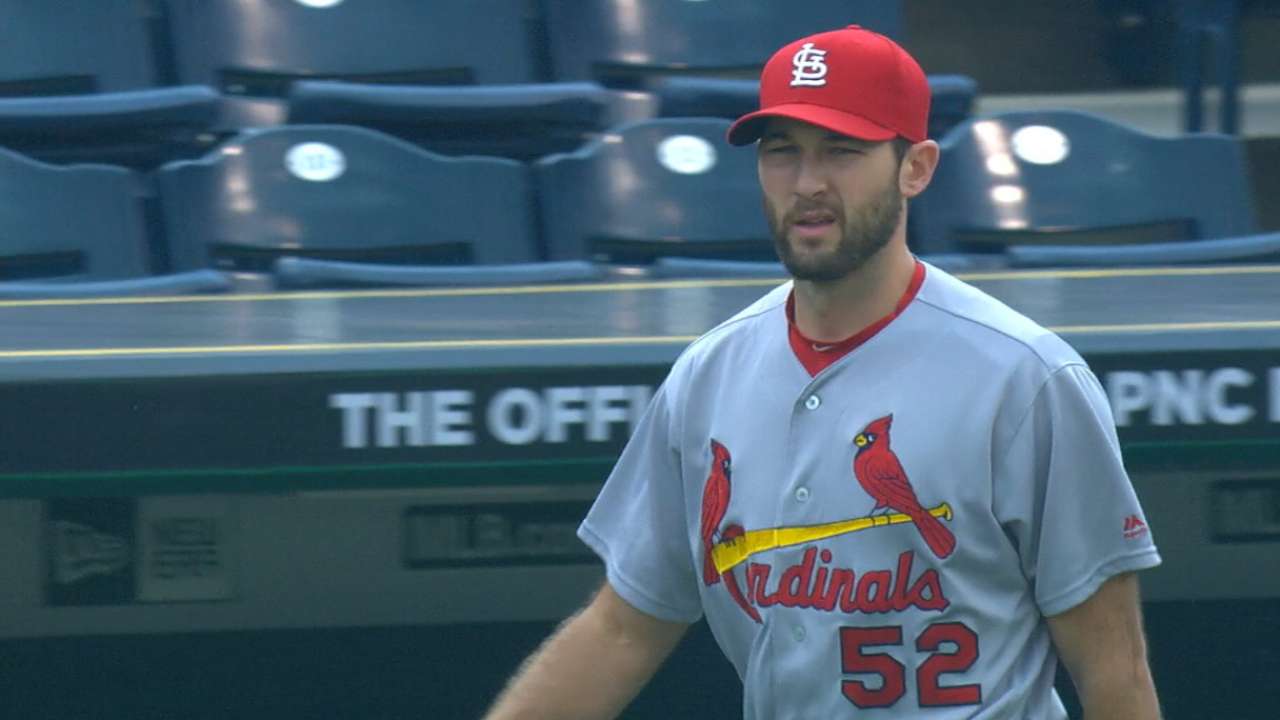 ST. LOUIS -- The Cardinals struck quickly this Hot Stove season with the November signing of reliever Brett Cecil. Their work retooling a roster that wasn't strong enough to extend the organization's string of postseason appearances in 2016, however, is far from over.
That work will continue next week, when agents, front-office personnel and media members descend upon the Gaylord National Resort & Convention Center outside Washington, D.C., for the annual Winter Meetings.
MLB.com and MLB Network will have wall-to-wall coverage of the 2016 Winter Meetings. Fans can watch live streaming of all news conferences and manager availability on MLB.com, including the Rule 5 Draft on Dec. 8 at 8 a.m. CT.
The Cardinals' search for an outfielder, which is still the club's greatest priority, may be about to pick up steam, too. The Mets' re-signing of Yoenis Cespedes this week shook loose a stagnant outfield market. The Cardinals have explored free-agent options (most notably Dexter Fowler) and trade possibilities as they look for an upgrade.
The Cardinals already made one big trade before the Meetings began, dealing left-hander Jaime Garcia to the Braves for three prospects on Thursday. The Cards exercised Garcia's club option at the end of the season so that the team had increased rotation depth from which to deal if it made an offseason trade. Garcia is coming off a disappointing season, but with the free-agent market thin on starters, he proved to be an attractive piece to a team needing rotation help such as the Braves.
So with the Winter Meetings approaching, here is a look at what the Cardinals still need, who could be on the move and how payroll plays into it all.
Arbitration-eligible
The Cardinals have six arbitration-eligible players -- Trevor Rosenthal, Matt Adams, Seth Maness, Carlos Martinez, Kevin Siegrist and Michael Wacha -- and are expected to tender a contract to each of them. Those decisions must be formally made by the end of the day on Friday.
Club needs
Outfielder: This was the Cardinals' biggest need at the start of the offseason and remains an unaddressed one to this point. With Matt Holliday and Brandon Moss gone, the club is left wanting an outfielder that can fill a left- or center-field hole. Randal Grichuk is projected to take the other opening.
Position player depth: Whether it's adding another infielder or an additional backup catcher, the Cardinals would still like to fortify the depth of their roster. They could make a surprise splash and go big -- MLB.com's Jon Paul Morosi reported earlier this week that the Cardinals have interest in third baseman Justin Turner -- but the more likely path is that the club adds less expensive pieces.
Who they can trade if necessary
1B Adams: An opportunity for Adams to have everyday playing time seems to have passed now that the Cardinals have committed to using Matt Carpenter at first base in 2017. Without a defined role moving forward and his salary set to increase through the arbitration process, Adams may be dangled as trade bait.
SS/3B Jhonny Peralta: When the Cardinals signed Peralta in November 2013, they intentionally front-loaded his contract in case they wanted to unload him in the final years of the deal. Peralta is now entering the last year of that contract, and if the club was to add an impact infielder like Turner, he may no longer have a fit. The question, though, is how attractive a trade piece Peralta would be given his injury-plagued season in 2016.
RHP Wacha: Recurring shoulder issues have put Wacha's future role in question, and there's no guarantee he'll have a fit in the 2017 rotation. Trading Wacha now, though, may be selling when his stock is down, so that's something the Cardinals will consider.
Top prospects
Per MLB.com, the Cardinals' Top 10 prospects are, in order: right-hander Alex Reyes, right-hander Luke Weaver, outfielder Harrison Bader, right-hander Jack Flaherty, shortstop Delvin Perez, outfielder Magneuris Sierra, shortstop Edmundo Sosa, right-hander Junior Fernandez, right-hander Sandy Alcantara and right-hander Dakota Hudson.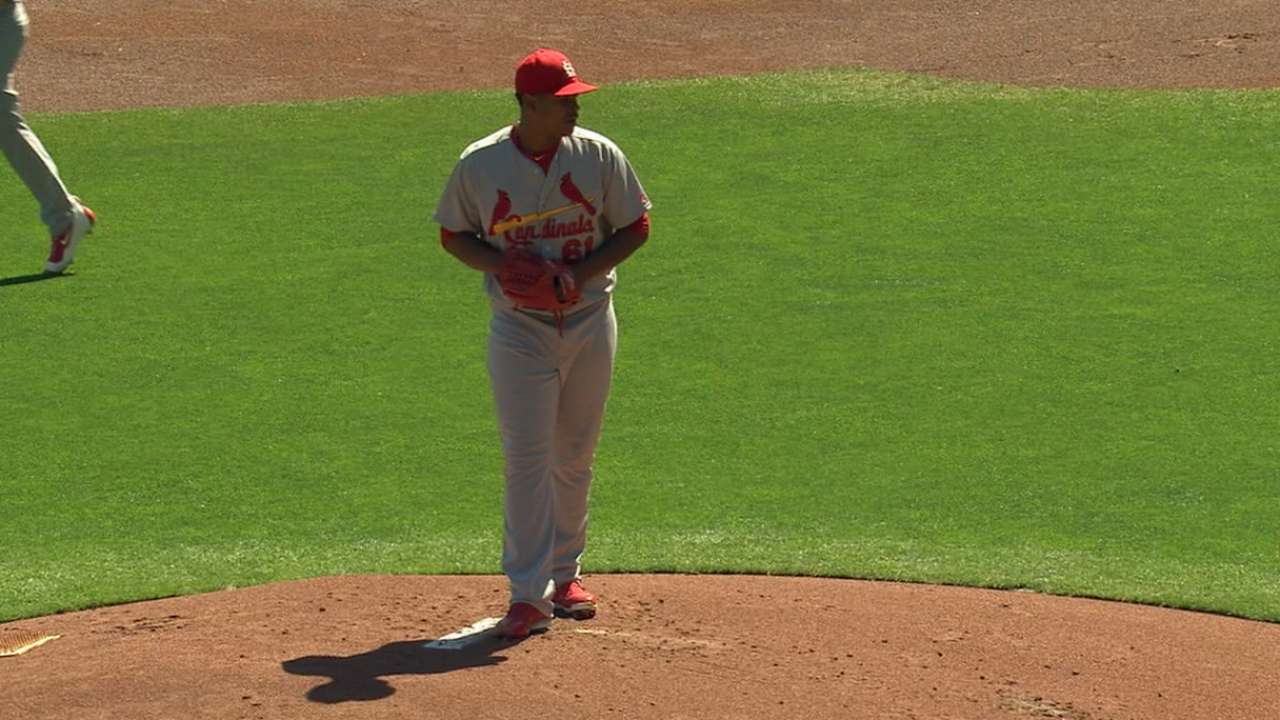 The Cardinals would prefer to not deal Reyes, who is projected to be part of the Major League rotation in 2017. No one, however, is deemed untouchable. If the organization can net the right return, it would be willing to deal from its farm system.
Rule 5 Draft
Even after adding four Minor League players to the 40-man roster in November to protect them from the Rule 5 Draft, the Cardinals left some intriguing talent exposed. Left-handers Ryan Sherriff and Corey Littrell, both of whom just wrapped up Arizona Fall League stints, may be of interest to other clubs. The Cards also left middle infielder Allen Cordoba, ranked as the team's 19th-best prospect by MLB Pipeline, unprotected.
The Cardinals struck it big in the Rule 5 Draft last year by acquiring Matt Bowman, who then pitched out of the big league bullpen all season. If they want to make a Rule 5 addition this December, the Cards will need to clear a spot on their 40-man roster.
Big contracts they might unload
The Cardinals already shed some payroll with the free-agent departures of Holliday, Moss and Jordan Walden. Trading Garcia ($12 million) created additional payroll flexibility, and dealing Peralta ($10 million) would create even more, though the club isn't expected to be restricted in its activity.
Payroll summary
Even after signing reliever Cecil to a four-year, $30.5 million contract, the Cardinals have payroll flexibility. Remember that it was just a year ago that the team made sizable six-figure offers to Jason Heyward and David Price. Though both turned down those overtures, the team's aggressiveness was a reminder that if the situation is right, the organization has money to spend.
Jenifer Langosch has covered the Cardinals for MLB.com since 2012, and previously covered the Pirates from 2007-11. Read her blog, follow her on Twitter, like her Facebook page and listen to her podcast. This story was not subject to the approval of Major League Baseball or its clubs.