MLB.com Columnist
Anthony Castrovince
Five teams have pieces to land McCutchen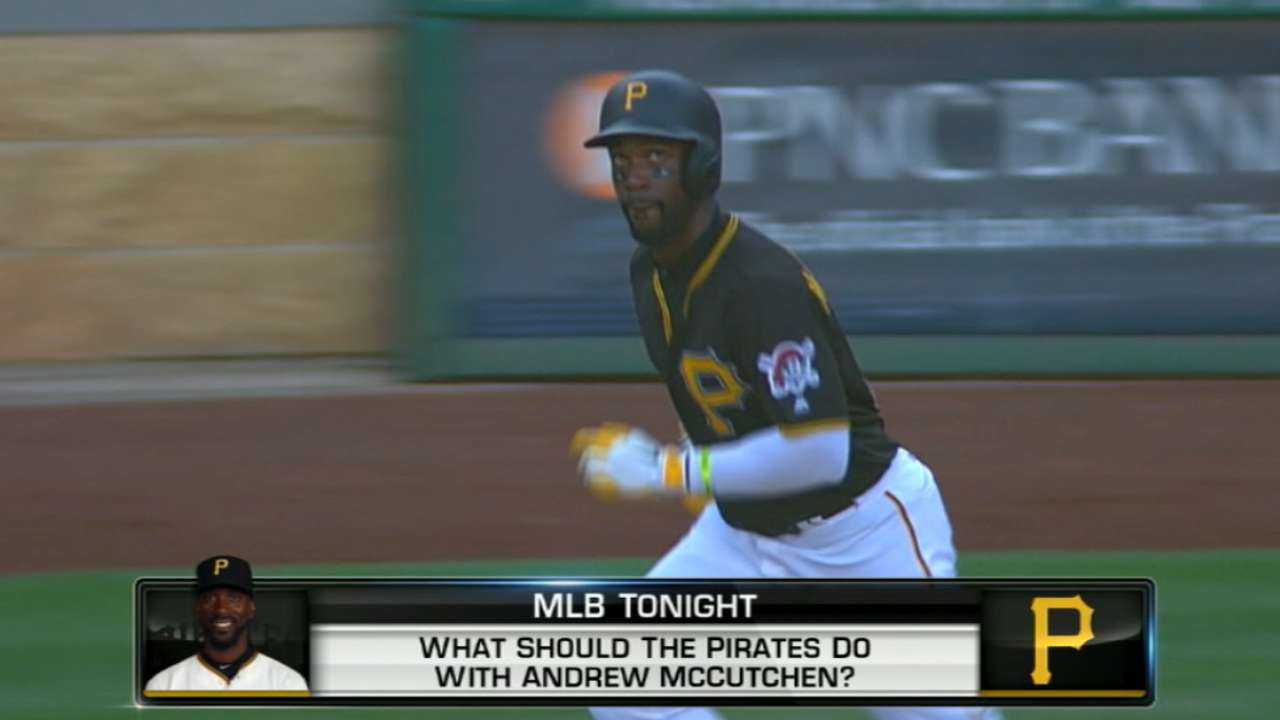 Back in the Burgh's dark days, when the streak of losing seasons was nearing the legal drinking age and the Pirates were still something of a punchline, Andrew McCutchen signed on to stay. And with that 2012 stroke of the pen on a six-year extension that rated then and still rates today as team-friendly, the man they call Cutch confirmed his clout as the unquestioned face of the franchise, the superstar who stuck around and helped bring the Bucs back into the limelight.
And so it is inherently awkward to discuss the topic on today's table, the increasing speculation -- egged on by a Wednesday report from Ken Rosenthal of MLB Network and FOX Sports -- that the Pirates will ship their signature star elsewhere.
You can't overstate what McCutchen has meant to this organization and its fans, and, on the emotional end of the spectrum, you hate to see any transaction that upsets these kids:
But on the logical end of the spectrum, you can see why the Bucs would consider moving Cutch.
The 30-year-old McCutchen has one more guaranteed year left on his deal (for $14 million), along with a $14.75 million club option for 2018. The Pirates have two other outfielders (Starling Marte and Gregory Polanco) locked up long-term and prospect Austin Meadows nearing Major League readiness. Their budget calls for shrewd decision-making and the maximization of assets and, even after a down year on both sides of the ball (a career-low .766 OPS was 123 points south of his '15 mark, and he got negative grades in the defensive metrics), this could be an opportune environment to get a worthwhile trade package and shift some spending to other elements of the roster before McCutchen is able to walk away on his own terms.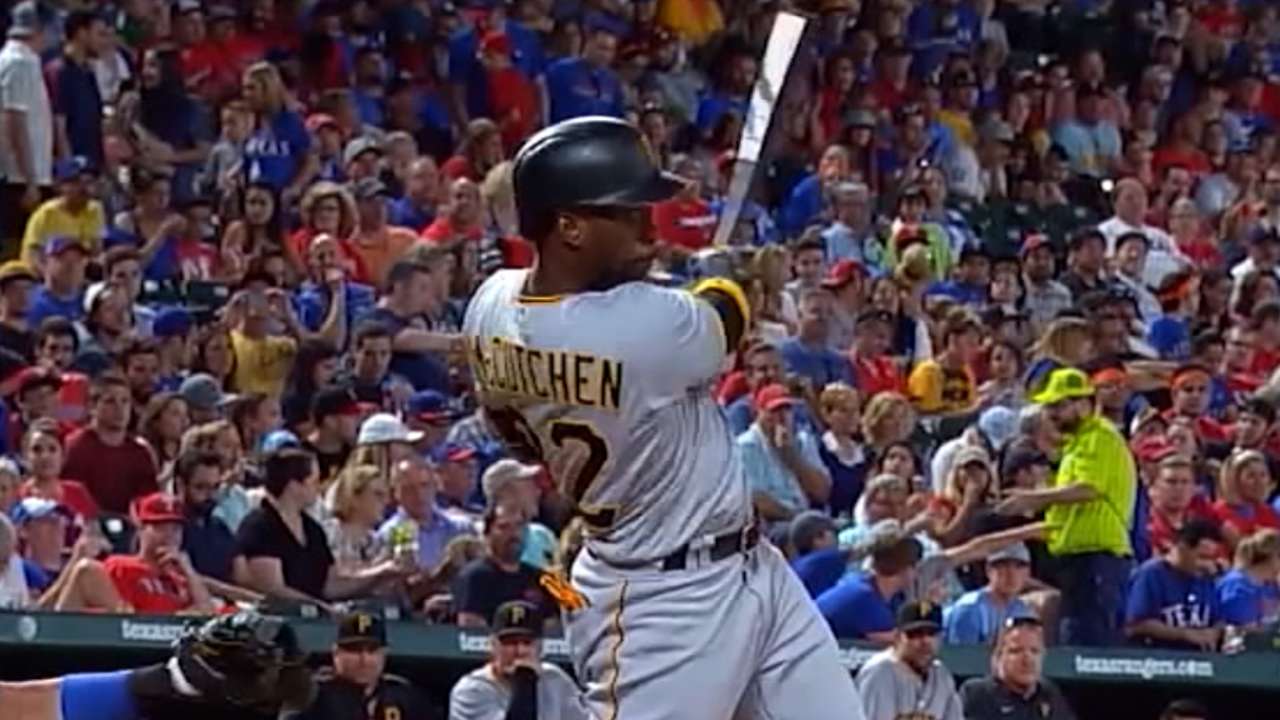 While there is certainly no guarantee that the Pirates move McCutchen this winter, these are the five teams that line up as the best fits in a trade in which the Bucs would almost certainly be targeting high-end, controllable starting pitching:
1. Dodgers
Whatever the Dodgers do to address their lineup this offseason, they simply have to get better production against left-handed pitching. Though his 2016 output was lacking against lefties and righties alike, the right-handed-hitting McCutchen does have a .952 career OPS off southpaws. Combine that with the Dodgers' ample prospect and economic resources (doubtful Julio Urias gets moved but Jose De Leon is an attractive alternative), and there's zero doubt they could put together a compelling package for McCutchen.
It's simply a matter of how they choose to apply those resources this offseason, because the Dodgers do have holes at second base, third base and in their bullpen to address.
Dodgers' Top 30 Prospects list
2. Nationals
The Nats and Pirates swung a trade involving Mark Melancon at the non-waiver Trade Deadline, and they did have substantive discussions about McCutchen at that time. Given the likelihood of the Nationals shifting Trea Turner back to his native shortstop position and the Nats' possession of some high-upside, high-level prospects in Lucas Giolito and Reynaldo Lopez, these teams still line up well.
The Nationals are also in pursuit of a closer and they have been in the thick of the Chris Sale discussions with the White Sox, so it's hard to say for certain how high a priority McCutchen is for them at the moment. But there's little doubt he'd round out their lineup well.
Nationals' Top 30 Prospects list
3. Rangers
As detailed in this Mike Petriello analysis, there is increasing sentiment that McCutchen is best-suited to an outfield corner at this point in his career. That's not to say he can no longer handle center field (there may have been specific positioning issues on the part of the Bucs that contributed to his lowly ranking in the metrics last year), but a corner spot seems more ideal, and the two teams listed above both have the means to accommodate Cutch in a corner (Bryce Harper would have to shift to center in that scenario for the Nats) if he's amenable.
It's a little trickier with the Rangers. They'd have to make the oft-injured Shin-Soo Choo a full-time DH to put McCutchen in right. Otherwise, they'd have to have faith that his 2016 slide (he went from minus-8 defensive runs saved in '15 to a Major League-worst minus-28 in center in '16) was more of an aberration than his new norm.
Furthermore, the Rangers don't have the young starting pitching the Pirates would likely be looking for. But I'm listing them here anyway, because in Jurickson Profar and Joey Gallo and relief depth, they do have enticing pieces and they do have the lineup need.
Rangers' Top 30 Prospects list
4. Giants
McCutchen is the Bucs' biggest star since Barry Bonds. The Giants have basically been looking for a left fielder since Bonds.
So hey, this works!
In addition to the left-field void, the Giants also have a need for a right-handed bat. They don't have an especially robust farm system, but they do have right-hander Tyler Beede, who pitched well at Double-A last year and is nearing big league readiness. Infielder Christian Arroyo is the No. 1 prospect in San Francisco's system, and that's another name that could serve as the centerpiece in a Cutch swap.
5. Blue Jays
With Jose Bautista and Michael Saunders in free agency and Melvin Upton Jr. best-suited for a platoon role against lefties, the Blue Jays' only everyday outfielder at the moment is Kevin Pillar. Something tells us they're going to do something about that between now and the pitchers and catchers report date.
The primary problem here is that landing McCutchen would take tremendous creativity. You're not going to get Aaron Sanchez or Marcus Stroman, and the upper levels of the Blue Jays' farm are not a force right now. But former Rule 5 Draft pickup Joe Biagini, who had a tremendous season in Toronto's 'pen and could be stretched back out in the starting role he held in the Minors, is an interesting name, as is top pitching prospect Sean Reid-Foley. Blue Jays president Mark Shapiro and Pirates GM Neal Huntington worked together in Cleveland and swung a trade for Francisco Liriano this summer, so maybe they can figure something out.
Blue Jays' Top 30 Prospects list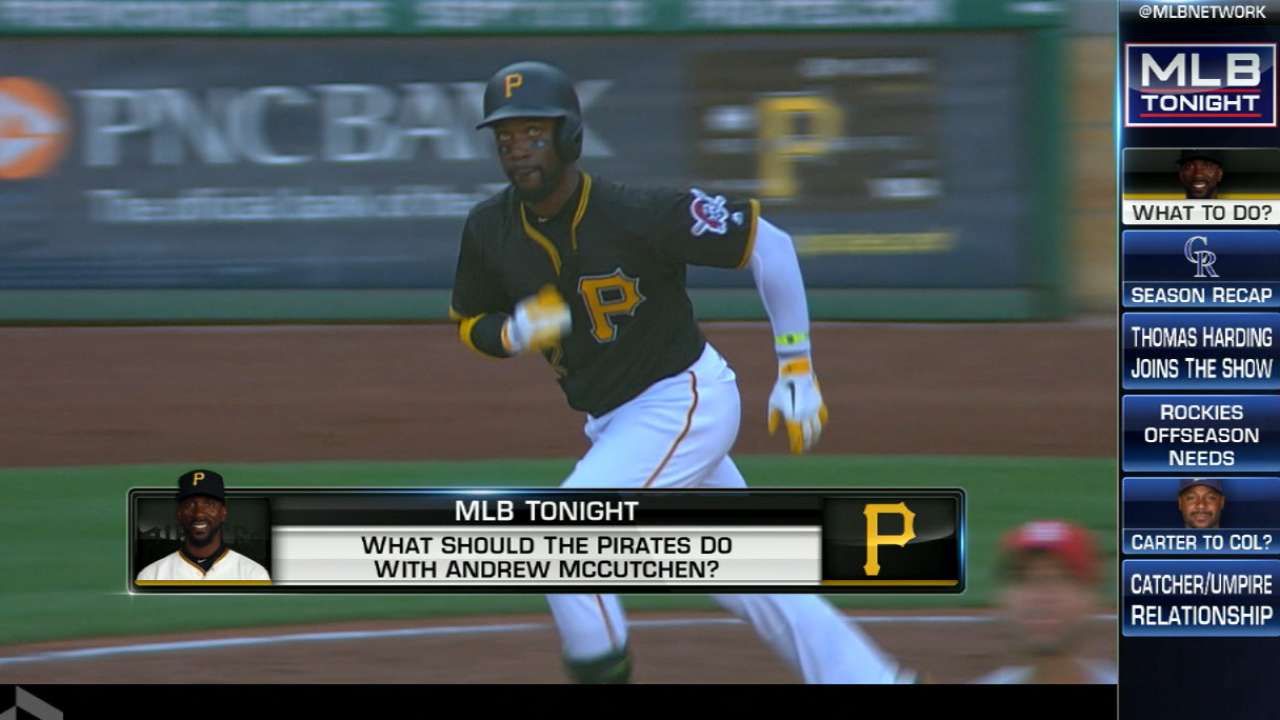 Some other clubs to consider
Cardinals: They've got the need and they've probably got the pieces. But it's just hard to wrap your mind around the Bucs trading this guy to a division foe.
Yankees: They'd have to move Brett Gardner to accommodate McCutchen, and Gardner might, in fact, be moved. But the Yanks are trying to get younger and aren't likely to deplete their newly improved farm.
Mariners: The need couldn't be more clear. But it's the other end of the deal that's tricky. They already dealt Taijuan Walker and they're light on tangible trade chips.
Astros: They were in on Yoenis Cespedes and could probably put together a strong package, albeit not one highlighted by a front-line starter.
Indians: Largely content in their outfield with Michael Brantley on the mend and not likely to move one of their young starters, but McCutchen does fit their window with the current core.
Anthony Castrovince has been a reporter for MLB.com since 2004. Read his columns and follow him on Twitter at @Castrovince. This story was not subject to the approval of Major League Baseball or its clubs.