MLB.com Columnist
Tracy Ringolsby
DH's face uphill battle when it comes to Hall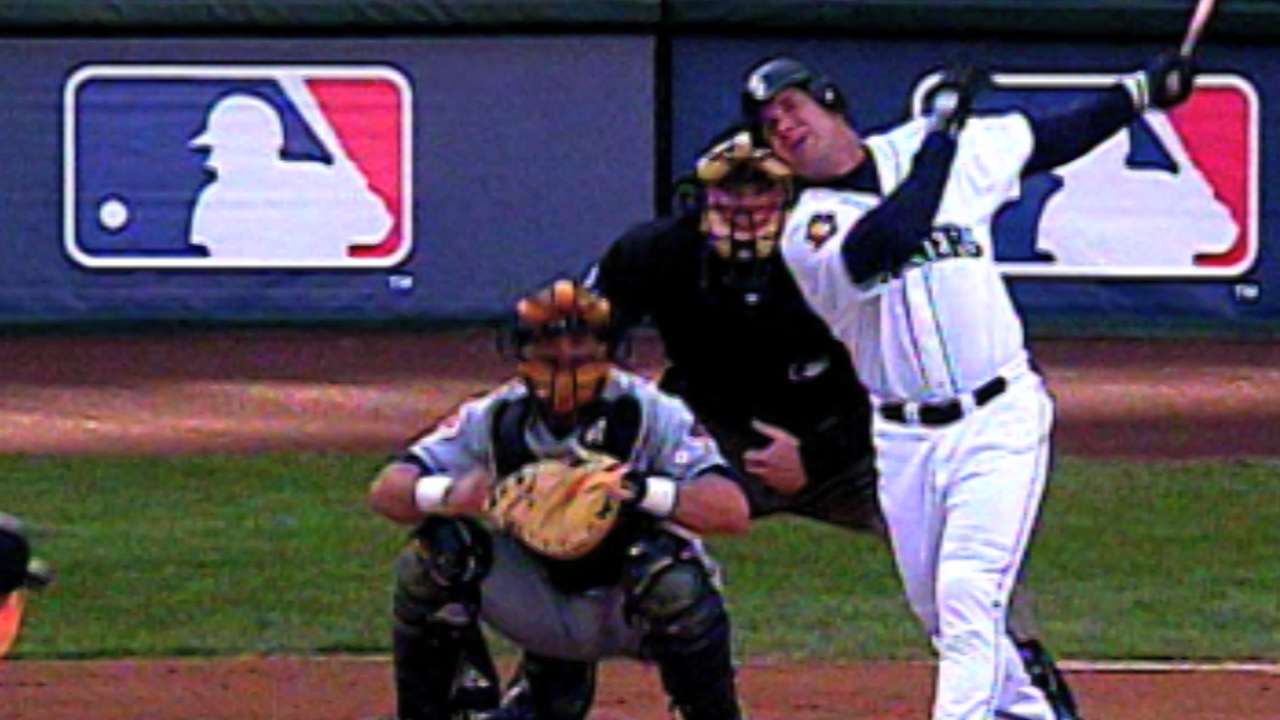 Chicks may dig the long ball, as a Major League Baseball promotion a couple decades ago proclaimed.
Over time, however, Hall of Fame voters have shown they want more than a big bat when they decide inductees to the shrine in Cooperstown, N.Y.
And that's the challenge that faces the likes of Edgar Martinez, who is on the Hall of Fame ballot for the seventh time. On Oct. 2, 2004, during a retirement ceremony at Safeco Field, former Commissioner Bud Selig announced that Major League Baseball had renamed the annual Outstanding Designated Hitter Award the Edgar Martinez Outstanding Designated Hitter Award.
The strongest support Martinez received came this year when he was named on 43.4 percent of the ballots cast, well below the 75 percent support necessary for enshrinement.
It is not easy being a Hall of Fame trailblazer.
Hoyt Wilhelm, a member of the Hall of Fame Class in 1985, was the first reliever to be inducted. He, however, had had a strong following because of the uniqueness of his career. Wilhelm developed a knuckleball in high school, not after suffering an arm injury in pro ball, and had a lengthy big league career despite not making his debut until 1952 after 11 years in the Minor Leagues, just 98 days shy of his 30th birthday. He retired during the 1972 season, 15 days shy of his 50th birthday.
In the 31 years since Wilhelm was honored, only four other relievers have been enshrined -- Rollie Fingers in 1992, Dennis Eckersley in 2004, Bruce Sutter in '06 and Goose Gossage in '08.
While all-time save leader Mariano Rivera won't be eligible for consideration for two more elections, the two men who were the all-time save leaders prior to Rivera have yet to be inducted. Trevor Hoffman, who had 601 career saves, had a positive debut on the ballot a year ago, receiving support from 67.3 percent of the voters.
Lee Smith, however, may rank third all-time in saves at 478, but he heads into his 15th and final year on the ballot having set a personal high when he had 50.6 percent support six years ago.
The DH hasn't even had as much traction among voters as the closer.
Frank Thomas is the only inductee who had more than 50 percent of his career plate appearances as a DH, but Thomas did deliver the long ball, finishing 20th on the all-time list with 521 home runs. Thomas also ranks 24th all-time with 1,704 RBIs, and he finished among the top eight in MVP Award voting nine times, including claiming back-to-back AL MVP Awards in 1993 and '94.
Yes, Paul Molitor appeared in more games as a DH than any other position, but that is because of his versatility. Molitor, who started games at every position except pitcher and catcher during his 21-year big league career, had 56 percent of his 12,167 Major League player appearances at positions other than DH.
Martinez, meanwhile, appeared in the field only 34 times in his final 10 big league seasons, and didn't meet any of the so-called gold standards for offensive accomplishments, falling 753 hits shy of 3,000, and not coming close to 400 home runs (309) nor 1,500 RBIs (1,261).
The challenge facing voters in evaluating the DH is taking into consideration that it is a position in only the American League, and how much did the player benefit physically and extend his career because he did not have to deal with the daily demands of playing in the field.
David Ortiz most likely will be the first true DH to create a major impact on Hall of Fame voting. Not eligible to be on the ballot for five years since he retired after last season, Ortiz can only hope the controversy over PEDs which have kept Roger Clemens and Barry Bonds from induction will calm down by the time he is up for consideration.
Over 20 big league seasons, 2,027 of Ortiz's 2,408 career games and 7,581 of his 8,640 at-bats came in the role of DH.
Ortiz's overall career totals are among the elite to have played the game at any position. An occasional first baseman early in his career, Ortiz ranks 10th in doubles (632), 17th in home runs (541), 22nd in RBIs (1,768), 40th in walks (1,319), 89th in runs scored (1,254) and 103rd in hits (2,472).
Those are numbers that even Hall of Fame voters might find they can dig.
Tracy Ringolsby is a columnist for MLB.com. This story was not subject to the approval of Major League Baseball or its clubs.