Lyles inks 1-year deal, avoids arbitration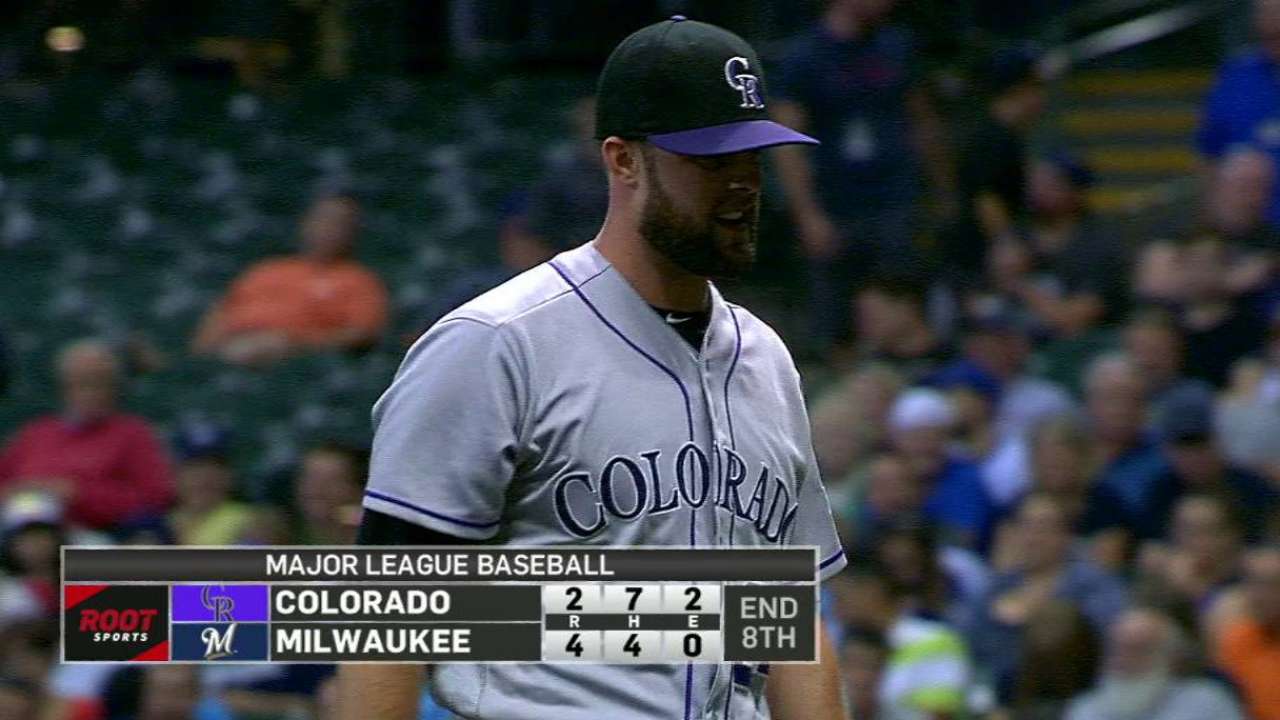 DENVER -- A frustrating beginning to the 2016 season made Rockies right-hander Jordan Lyles open to a new idea that just may be a ticket to a successful future. More important to Lyles, the move from the rotation to the bullpen could he a way to be a part of the team's winning future.
Lyles saw improvement in his velocity and the action of his pitches, and gradually more success, over 35 relief appearances covering 38 2/3 innings from June 22 to season's end. He was 2-3 with an 8.55 ERA in five starts, but went 3-3 with one save and a 4.42 ERA out of the bullpen after returning. Eager to see it continue, the Rockies signed Lyles on Wednesday to a one-year, $3.175 million contract to avoid arbitration.
"I haven't been on a winning team in pro ball -- my high school days were the last time I've been on a winning team," Lyles said from Lexington, S.C., about an hour and a half from Hartsville, where he led the Red Foxes -- his high school team -- to a 2007 state title as a junior. "I'm not in a position to say, 'Hey, put me first.' I just want to win.
"Next season, I feel like this will be the first winning team I'm going to be on as a professional."
Lyles, 26, hopes the backward steps he had to take in 2016 have set him up for a major leap in 2017.
The Rockies demoted him to Triple-A Albuquerque after his fourth start, when he yielded seven runs (five earned) in 2 2/3 innings of a no-decision in a 12-10 loss to the Dodgers. After four Albuquerque starts, the Rockies needed long-relief help. He was summoned to Pittsburgh, where pitching coach Steve Foster and bullpen coach Darren Holmes told him he was being converted to the bullpen.
But a rainout forced the Rockies to start Lyles on May 23. In the second inning, a Lyles fastball hit Pirates pitcher Ryan Vogelsong in the face. Vogelsong underwent surgery June 2 to repair facial fractures. Lyles went back to Albuquerque immediately after that game to make some starts to stay fresh, and the Rockies recalled him for his first relief appearance June 22.
He had joys and pains -- 14 outings of at least one inning of scoreless ball, but also a rough finish with eight runs and 10 hits in his final 4 1/3 innings over six games. But Statcast™ data suggest Lyles could evolve, possibly to a different pitching style.
"All of his stuff was much sharper out of the bullpen," said catcher Tony Wolters, who watched the Indians' Andrew Miller -- a converted starter -- pitch in the postseason and wondered if Lyles could develop similarly.
From joining the Rockies in 2014 until his final start of 2016, Lyles forced 51 percent ground balls -- the 20th-highest rate for a National League starter over that period. But when he became a reliever, Lyles' four-seam fastball velocity increased from 93.25 mph in his five 2016 starts to 94.50 as a reliever. Also, the spin rate on the four-seamer increased from 2,054.2 projected revolutions per minute as a starter to 2,092.4 rpm as a reliever. The velocity and spin-rate increases suggest Lyles could have more swing-and-miss pitches.
"It would be a great thing for me to get more swings and misses, and that's a thing I'm looking forward to next season to work on," said Lyles, who said he'll still strategically use his sinker in ground-ball situations. "If you can elevate the fastball, you can live outside the strike zone a little more. As a starter I was always against that.
"With swings and misses you don't need the defense behind you. It could work better for me."
Lyles also saw a jump in the velocity of his cut fastball (88 mph to 90.1). His offspeed pitches are a work in progress. In September he used his curveball 26.28 percent of the time and generally reserved his changeup for matchup purposes.
Lyles also didn't lose confidence after the incident with Vogelsong. He said being in the Minors took him away from it, although he was blindsided by what he believes was a misunderstanding when Vogelsong told a reporter Lyles waited three months to offer a voicemail. Lyles insisted that wasn't the case.
"I tried to reach out through different means in different ways, and then I was presented with some comments by him with how he felt," Lyles said. "I didn't know any of that was going on. I tried to reach out again, and it didn't happen. So I just went on with my way. I had support from my teammates about the situation, and I went back to trying to help the team."
Lyles has put the hard times behind him to focus on turning the improvement into late-game production.
"The first thing for me will be getting with our pitching coaches and our new manager Bud Black and figuring out what's the best role for me to help this team," Lyles said. "I'm not worried about any other stuff. I have always been on losing teams, and I want to get over that, simply enough."
Thomas Harding has covered the Rockies since 2000, and for MLB.com since 2002. Follow him on Twitter @harding_at_mlb, listen to podcasts and like his Facebook page. MLB.com reporter Daniel Kramer contributed. This story was not subject to the approval of Major League Baseball or its clubs.