Trade market for J.D. Martinez could shift
With Cespedes staying in New York, outfielder may become more appealing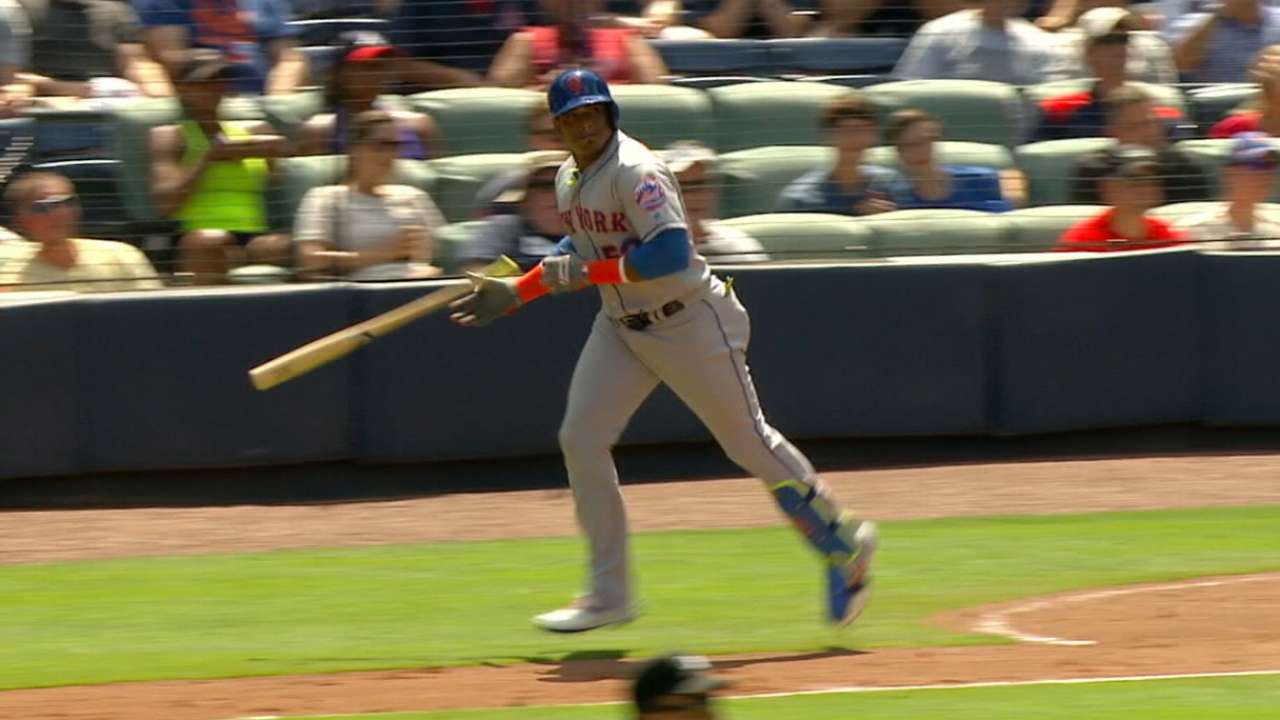 DETROIT -- No sooner had J.D. Martinez been reported as a potential alternative in right field for the Mets than New Yotk re-signed its top option. Now, with Yoenis Cespedes staying in New York on a four-year extension worth a reported $110 million, we're about to find out how many other teams have Martinez as an alternative.
The result could be the next step toward the Tigers' plan to pare down their payroll this offseason.
Once general manager Al Avila announced in October that the Tigers would look to become a younger, financially leaner club, and planned to discuss trades to accelerate that transition, Martinez became the most likely player to go. With one year left before free agency, a set salary at $11.75 million under a previous deal and little to no chance of an extension, the slugging right fielder fits the profile of a contract-year trade.
Martinez hit .307 (141-for-460) with 35 doubles, 22 home runs and 68 RBIs. His .908 OPS led all Major League right fielders with a qualifying number of at-bats, including AL MVP runner-up Mookie Betts. Martinez's .299 average and .898 OPS since 2014, his first season in Detroit, rank sixth among all Major League outfielders, while his .540 slugging percentage ranks fourth. And he doesn't even turn 30 until next August.
All that makes Martinez appealing to other teams. The problem the Tigers have faced so far is plenty of company on the market. Beyond Cespedes, free-agent corner outfielders include Jose Bautista, Carlos Beltran and Mark Trumbo; trade candidates include Pirates center fielder Andrew McCutchen and longtime Brewer Ryan Braun.
Cespedes' deal takes the top name off the list. And for teams still looking for a right-handed power hitter to plug into an outfield spot, it makes Martinez more appealing, though still not the only option. Beyond the Mets, two teams who reportedly have shown interest in Martinez -- the Dodgers and Giants -- had also been tied to Cespedes. Both teams could benefit from right-handed power while maintaining long-term payroll flexibility.
Likewise, Cespedes' market-shifting deal at age 31 has the potential to benefit Martinez, set to hit the free-agent market next winter with a comparable recent track record.
One factor that could still hold up Martinez's market is the wait for clarity on a new Collective Bargaining Agreement. Part of the appeal for teams on Martinez under the current rules is the ability to gain a Draft pick as compensation if he were to decline a qualifying offer and sign somewhere else next winter.
Nevertheless, Martinez could essentially end up the leadoff batter in the Tigers' offseason dealings. If the Tigers trade him, they lower their 2017 payroll to about $161 million in guaranteed contracts, not counting six arbitration-eligible players. That still would leave Detroit close to the current luxury-tax threshold of $189 million after arbitration deals and the rest of the roster.
Jason Beck has covered the Tigers for MLB.com since 2002. Read Beck's Blog, follow him on Twitter @beckjason and listen to his podcast. This story was not subject to the approval of Major League Baseball or its clubs.