Martinez hoping winter ball pays off in spring
Right-hander in mix for spot in Rangers' rotation in '17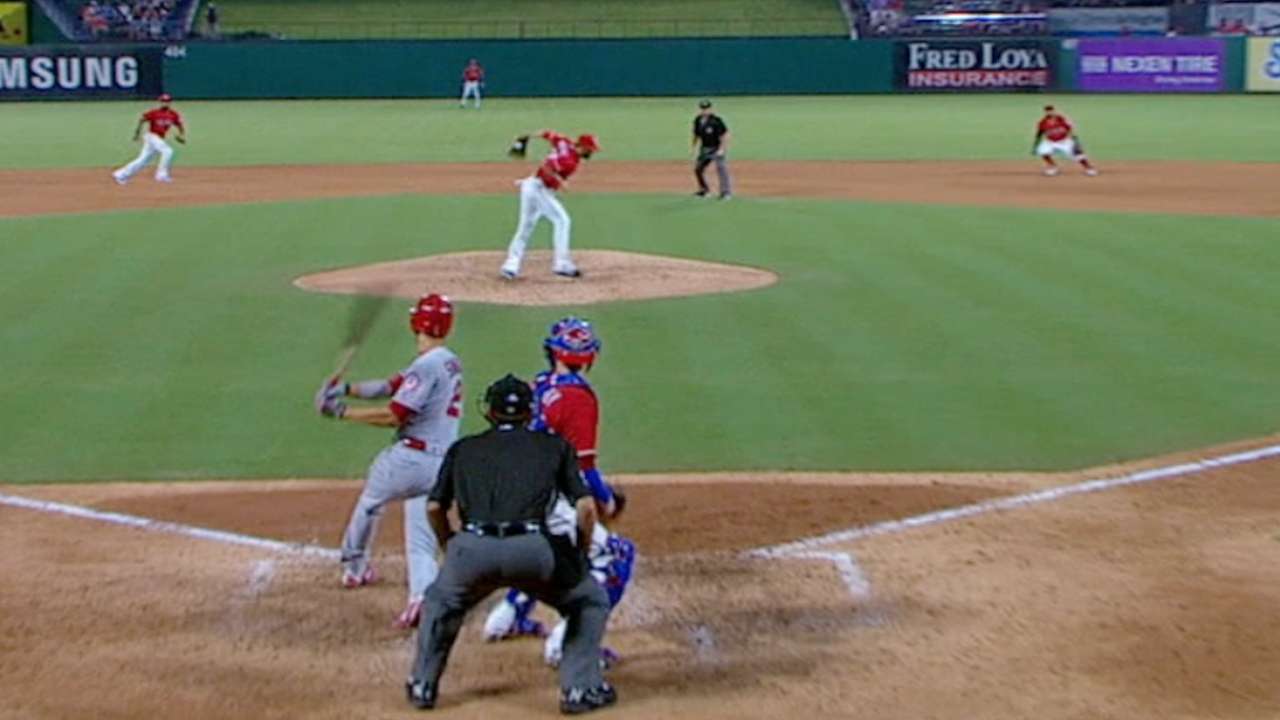 ARLINGTON -- Rangers pitcher Nick Martinez has returned from the Dominican Republic and he brought back a 23-inning scoreless streak with him.
The scoreless streak would seem to be the highlight of his time in the Caribbean, but Martinez said he enjoyed everything about pitching for the Toros del Este in the eastern city of La Romana.
It was his first time pitching in winter ball and it appears to a complete success for the 25-year-old right-hander, who will once again have to battle to win a job in Spring Training.
"It's very interesting," Martinez said on Tuesday. "Every game matters. It was a lot of fun. I had a blast playing there and staying in the culture ... just watching my teammates and how much they enjoyed playing. Everybody on the island loves baseball. I had a blast from the second I got to the stadium to my last game. I really enjoyed the culture down there."
Martinez is from South Florida and is of Cuban heritage so it's not surprising he felt at home in La Romana, an oil and sugar town developing into a major tourism destination.
"They put us in a very nice resort," Martinez said. "They love their team and the great thing about their culture is they are not afraid of telling you. You're never satisfied, you always want to do better for the fans."
Martinez spent six weeks with the Toros and made seven starts. He finished 3-3 with a 2.53 ERA, allowing 25 hits and 10 walks in 32 innings while striking out 15. He did not give up a run in his last four starts and 23 innings.
Martinez gave much credit to Toros pitching coach Stan Kyles. Martinez said they focused on how best to navigate through an opposing lineup 2-3 times a game.
"We talked about the mindset you need to pitch the second and third time through the lineup and how to pitch effectively down in the zone," Martinez said. "We broke it down in three parts. The first time, attack with the fastball, the second time, change speeds and get them off the fastball, the third time, you can't let yourself get beat with anything up in the air."
Kyles, who is the Pirates' Triple-A pitching coach, was obviously well-briefed by the Rangers. In his Major League career with the Rangers, Martinez has allowed a .283 batting average the first time through a lineup and a .240 average the second time. His opponents' batting average jumps up to .330 when he goes through the lineup a third time.
"It's not always clear cut, you have to make adjustments throughout the game, but I had a great time working with him," Martinez said. "I used all that information and applied it to my game."
The Toros' season is not over. There are still three weeks left in the regular season, but the Rangers and Martinez felt 32 innings were enough. He threw 143 2/3 innings between the Rangers and the Minor Leagues this past season.
"There wasn't any set goal," Martinez said. "Just go down there and get some innings, get some experience and get better overall."
Right now, Martinez goes into camp competing with A.J. Griffin to be the Rangers' fifth starter, but there are still 2 1/2 months to go until Spring Training. The club is still looking for starting pitching -- rumored to be heavily interested in Rich Hill -- and still maintains there is interest in re-signing Derek Holland and/or Colby Lewis.
Martinez understands what he is up against, but the progress in the Dominican Republic should help.
"I look at it like every situation," Martinez said. "I am not an established veteran so I've got to fight for a spot. That's how I look at it."
T.R. Sullivan has covered the Rangers since 1989, and for MLB.com since 2006. Follow him on Twitter @Sullivan_Ranger and listen to his podcast. This story was not subject to the approval of Major League Baseball or its clubs.