Turner would provide boost to Cards' offense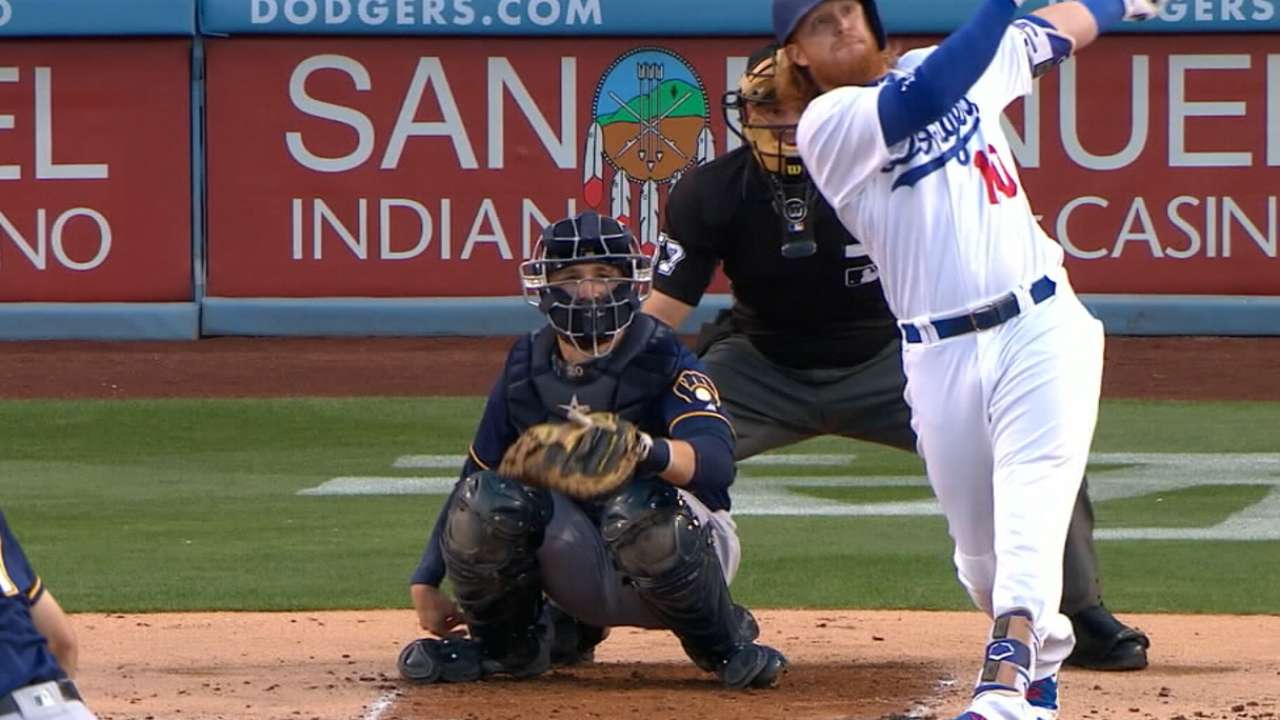 ST. LOUIS -- Though the Cardinals remain invested in their pursuit of an outfielder, their offseason work may not be so narrowly focused.
In addition to their ongoing search for outfield help, the Cardinals, according to MLB.com and MLB Network reporter Jon Paul Morosi, are also exploring the possibility of adding an impact bat to the infield. Morosi reported on Tuesday that the Cardinals have shown interest in free-agent third baseman Justin Turner, a top 10 MVP finisher who helped anchor the Dodgers' lineup last season.
The extent of that interest isn't known, but the fit nevertheless makes sense. Though the Cardinals appear to have third base covered with Jhonny Peralta and Jedd Gyorko, Turner would represent an offensive and defensive upgrade over both. The cost would be steep -- Turner stands out as one of the best bats available on a free-agent market that is now without Yoenis Cespedes -- but still affordable to an organization that has substantial financial flexibility this offseason.
Adding Turner would specifically help the Cardinals replace the pair of middle-of-order hitters lost when Matt Holliday and Brandon Moss became free agents after the season. Turner made 107 of his starts last season as a three-hole hitter, a spot that has belonged primarily to Holliday since Albert Pujols departed after the 2011 season.
Inserting Turner into the Cardinals' offense would instantly make it more prolific. Take his totals from several offensive categories last season -- including doubles (34), home runs (27), RBIs (90), slugging percentage (.493), OPS (.832), OPS+ (124) and runs scored (79) -- and Turner would rank among the Cardinals' top four in each.
But if there's a hesitancy about utilizing Turner's 2016 production to project future results, it's that Turner's breakout season came at age 31. Prior to 2016, he had never accrued 500 at-bats or 102 starts in a season.
Defensively, there's no question Turner would represent an upgrade over what the Cardinals had at third base this season. With Matt Carpenter, Peralta and Gyorko logging the majority of the team's third-base innings in 2016, the Cardinals ranked 20th in the Majors with -4 Defensive Runs Saved.
Turner, on the other hand, finished sixth among all third basemen with 7 DRS and second with an Ultimate Zone Ratingof 14.1. His defensive presence would strengthen an infield that projects to have Carpenter, Kolten Wong and Aledmys Diaz starting at the other three positions.
Of course, signing Turner would also leave the Cardinals with a glut of infielders. Peralta is entering the final year of his contract, which will pay him $10 million in 2017. Gyorko, who is without a starting spot elsewhere, is signed through '19 and has a club option that could extend his stay through '20. Signing Turner would likely prompt the Cardinals to trade an infielder.
Because Turner declined the Dodgers' qualifying offer earlier this month, the team that signs him will forfeit its first-round Draft pick. But that likely won't scare away the Cardinals, who also have interest in another player attached to this qualifying-offer system. That's Dexter Fowler, who, like Turner, remains one of the position-player gems left on the free-agent market.
Jenifer Langosch has covered the Cardinals for MLB.com since 2012, and previously covered the Pirates from 2007-11. Read her blog, follow her on Twitter, like her Facebook page and listen to her podcast. This story was not subject to the approval of Major League Baseball or its clubs.