MLB.com Columnist
Mike Petriello
Time for Reds, Votto to weigh options
First baseman's 158 Weighted Runs Created Plus was third best in Majors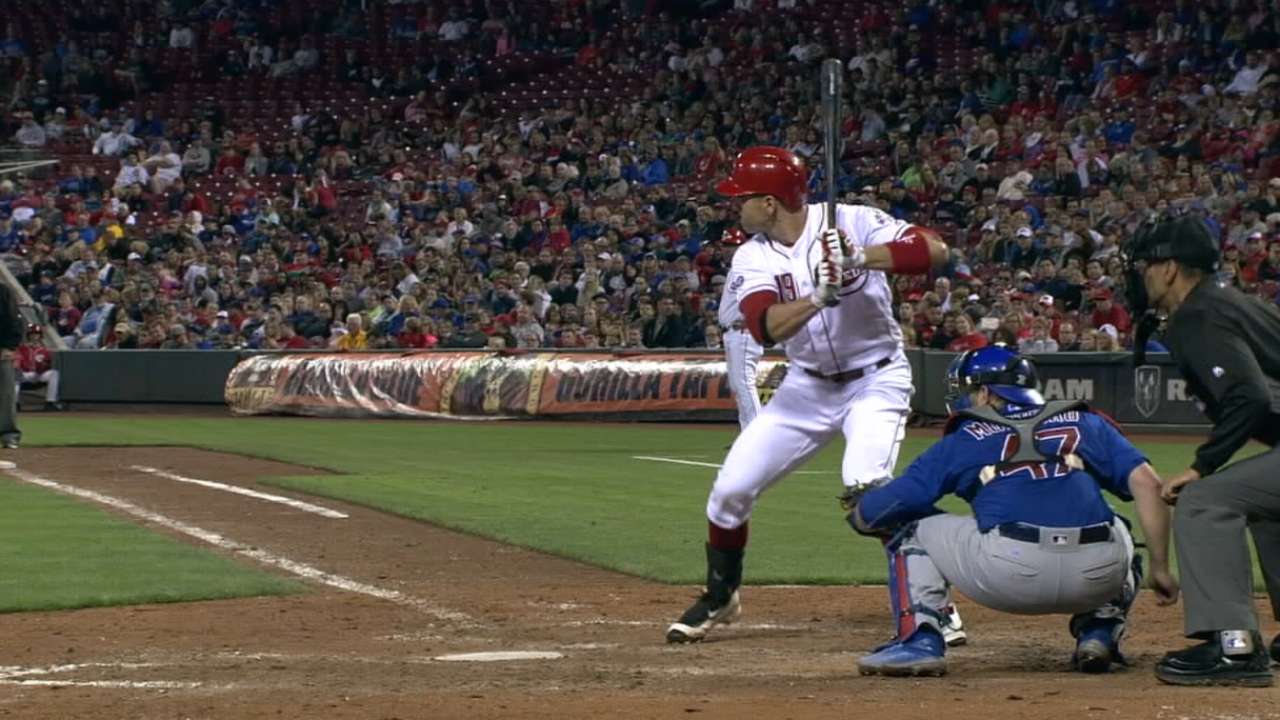 Stop us if you've heard this one before: It's time for the Reds to seriously think about trading Joey Votto. For real, this time.
If that sounds familiar, that's because it should. It comes up pretty much every single offseason and non-waiver Trade Deadline, because Votto continues to be an elite performer (.326/.434/.550, 158 wRC+ in 2016), and because the Reds are well into a rebuilding phase as they attempt to construct the next great Cincinnati team. Over the past 18 months, important Reds veterans like Aroldis Chapman, Johnny Cueto, Todd Frazier, Mike Leake and Jay Bruce have been shipped out -- and Brandon Phillips would have been if he'd accepted a trade to Washington. There have even been rumors about trading Billy Hamilton. Votto, however, remains.
So what's different this time? Mostly that it hasn't happened yet. Sure, both player and team say the right things. Votto has often spoken of his fondness for Cincinnati and his desire to be wearing a Reds uniform when the team competes again; the front office speaks highly of his leadership and, obviously, his production. No one doubts the honesty of either side's statements, and with Votto's no-trade clause, he has full control over his future.
"Full control," of course, also includes the ability to accept a trade if one is presented to him (too often, a no-trade clause is misconstrued as preventing any deal), and there's increasing evidence that one ought to be. While the Reds have made progress in that rebuild, they still don't have a prospect in MLBpipeline.com's Top 40. After a third straight losing season, they're currently projected by FanGraphs as being a 70-92 team in 2017, and as great as Votto is, he did turn 33 in September. There's a lot of time left in the rebuild.
In what's become an increasingly brutal National League Central as the Cubs and Pirates have returned to prominence, it's quite difficult to see the Reds being serious contenders before Votto is in his decline phase. So that's the question, really: Does he benefit the team more by being the anchor of a lineup unlikely to contend for the next few years or by becoming a trade piece that could help reinvigorate that farm system, lighten the payroll and kick-start this rebuild? The Reds arguably waited too long to deal Frazier, and they can't make the same mistake again.
So let's have some fun with the Winter Meetings upon us. Let's say the Reds decide the time is right, and that Votto is willing. Where would he fit best? Sure, teams like the Pirates and Rockies would love his bat at first base, but they're unlikely to be in the market for the seven guaranteed years and $179 million remaining on his deal.
As the great Branch Rickey once said, "It's better to trade a player a year too early than a year too late." It's getting close to getting late. Let's find a happy new home for Votto, with four potential fits, and knowing Cincinnati would have to eat at least some portion of the dollars.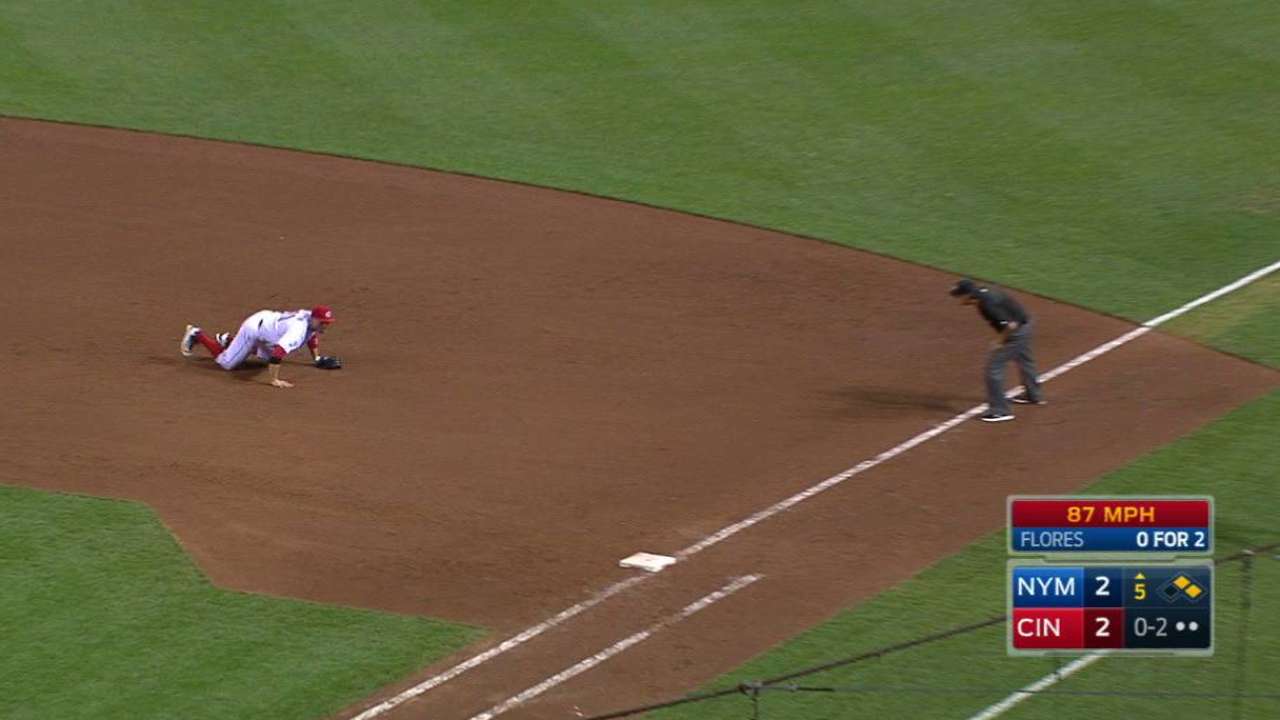 Astros
If there's a blueprint for Cincinnati, it just might be Houston, who five years ago sat where the Reds now do, and after a tough rebuild is now a contender. With moves for Brian McCann, Charlie Morton and Josh Reddick, the Astros have been among the most aggressive teams of the early offseason, yet they're reportedly still interested in another bat, having been connected to Yoenis Cespedes, Edwin Encarnacion, Carlos Beltran and Mike Napoli.
That bat might make the most sense at first base, where a group led by rookies A.J. Reed and Tyler White (along with veteran Marwin Gonzalez) had the third-lowest offensive production by any first-base group in 2016. Reed, still just 23 and a highly regarded ready-now prospect, would be an obvious headliner, and a farm system ranked No. 3 in baseball at midseason would have plenty of talent to send along with him. If the finances can be worked out, there's probably not a better confluence of need, fit and talent.
Rangers
You could say a lot of the same things about the other Texas team, really. The Rangers had the 27th-best production from first base in 2016, and with Prince Fielder retired and Mitch Moreland a free agent, they don't really have a first baseman right now, beyond trusting the unproven (but powerful) Joey Gallo.
Like Reed with the Astros, Gallo would be a tremendously interesting player to take over first base in Cincinnati, and you could easily see the Reds wanting to take a chance on Jurickson Profar (plus, presumably, pitching in any potential deal). Texas is obviously a team looking to win immediately, given the presence of veterans Adrian Beltre, Shin-Soo Choo, Yu Darvish and Cole Hamels. Imagine Votto in the middle of a lineup with Beltre, Rougned Odor, Choo, Elvis Andrus and Jonathan Lucroy. That's suddenly extremely fun.
Yankees
You can look at the Yankees in one of two ways. With Mark Teixeira retired, Alex Rodriguez and CC Sabathia off the books following 2017, Houston paying for some of McCann's contract, and Chase Headley and Brett Gardner up the next two years, the Yanks' payroll is about to free up enormously. You could argue that they should stay the course and not add another big-money veteran right now, or you could say that they've put themselves in perfect position to take one on.
Let's say they do, because this is a Yankees team that's better than you think, and they've got just about everything a Votto trade partner could need. Lousy 2016 first basemen? Check, 29th place. Available quality talent? Check, with four Top 25 prospects and plenty more beyond that (including first baseman and possible Reds target Greg Bird, who impressed in a '15 look before missing '16 due to injury). Payroll? Check, they're the Yanks. A short right-field porch for the lefty Votto, even though he's able to hit to all fields? Check.
Blue Jays
It feels a bit like we're shoehorning Votto in here simply because he's from Ontario, but we know that Toronto has tried to acquire Votto before (under different management, admittedly), and if being the hometown team helps the Jays get Votto to waive his no-trade clause, well, all the better.
The Blue Jays do need help in the lineup and at the position, anyway, with Encarnacion, Jose Bautista and Michael Saunders all free agents. They did sign Kendrys Morales earlier this offseason, but he's best-suited to be the designated hitter rather than a regular first baseman, and otherwise the only option at the position is Justin Smoak, who is consistently below average and poses no roadblock. With only three MLBPipeline Top 100 Prospects, however, this could be a tough match unless a three-team trade happens.
Mike Petriello is an analyst for MLB.com and the host of the Statcast podcast. This story was not subject to the approval of Major League Baseball or its clubs.