Statcast a useful tool to find free agents' strengths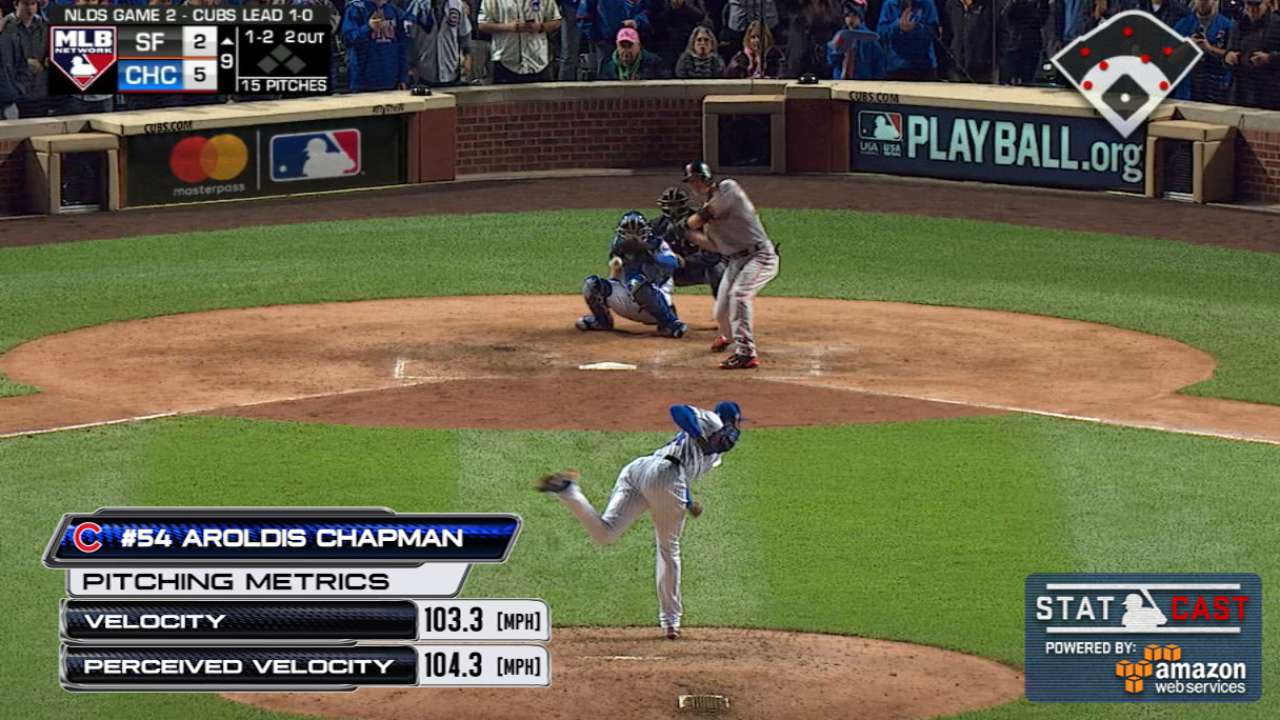 There are many ways for teams to analyze free agents this offseason -- from scouting reports to traditional stats to wins above replacement and beyond. Statcast™ provides yet another angle.
The state-of-the-art system just finished its second season of tracking every play of every game in every big league ballpark, offering an in-depth look at the tools that allow these players to perform.
Here then are nine key free agents who remain available, along with a Statcast™ metric that helps explain how each of them has found success.
RP Aroldis Chapman: Perceived velocity
Everyone knows Chapman throws hard, but simple velocity actually understates the challenge he presents to opposing hitters. Among 54 left-handers who threw at least 500 four-seam fastballs this past season, Chapman and his 6-foot-4 frame finished sixth with an average extension of 6.75 feet. By releasing his pitches closer to the plate, he gives the hitter even less time to react, thereby increasing the perceived velocity. In 2016, Chapman reached a perceived velo of 102 mph or harder 311 times, accounting for about 83 percent of the MLB total. When such a pitch ended an at-bat, opponents hit .114 with a .165 slugging percentage.
OF/SS Ian Desmond: Arm strength
In 2015, Desmond showed off the best average arm strength among Major League shortstops, according to Statcast™. He took that rocket with him to the outfield after signing a one-year deal with the Rangers. In 130 games as a center fielder after an early stint in left, Desmond notched two of the position's 11 hardest-thrown assists. On June 18, he nailed the Cardinals' Kolten Wong at the plate (96.6 mph), and on Aug. 21, he got the Rays' Brad Miller at third (90.9 mph).
1B/DH Edwin Encarnacion: Home run distance
Since 2012, only Chris Davis (197) has homered more times than Encarnacion (193). In the Statcast™ era ('15-16), the longtime Blue Jays slugger ranks fourth, with 81. As Statcast™ shows, Encarnacion hasn't just been hitting cheapies. During that time, the system tracked 25 Encarnacion homers at 420 feet or further. Those are mostly no-doubt shots, and only four players had more: Carlos Gonzalez, Nelson Cruz, Nolan Arenado and Giancarlo Stanton. Two of those players spend half of their games in the friendly altitude of Coors Field.
CF Dexter Fowler: Starting position
While he enjoyed a big year at the plate after returning to the Cubs, Fowler also was worth 1 Defensive Run Saved (DRS), compared with -12 the season before, and -65 over his career in center. What changed? Statcast™ offers one clue by showing that from 2015-16 Fowler's average starting position in relation to home plate increased from 304 feet to 321 feet. That took him from one of the shallowest center fielders to 10th-deepest among the 30 players with the most time there. If such a shift allowed Fowler to prevent more balls from sailing over his head for extra bases, it would help explain his improvement defensively.
SP Rich Hill: Curveball spin rate
The top starter on the market this offseason, Hill rode his hook to a 2.12 ERA and 10.5 strikeouts per nine innings this season. He threw the curve nearly 50 percent of the time, which not only led the Majors but also was easily the largest single-season rate since at least 2008 (minimum 100 innings). Opponents hit just .180 and slugged .243 against Hill's curve, in part because of an average spin rate (2,831 rpm) that ranked fourth among 51 pitchers who threw at least 300 of them. High-spin curves tend to mean more movement, more whiffs and weaker contact.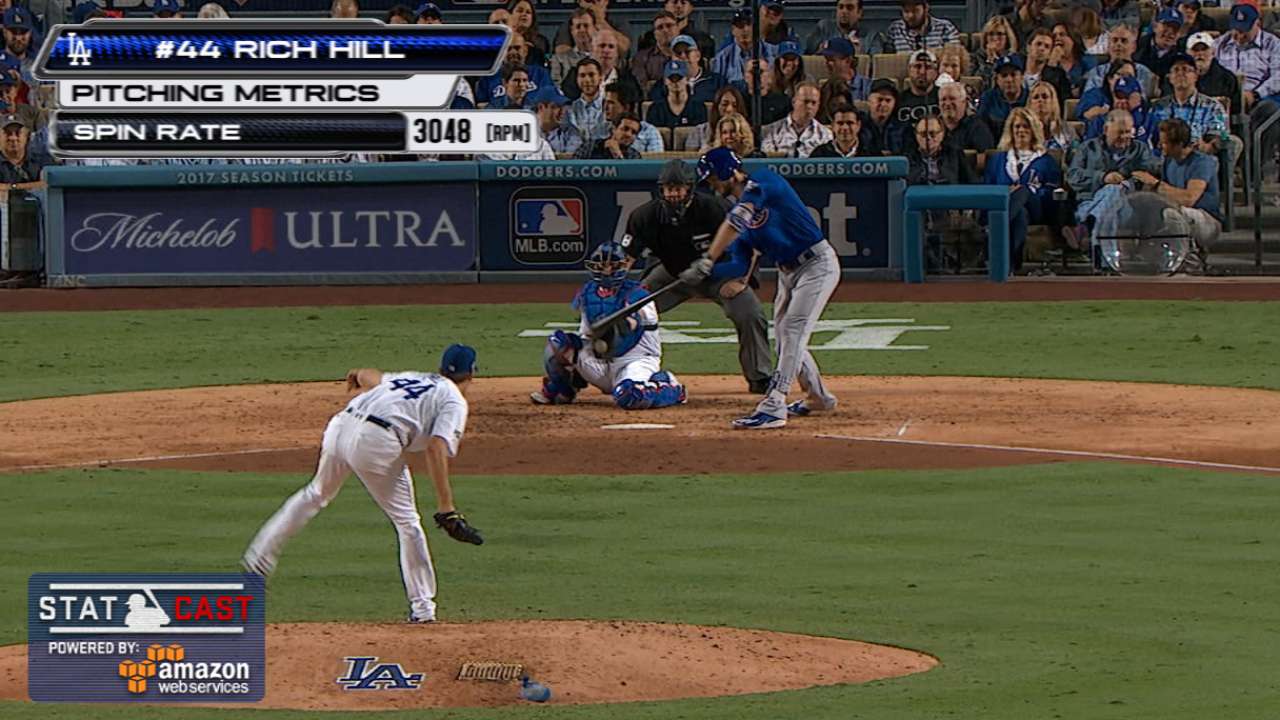 RP Kenley Jansen: Success on high strikes
Jansen threw his devastating cutter nearly 90 percent of the time in 2016 -- by far the highest rate in the Majors -- with his 93.9-mph average velocity on that offering ranking second. In large part because of the cutter, Jansen was able to attack hitters within the strike zone's upper third. Among 359 pitchers who threw at least 750 total pitches, nobody went to that part of the zone more often than Jansen (17.1 percent). All but three of those pitches were cutters, and batters hit just .170 with a .255 slugging percentage against them, compared with the MLB averages of .258 and .451.
RP Mark Melancon: Opponent exit velocity
Melancon doesn't strike out nearly as many hitters as fellow closers Chapman and Jansen. But the right-hander makes up for it by inducing lots of ground balls and weak fly balls. In 2016, his overall exit velocity allowed was just 85.5 mph -- fifth lowest among the 265 pitchers who had at least 150 batted balls tracked. That included 85.1 mph on fly balls -- the lowest in MLB (minimum 25 flies) -- helping to explain how Melancon has baseball's best home-runs-allowed rate since '13.
OF/1B/DH Mark Trumbo: Barrels
Hit the ball hard and with some lift, and chances are you will do damage. That's the basic idea behind the barrel, which depends on a combination of exit velocity and launch angle. In 2016, only Miguel Cabrera and Nelson Cruz barreled more balls than Trumbo (67), whose rate of one barrel per 10 plate appearances ranked fourth (minimum 150 batted balls). Of those 67 barrels, 43 went for homers, contributing heavily to Trumbo's MLB-leading total of 47.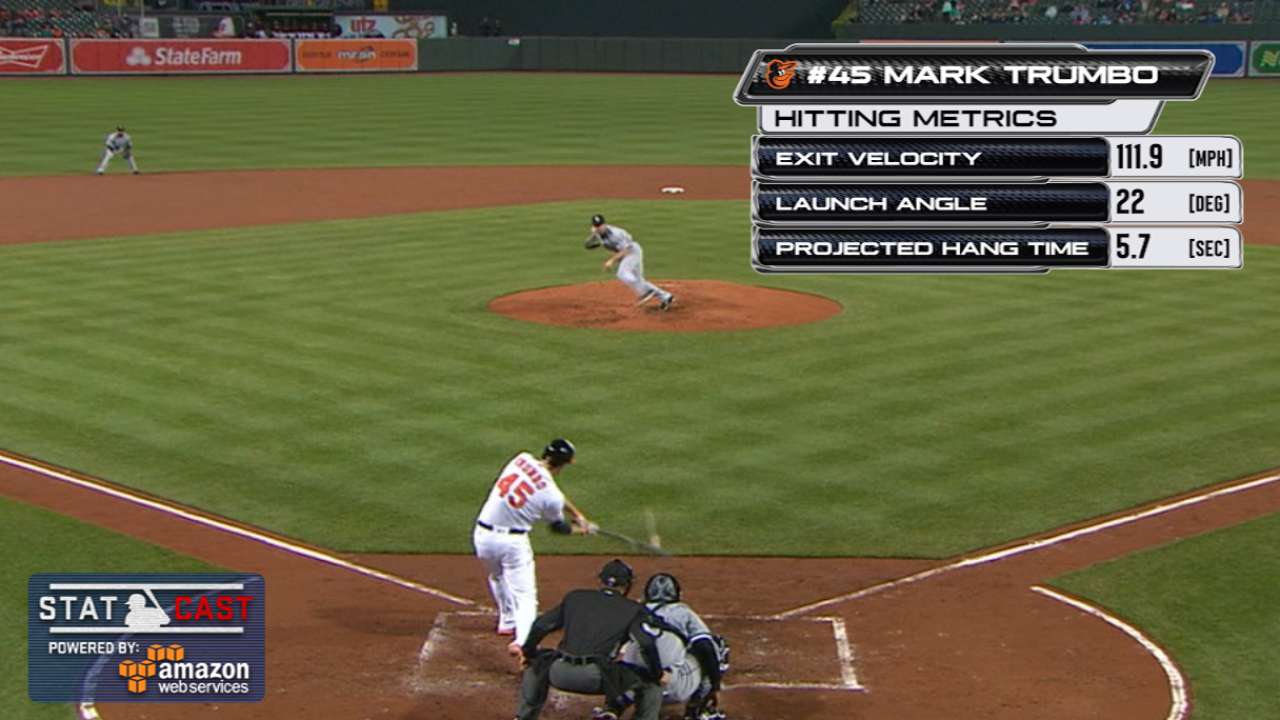 3B Justin Turner: Launch angle
Among 150 players with at least 300 tracked batted balls in 2016, Turner's average launch angle of 18 degrees ranked seventh. Now, a higher launch angle isn't always better, as anything above 40 degrees is generally a popout, for example. However, you can't slug on the ground, and 18 degrees is comfortably in the line-drive range. In fact, on batted balls between 16-20 degrees, Major Leaguers hit .617 and slugged 1.006.
Now, compare that 18 degrees to Turner's teammate, Howie Kendrick, who had an average exit velocity almost identical to Turner's 91.0 but an average launch angle of just 3.5 degrees. Turner slugged .493 -- 127 points higher than Kendrick, who had MLB's highest ground-ball rate.
Andrew Simon is a research analyst for MLB.com. Follow him on Twitter @AndrewSimonMLB. This story was not subject to the approval of Major League Baseball or its clubs.