MLB.com Columnist
Anthony Castrovince
Changes on table as CBA deadline nears
International draft, roster expansion among top issues in labor talks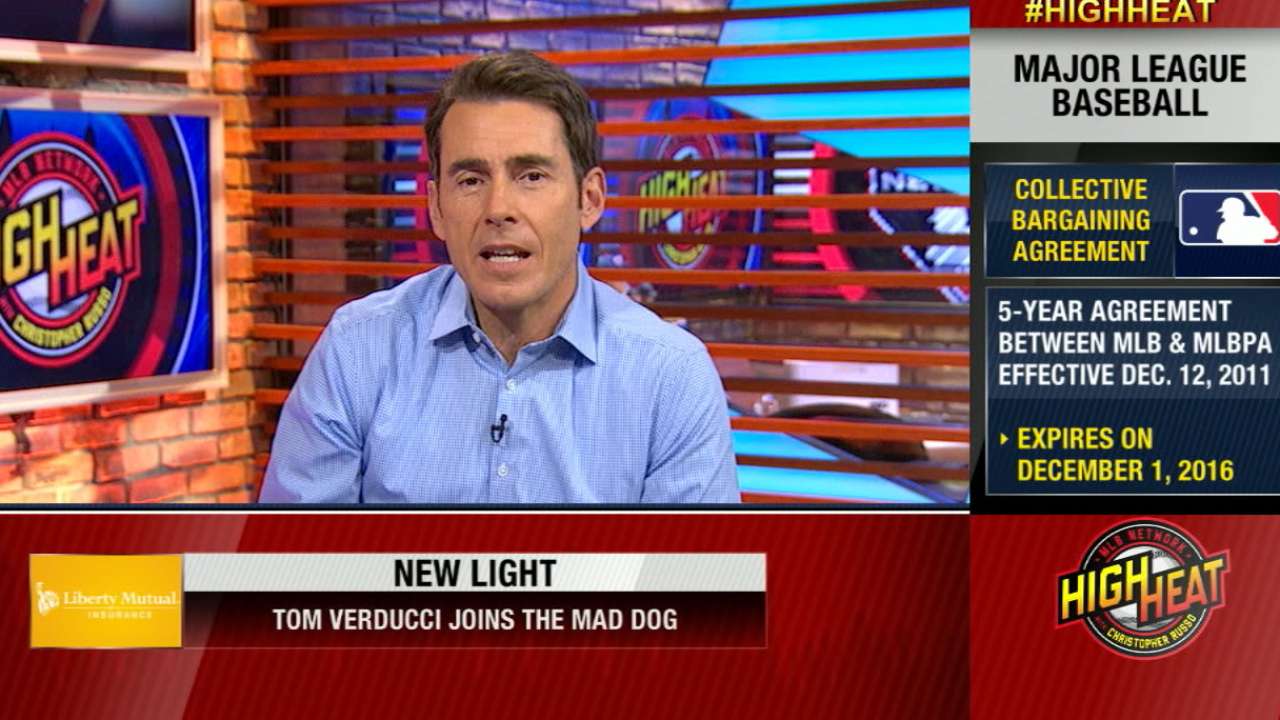 The stakes are high as the Major League Baseball Players Association executive board meetings take place in Dallas this week.
Specifically at stake is the fate of the sport's collective bargaining agreement, and the players and owners were still at work Monday in Dallas on coming to terms in advance of the expiration of the current CBA, which will happen on Wednesday when the clock strikes midnight and the calendar turns to Dec. 1.
Time is obviously of the essence, and multiple reports indicated that the owners' push for an international draft had been a chief sticking point. Yahoo Sports' Jeff Passan reported that "a significant number" of Latin American players were expected at Monday's meeting to voice their objections to the international draft, and perhaps those objections carried weight. On Monday night, Ken Rosenthal of MLB Network and FOX Sports tweeted that the owners had "backed off the international draft as a requirement for a new collective bargaining agreement."
Though a lockout is not a certainty should the deadline pass without an agreement, it was enough of a possibility that team executives received an e-mail last week detailing protocol for such an arrangement (i.e., no Major League roster activity of any sort and no club attendance at the Winter Meetings). A December lockout would not necessarily be a precursor to an actual work stoppage, but it would put a freeze on player benefits and delay free-agent signings.
Let's review a few of the primary -- though certainly not the only -- issues being sorted out in the CBA discussions:
The international draft
Why did owners want an international draft in the first place? Well, for one, much like the Draft in June, it would feature a total spending cap that keeps bonuses in check. Also, importantly, it would address the "wild, wild west" environment that currently pervades the Latin American markets, where some agents have been known to take advantage of players.
Other goals include leveling the playing field, giving all teams fair shots at getting players into their pipelines, raising the bar for compensation overall, introducing more MLB-ready interest in the Draft as a whole and not requiring a system of spending limits applied only to players in other parts of the world.
However, the players in an increasingly international sport (a record-tying 18 countries were represented on Opening Day rosters this year, and 27.5 percent of those rosters were made up of players born outside the U.S.) have been leery of the idea of a draft that would limit the leverage and earning potential of part of the next generation of prospects.
Recent agreements have seen players making certain compromises arguably at the expense of future members. The 2011 CBA, for example, fell short of a hard slotting system for the June amateur Draft but did introduce a ceiling on the total number of dollars a team could spend on its picks. This had an instant impact on bonuses.
Despite that, and despite some stateside players privately grumbling at the inequity of having their own bonuses limited while international prospects have been free to pursue the best possible offer from any team, the international draft has clearly been a bone of contention in these negotiations.
Both sides would agree that the current system has its flaws. MLB implemented bonus pools in 2012 in an effort to limit international signing bonuses, but we've still seen teams -- 18 of them, to be exact -- blow past their limit and pay the penalty in an effort to maximize their talent haul in a given year, even if that means they can't sign any of players for more than $300,000 in the following year. So even if the international draft is a no-go, as Rosenthal suggested, it wouldn't be a surprise to see some other sort of change to the international signing system.
Draft pick compensation
This is where players are attempting to put the "free" in free agency. The current compensation system has thrown a monkey wrench into the free-agent process for several players in recent years. Last year, as an example, Ian Desmond rejected the Nationals' $15.8 million qualifying offer, thereby tying himself to a first-round pick that would have to be surrendered by the signing team to the Nats. Desmond waited for a multiyear offer that never arrived and wound up signing a one-year deal with the Rangers for $8 million.
A rough walk year certainly hampered Desmond's market, but being attached to a Draft pick seemingly crushed it.
Though many free agents have their markets unaffected by the conditions, the qualifying offer system has sometimes been a game of roulette for teams and players alike, especially given the ever-rising price tag associated with the offer. Teams have had to weigh the potential value of the pick against the potentially budget-damaging possibility that a player whose free-agent value is unclear actually accepts the offer (which was $17.2 million this year). Those players, meanwhile, have had to measure the value of a sure thing vs. the value of testing a market that, as demonstrated by Desmond, is not always in their control.
Draft pick compensation has been a reality of the free-agent market since its very beginnings in the 1970s, but the particulars have been adjusted multiple times along the way. The number of players attached to such compensation was drastically limited by the last CBA, when the qualifying offer system was introduced. That said, to give up compensation completely would be quite a concession on the part of the owners.
It is possible that the system, rather than being eliminated altogether, could be tweaked to involve slots that fall deeper in the Draft. But compensation, obviously, is a matter still on the bargaining table.
The luxury tax threshold
MLB does not have a salary cap, but the luxury tax threshold is a sort of "soft" cap in that it monetarily penalizes teams for going over a certain amount (the penalty percentage rises each year a particular team exceeds the threshold). That amount in 2016 was $189 million, and it in theory would give a level of pause to major-market clubs in terms of payroll disparity. Even so, the Dodgers set a record last year by making a $43.6 million luxury tax payment. The money is used to fund player benefits and MLB's Industry Growth Fund.
Though the threshold concept itself isn't going anywhere, it is certainly in the players' best interest to see the threshold rise. And this is an area that separates the "haves" from the "have nots" because a higher threshold would benefit the larger-revenue ballclubs more than the small.
It's too early to know whether the lack of clarity over what the 2017 threshold will be has slowed the markets of this year's top free-agent talent, such as Yoenis Cespedes and Aroldis Chapman, but we have entered the window when big-ticket deals typically start to happen.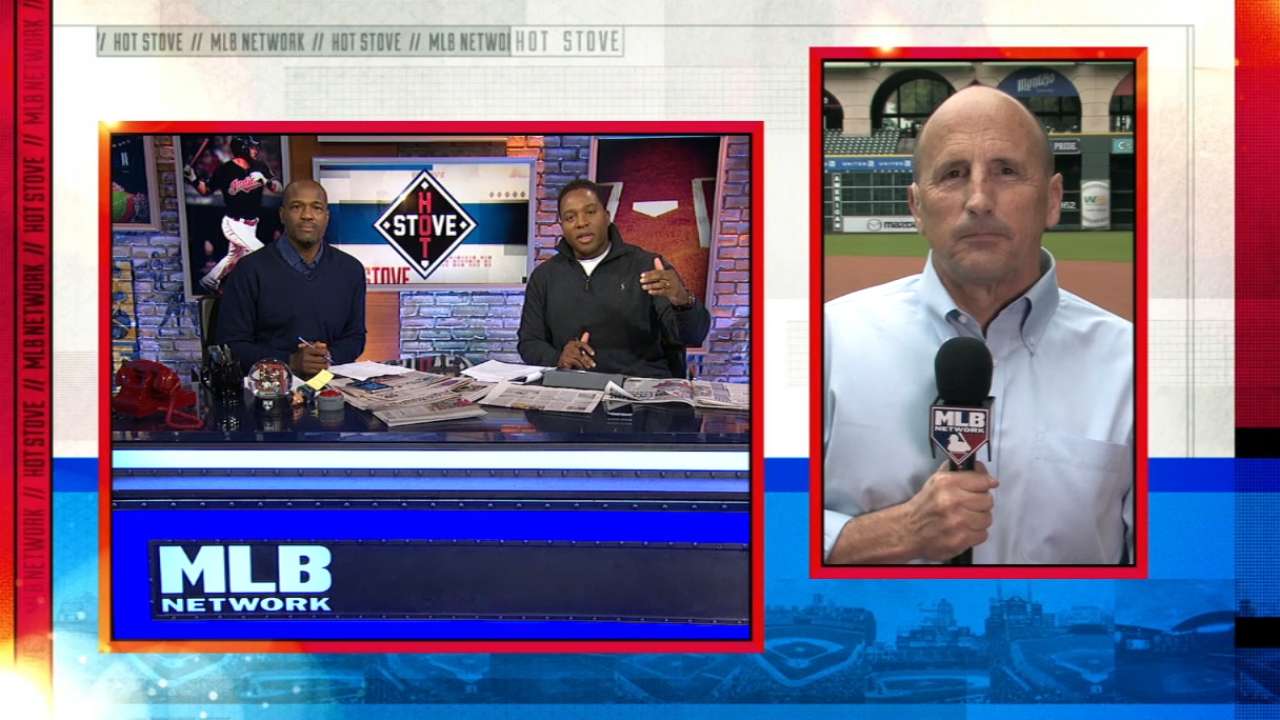 Roster expansion
The long-criticized September roster rules that allow teams to carry as many as 40 players -- thereby giving clubs bloated bullpens and benches that often slow the late innings to a crawl and impact many of the most important games of the season schedule -- are expected to be addressed in the new CBA.
But because limiting the number of players eligible to be activated in September would inherently impact the number of players accruing valuable big league service time, many in the industry are expecting a compromise in which the pre-September rosters are expanded from 25 to 26. Some teams are actively planning with that possibility in mind.
This would have a fascinating effect not just on club construction but game management. At a time when baseball has put a strong emphasis on improving pace of play, there is some concern that a 26th roster spot would simply expand bullpens and give managers yet another reason to make a time-consuming pitching change and yet another weapon to curb run production.
On the flip side, as one National League executive pointed out, some teams could use the spot to inject energy into the proceedings with, perhaps, a dedicated speedster who serves as a late-inning basestealing threat.
For now, the real looming threat is that late Wednesday night deadline, which is fast-approaching, putting the Hot Stove in an apparent simmer mode and greatly accelerating the intensity of negotiations.
Anthony Castrovince has been a reporter for MLB.com since 2004. Read his columns and follow him on Twitter at @Castrovince. This story was not subject to the approval of Major League Baseball or its clubs.