Rangers look to fill needs at Winter Meetings
Starting pitching, outfield help among priorities for 2017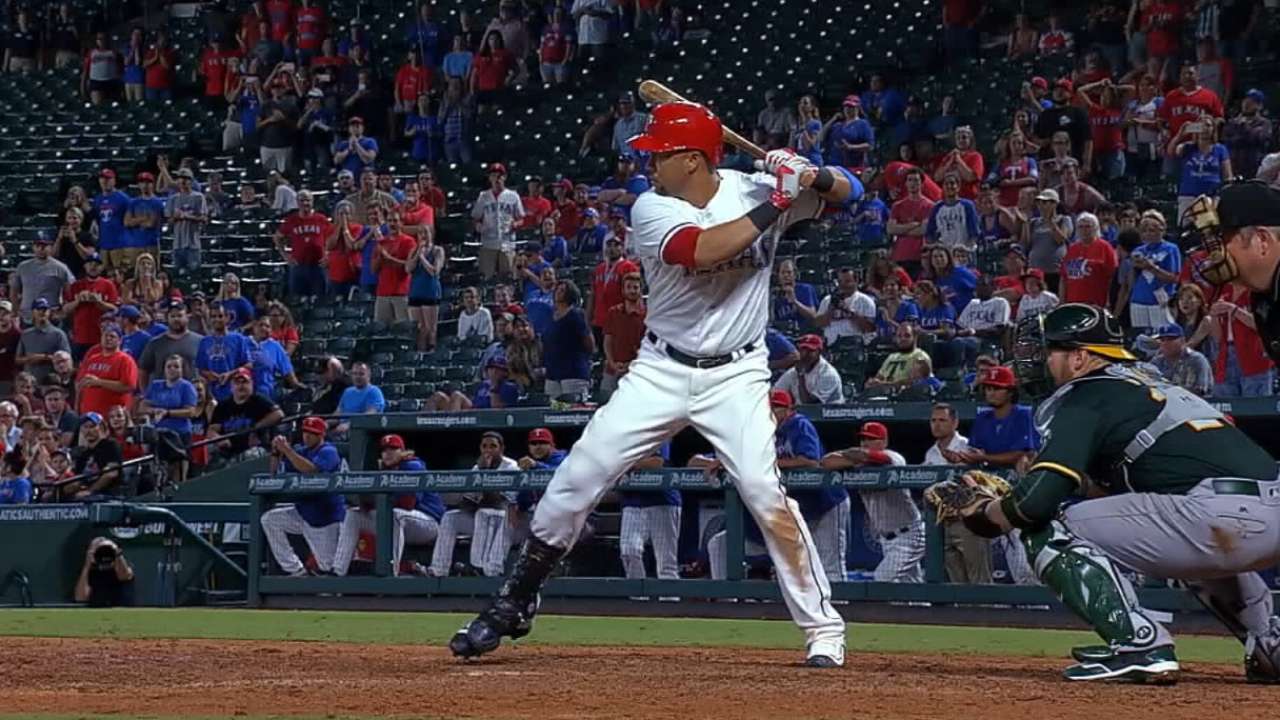 ARLINGTON -- The offseason is in full swing and it's still unclear how far the Rangers will go to obtain starting pitching or who will be their No. 1 target for center field.
There is also the possibility the Rangers could veer off both of their stated goals and try to reinforce an offense that has been significantly reduced now that Carlos Beltran, Carlos Gomez, Ian Desmond and Mitch Moreland are free agents. The club still has much to do and the prime location for its work will be at the Winter Meetings, which begin next week.
MLB.com and MLB Network will have wall-to-wall coverage of the 2016 Winter Meetings from the Gaylord National Resort & Convention Center outside Washington, D.C. Fans can watch live streaming of all news conferences and manager availability on MLB.com, including the Rule 5 Draft on Dec. 8 at 8 a.m. CT.
It will be the perfect place for the Rangers to continue their trade discussions with the White Sox over left-hander Chris Sale, engage the Pirates about center fielder Andrew McCutchen or see exactly how much it will cost to sign free-agent first baseman/designated hitter Edwin Encarnacion.
The Rangers have added right-hander Andrew Cashner, which gives them a complete rotation if they are content to go with either A.J. Griffin or Nick Martinez as the fifth starter. But the club is not expected to stop there.
It may be a mediocre market for free-agent starters, but Edinson Volquez is still out there along with Derek Holland and Colby Lewis. The Rangers are going to want depth even if they pass on another front-line starter to save their resources for other areas.
"One thing we know is you're going to need more than five starters," general manager Jon Daniels said.
The Rangers could conceivably call it a winter if they are content with the rotation that begins with Cole Hamels, Yu Darvish and Martin Perez, and think they could get by with Delino DeShields in center as well as some combination of Jurickson Profar, Ryan Rua and Joey Gallo at first base/designated hitter.
The more likely scenario is the Rangers attempting to use some of their young hitters in a package for controllable starting pitching -- an elusive target -- or exploring all options in center field.
Certainly all clubs are waiting for clear direction once a new Collective Bargaining Agreement is reached, and that may have most deals on hold. But the Rangers have still been having conversations with both clubs and player agents, putting themselves in position to move quickly once the CBA green light is on.
The Rangers also don't need a new CBA to pull off a trade for Sale, having already tried hard last summer.
There is still 2 1/2 months to go before Spring Training, but the Winter Meetings is usually the place where teams start to reveal and play their hands.
T.R. Sullivan has covered the Rangers since 1989, and for MLB.com since 2006. Follow him on Twitter @Sullivan_Ranger and listen to his podcast. This story was not subject to the approval of Major League Baseball or its clubs.