MLB.com Columnist
Mike Bauman
8 reasons Chapman will cash in as free agent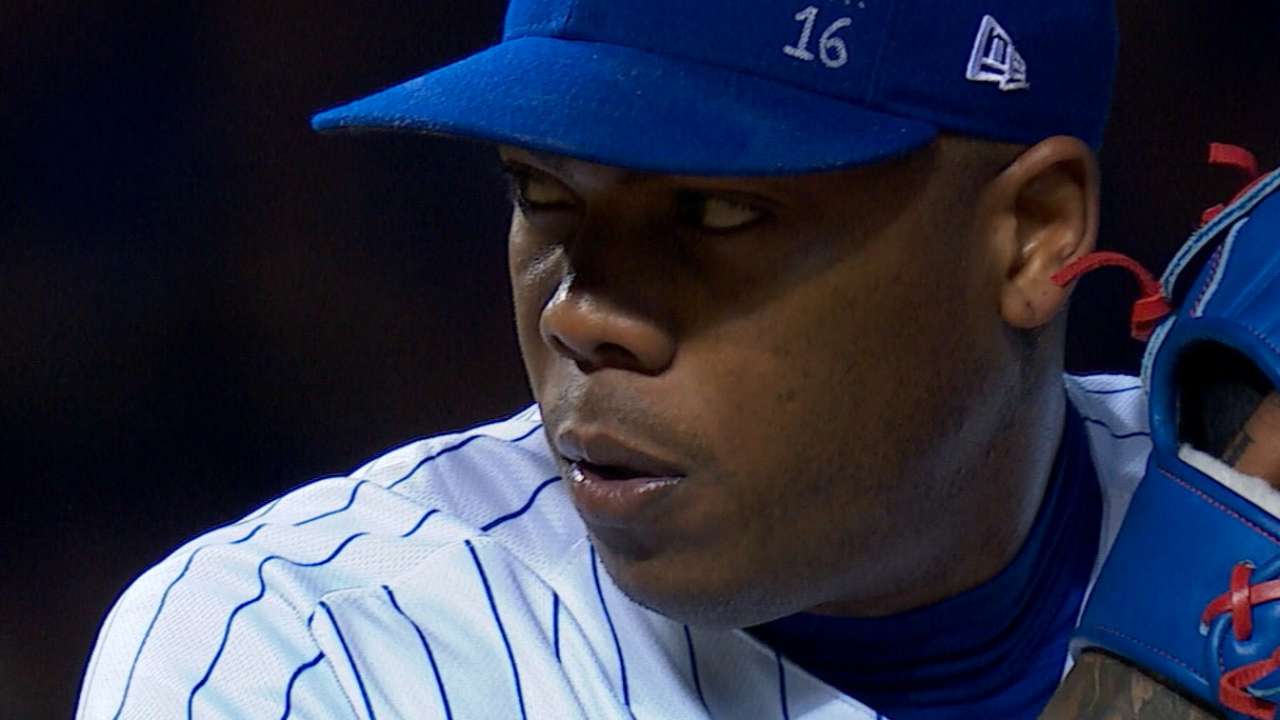 Aroldis Chapman is likely to break records this offseason without throwing a pitch. The gold standard for closers' contracts had previously been set by the four-year, $50 million contract that the Phillies gave to Jonathan Papelbon prior to the 2012 season.
Here are eight reasons why Chapman's new deal should shatter that mark, certainly in dollars and probably in years.
1. This isn't a big offseason for free-agent pitchers. Chapman is at the head of the closers' class. Mark Melancon and Kenley Jansen will also do very well in this market, but of the three, Chapman has the most imposing stuff.
2. There is only one pitcher who has thrown the ball 105 mph. That would be Chapman. Due apologies to any old-timer who might have thrown that hard but didn't have a radar gun and a battery of high-tech evidence to verify his velocity.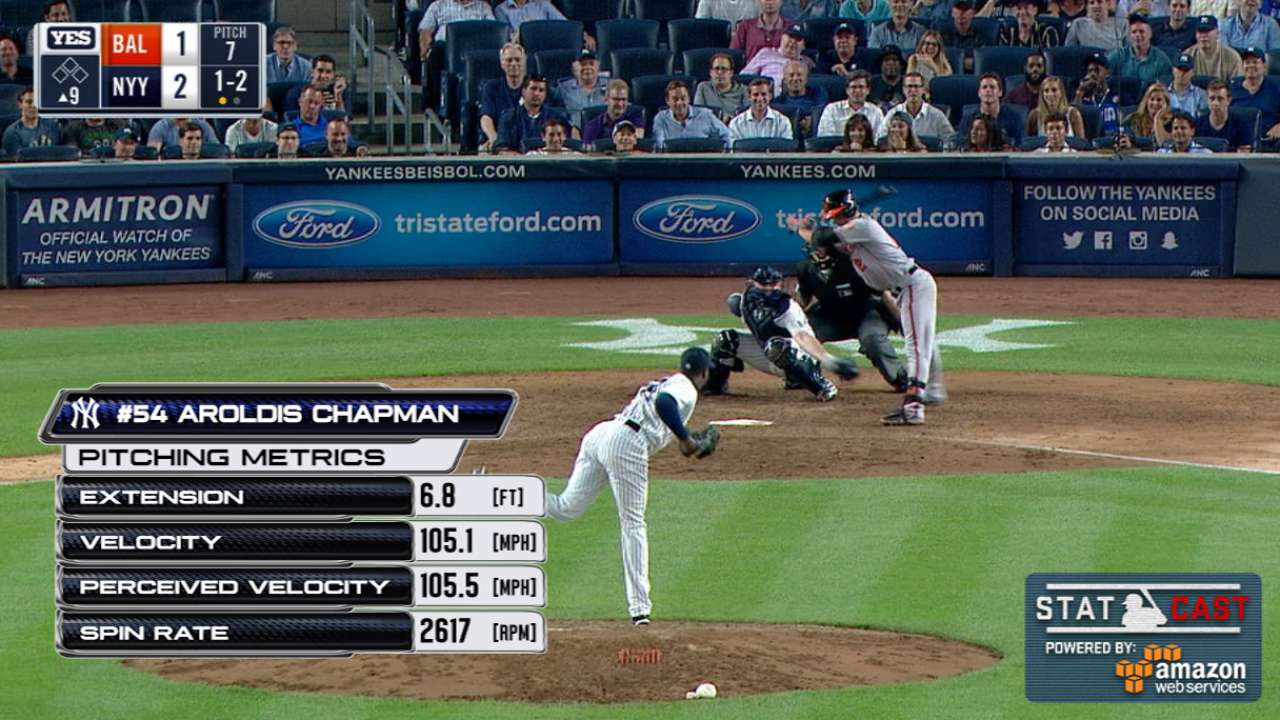 3. Chapman will be 29 in February. There is no reason to suspect that a career decline should come into play anytime soon.
4. Chapman has been healthy. The way pitching injuries occur in the contemporary game, you almost hesitate to note that, but Chapman has not been injury-prone.
5. Chapman is coming off a sensational season that, of course, included being an integral part of the Cubs winning the World Series. For the season, he had an ERA of 1.55, a WHIP of 0.86 and a strikeout-to-walk ratio of 5.0. His second-half numbers with the Cubs were even better.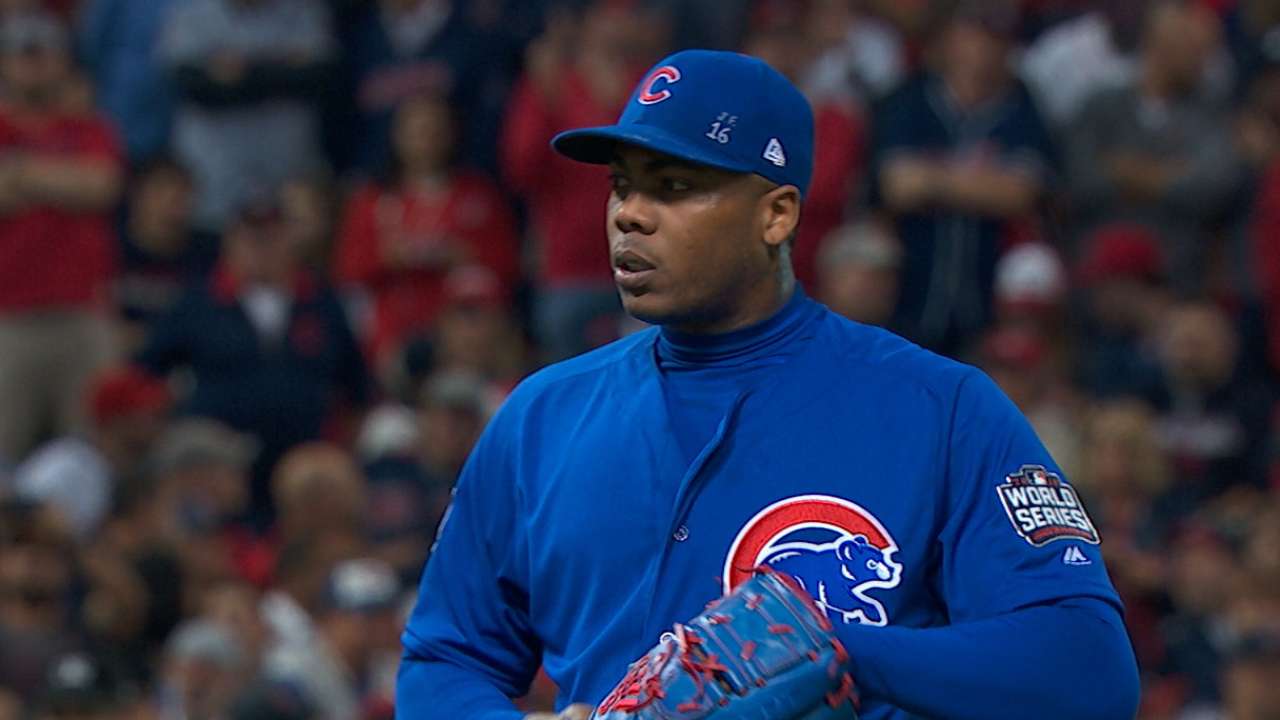 6. The clubs that are reportedly most interested in obtaining Chapman's services are the Dodgers, Giants, Nationals and Yankees. They all have demonstrated the ability to pay, and they all would be highly motivated buyers.
And there is always the possibility of Chapman's most recent employer, the Cubs, attempting to retain his services. They aren't in any financial distress, either, and obtaining Chapman in a trade with the Yankees was a very worthwhile move for them.
7. Because he was traded during the 2016 season, the team that signs Chapman will not have to give up a compensatory Draft pick. He is, in that sense, a true free agent.
8. The value of relief pitching has increased, as teams have followed the example of the Kansas City Royals, who won two pennants and a World Series with a team that was built from the back of the bullpen.
We also saw the maximization of relief talent in the postseason, most notably by Indians manager Terry Francona's use of lefty Andrew Miller. Nobody would ask a late-innings reliever to go that many innings on a regular basis. But that tactic can work very well in the postseason. And that possibility makes front-line relievers worth that much more.
The current status of negotiations between MLB and the MLB Players Association on a new Collective Bargaining Agreement has slowed the process of free-agent signing. In part, that is due to uncertainty for the high-end teams about the amount of the luxury tax threshold, currently at $189 million.
Eventually, Chapman will cash in. And he will cash in, as a relief pitcher, in an unprecedented way.
Mike Bauman is a national columnist for MLB.com. This story was not subject to the approval of Major League Baseball or its clubs.