Closer, OF top priorities at Winter Meetings
Giants unable to save Major League-high 30 games in 2016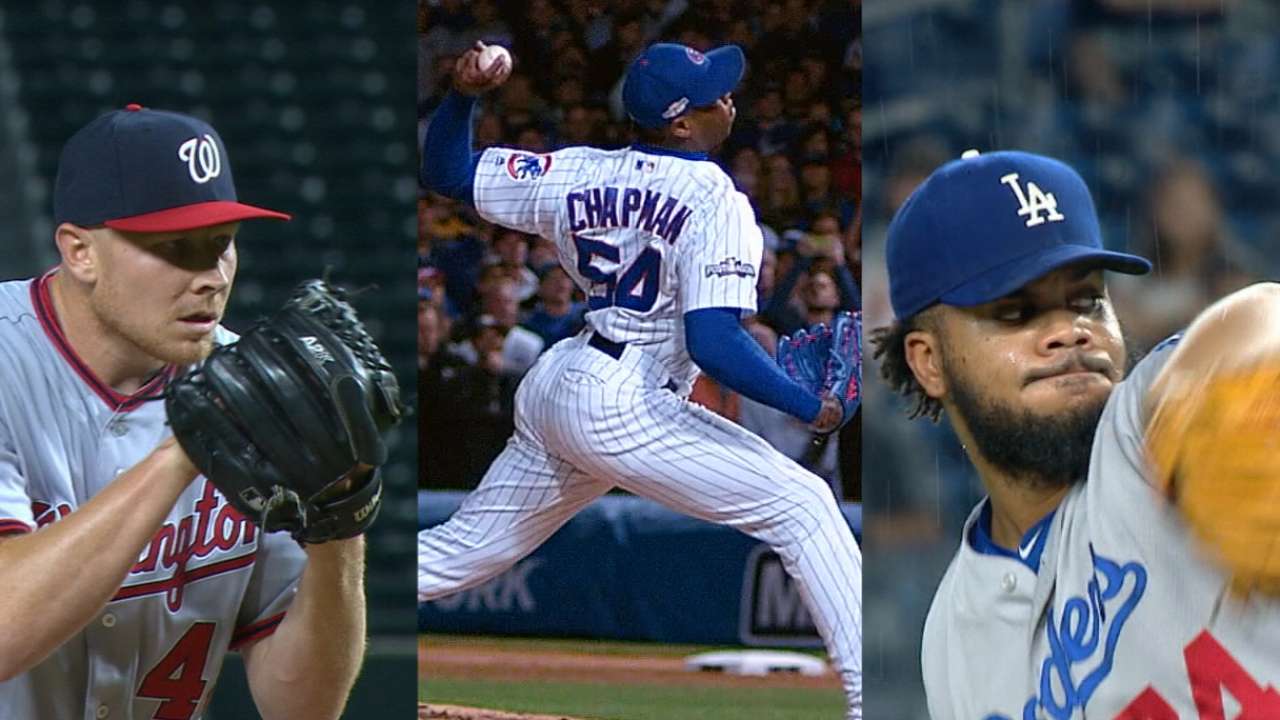 SAN FRANCISCO -- Acquiring a closer remains far and away the Giants' top priority as they approach the Winter Meetings, which begin next Monday in National Harbor, Md.
The need for a lights-out closer became evident following a defeat in Game 4 of the National League Division Series. On that fateful Oct. 11 night, the Giants and their fans at AT&T Park watched as five relievers combined to allow four ninth-inning runs that enabled the eventual World Series champion Cubs to record a series-clinching 6-5 triumph.
MLB.com and MLB Network will have wall-to-wall coverage of the 2016 Winter Meetings from the Gaylord National Resort & Convention Center outside Washington, D.C. Fans can watch live streaming of all news conferences and manager availability on MLB.com, including the Rule 5 Draft on Dec. 8 at 6 a.m. PT.
The Giants could have avoided their NLDS unraveling had they possessed a closer they could trust (they lost faith in Santiago Casilla and Sergio Romo as the season elapsed). A legitimate closer also might have prevented some fraction of San Francisco's 30 blown saves, which represented a Major League high and a franchise record since saves became an official statistic in 1969.
Moreover, a closer's presence would ease the process of assigning roles to the club's other relievers -- a task that challenged Giants manager Bruce Bochy, a renowned bullpen strategist, in 2016.
"We need to be clear about who's pitching the ninth, so that hasn't changed," Evans said recently. "There are the same number of options when this offseason started that we have now, so we're still making sure we spread a wide net."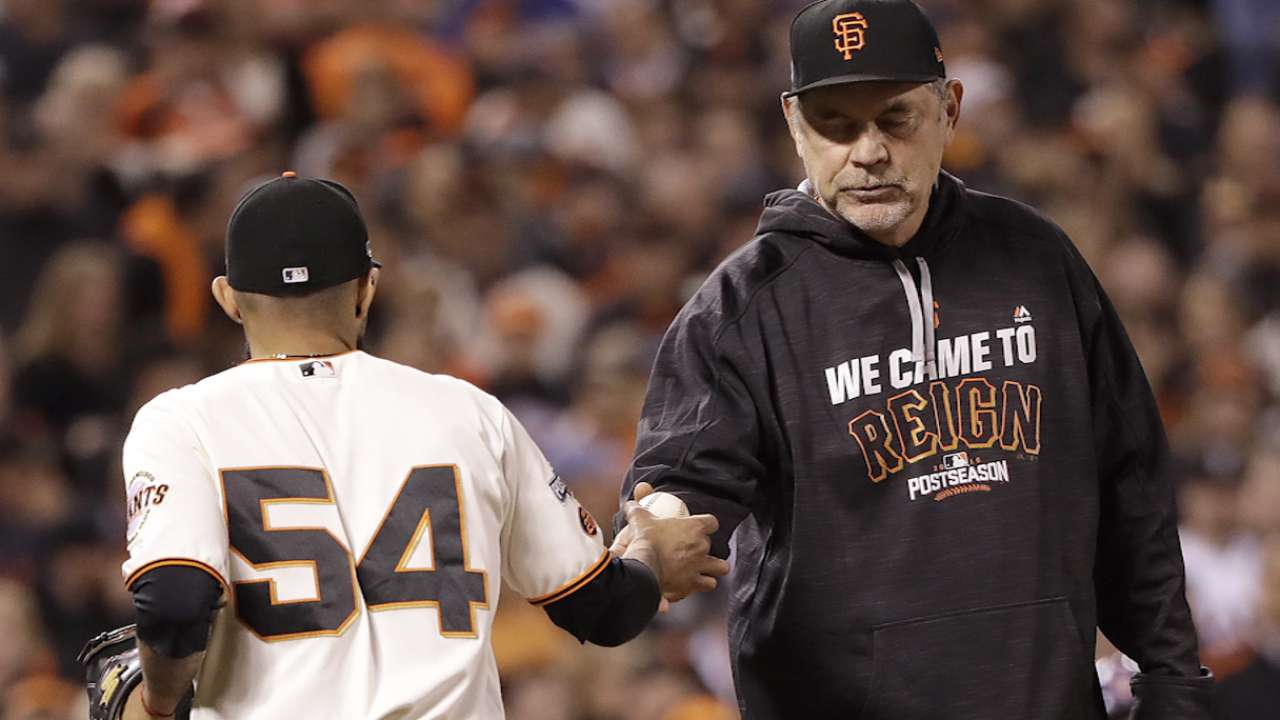 That was a reference to the trio of premier closers available in free agency: left-hander Aroldis Chapman and right-handers Kenley Jansen and Mark Melancon. Each will command a multi-year contract worth far more than $10 million per season. But committing $220 million to free-agent starters Johnny Cueto and Jeff Samardzija last offseason proved that the Giants won't hesitate to offer pricey deals to obtain what they need.
However, the Giants are fighting the laws of supply and demand. At least a half-dozen other teams need closers and might join the Giants in bidding wars that will further escalate each reliever's value. Though it has been widely assumed that San Francisco will sign one of the three big-name closers, Evans admitted that "we have no way of knowing" that will happen.
A cautionary tale: The last free-agent closer the Giants signed was Armando Benitez, who received a three-year, $21 million package before the 2005 season. After converting 47 of 51 save opportunities with the Marlins in 2004, Benitez incurred the wrath of Giants fans by blowing 15 save chances from '06-07.
One sign of Benitez's impending decline is easy to spot in retrospect. The right-hander's ratio of strikeouts per inning slipped in each of five seasons before he joined the Giants. That typically signals impending implosion for closers, who must miss bats and usually don't regain that knack once it starts eroding.
Evans also cited the possibility of trading for a closer. However, the group of relievers who might be subject to a swap could be difficult to pry from their current clubs. Possible candidates include Texas' Jeremy Jeffress (27 saves with Milwaukee last season), Houston's Luke Gregerson (46 saves from 2015-16) or Kansas City's Wade Davis (27 saves) and Kelvin Herrera (0.91 WHIP, 12 saves in '16). Both Royals are two-time All-Stars.
The Giants also have a vacancy in left field, since they don't seem eager to re-sign free agent Angel Pagan. Though Evans will remain attentive to opportunities to bolster this spot, he maintains confidence in the abilities of Jarrett Parker and Mac Williamson.
"I still think Parker and Williamson deserve a chance," Evans said. "I'm going to keep our ears and eyes open and not rule anything out. But ... we have to look at them as part of the equation regardless of what we do or don't do. Our success is going to require help from our young players. We have to be sure that we have an opportunity to clearly evaluate what they can contribute."
Chris Haft has covered the Giants since 2005, and for MLB.com since 2007. Follow him on Twitter at @sfgiantsbeat and listen to his podcast. This story was not subject to the approval of Major League Baseball or its clubs.