At Meetings, Yanks open to all possibilities
Club checking in on free-agent sluggers, may bring back Chapman to close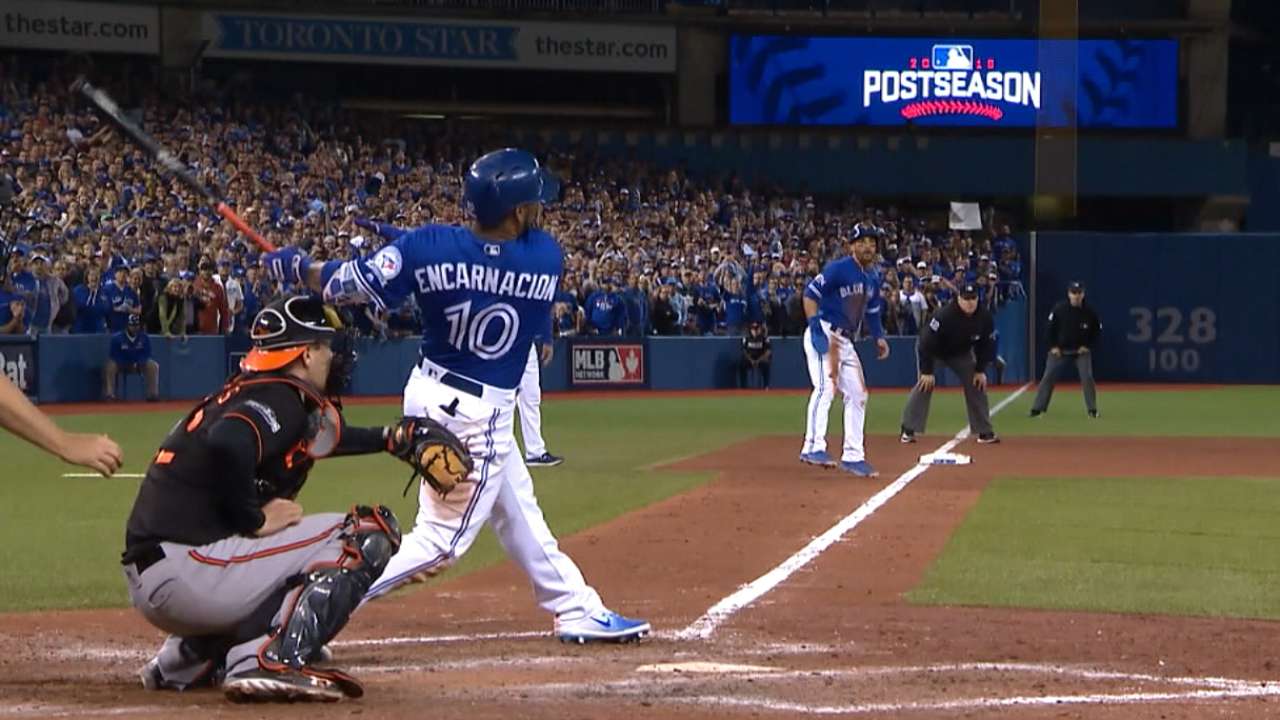 NEW YORK -- In the hours immediately following the phone call that informed Brian McCann that he would be reporting to camp as a member of the Astros, Yankees general manager Brian Cashman took a moment to appreciate how the offseason landscape had now changed for his club.
With additional funds in the budget and a vacancy in the lineup, there are numerous opportunities that Cashman is now able to explore, in addition to his previously stated priority of "pitching, pitching, pitching." When the Winter Meetings open next Monday, expect to hear the Yankees as being in on just about everything.
MLB.com and MLB Network will have wall-to-wall coverage of the 2016 Winter Meetings from the Gaylord National Resort & Convention Center outside Washington, D.C. Fans can watch live streaming of all news conferences and manager availability on MLB.com, including the Rule 5 Draft on Thursday at 9 a.m. ET.
"My job is still to continue to reinforce and add to this Major League club," Cashman said. "We're looking for pitching in the rotation, we're looking for bullpen help, and now we have the ability to be open-minded to some bats."
McCann's departure frees the Yankees to check in on all of the big bats in the free-agent market. A possible reunion with Carlos Beltran ended when he headed to Houston, but they have beltcast a wide net by making contact with the likes of Jose Bautista and Edwin Encarnacion.
They would still like to lean toward beginning the season with Greg Bird or Tyler Austin at first base and Aaron Judge or Aaron Hicks in right field, but now that there is additional flexibility, Cashman said he can be more open-minded.
"Now I can engage the free-agent market, I can engage the trade market and at least consider things," Cashman said. "It doesn't mean we'll conclude any of that, but that's what we'll try to do."
On the pitching front, there is strong interest in bringing Aroldis Chapman back to fill the closer role, and Chapman is thought to be enticed by that possibility. The Yankees have reached out to bullpen arms Boone Logan and Kenley Jansen, and are in the information-gathering process with starting pitchers Rich Hill and Jason Hammel as well.
Though the Yankees are flush with prospects after last summer's deals and need a starter to supplement a rotation where Masahiro Tanaka, Michael Pineda and CC Sabathia are the only sure things, Cashman has indicated that he does not plan to pursue a blockbuster trade for an ace like Chris Sale of the White Sox.
"I do know that we've acquired a lot of talent that's knocking on the door," Cashman said. "In most cases, we'd like to see that talent translate to Yankee impact by promotion. I'd say if there's a massive under control contract player out there, it's not likely for us to back a truck up at this moment in time to try to pull down one player.
"I don't think we're in that position. We're in a position to do that because we have the talent to do that, but I wouldn't recommend us doing something like that. I feel like we have too many areas that are unsettled that that wouldn't make much sense."
That said, there should be numerous trade rumors involving the Yankees swirling around the lobby. The Yankees did all of their winter shopping last year via trade, as they were the only team not to sign a Major League free agent, and Cashman has said that the Yankees are already fielding calls on Brett Gardner and Chase Headley.
"Gardner is our everyday left fielder and Headley is our everyday third baseman, unless trades present themselves and put me in a position to consider making a move," Cashman said. "We have our everyday guys there, but I am open-minded to listening on anybody and everybody, for the most part."
Bryan Hoch has covered the Yankees for MLB.com since 2007. Follow him on Twitter @bryanhoch and on Facebook. This story was not subject to the approval of Major League Baseball or its clubs.