Former Red Sox pitcher Ferriss dies at 94
Righty still holds the club's rookie records for wins, shutouts and complete games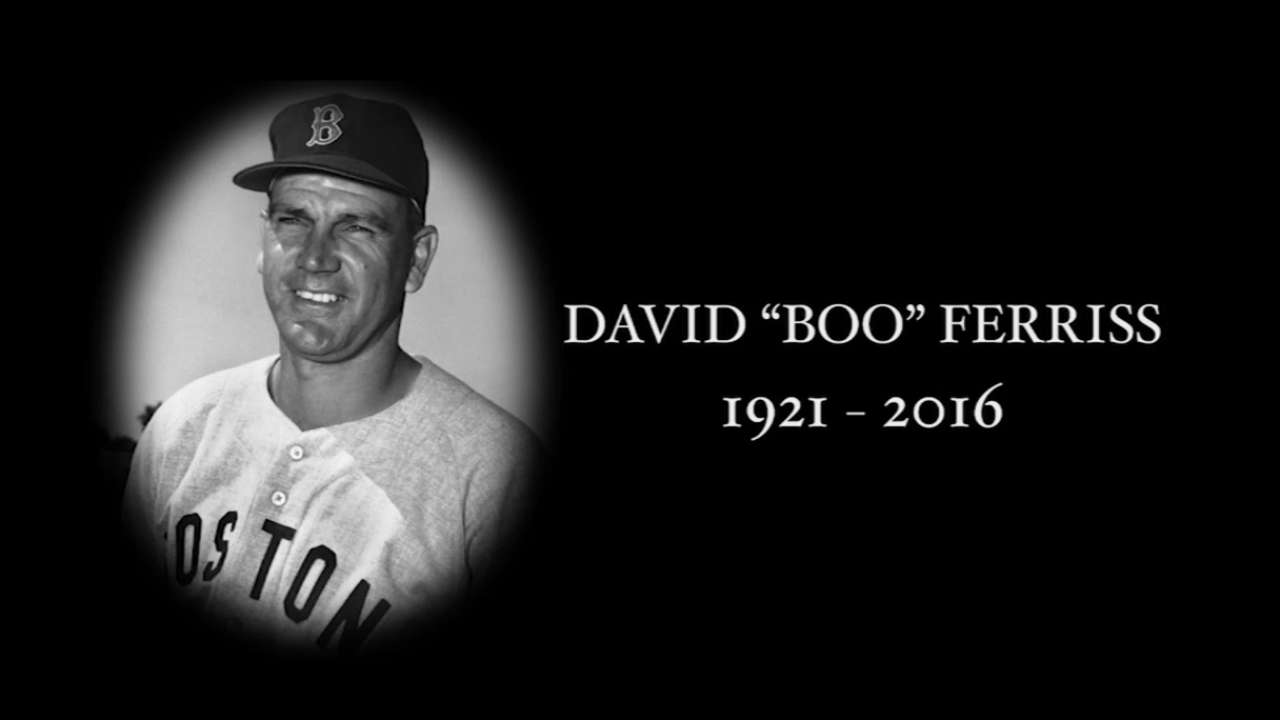 Former Red Sox right-hander Dave "Boo" Ferriss, who pitched six seasons in the Major Leagues for Boston from 1945-50, died on Thursday at age 94 at his home in Cleveland, Miss.
Ferriss was an All-Star in 1946 as a 24-year-old, when he helped pitch the Red Sox to the American League pennant. That season, he went 25-6 with a 3.25 ERA -- including 13 straight wins at Fenway Park, tied for the Red Sox's franchise record. He threw a shutout in Game 3 of the World Series against the Cardinals and had a no-decision in Boston's loss in Game 7.
Ferris' career ended prematurely due to arm injury, but he returned to the Red Sox as a pitching coach for five seasons from 1955-59. He was elected into the Red Sox Hall of Fame in 2002.
In his Major League debut as a 23-year-old on April 29, 1945, Ferriss threw a shutout against the Philadelphia Athletics. He went 21-10 with a 2.96 ERA during his rookie season and threw five shutouts, finishing fourth in the MVP voting. Ferriss' 21 wins, five shutouts and 26 complete games are still Red Sox rookie records.
Ferriss was born on Dec. 5, 1921, in Shaw, Miss., and he attended college at Mississippi State. After his MLB career was over, he returned to the state and coached at Delta State University, where he won 639 games in 26 seasons.
He is survived by his wife, Miriam; his children, David Jr. and Margaret; his grandchildren, David III and Miriam; and his great-grandchildren, Mary, Kathryn, and Jane.
David Adler is a reporter for MLB.com based in New York. Follow him on Twitter at @_dadler. This story was not subject to the approval of Major League Baseball or its clubs.