Branca remembered for community work, friendship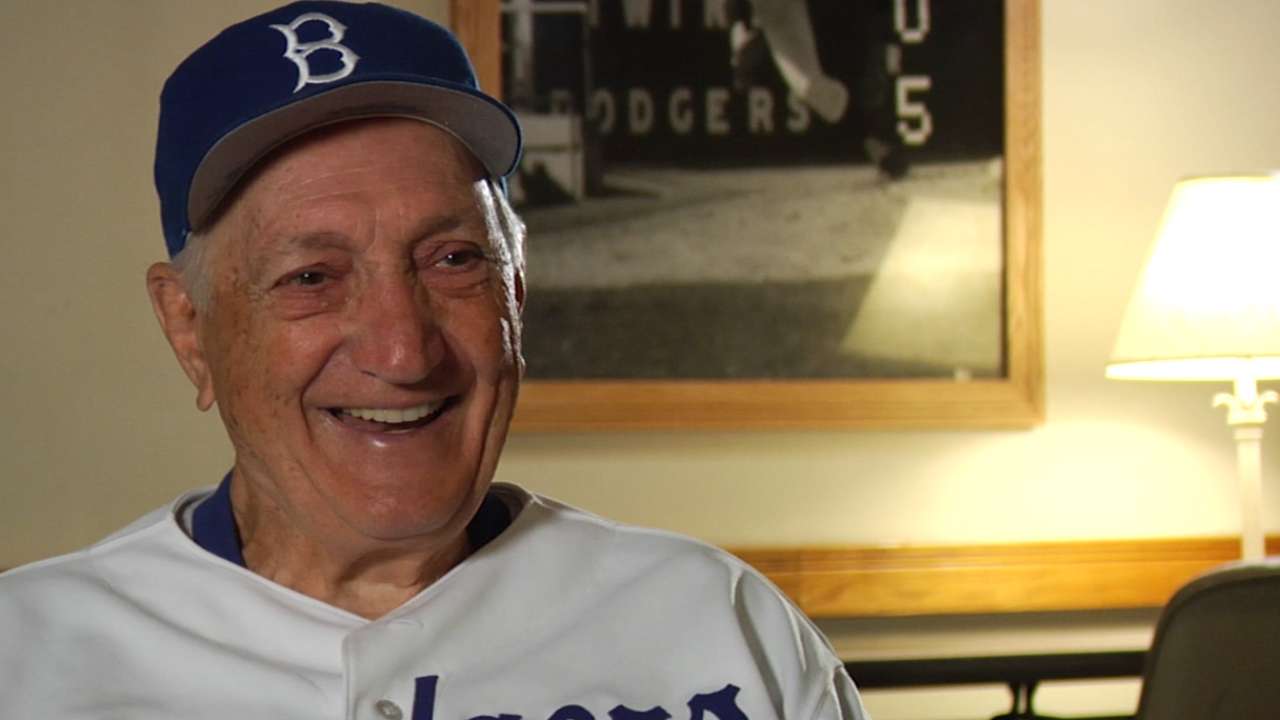 It was a sad day for Major League Baseball on Wednesday as the game lost one of its own: former pitcher Ralph Branca, who died at age 90.
Branca is likely best remembered for a moment many Dodgers fans would rather forget as the losing pitcher in one of baseball's most celebrated games. On Oct. 3, 1951, Branca infamously surrendered "The Shot Heard 'Round the World" -- a pennant-clinching home run for the Giants that eliminated the Dodgers from contention.
Branca's career and life extended far beyond that one pitch, however. Branca made three All-Star teams (1947-51) throughout his 12-year career with the Brooklyn Dodgers, Tigers and Yankees. In retirement, he served as a president and board member on the Baseball Assistance Team.
"Ralph's participation in the 'Shot Heard 'Round the World' was eclipsed by the grace and sportsmanship he demonstrated following one of the game's signature moments," Commissioner Rob Manfred said in a statement. "He is better remembered for his dedication to the members of the baseball community. He was an inspiration to so many of us."
As news spread of his passing, many others around the baseball world shared memories of Branca.
"Branca, to me, was a hero," Hall of Famer Tommy Lasorda said. "I admired him so much. When I first met him, he was a pitching star for the Dodgers, and he treated me so good -- at that time, I was a low Minor League player. Our friendship continued all the way until this morning. He was an outstanding guy. He was a tremendous pitcher for the Dodgers, and he was a Dodger all his life.
"But Ralph and I became very close, my family and his family. I always enjoyed being around him. He was tough, boy. He was a tough one in every way. And I really admired him."
Legendary broadcaster Vin Scully expressed his sorrow at losing his dear friend.
"I was closer to Ralph than to any other Dodger. We traveled around the world and became very good friends," Scully said. "He carried the cross of the Thomson home run with dignity and grace. I was grateful for his friendship and I grieve at his death. He was a great man."
Said Dodgers president and CEO Stan Kasten, "Ralph Branca was a New York native who made his debut as a teenager during World War II and soon became one of the top pitchers for the Brooklyn Dodgers. In 1947, he embraced and welcomed a Dodger rookie named Jackie Robinson, displaying the warmth and dignity that defined his entire life. The Dodger organization has always treasured Ralph and will greatly miss him, and sends condolences to his wife Ann and their family."
The support also extended to social media, where Branca's son-in-law, Bobby Valentine, a former Major League player and manager, shared his thoughts.
In his 91st year on Earth he left us with same dignity and grace that defined his everyday on earth. He will be truly missed!!!

— Bobby Valentine (@BobbyValentine) November 23, 2016
Former Dodgers general manager and current Blue Jays scout Dan Evans also tweeted, as did three-time MLB All-Star and Yankees broadcaster Ken Singleton, who heralds from the same hometown as Branca -- Mount Vernon, N.Y.
We can all learn a lesson from Ralph Branca, who didn't allow a negative moment to define him forever. So much character, passion for life.

— Dan Evans (@DanEvans108) November 23, 2016
Sorry to hear about the passing of Ralph Branca. A fine man. I learned baseball at an early age at his brother John's baseball school #RIP

— Ken Singleton (@29alltime) November 23, 2016
New York Rep. Peter King also released a statement on Branca, whom he called a "New York legend."
"I just received the sad news that my good friend Ralph Branca has passed away," King said. "Ralph was a New York legend who was a star pitcher on the famed Brooklyn Dodgers 'Boys of Summer' teams of the 1940s and '50s. Even more importantly, Ralph and his wonderful wife Ann were the epitome of class, representing the very best of New York and baseball."
New York City Mayor Bill de Blasio added his own thoughts via Twitter.
Mourning Brooklyn Dodgers' Ralph Branca. Let's recall the wins & his friendship with Jackie Robinson, not the "Shot Heard 'Round the World."

— Bill de Blasio (@NYCMayor) November 23, 2016
Chad Thornburg and Oliver Macklin are reporters for MLB.com. This story was not subject to the approval of Major League Baseball or its clubs.