Could the Phils land the game's best player?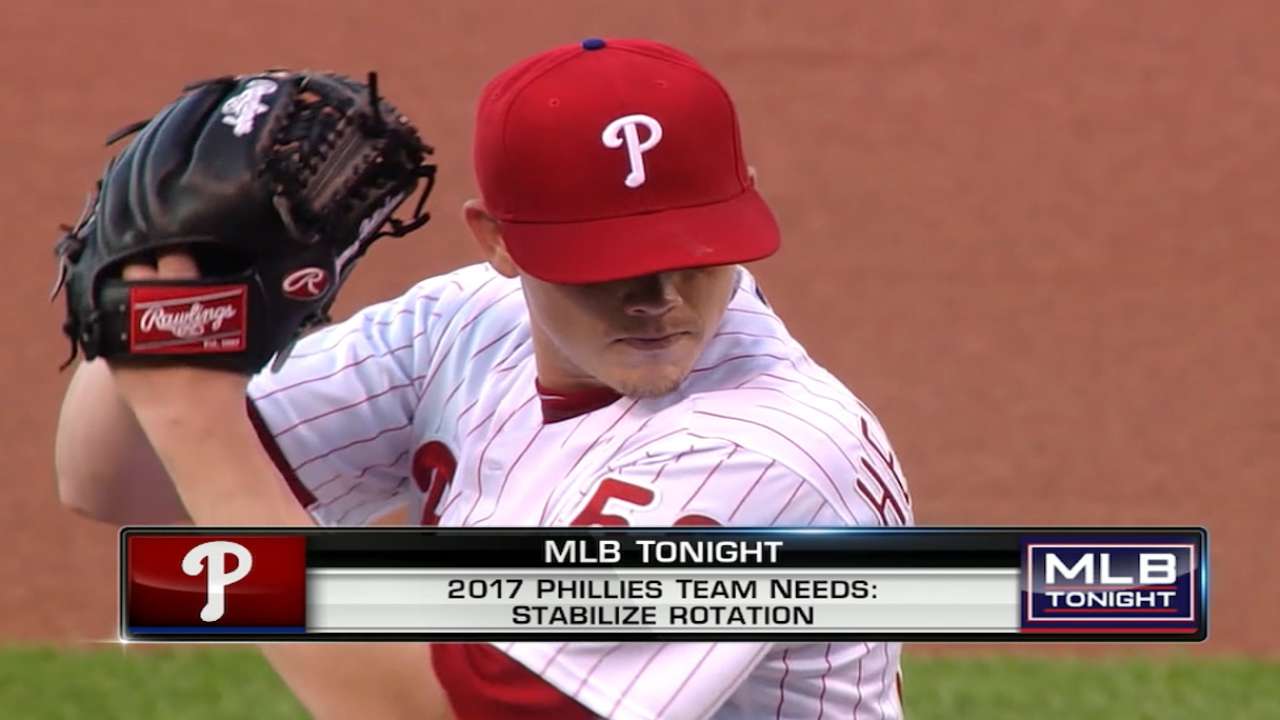 Do you think the Phillies might explore talks with the Angels for Mike Trout? They could put together a very nice package of pitchers, a catcher and some position prospects, something the Angels desperately need.
-- Bud H., Montgomery, Ala.
I get more questions about Trout than any player outside the Phillies' organization, which is understandable. Trout is the best player in baseball, he is from South Jersey and there seems to be constant speculation that the Angels might trade him to replenish their barren farm system.
But Trout is a looooooong shot, so Phillies fans probably should focus their desires elsewhere. If I'm the Angels, I understand that I have potentially one of the greatest players in baseball history on my roster and he is just 25 years old. You don't trade a talent like that for a bunch of prospects, regardless of how many or how good they seem to be at the time.
• Submit a question to the Phillies Inbox
Think about it. If you're the Angels, do you trade Trout for J.P. Crawford, Nick Williams, Jorge Alfaro, Aaron Nola, Vince Velasquez and Dylan Cozens? I don't. Four of those players are prospects, and two of them have very short track records in the big leagues. Prospects are still prospects, regardless of their rankings nationally. Remember the players the Phillies traded in seasons past to acquire Roy Halladay, Cliff Lee, Roy Oswalt and Hunter Pence. The group includes Travis d'Arnaud, Kyle Drabek, Michael Taylor, Jason Knapp, Carlos Carrasco, Lou Marson, Jason Donald, Anthony Gose, J.A. Happ, Jonathan Villar, Jarred Cosart, Jon Singleton, Josh Zeid and Domingo Santana. There are a few hits in there, but many more misses. Do you take that gamble if you're the Angels? Not me.
Also remember that Trout does not become a free agent until after the 2020 season, so the Angels have four more seasons to turn things around. They should be able to do that, and having a Hall of Fame outfielder is a good place to start.
The Phillies are very well set with prospects and have a minuscule payroll considering the market size. Why won't they sign a Jose Bautista, Edwin Encarnacion, etc., for short-term, large-money deals? Dexter Fowler can be a cornerstone type of player as well. Why are the Phillies hesitant to make a big splash via trade or free agency?
-- Steve R., Asbury Park, N.J.
The Phillies acquired Howie Kendrick in a trade earlier this month, and he is going to be their everyday left fielder. He isn't the high-powered offensive weapon like the players mentioned above, but he gives the Phillies some flexibility moving forward because his contract expires after the season. The Phillies want that. It gives players like Williams and Cozens more time to develop in the Minor Leagues, while giving Aaron Altherr or Roman Quinn time to prove themselves in right field in the big leagues. Kendrick can be traded after June 15, so he could be elsewhere by the July 31 Trade Deadline. Could Bautista, Encarnacion, etc., help in that regard? Possibly, but would they have signed a one-year deal? Seems unlikely at the moment.
Why isn't Rhys Hoskins on the 40-man roster (and thus protected from the Rule 5 Draft)?
-- Alec H., Collingswood, N.J.
He's not eligible for the Rule 5 Draft, so there was no need to protect him. The same holds true for Crawford.
Todd Zolecki has covered the Phillies since 2003, and for MLB.com since 2009. Follow him on Twitter and listen to his podcast. This story was not subject to the approval of Major League Baseball or its clubs.