Inbox: What goes into winter ball decisions?
Fans ask about Arcia playing in Venezuela, World Baseball Classic and more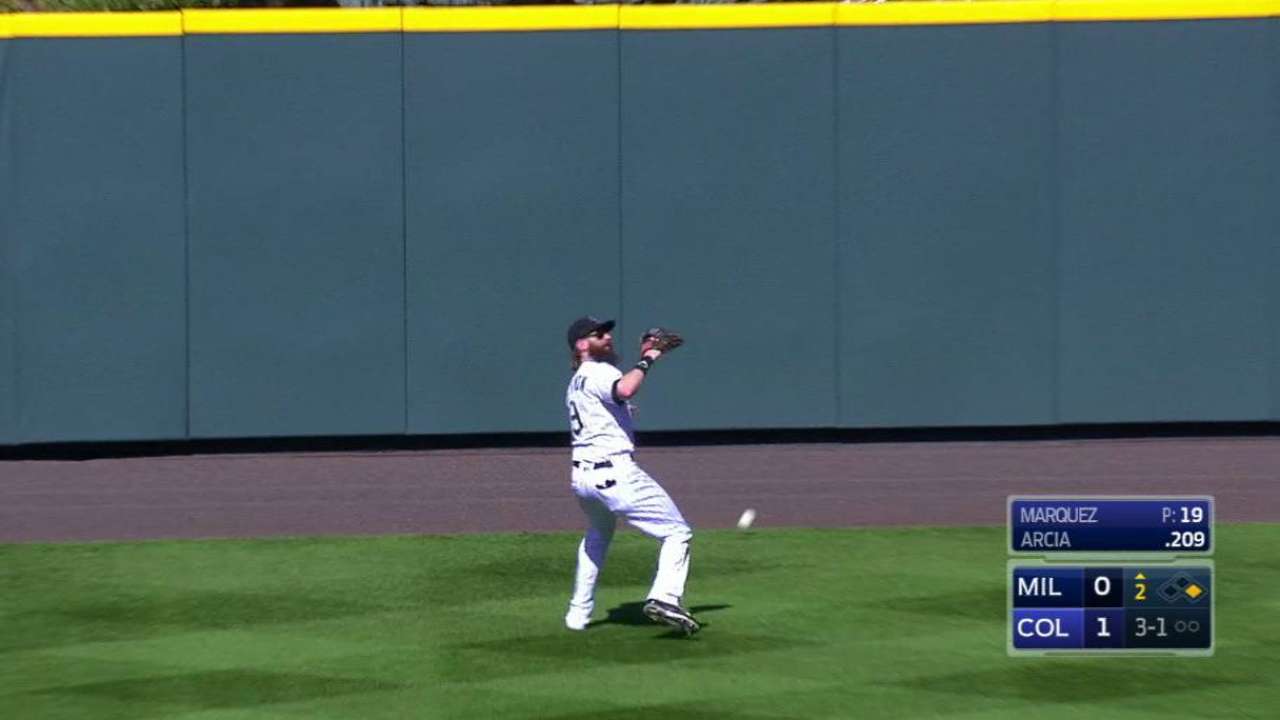 MILWAUKEE -- For the first time since the end of the season, it's time to clean out the Inbox.
Thank you as always to those who submitted questions; you can email me or tweet me your own Brewers query for inclusion in a future feature. We'll start with an old friend of the site.
@AdamMcCalvy What goes into the decision to send/not send a guy like Orlando Arcia, already coming off his longest season, to winter ball?

— Kyle Lobner (@BrewFrostyMug) November 18, 2016
It's not just this season -- it's been a long three seasons for Arcia, who was the Brewers' top prospect before graduating to the Major Leagues in 2016. Including winter ball in Venezuela, he played 182 games in 2014, 160 more in 2015, then played 155 games during the 2016 regular season, including his first 55 games in the Major Leagues. So it surprised some to see Arcia's name in the box scores for Caribes de Anzoategui.
I passed Kyle's question to Brewers farm director Tom Flanagan:
"For winter ball players, it's a little complicated, but there are 'extreme fatigue' rules for non-roster (40-man) players (levels of innings pitched, ABs etc) that if a player exceeds during the season, he can be 'blocked' from winter ball by the parent organization," Flanagan wrote in an email.
Flanagan continued, "However, for all players, we look at each case individually to put the player in the best possible position for both his health as well as development. So in most cases, you weigh the player's physical condition and whether there is a need for rest (or offseason conditioning) vs. the benefits of playing time and competition. We have conversations with the players to ensure they are in agreement and understand that it's the best decision for their future.
"For Orlando, he did play a lot this year. But we feel by having him play for a portion of the winter-ball season that it will be beneficial to him."
If I had to guess based on past prospects, Arcia will probably play only a month or so of the Venezuelan season before resting up for his first full season in the Majors.
• Submit a question to the Brewers Inbox
@AdamMcCalvy what Brewers do you expect to miss Spring Ball due to playing in the WBC? Specifically Arcia, Villar, other young guys

— Mark Podskarbi (@MVP21) November 18, 2016
Venezuela has such a deep crop of more established shortstops, it might be tough for Arcia to make the cut. But Junior Guerra said during the season he was open to the idea of pitching for Venezuela, and Villar is very interested in playing for the Dominican Republic. Ryan Braun has played in the past for Team USA, but after successfully navigating a season following back surgery, I would be very surprised to see him ramp up next year to play meaningful games in March.
@AdamMcCalvy does the rumored 26 man roster make it more likely Crew have 6-man rotation? Don't have to limit bench or RP, have SP depth.

— Grant Mulligan (@gtmulligan) November 18, 2016
I believe most clubs would use that extra roster spot for relief. The Brewers did use a six-man rotation late in the season, but generally, managers and coaches believe starters are sharper when they pitch every fifth day.
@AdamMcCalvy What are the chances that the Brewers non-tender Scooter Gennett? He's set to get a big raise.

— Mike Lindeen (@woohookitty) November 18, 2016
The 2016 season was not Gennett's best, and you are correct that he will see his salary grow significantly in his first year of arbitration eligibility, from just above $500,000 into the millions. I would still bank on him being tendered, allowing the Brewers flexibility to weigh their infield options as the offseason progresses. Villar has not been totally ruled out at third base, after all.
The Brewers' other arbitration-eligible players, incidentially, are Chase Anderson, Chris Carter, Martin Maldonado, Kirk Nieuwenhuis, Wily Peralta, Tyler Thornburg and Carlos Torres.
Adam McCalvy has covered the Brewers for MLB.com since 2001. Follow him on Twitter @AdamMcCalvy, like him on Facebook and listen to his podcast. This story was not subject to the approval of Major League Baseball or its clubs.