Newly patient Cespedes adds value to free-agent case
Slugger increased walk rate from 4.9 percent to 9.4 percent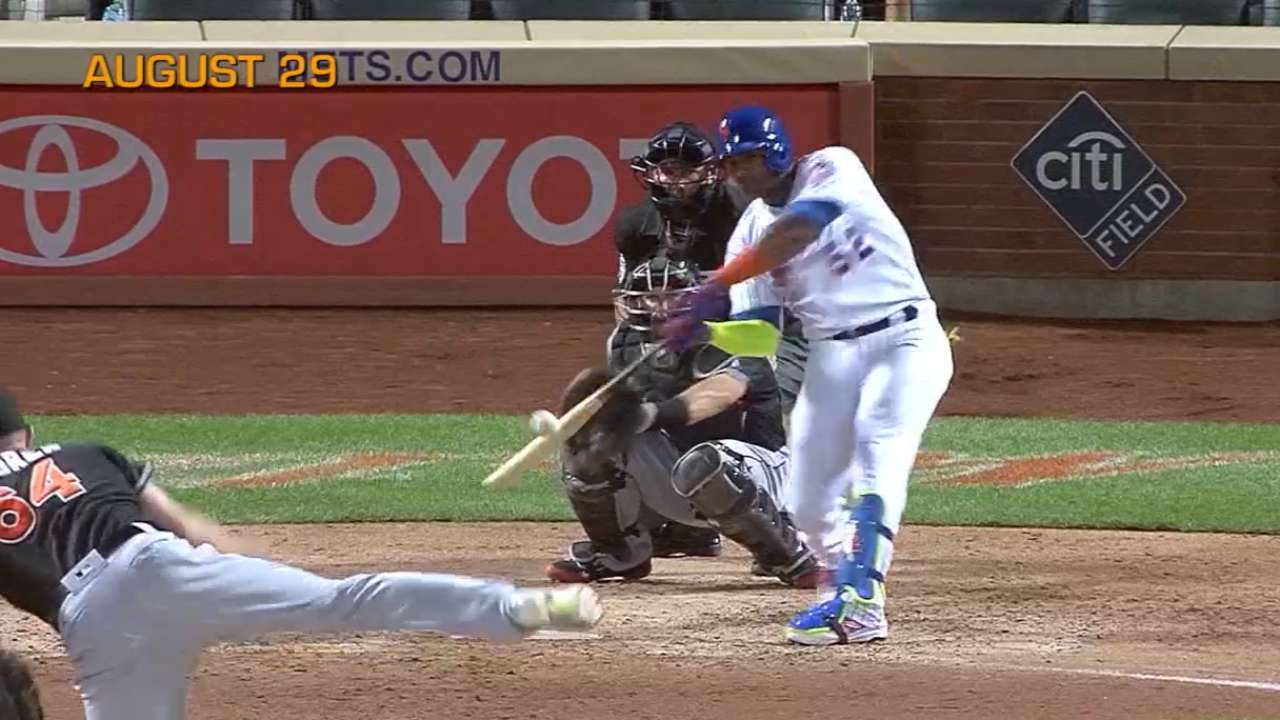 Even the best baseball players are still human beings, and human beings have weaknesses. But players who make improvements on their weaknesses can elevate their projected value, which can come in handy during free agency. This year, one free agent who has answered questions about a long-standing perceived weakness and stands to benefit financially also happens to be the best free agent available: Yoenis Cespedes.
In 2015, Cespedes underwent a power surge. He'd always been a 20-homer guy, but, for the first time, he crossed the 30-homer threshold. He also set a career high in isolated power (ISO) with a .251 mark that ranked 12th among 141 qualified hitters. The great news for Cespedes is that he was able to sustain his heightened level of power this year by putting up a .251 ISO for the second consecutive season.
The better news for Cespedes, though, is that, in addition to strengthening an area in which he'd always shown some ability, he demonstrated impressive improvement in an area of perceived weakness: walks and on-base percentage (OBP). From 2013-14, Cespedes' OBP hovered around .300; last year it increased to .328 thanks in large part to the influx of home runs (and their effect on his batting average). This year, however, Cespedes brought his OBP up to .354, a level he hasn't reached since he posted a .356 OBP in his rookie season. The obvious cause of this impressive boost has been a dramatic reversal in his walk-rate trend.
In 2015, Cespedes' walk rate bottomed out at 4.9 percent; this past year, it soared to a new career high of 9.4 percent. One of the key questions facing teams interested in signing Cespedes this winter, then, is whether the boost is real. It goes without saying that a player with good power and decent OBP will be worth more to a team than a player with good power and poor OBP. Which type of player should teams expect from Cespedes going forward?
In trying to decide where the improvement is sustainable, the first question to ask is: What changed for Cespedes this season? Did he make any clear adjustments that spurred the improvement, or was it just a fluke?
Cespedes has historically struggled with high fastballs. With that in mind, he demonstrated a really encouraging trend this season. In the graphic below, look at his swing rate on pitches up in the zone, first from 2013-15 (on the left) and then in '16 (right):
The darker blue at the top indicates that Cespedes went after fewer pitches high, which is a good thing for him, since he can't really do anything with them. Now look at this graphic, which features roughly the same thing, except only as it pertains to two-strike pitches:
Two birds, one stone. Cespedes is laying off pitches that he doesn't hit well and focusing instead on areas of the strike zone he can pound. As a result, he's hitting better when he does make contact -- his 39.3 percent hard-contact rate this year was the highest of his career -- and he's putting himself in a better position to walk.
The next question is whether this type of improvement is typically sustained. From 2015-16, Cespedes' walk rate jumped from 4.9 percent to 9.4 percent. I looked at qualified players from '13-15 to find those who experienced similar walk-rate surges from one year to the next and found just seven such players. I then checked to see whether they maintained the improvement the following year, and the results weren't tremendously encouraging.
For example, in 2014-15, Miguel Cabrera jumped his walk rate from 8.8 percent to 15.1 percent, a 6.3 point jump that was the highest of any of the players looked at -- but in '16, that dropped back to 11 percent. Brian Dozier went from 8.2 percent to 12.6 percent in '13-15, then back to 8.7 percent in '16. Mike Trout saw his 10.5 percent in '12 go to 15.4 percent in '13 before dropping back to 11.8 percent in '14.
The only player who truly sustained the improvement was Chris Davis, who maintained his 2012-'13 improvement (6.6 percent to 10.7 percent) in '14 (11.4 percent). The good news is that Cespedes and Davis do have one thing in common, which is that their improvement in walk rate was accompanied by a power surge. If pitchers are more careful with Cespedes due to the increasing threat that he'll knock it out of the park, that could make it more possible that he'll be able to maintain this improvement going forward.
The more likely scenario, however, is that his walk rate will fall back toward his career norms next season. Current Steamer projections have Cespedes at a 7.3 percent walk rate next season. Although that would be a notable dip from his 9.4 percent mark this year, it would still be better than the walk rate he posted in any season between 2013-15. The fact that this change has coincided with a power surge and with an indication that he's actively avoiding swinging at pitches that are his kryptonite provides some encouragement that the improvement is more than just a mirage.
The wonderful thing about free agency from a player's perspective is that Cespedes only has to convince one team that his improvements are sustainable and real. If he gets that one team to buy in on the steps forward he has taken over the past two seasons, then he will be able to secure the big contract he no doubt seeks.
A version of this article first appeared at FanGraphs.com.
Corinne Landrey is a contributor to MLB.com. This story was not subject to the approval of Major League Baseball or its clubs.