How will Cecil deal impact Reds' relief quest?
Depth a priority, but Cincinnati seeking smaller contracts for bullpen help
CINCINNATI -- News broke over the weekend that the Cardinals had agreed to sign free-agent relief pitcher Brett Cecil to a four-year, $30.5 million contract. As the deal became official on Monday, it was easy to wonder how Cecil's signing might affect the rest of the reliever market.
For a budget-conscious club like the Reds, this might not seem like a good omen. One of Cincinnati's top priorities this offseason is to add quality relievers, while hoping the market for such help didn't get too hot. Reds general manager Dick Williams said on Monday that his team was not pursuing Cecil, and he wasn't sure if that move would have a ripple effect on his efforts.
"How it affects the market remains to be seen," Williams said. "We're not waiting until everybody signs and then make a move. We're talking and engaging with agents about signing players. That size of a deal and contract is not something we're looking for this year."
Cecil, a 30-year-old left-handed pitcher, was 1-7 with a 3.93 ERA, 45 strikeouts and eight walks over 36 2/3 innings in his 54 appearances for the Blue Jays in 2016. In four seasons since switching out of Toronto's rotation to its bullpen, he has a 2.90 ERA and 11.5 strikeouts-per-nine innings ratio. MLBTradeRumors.com had predicted he would get a three-year, $18 million deal, but that certainly proved conservative.
The past couple of offseasons, the Reds have sought bargains with their bullpen signings. Blake Wood was the lone Hot Stove signing of a free agent before the 2016 season. In February '15, Burke Badenhop was the only free agent signed to a big league contract by Cincinnati this past offseason. Wood was signed for $600,000 while Badenhop's deal was for $1 million, with a $4 million option for '16 that wasn't exercised.
After several pricey contracts were moved the past two years, Williams has more money available to spend this offseason. But don't expect the Reds to enter into any bidding wars to add bullpen help.
Bullpen assets have become increasingly popular the past few seasons but truly became en vogue during the 2016 postseason. Managers were unconventional and more unpredictable in how they used their setup men and closers. There was little hesitation in using the best relievers in earlier innings, if it made sense during a high-leverage situation.
"I'm not sure it will affect the deals we make, but you never know," Williams said. "It shows people that teams will be aggressive chasing relievers. But it also makes us feel better knowing that one of the strengths we have is with young pitching. We have a lot of arms coming."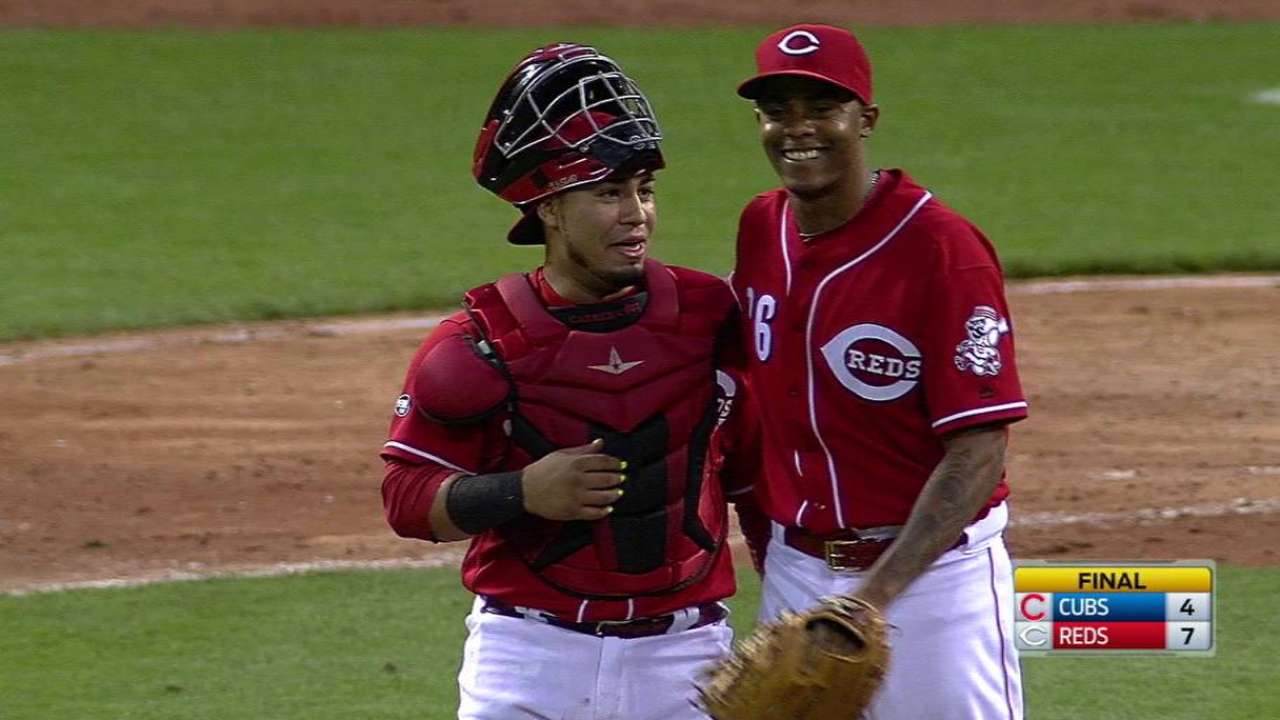 During their rebuilding efforts of the past couple of years, the Reds have placed a premium on drafting and developing premium power arms. This past season, two young pitchers that were groomed as starters -- Raisel Iglesias and Michael Lorenzen -- proved effective out of the bullpen. Lefties Amir Garrett and Cody Reed and right-hander Robert Stephenson are still being developed as starters, but they could eventually be bullpen options down the road.
The Reds have several contenders for the vacant fifth spot, but they aren't currently contemplating short-term fixes like moving one of their extra starters into the bullpen.
"Whether they are starters or relievers, if the price keeps going up [on the free-agent market], the feeling is we have depth in that area," Williams said.
Mark Sheldon has covered the Reds for MLB.com since 2006, and previously covered the Twins from 2001-05. Follow him on Twitter @m_sheldon and Facebook and listen to his podcast. This story was not subject to the approval of Major League Baseball or its clubs.