Porcello's charity endeavor sparks lasting friendship
Team Joseph advocate has built bond with teen fighting muscular dystrophy
BOSTON -- The coming of age for Rick Porcello as a pitcher came this past season, when he was rewarded for his newfound dominance by winning the American League Cy Young Award.
But long before that, Porcello blossomed as someone willing to put his name, his money and, most importantly, his heart into a worthy cause.
It was in 2010 when Porcello, then with the Detroit Tigers, joined Team Joseph, a non-profit charity whose mission is to find treatments and cures for Duchenne muscular dystrophy.
Duchenne is the most common degenerative genetic muscle disease in boys.
"There is no cure," said Porcello. "It's a fatal disease and it basically breaks down the muscle tissue in young boys and builds up scar tissue to the point where they can't move and can't walk, and get put into wheelchairs. Ultimately, worse things happen, as far as cardiac arrest, and they end up dying from it. There's no cure, but there are some really promising things that have been coming out."
Team Joseph is named after Marissa Penrod's 14-year-old son, who was diagnosed with the disease at the age of 5.
Thanks to a neat little coincidence a few years later, a very real friendship emerged between Porcello and Joseph.
At the request of his brother, Porcello had invited a family to a Tigers game, and the group included a boy named Kyle who had Duchenne.
"I had a couple of jerseys and baseballs signed for him, and I brought them out to him before I went out to warm up," said Porcello. "I was just talking to them, and the extreme excitement and elation on this kid's face of just being at a baseball game and the whole night, just how excited he was to be there. It was just touching to me.
"I struck out the first batter of the game, and the first thing I saw was him standing up, and he was screaming and excited. I had a sense from there that that was an opportunity to help out with a cause that doesn't really get a lot of recognition and doesn't really have as much support as it necessarily needs."
Porcello was moved by what he heard about the disease and told the family he would do whatever he could to help. Marissa Penrod also knew Kyle's family and was thrilled to hear about Porcello's interest.
Soon thereafter, a relationship was formed. It's now stronger than ever, even after Porcello's trade to the Red Sox in December 2014.
"I met Joseph at one of the charity events that Team Joseph was having, and he's such a good kid -- right off the bat, we got along," Porcello said. "That was four or five years ago, and ever since then, he's come down to Florida. He came out to San Francisco this past season, and myself and his family -- his brother and his sister and his mother -- we've developed almost more of a friendship at this point than a business relationship, if you will. It's kind of just grown from there. That's pretty much where we're at."
Not long after the trade to Boston, Porcello called Marissa to make something clear.
"I just want you to know that whatever uniform I'm wearing, or whatever city I'm in professionally, I'm always on Team Joseph; I'm committed to the cause," Porcello said in a heartfelt conversation.
Porcello has made that evident numerous times since his move to the Red Sox, most recently after he won the Players Choice Award for the AL's Outstanding Pitcher.
As he was accepting the award, Porcello was informed that the Players Trust would be donating $20,000 to his charity of choice.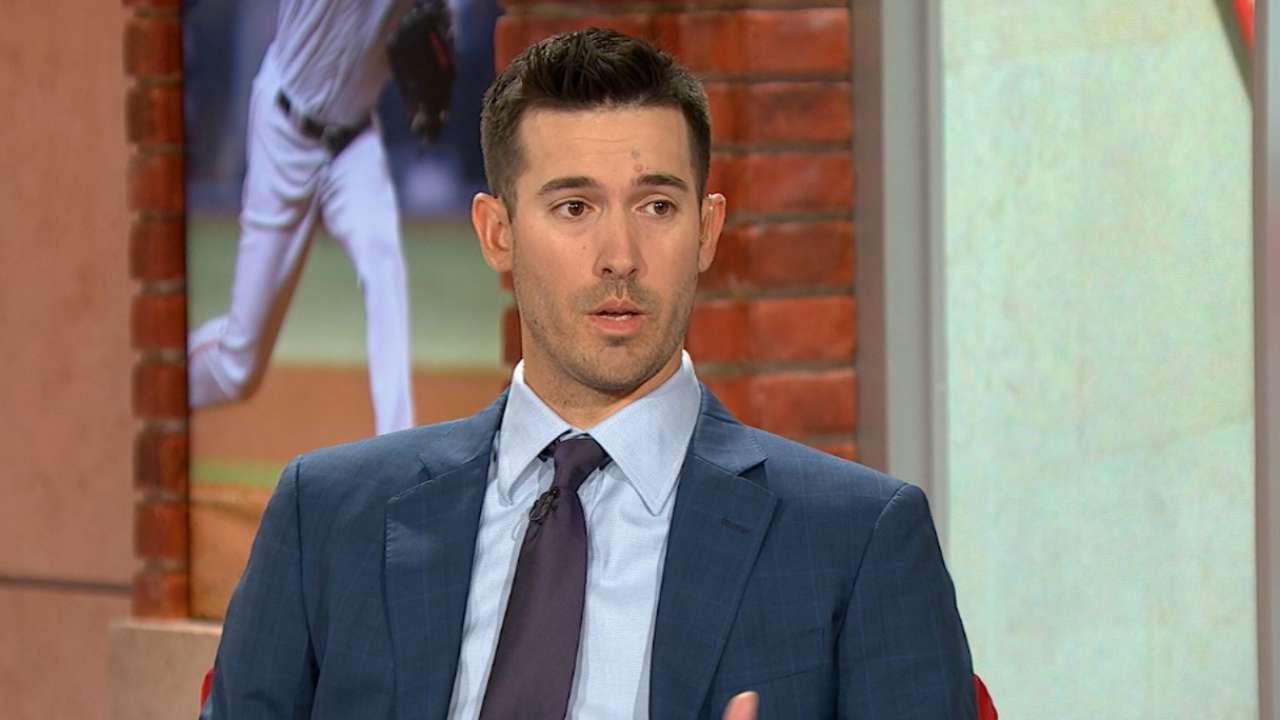 Porcello didn't even blink before informing the television audience that he would be giving that generous donation to Team Joseph.
"That was awesome," said Porcello. "I didn't even know that was something that came along with the award. That was pretty special. It's not one thing that's going to be a cure-all for it. There are percentages of boys that have different mutations of the disease. It's going to take a lot to find cures for all of them. The more money we can put into the funding and toward this cause and the more awareness we can raise, hopefully it can expedite the process of finding a cure for this thing and saving these kids."
Marissa couldn't be any more impressed by Porcello's genuine interest in this cause.
"I think a lot of times, when someone who's well known puts their name behind something, it might be just that -- they might just lend their name to it or make a financial contribution," Marissa said. "But Rick's actually involved. He knows the kids with Duchenne, he's met a number of the families. He can talk about the science, the research that we fund. He understands, actually, the whole landscape of what we're trying to accomplish.
"It's certainly not just a name or identity with Rick, or it's not just a financial contribution, which, of course, we value, and is important, but he's actually committed himself, and he's on the advisory board for Team Joseph."
Outside of Porcello's own family, there might not have been anyone more excited to see him win the AL Cy Young Award than the Penrod family.
"Rick encompasses everything that is good about sports," Marissa said. "I just love the fact that people want to talk about him and tell his story now, because I think he's a great role model. We're glad to have him in our corner."
Ian Browne has covered the Red Sox for MLB.com since 2002. Follow him on Twitter @IanMBrowne and Facebook. This story was not subject to the approval of Major League Baseball or its clubs.