Inbox: Rays to use starters as trade chips?
Beat reporter Bill Chastain answers questions from fans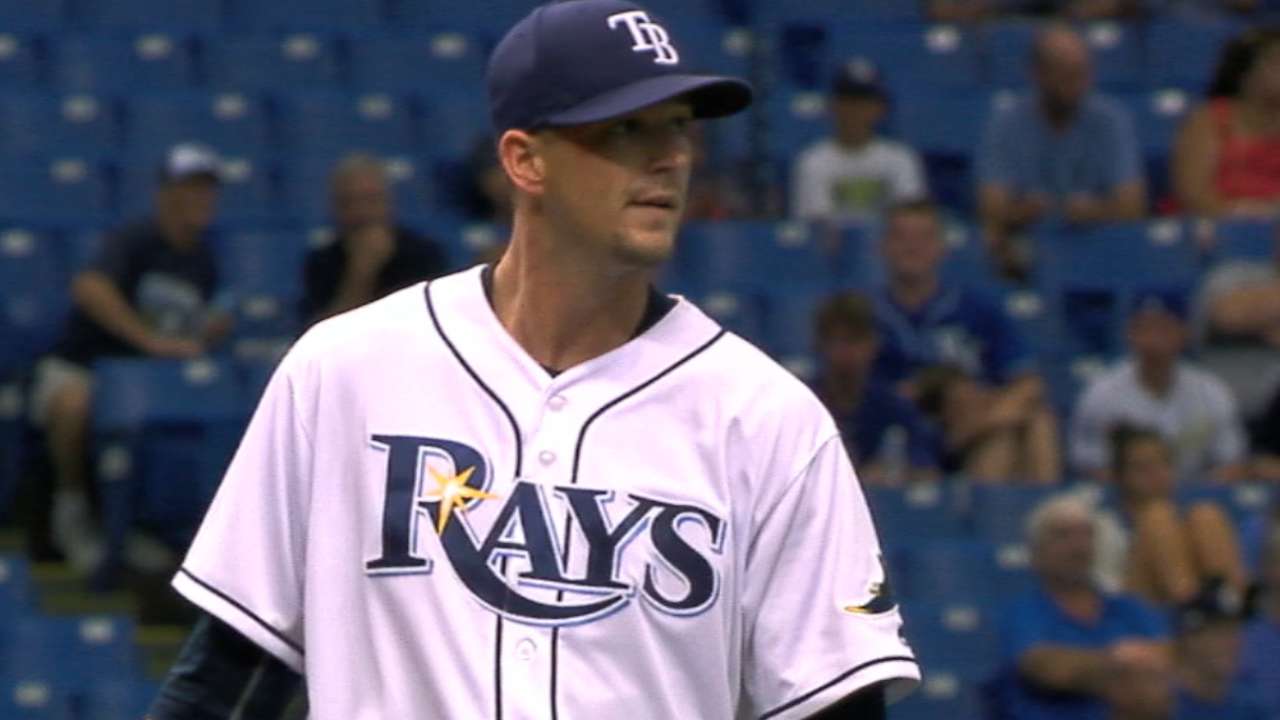 Do we know if the Rays are planning to address the catcher, left field and DH positions via trade? This offseason seems to be the perfect time for the Rays to use their pitching and prospect depth to solve all three of those issues. The Rays could use some bullpen help too.
-- Michael B., Odessa, Fla.
First, given the team's depth at starting pitching, trading a starting pitcher remains at the forefront of possible offseason action. According to the rumor mill, Chris Archer is the most sought after of the Rays' starters. Based on needs, one might assume that the Rays would be in the market for a catcher or a left fielder. However, history has shown that the club has always danced to a different beat. Observing how it likes to do things, I believe if it trades one of its starters, it will be for the best player (or players) it can bring back in return -- and not a player just to fill a need.
The Rays are said to be interested in free-agent catcher Jason Castro. If signed, he could be paired with either Luke Maile or Curt Casali. As for the bullpen, they have Alex Colome and Brad Boxberger returning to anchor the back end. I look for them to sign some veteran relievers -- normally such players are signed to Minor League contracts with invites to Spring Training -- to compete for jobs. I'm most intrigued by hard-throwing Minor Leaguer Ryne Stanek, who was converted into a relief role last season and was recently added to the team's 40-man roster. He sounds like an interesting possibility.
• Submit a question to the Rays Inbox
Will Rays fans see the day sooner or later with the talk of a potential new stadium, or do the possibilities being pushed around about Montreal really have any legs?
-- Nick B., Lakeland, Fla.
Ever since the Rays received permission from St. Petersburg to look for new stadium sites in the Tampa Bay area, the chances seem improved for a new venue coming to fruition. Finding the best possible site for that stadium is a huge concern. The Rays believe they must find the optimum location in order to maximize the fan experience -- which, in turn, would help the team become more competitive financially. Being more competitive financially would allow the team to be more competitive on the field by allowing for payroll expansion. The Rays finished last in Major League Baseball in average attendance for the fifth season in a row in 2016, and the team's owners have said they need a new ballpark to be competitive. With progress being made, talk of a move to Montreal seems to have subsided somewhat.
I agree with the person about Archer's hair -- he would be able to concentrate more on pitching and less time trying to keep his hat on.
-- Henry T., Norristown, Fla.
Like I cautioned in my last Inbox: Remember what happened to Samson. But seriously, Archer is the consummate professional. He does everything possible to be at his best on the mound. If he felt that his hair hindered his performance in any way, I'm sure he would cut it.
What about Matt Duffy's surgery on his heel? Will he be ready for Spring Training? I'll be surprised if he plays the whole season.
-- Rick M., Clearwater, Fla.
Duffy came to the Rays in the Trade Deadline deal that sent Matt Moore to the Giants. He was on the disabled list at the time with a strained left Achilles. That injury eventually led to season-ending surgery to correct the lingering soreness in his Achilles. His surgery alleviated the pain he felt, and it was said to be performed in time for him to be ready for the start of Spring Training. From all I've heard, the surgery went well and he is on schedule to be ready once the team opens camp in Port Charlotte, Fla.
Bill Chastain has covered the Rays for MLB.com since 2005. This story was not subject to the approval of Major League Baseball or its clubs.